Interview conducted June 22 2012
Interview published July 17 2012
The massively aggressive Municipal Waste have a new album out called - 'The Fatal Feast', and those hard partying bastards are currently on tour in the U.S. with 3 Inches Of Blood. They are now signed to Nuclear Blast where thrashing is their business and business is good.
I caught them live in Columbus, Ohio, and was able to speak with their bassist and songwriter the sadistic magician - Philip "Land Phil" Hall. He was a bit wasted and all out of it due to a head injury sustained the night before while playing a sold out show in Chicago.
Nevertheless, we had a great discussion, even delving into forthcoming buds of wisdom concerning the next Cannabis Corpse album. He eventually succumbed to beer pressure and we discussed his new Speed Metal act called Iron Reagan.
Sadly we were cut-off at the end, but if this interview does not thrill you, blame it on bud!

MettleAngel: Hey Man it is good to see you. It has been a few years.
Phil: Man, I know how you do interviews, and I want to let you know that I am a bit out of it. We played a killer sold out show last night in Chicago, but I sustained this head injury, and I am really fucked up right now, and severely hung over.
MettleAngel: That sucks, but I promise that we will keep things simple and light and avoid the heavy stuff.
MettleAngel: I agreed to do this interview at the last minute, but I knew it would be worthwhile. Our last meeting if you recall, was in Kentucky at The Mad Hatter (now called Bangarangs) at least four years ago. You were still on Earache back then.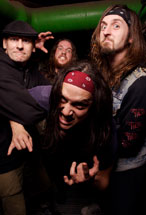 MettleAngel: I still do, and also from Tankard, Excel, and Murphy's Law.
MettleAngel: After hearing the new album, I am inclined to now believe this. You have also put out three Cannabis Corpse albums since then?
Phil: Yep, I have three Cannabis Corpse records now under my belt, and I have got another new record on the way. We actually have an hour and a half of material already written.
MettleAngel: Really? I assume the song titles and lyrics will be totally over the top?
Phil: I still have unused material from recording the last album. I am a Death Metal Head. I want people to recognize this band as more than a side project. I have been writing riffs while on tour with Municipal Waste. I have been sending them to my brother and then he arranges the riffs together in a way that he thinks sound pretty good, adds his drum parts, and mails them back.
MettleAngel: Are you coming up with some good stuff?
Phil: Definitely! We are just throwing shit at the wall; we want to write that monster riff. I feel like if you sit there and try to write the best riff you have ever heard, you will never write it, or get anything done.
MettleAngel: Well what have you written so far, anything promising?
MettleAngel: What inspires you to come up with those clever song titles? The early material was an homage to Cannibal, but your last album was for both Deicide and Morbid Angel. Those tracks are just so hilarious.
Phil: Thanks Man, I appreciate it! It is just, you know, they got to pop out. If it makes me laugh, then I know it is a good title. I like it to be pretty clever, although I have come up with some pretty dumb ones, but I obviously do not use those.
MettleAngel: Do you come up with all the song titles, or do other guys in the band assist?
Phil: After the music is written we weed through 100 possibilities, and pick the best. Here is an exclusive just for you, man: The next album is going to be a tribute to Chuck with all Death themes! Here are some examples: "Crystal Meth Mountain", "Fold The Card", "Medicinal Healing", etc.
MettleAngel: That is fucking awsome man! I can already picture the cover and songs. Here is one for you: "Individual Pot Patterns" or "Defensive Personal Seeds". (I began to sing, "One kind divided into three, for everyone a special seed..."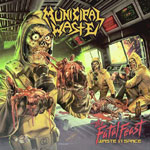 MettleAngel: I am sure that will be killer too. So how is this tour going so far with 3 Inches? You work well with them.
Phil: Oh yeah, it is a good blend. Those Canadians are Traditional Heavy Metal and we are more Punk /Thrash. We all get along real well. Also, we have enjoyed several local opening acts. Some are so young, and these guitarists are just insane. I cannot even play like that and I am 29 years old and these little kids just tear it up, WTF!
MettleAngel: I know I see it everywhere. I want to congratulate you for signing with Nuclear Blast. Tankard will release their Nuclear Blast debut soon too. I just got their new album - 'A Girl Called Cerveza'. As to be expected the music is awesome, but the lyrics are ridiculous, and they are literally running on fumes.
MettleAngel: That would be awesome, and total drunken debauchery! What a complete Beer Fest! So how did you get John Connolly to join your ranks, and sing on the title track? Are you a big fan of Nuclear Assault?
MettleAngel: I like the video for "Fatal Feast" too. It is really tongue in cheek with everyone flying around with a six pack space ship.
MettleAngel: You also have one for "Cut-Off" which is all animated and looks similar to "SuperJail". That just debuted on Youtube.
Phil: Yeah, that was a fun one too. Hey since you seem to like my bands, I should also mention another one I am doing with Tony Foresta and Ryan and the guys from Darkest Hour. This is a total Speed Metal outfit called Iron Reagan. We have just finished recording a full length record, so that will drop pretty soon.
MettleAngel: Hell Yeah! What is with the name? You mean Reagan like the dead president? Or is it Iron Raygun?
Phil: Yes, that Reagan! The music is fast, a little bit meaner. The tracks are like a minute each. There is energy in it, because we did not labour over writing the songs, they were pure inspiration. My buddies and I just shredded out a few songs. We wrote 20 songs in a weekend, and it was like bam, there you have it!
MettleAngel: 20 songs in a weekend?! What inspired the title of the band name?
Phil: Tony suggested the name. We batted around a couple of other band names, but that was the one we thought was pretty good. I am working on cover art now that will look like the 'Don't Break The Oath' Mercyful Fate Cover. The skull is pointing, with Reagan's face.
MettleAngel: Did you get Ed Repka to assist?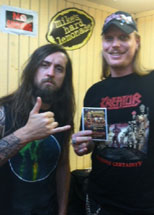 MettleAngel: Is he the one that designed the 'Fatal Feast' cover? You have some cool merch out there tonight.
Phil: We owe that to our label, like with the pop-up vinyl packaging. I am really happy with what Nuclear Blast are doing for us. They are rolling out all sorts of fun stuff. Soon we will have frisbees and a whole bunch of weird shit. I guess it is pretty cool for the fans. It helps to get us out there and get noticed by the people.
MettleAngel: It is unique, yeah. What is your take on the new album? I like it a lot, but 'The Art Of Partying' is still my favourite. Also, what is with the band's fixation with Kurt Russell in so many song titles: "Tango & Thrash", "Captain Ron", etc.?
Phil: I am happy, I like the way the record sounds, the overall vibe seems to be pretty positive feedback wise. Again, you have to speak with Tony about the Russell stuff.
MettleAngel: Damn, I wish he was here! I got into The Waste pretty early on; you guys are definitely responsible for reviving the thrash scene! Along with Toxic Holocaust, Goatwhore, Skeletonwitch, as you have all been constantly working the clubs that brought back the thrash resurgence. You guys have paid your dues and now truly deserve recognition and acknowlegement.
MettleAngel: I saw that at the merch booth. Are you excited about playing on "The Brutal Barge"? I would love to see Sacred Reich! Some of those bands performing were on the 1st "70,000 Tons Of Metal" cruise. Sanctuary are returning, but they are not really that "Brutal", then again neither are you?
MettleAngel: I hope you get a decent time slot. Tankard played at 5:00 a.m. on the second "70,000 Tons". You should get Cannabis to perform, as they are brutal, and maybe even surprise us with some Iron Reagan songs!
Phil: We will see, that is around Christmas time, and I just cannot get my aching head around that right now, but thanks for the chat and support.
MettleAngel: Thank You Phil! All the best. I am looking forward to the show tonight.
Phil: It should be cool as Ryan will be breaking out his new guitar. I will not be moving around as much, as I also fucked up my ankle, but we have to give it our best, right!
MettleAngel: Dude, go out there and waste 'em all!

See also: review of the album The Fatal Feast
Related links:

www.facethewaste.com
www.myspace.com/municipalwaste
www.facebook.com/municipalwaste