Interview conducted September 9 2019
Interview published October 12 2019

"Why should my brother have a good side?"
Michael Schenker Fest put out their second album Revelation on September 20th. Metal Covenant met the legendary guitar player and project leader in Stockholm on the day before release to talk about this new effort of his.
Michael is indeed quite a special person and during our 35 minutes together I asked a record low of 4 questions in total. He tends to digress over and over again and in order to just find out how long his answers could turn out and where he would land in the end, I chose to let him speak freely and didn't interrupt him at all and waited for quite some time for him to conclude and hence he spoke for 21 minutes straight on the first question. How about that?
His grudge against his own brother and Scorpions guitarist Rudolf Schenker has escalated with great speed in the last couple of years and that animosity sometimes seems more important for him to tell about than having a new record out. So when you read this stuff below, be patient, be prepared and be ready for stuff going back and forth.

Tobbe: Revelation is the second Michael Schenker Fest record and in what way does this one follow the trail you started with the first record of this project? [Resurrection. Out March 2018]
Michael: The lineup is basically the chemistry. You know, just like a normal band you have a chemistry and then you just use the album as a reference. You go from there and kind of decide what you liked on the first album and what you could have more of. And I decided I wanted to have more of everybody singing on the same songs, so I decided for 4 songs instead of 2. We did Warrior and The Last Supper on the Resurrection album. Our co-producer Michael Voss did such a great job on Warrior and The Last Supper with the vocals, and delegating the vocal lines to the different singers, that I said to him that we'd do it on 4 songs this time and that he was gonna be in charge of the lyrics and writing the melodies. Basically that was the plan.

One very positive thing was that Graham Bonnet insisted on singing his own lyrics and his own melodies. And he did a fantastic job. I love the stuff he did. Really majestic and it's really good. Everybody did a great job, but I was just impressed by Graham taking the extra mile, you know. And then of course, you know, just keep it as snappy and energetic. And keep it very balanced. Just like a book, or just like a set. A show, you know, where you want to make sure that people are always entertained. And put sparkles everywhere.

I design. I'm the architect. I design the blueprint. You know, I wanna protect the Michael Schenker music, because I write from within and not from a trend. I don't recycle trends. If anything I create trends. I created a trend in the '70s that was used in the '80s. Even though I carried on playing in the '80s I wasn't part of any trend. I was just carrying on doing Michael Schenker music. Which was actually my middle years anyway, which was all about experimenting with music and finding out who I was. I started off as a kid in a sandbox. You know, playing, having fun, just not expecting anything, not looking for anything, not looking for success, not competing with anybody. Nothing, just other than the recreation basically. Just playing, you know.

And by the time I came to Strangers In The Night [UFO live album, 1979] people said "Michael Schenker is God." and I said "What?". And then Rudolf called me up in '81, from America, and said "Michael. They're all playing your guitar style." and I said "What?". For me it was all a surprise. I was granted to experience fame that early in life without even asking for it. It was actually very good for me, because I was able to make a decision between staying in this line of fame or carry on with my own vision as an artist. You know, when I started my second chapter I wrote Into The Arena [On The Michael Schenker Group self-titled album, 1980], which means onto the battlefield, deal with real life, deal with issues, you know.

The first song I wrote was In Search Of The Peace Of Mind, which was created to old Scorpions [Lonesome Crow, 1972], but I wrote the song by myself in my mother's kitchen. There was nobody else there. I'm 6 and a half years younger than the other guys [Referring to Rudolf and vocalist Klaus Meine who were born in 1948]. So I was 15 and they were already 21, so I guess they ripped me off right there. In Search Of The Peace Of Mind; one tattoo says born to overcome and the other one says born to be free. So if you put all 3 together you know why I decided to dedicate the middle years to growing, breakthrough, developing, understanding more, actually creating the 3-dimensional Michael who understands today who he was. What I created unconsciously in the first part of my life, now, in the third part of my life, I can consciously continue.

So basically, if I would have joined Ozzy Osbourne, for instance, he would not have made a penny in my middle years, because I was experimenting and it wouldn't have made him any money. So I did electric instruments, acoustic instruments, all of that stuff, and all the experiments got everything out of my system. With Ozzy I would have ended up with a lot of icing maybe, but because I stayed true to myself I didn't go with Lemmy, I didn't go with Ian Hunter, I didn't go with Phil Lynott, Deep Purple, David Coverdale, etc, etc. So now I got a lot of icing I can put on my cake, that I built in the middle years.

So basically I realized one day that I have been performing the most popular music of Michael Schenker with all these singers, but not with the originals, you know. I wanna hear the songs with the original composer for a change and I think the hardcore fans wanna see the original too. So I thought "Maybe Klaus and Phil Mogg will be too far-fetched, but I can try the '80s people.". They were waiting on the phone, you know. They immediately went for it. And musicians: the same thing. You know, it started off at Sweden Rock [2016], very slowly. Next festival somewhere, and then Japan, and then we ended up making the DVD [Michael Schenker Fest - Live: Tokyo International Forum Hall A [2017]] and then people saw the potential instead of looking through the iPhone and YouTube with bad sound quality. The record deals were coming in and I said "Michael Schenker Fest in the studio!".

That was my idea for the Resurrection album. You know, like a feast in the studio, with a woman with big bosom, and pints of lager, and feast, and food, and having a party, you know. The art department sent me a picture of a table, which I wanted, with food on it, but it looked like The Last Supper. But everybody was actually influenced by that development, you know. So Doogie [White] started writing Take Me To The Church and then Michael Voss wrote The Last Supper and I was like "Well, I might as well call the album Resurrection.", which is still suitable because it's kind of like coming back. And then we called my instrumental song Salvation.

We had the last show sometime in September last year in the UK [Actually at November 14th in Prague, Czech Republic], but then we confirmed a second leg, a US Resurrection tour, in 2019. We started on the 15th of April. So I kind of saw this big window, which I thought maybe would never come that quick again, like "It's a window of opportunity that I should use.", because 2020 is Michael Schenker's 50th anniversary, 2022 is Michael Schenker's 50th anniversary of joining UFO, so who knows what's gonna happen? So I'm very happy I did that, you know. So we had a half year to make this record.

Then on the 19th [of January] Ted McKenna [drums] passed away. It was devastating, you know, and I had to convince the guys. I said "He wants us to do this.". So we took ourselves out of the pit. And then we were confronted by 45 songs. You know, 13 for the album and 32 for the shows in America. You know, in what was left in that period in time. We were already halfway through the album, but then we called Simon Phillips and he was very happy to do it. And then Bodo Schopf offered his help and it went great. You know, we have got two drummers, so we divide this. So we had Simon Phillips do 10 songs on the album and Bodo for 3 songs on the album and then I took Bodo with me to the UK and we rehearsed the heck out of the set.

He was very well-prepared, very professional. On the 28th [of March] we delivered the master and on the 30th or 31st we had a listening party. We did the national press; they loved the album. The head of Nuclear Blast in Germany [Markus Staiger] wrote me a personal note and said that he's in love with the album. And on the 8th [of April] we went to Los Angeles. 11th, 12th, we made a video. On the 15th we were on stage, ready to do the tour in America.

But because of Ted we had to scrap the idea of guests, you know. I wanted to invite guests, but that's a lot of work and time-consuming. We focused on drummers, you know. And then an additional situation was when we came to the song We Are The Voice. Michael [Voss] and I realized "Shit! This is a fast song." and we never did a fast song with the old singers and we were not sure if we would get stuck there. Michael said "Maybe I have a good idea. I worked with this guy who sings with Ritchie Blackmore [in Rainbow] and maybe he can do it.". I said "Fantastic!" and Ronnie Romero was more than happy to do it. He went straight to work. Fantastic job, great voice, unusual song, added another dimension, and we had a surprise guest, you know. So basically the songs have stronger choruses and they are rocking. Somebody said, at the listening party, that Resurrection makes him happy and this album makes him wanna party, you know. So that was his definition.

And of course you probably wonder why this album cover. Nuclear Blast sent me 3 ideas and I had a scribble from 3 years ago when I was approached by the Scorpions to participate on the Scorpions box set [50th Anniversary Deluxe Editions, 2015]. The Lovedrive [1979] story that they wrote was a complete lie. It was completely false. I said "No. I'm not gonna participate. That is bad news for me.". When I left the Scorpions I had to struggle myself out because I know Rudolf had a plan to keep me, because I wrote a hit, Lights Out [with UFO], in 1976, when I was 21 years old.

Actually the first time I went to America was when I was 19. Scorpions never made it there until they were 33 [Actually 31 since they were in America in 1979] and I'm 6 and a half years younger than them, on top of that, okay? I said, like, "Okay. I'll help you guys, if you are stuck. If Matthias [Jabs] can't do it. But I need to have a contract, as a sixth member of Lovedrive.". So that means that a picture needs to be on the release, right? It wasn't there. Breach of contract, right there.

And they left my credit rights out for Coast To Coast and the intro of Holiday. No Michael Schenker, no Michael Schenker, so nobody knows I wrote it. People know I played it, but they don't know I wrote it. I was fighting so hard to get out of there. You know, Rudolf was actually crying on the phone, "Michael. Please stay, please stay.", but I said "I have my own vision. I have to move on.". So they had to make up stories, because they had fired Matthias twice by then, you know. So they wrote a false story. They said to Matthias "I can't do this to my brother. He was begging for staying with us. I couldn't just leave him there.". Completely fabricated.

What Rudolf's plan was… I wrote Lights Out in 1976, and actually Scorpions wrote the same thing with the song Lovedrive. You know, a gallop. Basically a rip-off. You know, following everything we did right from the beginning. Rudolf's idea was… I see today very clearly what happened, because in 2015 I opened a can of worms, with that false Lovedrive story, plus I had Herman [Rarebell, drums] and Francis [Buchholtz, bass], the rhythm section of the Scorpions, in my band for 4 years [Michael Schenker's Temple Of Rock], so I know enough. So by not giving me credit for the two songs, that he made as his image, and asking me if he could play the black and white Flying V, he distorted my image.

So basically, in the middle years, when I left the scene and never looked back and checked on anything, I actually said "More power to Rudolf!". Every time he had success I went like "Wow! How can someone with so little do so much?", you know. I was impressed by that. So basically I realized that they completely distorted my image. America was excited, you know, about the Lovedrive album, so the idea was when they see the album that there is nobody missing. There's 5 people, there is a black and white Flying V, there is a Schenker, and then later Rudolf had blonde hair. So there was nothing wrong. Nobody suspected anything. People get confused with brothers anyway, with names, etc, etc. So there was complete distortion, fabrication, etc, etc.

So it kind of really annoyed me that he could have done this without tricks, you know. But he went that way, and now the question is "What would have happened if I had never joined the Scorpions in the first place? What would have happened if I had never found them Uli Jon Roth when I joined UFO? What would have happened to the Scorpions if I would have never joined UFO, taking them with me step by step like Metallica did with Megadeth? What would have happened to the Scorpions if I had never left UFO?". - There would have been no Lovedrive. "What would have happened if there would be no Lovedrive?". That gap would not have been bridged to America, okay? Which really made it possible for them to have success. Plus, not many people know that by the end of the session of Lovedrive I was asked by Dieter Dierks [Producer] to sprinkle and play throughout the whole album and put some pieces everywhere to give it a character. Nobody knows about that.

What the puzzling part is is that people were so obsessed with fame and success and taking credit for everything that's good that I never heard them saying thank you to me or anything. They only focus on what they couldn't get and because of that they trashed me, they slandered me, they made up stories. They just beat me to death. I got cursed with my guitar and by promoters and in business work also, because in the early '90s I left for Arizona and built a recording studio. For 15 years I was gone. Off the scene, you know.

So people were completely pissed-off with me and wondering, you know, "That bloody Michael is a selfish person!". Actually my brother Rudolf, who I gave so much and paved the ground for success for, came to my wedding reception and in his speech he was reading, saying "Michael is a very selfish person.". I could not believe it. This guy is so fucking bold, you know. He's a stinker, this guy. He's got no talent. It's just basically a wolf in sheep's clothing, you know.

So anyway, I'm very shocked, because I jump started Scorpions with Lonesome Crow as a 15-year old wunderkind, you know. We immediately had international success because of me and Klaus's voice. You know, as a combination. And I jump started Lovedrive and I jump started UFO with Phenomenon [1974] and I jump started UFO with Walk On Water [1995]. Then I owned 50 percent of the name UFO and in 2002 Phil called me and said, like, "Michael. I need that name back. I need to work. I need to earn money." and I said "Phil. You can have this name back for free." and he never said thank you. These people have the wrong end of the stick. They don't understand. They stayed two-dimensional people. They never learned anything.

Actually because of the success and the obsessive focus they stayed two-dimensional. I created a three-dimensional Michael Schenker. I went from stage fright in 2008 and something said in me "I wanna be on stage!". What happened in the middle years worked and I was ready for the third part of my life. You know, to continue. I never touched any songs off the McAuley/Schenker period for a long time and I didn't play any Assault Attack songs except for Assault Attack, which is very peculiar, you know. As if it was all put on hold for this particular time. So all my energy that I spread all over the '80s I put together in the center point and made one powerful, happy bunch of people. We have been together for a couple of years now.

It's not just, you know, quick money making. If anything, you know, it's so expensive to put this together. There's so much work, you know. Bangkok, Los Angeles, Scotland, UK, Germany, Italy. To get them all together. Then they all have their own bands and do their own things. To coordinate all of this and stuff like that. So it's a big undertaking. For some reason I always end up with another Ritchie Blackmore singer. I have no clue what's going on. But Ritchie has a very good taste for singers. He's quality control. [Laugh]
Tobbe: Like you said, you had a window to do this record, but it's only been 18 months since the last record and it must feel great to be so creative once again.
Michael: Yeah, absolutely. With UFO I did a record every year and when I was by myself sometimes I made 3 records in one year. Because I don't recycle a trend. You get a piece of the pie from the commercial money-making copy machine. When I was 17 I realized that my focus was pure self-expression. I realized that everybody is unique. So if that boy is unique, why should I do what he is doing? He is already doing it, so why should I do it too? So I didn't see any sense in that. I stayed away from music to not get worn out either. The brain is like a sponge, so everything that we hear we automatically copy, whether we like it or not.

So the best way to do it is to not put on the radio in the car and don't put on the radio at home. I've done it for almost half a century now and as a result of that I've developed my own guitar style. And people like Slash and all those fans, you know, that are big bands now. Kirk Hammett and so on. Metallica, Def Leppard; they said that they had never heard anything like what I did. You know, in those days when we did Strangers In The Night and so on. So that's what they were attracted by. So basically that's why I say I became a trend maker. And somebody else said that because of that death metal and thrash metal and all of that started to come forward. And actually the head of Nuclear Blast is a thrash metal and a Michael Schenker fan, you know.

So basically what's happening is I don't practice; I play and discover. And play and discover is like treasure hunting. You're looking for gold. You enjoy the journey and you know you're gonna find some gold somewhere. And then you find some and you collect it. So I keep collecting. I do that on a regular basis. I don't find gold all the time. Before we did Resurrection we did Spirit On A Mission with Temple Of Rock, you know. So those parts were used and I stopped right there. I don't go "Look what else I have.". There's no point in going forward and try to pick what is the best from there, because I know it's better to just keep going.

So I start with Resurrection here [Points to his right.] and when I get to 12 songs I stop and never listen to the rest. I carry on collecting more over there [Points to his left], so that everything always stays pretty much current, you know. So when I started with Revelation, I started exactly where I stopped with Resurrection. But this time I did 13 songs, in case that one song wouldn't make it. And it almost didn't, but I figured out how to make it work and it became a really good song actually. An interesting one. So that's how I do it.

So I realized that there was this big window of 6 months, you know. I said to Nuclear Blast "I'm gonna write another record. I'm not gonna sit around here and do nothing. Especially not at my age [64].". And I'm so happy I did. You know, it all worked out, even with Ted McKenna passing away. You know, it's funny, on the last 3 albums we had some challenges to deal with every time. On Spirit On A Mission with Temple Of Rock we had 5 guitars stolen and we had half of the music stolen.

So I had to say, like, "Okay. That was pre-production. The album will be much better.". On Resurrection I had a swollen face, you know. Throughout the whole album I was in pain. And then now here with Ted McKenna. So anyway, we made it. Great album. And I'm really happy with the riffs, you know. It's the first time I actually know the whole album before it's even released, you know. I really love playing those riffs.
Tobbe: I think the artwork is kind of special. Tell me about it. [An attempt to let him continue what he started telling about it.]
Michael: It's fantastic. It's absolutely beautiful. Like I said, we had 3 ideas from Nuclear Blast and I had a scribble from when I read the false Lovedrive story. I was very annoyed, so I kind of put the pieces together. They opened the can of worms by doing that. So all of a sudden I saw all these wrong things, you know, showing up in front of me, and I realized what happened. So that's when I scribbled that idea. So they had their 3 ideas and I had my scribble, but they chose my scribble. They liked my scribble.

The album could have been called Purity And Compassion vs. Greed And Corruption, you know. Like you saw with Caesar. Caesar was a very corruptive and greedy man. He could never get enough and that's a perfect example of how bad that direction is. Plus the one that conquers himself conquers more than the one that conquers the world. So this kind of character, this kind of people, they try to conquer the world, but they never get anywhere. It never works. Never. It never has worked. It will never work. And then he got envious because people were paying attention to somebody else but him and he got annoyed and killed that man, you know.

So basically I kind of felt very humiliated by the business and by people that couldn't get me. "If we can't have him, nobody will!" and started trashing and slandering me, making up really bad stories, and stuff like that, trying to distort my image, taking my image away, etc, etc. To the point, I was not actually crucified; I was just hanging there with the strings. It's a beautiful painting and eventually the musicians are coming and free me from that cross. I get off that cross and we carry on and we have won against corruption and greed and we carry on with the Michael Schenker Fest.

People are amazed by how fresh our music is, in comparison to the people who always, you know, recycle the trend, recycle the trend. Of course, if you keep recycling a trend then you're too bloody lazy to create something positive and proper and from within and you just take from something that is connected to stereotype people. Where the money is, you know. You know, "If they like it and they buy it, then we can make money.". But then when it's all dead, when there's nothing left, they write a fiction book, and then after the fiction book there's nothing else. They die, and that was it. You know, the end of the story.

But I do the other way around, you know. I mean, I never expected anything in the beginning and in the middle years I did my work and I got humiliated. In America I was invited on stage with two other very famous people and in front of thousands of people I was given a guitar; out of tune, with loose strings. What a bloody mess! These people are somewhere else, you know. So, hopefully life is for development. Realizations come to people in different times and in different ways. Each person tells a story, each person has a past, so I hope somewhere people start to wake up.

But, you know, the addiction of fame has actually numbed everything else from the past. Plus in Russia and China, the newcomers, on the re-releases of Lovedrive they don't even mention my name. So the newcomers think it's an old Scorpions creation, you know. But it would have never happened without me. Never. They would have never had the connection, you know. If I was never even born, Rudolf would have never had a teacher, because he copied everything I did, you know.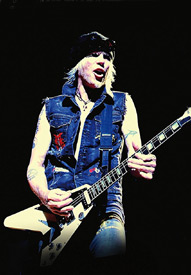 Tobbe: You've said some unflattering words about your brother Rudolf, but doesn't he have a good side too?
Michael: He basically knew that he was going the wrong way, because in the same kitchen where I wrote In Search Of The Peace Of Mind, Rudolf told my mom and my sister, "I had a dream last night. I was lined up with a bunch of monks.". I was a monk, he was a monk and there was a master monk. And then they came to the master and they had to decide to go to the left or to the right. He went to the right, with tears in his eyes, knowing he went the wrong way. So he basically sold himself to the devil. Why should my brother have a good side? He is a wolf in sheep's clothing. That's what he is. You know that kind of people, okay? He is a business man in a musician's clothing. He's a conman. He ripped me off. I'm 6 and a half years younger than him. He bullied me and took advantage over me right from the beginning.

In Search Of The Peace Of Mind: He can't even play that song, because it's bloody difficult to play. He can't even play it, and he credited himself. So he's 6 and a half years older. I was 15 years old, they were 21, and they ripped me off already. I don't know Rudolf. I have only been with him for 2 years, so how do I know who he is? All I know is I wore his socks, I wore his underpants. Whatever he grew out of. I used his bicycle. Everything. I never got pocket money. So I grew up in a humble way, which I'm very grateful for, because in that way I never got spoiled and I understand the quality of life and stuff. Rudolf got everything first, you know. Bicycle, the first suit, blah, blah, blah. I had to wear everything from a 6 and a half years older brother.

You know, he's a very charming guy. I know another person who was just like that. The good side about it is that I learn from people like that, because I had another experience with a similar personality. In fact, I mean, really, all Rudolf is is a shadow. He is nothing else but a shadow. He is there, he is a tool for me. What is good about Rudolf is that the universe has given me Rudolf as a tool to practice acceptance. Acceptance is the most important thing in life, you know.

So basically, I'm not bitter about Rudolf; I'm just disappointed that he had to do it in a cheeky way. Plus destroying my image, and distorting it, and fooling the people, and today, forever and a day, your audience, "We don't give a shit about you!". That is Rudolf and the Scorpions. What is good about that? Nothing.

Related links:

www.michaelschenkerfest.com
www.facebook.com/michaelschenkerrocks