Last week, after I completed my new review for the latest Metal Church - A Light in the Dark for www.metalcdratings.com, Dave from Earsplit contacted me to do an interview with Kurdt Vanderhoof - the blessed believer who is more than your Master, he is the brave son of the son who cannot tell a lie - the hero's soul who has continued this merciless onslaught of true metal for 25 years.

MettleAngel: The new CD title evokes aspects of the Dark album and the debut release with the guitar and it's right-side up cross transversing the neck. Was this intentionally planned, and if so what are you attempting to suggest or express by this?
Kurdt: This CD carries the weight of a two-fold concept: we are celebrating the 20th Anniversary of the release for the Dark album. It also symbolizes a new beginning for the band, since I am the only original member remaining. The guitar with the cross represents our positive approach to the music; essentially we are the light in the dark.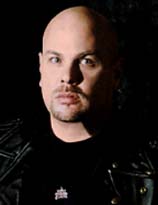 MettleAngel: I've noticed that over the years Metal Church has always reflected very positive, thought-provoking, almost spiritually suggestive themes both musically and in their lyrics, what is the primary purpose for this?
Kurdt: I, myself, and a very positive person, as well as a Christian. I don't feel or see the need for being a Bible thumping fanatic. My belief system is quite personal; but I'm not a preacher. I just don't like negative music or lyrics, which give off a bad vibe. I like uplifting music, or totally inane lyrics like "Highway Star", where the dude sings about a car. We've toured Europe several times, and too many neagative bands just rub me the wrong way.

MettleAngel: Yeah, I personally love several Christian bands; unfortunately, their music is impeded by their message, which is limited in it's view; namely the "Turn or Burn" mentality. I have a Masters in Theology, so I love any band who sings about their personal beliefs, just as long as they don't proselytize too much. The so-called Satanic bands are just as confined to neglect, since they only praise the dark lord. I love bands like Orphaned Land who worship Allah, but also write such majestic & poetic lyrics. When a band only reflects one aspect of the spectrum, they are missing out on the big picture. This relative inertia and resistance to change results in their sound becoming stale and staid.

MettleAngel: I've noticed that in your career with Metal Church, you have only performed two cover songs, the afore-mentioned Deep Purple, and Aerosmith - Toys in the Attic on the underrated Masterpeace CD. Given your two solo bands: Vanderhoof & Presto Ballet, and your love of music from the 70's era, you should consider doing a Metal Church covers CD. You could surprise fans by picking some non Metal and rock artist to render. Have you heard the Metal tribute to ABBA? I'd love to hear Metal Church cover Neil Diamond.
Kurdt: There's a Metal tribute to ABBA, Man, I have to check that out. I've always wanted to attempt to metalize Neil Diamond's "Solitary Man".

MettleAngel: I'd love to hear that! If I played in a Metal band, I'd for sure cover "Coming to America" and The Moody Blues "Question". Over the years, you have focused on being the primary songwriter and lyricist. Metal Church's music, itself, carries its own subtle spiritual essence; on the new CD how has this engaging process continued?
Kurdt: Well, I got a break this time around, because Ronnie really contributed more to this record than the previous one. He has written some excellent lyrics this time around.
MettleAngel: Ronnie is the perfect vocal choice for Metal Church, I have not heard any Rottweiller songs, but he is the beatific blend of the late reverend David Wayne and the heretic Mike Howe. I missed seeing you live on the last tour; because my son was too young, but we are psyched to see you this time. Hopefully, you will come to Cincinnati, but we'll drive to Colombus or Cleveland if necessary. Will you be adding more Mike Howe songs to the set-list?
Kurdt: Hell yeah! We are going to do Badlands, Fake Healer, along with Date with Poverty. The fans really enjoy Ronnie's vocal style combining the previous vocalist with his own added touch.
MettleAngel: That vocal verisimilitude and subtle nuance is quite evident on the 2006 version of "Watch the Children Pray" as I indicated in my review. I guess you won't be doing any of those amazing Mike Howe tracks like "Anthems to the Estranged", "Gods of Second Chance", or "In Harm's Way"?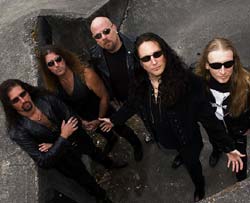 MettleAngel: Now you recently added Jeff Plate to the ranks; he is known for playing with Savatage & Chris Cafferty. Is he now a full time member?
Kurdt: Yes, definitely! I originally met him when he was with Savatage. When we toured with Chris Caffery, I asked him to join the band.
MettleAngel: Is he still involved with Tran-Siberian Orchestra?
MettleAngel: So when does your American tour commence?
MettleAngel: My wife Wendy wants to know if you will be selling Metal Church babydoll women's shirts while on tour?
Kurdt: Oh yes, definitely! We have one with the eyes from the Dark cover overlooking the new CD artwork, with our huge logo on the back.
MettleAngel: Cool! She collects those, and gets so frustrated when the logo is ruler size and barely legible, and there's no artwork depicted. She just ordered an Iron Maiden - "Bring Your Daughter to the Slaughter" which has some cool artwork on the front. Now she is excited about getting a Metal Church babydoll as well. Will you have any children's sizes like they sell on Metalbaies.com, since we have our son wear those?
MettleAngel: Oh you have to check out www.metalbabies.com they have such cool toddler clothing sponsored by bands like Testament's "Into the Crib", Twisted Sister's "I Wanna' Walk", Death Angel - "The Art of Crying". You could do "Watch the Children Cry". We enjoy donning our son in metal regailia. He has the shirts "Oscar (from Sesame Street) world tour '82 with Ozzy's logo, the Def LepBird with Big Bird on the Hysteria cover, AC/DC Problem Child, and the cool Star Wars shirts from last year like "Who's Your Dadddy?" with Darth Vader on the front and "Sith Happens" on the reverse.
MettleAngel: Absolutlely! We'd let his hair grow long, but he's almost three and it looks to feminine for now. When he get's older he can grow it as long as he wants. We also just bought him a killer toddler's Maiden Wrathchild shirt with a design, that I don't even have. Wendy's favorite shirt which he wears is "Mommies Little Headbanger". He is always receiving compliments for dressing so metal, and having such cool parents. Schmier from Destruction said that they also have a toddler Destruction shirt which sells well in Europe.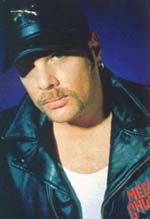 MettleAngel: Now, getting back to the band, you have evolved into another "Supergroup" essentially, like Exodus with members from some other quality metal outfits. I have always been a big fan of Malice and Savatage, I'm impressed how well Jay & Jeff complete the Metal Church sound. How are the fans responding to this line-up?
Kurdt: Man, I love the term "Supergroup", it has such a '70's feel. I love the show on VH1, it's so damn funny with such an amazing line-up, have you seen the show, Man? We are old rockstars who just don't want to retire, so we have fun and just continue to play our music. Afterall, we need the money to purchase our prescriptions and old age meds (laughing hysterically).



MettleAngel: Well, we don't have cable, so we have not seen it yet; but I'm very familiar with it, we will get it when it comes out on DVD. I know that the fictitious band consists of Sebastian Bach on vocals, Scott Ian & Ted Nugent on guitars, Jason Bohnam on drums, & Evan Seinfeld on bass, what a variety of talent! Besides, you are not that old when you consider that Ronnie James Dio and Lemmy are in their 60's with no plans to retire; and what about the Rolling Stones & The Who? This leads me to a question for which Metal Church fans are curious: If you could be in your own "Supergroup" in a perfect world with no restriction so that you could record music and tour with them or be on a reality TV show, whom would you choose?
Kurdt: Drums would be Cozy Powell, guitar would be Michael Schenker from the glory days of UFO, Gary from Uriah Heep on bass, keyboards Keith Emerson, and vocals would be Ronnie James Dio.
MettleAngel: Fans are also wondering what new bands you like the most, and why?
MettleAngel: I'm not too familiar with Porcupine Tree, it's such a silly name; but I know my fellow author Hawk just reviewed their live show for Sweden Rock Festival, claiming it to be the best concert which he's seen thus far, so I'll definitely look into them. I just received a promo copy of the new Hammers of Misfortune from Dave at Earsplit, and that is a band which sounds right up your alley, with their '70's prog. rock stylings reminding me of Hawkwind & King Crimson, as well as Deep Purple; not to mention there are two women in the band, one who also sings.
MettleAngel: If there was one band whom Metal Church could open for and tour with, who would it be?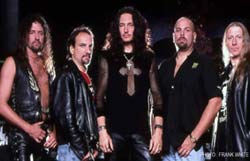 MettleAngel: Yeah, I am a huge Rush fan as well. I know that today they released another live box set DVD, and that Best Buy has the limited edition version with even more exclusive tracks.
MettleAngel: Yeah, I just read something today about it at Blabbermouth. What other bands do you consider to be a major influence for your writing style?
Kurdt: Man I love all that stuff from the '70's like Kansas, Journey, Yes; but I'm also totally into Maiden & Priest.
MettleAngel: On the new CD the song "Temples of the Sea" definitely has a Dio with Black Sabbath feel to it.
MettleAngel: That's so cool! I love the way you incorporate all your influences, but still maintain the trademark Metal Church sound. I'm also pleased that you have kept the same logo for the band for all these years.
MettleAngel: Same with AC/DC, same logo same sound! I don't like it when the band alter their logo, as it usually suggests a change in their musical direction, like Metallica & Slayer have done.
MettleAngel: I agree, that's my least favorite of theirs; I do like the 70's cover "Feedback" EP they did recently though. My favorite release from them is "Power Windows", and it's the only time I've ever seen them live, some 20 years ago.
Kurdt: I can't decide which of theirs I like most, one day it's "2112", the next day it's "Farewell to Kings".
MettleAngel: They are both such amazing efforts! "Plus cha change', plus se la meme chose!" (the more things change, the more they remain the same taken from "Circumstances".) Now, are we ever going to be treated to a definitive lyrical rendering for "The Metal Church" & "Hittman" songs? I've seen so many different interpretations of what David is attempting to say, but there are always omissions.
Kurdt: What part of "Hittman" don't you know? (he sings the word to me) Back then, when Dave sang on those cuts, we were not too concerned with the lyric sheet. We just followed the vibe and how Dave approached the song's structure, so we just went with it. I can definitely see where the slurrs lead to some level of confusion.
MettleAngel: More like ambiguity, I'd say. I just read the lyrics posted at Metal-Archives, and the whole line - "By the hands of Oberon" was omitted. I'm assuming that Dave was reading some Shakespeare when he sang this totally inchoate lyric Obviously, Ronnie knows all the words for each; since he sings these songs live, right?
MettleAngel: This reminds me of the Judas Priest song "The Sinner" where even up to this day the contraversy continues over whether Rob is saying "Carcasses of War" or "Caucuses of War". With his strong British accent, it's impossisble to decipher. This is also the same situation with the lyrics for "The Ripper", and a few others. I've seen so many different lyrical renderings over the years.
MettleAngel: It's the meeting or council of political factions gathered to decide on governmental agendas and party issues, like going to war; so you can see how either way Rob has created a pun, amidst all this confusion?
MettleAngel: Thank You so much for keeping Metal Church true Classic Metal for all of these years! I've never heard any of the demo material, but I have purchased every release up to now; this is my first promotional copy of a Metal Church title. I may still pick up the original at Best Buy too, just to get the lyrics and full packaging, and support the band's efforts. I received my promo copy last month from Jon at SPV and now the very day of it's release, June 27th, here I am speaking with you; directly after I wrote my review for A Light in the Dark.
Kurdt: I'll have to check out that review soon, but now I got to run (and pick up the new Rush DVD, no doubt), E-mail me and we'll stay in touch.
MettleAngel: I'll do that, and let you know when the interview is posted. Thank You again for your time, I really had fun getting to know you. This was my first telephone interview, and you really helped me to brake the ice, you were just so cool, and I'm pleased that I made you laugh a great deal!

Related links: