"Fueled by surging yet futuristic rhythms, heroic guitar fireworks, and the radical range of vocalist Lizza Hasan, Masterlast is a pageant for the senses with a pan-world approach that embraces while replenishing. Formed in 2002 in a run-down lower east side New York apartment by two of the most imposing and forward-thinking women of metal Lizza Hasan and Val Glauser, Masterlast is set to take their progressive yet extreme power to the masses with Mastery Of Self, follow-up to an indie debut EP from 04 that confounded yet delighted the few privileged enough to ingest its magic mushrooms." Sounds rather promising doesn't it? That's what I thought and as their debut album lives up to those words and as the chance came through Escapi Music to do an interview with guitarist Val Glauser I grasped the opportunity to find out more about this band called Masterlast.

Thomas: Masterlast is a new acquaintance to me and I am sure it will be to many more when the album is released, can you begin to tell us about the band and what Masterlast is about.
Val: Masterlast started in 2002 in New York when I asked my friend Lizza to sing on some songs of mine. We knew each other for a few years, were hanging out on the same scene and always fantasized on two things: robbing a bank or writing some bad ass heavy songs with crazy sounds in it, so I guess this was the opportunity. The result came out great and we decided to keep on writing. The recepy was clear form the beginning: we wanted to do something heavy and melodic with lots of different samples. In the band you also have C-Drike, who contributed to the songs with his very personal sonic universe, Will Valentine on Bass, and John Macaluso who played on both our debut EP and our full length album.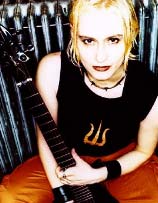 Thomas: When I read your bio, I found that there is perhaps a deeper and more profound thought behind the choice of name. Masterlast seems to mean something more than just simply being a band name, can you tell us what the name represents?
Val: Originally we wanted to call the band "Crowned", but then Lizza thought of this name Masterlast. She felt it sounded good and powerful so we went along with it. To me putting the word last and master together means having no more masters, think for yourself and listen to your intuition.


Thomas: I often see you being described as industrial but to me there is more of a tribal feeling to your music. How would you describe your sound for someone who has not heard you?

Val: I would tell people to imagine ABBA, Alice in Chains, Pantera and Nine Inch Nails all in the same band! More precisely you could picture a metal band lost on a desert island after their plane has crashed, jamming with a tribe of cannibals on their drums and a bunch of aliens from space playing on their strange cyber instruments! There is also a vibe of old witchcraft in it, something mysterious and hard to describe, that puts you in a trance. Magic, I tell you…

Thomas: It seems like that the members in the band have different musical backgrounds, how do you think that reflects on your music?
Val: It's a fact that we all grew up in different parts of the world so it does influence our sound. Also I come from from Hard Rock, Funk and Pop, Lizza is very Metal even though not exclusively, and C-Drike is more the Industrial, New Wave guy. So we just put everything freely together without second thought, and it appears that there is a natural chemistry and coherence in the music. It also makes our sound more diverse and appealing to a broader audience then strictly metal, which is a reflection of who we are in the band.

Thomas: How does the song writing progress work in the band, how does the collaboration between you and Lizza function, is it that one stands for the lyrics while the other stand for the music or is it a common effort?
Val: We work in many different ways since Lizza and I are both accomplished songwriters but we usually start with a guitar riff, try to come up with a cool vocal line and put some lyrics on it. Or sometimes I have a chorus and she makes up the verse. Some songs are written individually also. Or I have all the music, and she writes all the text. I would say there are no rules in this matter, a long as it works.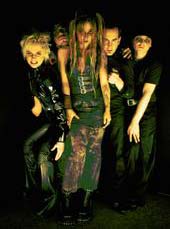 Thomas: And do you and Lizza write all of the music or do the others have any input as well?
Val: At this stage of the game, Lizza and I are the main songwriters. But C-Drike has a lot of input in the arrangements since he's responsible for all the electronics in the band. John and Will also contribute with their special way of playing.
Thomas: What are your main influences? When I listen to the album it feels like to me that you are perhaps being inspired more of other musical cultures then of other bands?
Val: About my guitar parts it seems that my riffs have some exotic overtones, which is something that comes to me naturally for some reason. And if not a musican, Lizza could be a full-time witch performing ritual in the forest, so I guess that inspires C-Drike a lot! Lizza is also from Israel and some inflexions in her singing come from there, obviously. We are of course also inspired by other bands, but as I said before, our songwriting is quite naïve as we don't think too much about labels and try to have no limits of genre, as long as the result sounds great to our ears.
Thomas: Lyrically, what kinds of subjects are you dealing with, are the lyrics spiritual or have some sort of global outreach?
Val: We definitely have some spiritual lyrics and try to convey a certain philosophy of life. Lizza's a great Tarot Card reader, I used to do Astrology pretty seriously, and we share a common belief in the forces of the Universe. We are often singing about people learning how to trust their guts, think for themselves and love who they are. To me every major change on this planet can only be achieved by reaching out to masses through individuals. Change your microcosm first, basically. Being in a musical band is a great way to share your beliefs. But we also have the more usual lyrics about autobiographical, intense emotional experiences.
Thomas: Your music strikes me of being very powerful and to contain a lot of energy, where do you gather the strength from and how do you manage to transform that into your music?
Val: Having a band, writing and playing music for a living, being on stage all come from one source: passion. Without passion I don't think you can be in the music business for too long. And in the end this is what the audience is craving for and gets by listening to Masterlast.
Thomas: I would also like to compliment you on your guitar playing on the album, you have a personal touch to your playing that comes out really well. What is it that inspires your playing and do you have any role models that you look up to?
Val: I have many players that I look up to, and not all of them coming from the metal area. Some great jazz guitarists influenced me with their approach even though Jazz is not my thing. I started playing when I was 8 years old, so I had time to go through many different phases (Classical, Fusion Rock, Pop, Jazz, Hard Rock, and Metal of course) even tough my guts always brought me back to heavy music. Then I stopped listening to anybody for almost eight years, focusing only on my songwriting. I eventually caught up with everything, but I needed time to explore on my own. I'm aware that my path is a little bit unusual but it is what it is. I will mention a few guitarists among the many that I respect: on top of my list Eddie Van Halen for sheer genius, Tom Morello for power and introducing me to the whammy pedal, John Frusciante for feel and style, Steve Lukather for his great phrasing, Alexi Laiho because he sounds different, Prince for his incredible groove, Stevie Ray Vaughan for his soul on fire, Dimebag Darrell for sheer class, Mike Stern for fusing Jazz and Rock so well, Jimi Hendrix because he was free and nuts on his instrument, and Brian May for unforgettable leads.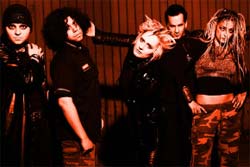 Thomas: You have released an EP earlier, Think Of The Day, which seemed to have been getting a really good reception? So what are your expectations with Mastery Of Self that is your full-length debut? Any reactions on the album so far?
Val: We hope to have an even better response with our full length record, and people who loved the EP will definitely have more candy for their ears. The record is not even out yet, but so far people are really loving the few songs from the album that were put on myspace.com and can't wait to hear the whole thing.
Thomas: The album is soon (September 2006) to be released in Europe but not until February 2007 in the States, how come there is such a gap between the releases?
Thomas: Why did you choose to sign with Escapi Music, has it anything to do with that Mahavatar is being signed to the same label?
Val: Masterlast was signed to Escapi Music before Mahavatar so it has nothing to do with it. Escapi Music was a great choice, because we didn't necessarily want to sign with a major at the beginning, we'd rather have a fearless, powerful independent label taking good care of us and with whom we could develop a real working relationship, not being just another band and get dumped right away if we're not an immediate huge commercial success.
Thomas: Lizza currently released an album with Mahavatar, isn't there a risk that the plans for the two bands will interfere in any way?
Thomas: Are there any other projects for you in the band outside Masterlast? Lizza is also in Mahavatar and isn't John Macaluso about to record a solo album? Is Masterlast the main focus for you all now or are there any other things in the pipe as well?
Val: Masterlast is a priority for me, even though I used to have and always have my solo project in which I sing, write and of course play guitar. But it's still on the side and all my efforts are geared towards Masterlast. Every member in the band has their outside interest but Masterlast is the thing right now.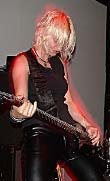 Thomas: As a band that is being fronted by two women, have you ever had any hard times being taken seriously? Even if the world looks more openly on female fronted bands there are still sexism around, do you feel that you get the respect you deserve as musicians and not only because of your looks?
Val: I was never confronted to those situations because of one simple reason: the music speak for itself. If a person has prejudices on my music because I happen to be a woman, I just have to put my record on and the case is closed. Talent and ability has no gender. But sexism in music still exist (even though I feel that men themselves are tired of it and actually appreciate the change), and it stems from the fact that there a fewer accomplished player belonging to the female category. But we can't forget that up until recently in our history women were prevented from expressing themselves outwardly in our society, and even threatened or killed if insiting on doing so. Also little girls are not conditioned towards that type of occupation (playing guitar, being in a band, being on tour) because this is a carrier that necessitates a fearless and extraverted attitude, and people seem to think that these attributes are strictly male for some reason. Women have brains and fingers as well, so as far as I'm concerned nothing prevents your average girl next door to become a guitar hero, or a kick ass drummer.
Thomas: What is your opinion on downloading? You must be aware of that there is a huge risk for your album to be spread over the internet when the release dates between the continents differ that much?
Val: I think that downloading is a question of conscience. There are people that can afford to buy records in a record store or online with their own or their parents'money, and know they can. Then you have people who really can't, and know they can't. I don't mind these people downloading my music for free, as long as there is really no way they can buy it. Basically I leave it up to the people's decision. But people need to be more aware that creating music is hard work, requires skills and is food for the soul of the listener. In itself it has great worth and people shouldn't and generally don't take it for granted.
Thomas: How would you describe a live performance from Masterlast? What could the spectator expect?
Val: Lots of energy, great musicians, grooves to go crazy on and two gorgeous and charismatic women fronting the stage. What elso do you need… :)
Thomas: How much of live performances have you done and has it been mostly local gigs in the New York area? When I did some research on you I found that you have been on tour with Mortiis, have you done any more tours as opening act?
Val: The tour with Mortiis was cancelled and never happened, and we were signed really shortly after the release of our EP, so we didn't have that much time to play out before the recording of the album. To be exact we played 3 shows in Manhattan before getting signed, but they were all a blast and a confirmation of greats things to come. All the musicans in Masterlast are experienced performers and in my opinion playing live will be the greatest strength of the band. The fact that we didn't experience this music live too much will be like not having sex for a while. Then when you do it, it's more intense and it's orgasm guaranteed!
Thomas: How does the future plans regarding touring look? Perhaps a European tour in the winter and an American tour in spring considering the different release dates?
Thomas: And to round this off I would only like to say a big thank you for taking the time to share this with us, and if there is anything more you would like to add or share with the readers of Metal Covenant, feel free to use this last space as you like…
Val: Well, thanks for your interesting questions, hope your readers will enjoy the answers and be interested in discovering Masterlast!
The record should be in the stores by October and you can always get more news by going on www.masterlast.net or www.myspace.com/masterlast. Rock on!
Thomas: That will be all that I have for now, thank you for bringing your metal to us and Metal Covenant wishes you all the best for what the future has in store for Masterlast.
Val: Thanks Thomas! Best, Val

See also review of the album Mastery Of Self »»

Related links:
www.masterlast.net
www.myspace.com/masterlast