Interview conducted November 20 2009
Interview published November 24 2009
I met up with Robb Flynn, lead vocalist and guitarist for Machine Head, in Covington, KY before his performance with fellow thrashers Megadeth. I happened to find him slightly hung over from a night of binge drinking and wrestling. Before his mid-afternoon run, I had a chance to board the tour bus and ask Robb a few questions.

Allison: It's nice to meet you, Robb. So you've been touring for about three years now, am I right?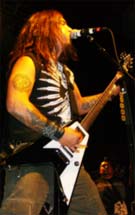 Allison: Are you prepared to get back into the studio and work on some new material?
Robb: Yeah, we just started writing again right before we came out here, and it was cool. It felt really good. You know, nothing earth-shattering came out of it, but for us, 'The Blackening' has been a huge moment for this band. It got nominated for a Grammy, and we toured with Metallica. It's been a huge time for us. But as awesome as it's been, it was just cool to finally go, "Wow, we're really moving on from this." We've been in this 'Blackening' moment for so long now, just touring and touring and touring. I'm excited. You know, I just bought a little $150 Jackson guitar at this store across the street just to sit back here and doodle and fuck around with. I started recording shit on my laptop, too.
Allison: What else do you do in your spare time while touring?
Allison: Do you have any?
Robb: Um, on a day like today, I'm just hanging out. I'm gonna go on a run and try to sweat out some of the booze I drank last night because I drank like a gallon of vodka! (laughs) I'm still a little rough, but it was fun. It was a legendary party night on the bus. Fuckin' hilarious, man! My drummer was just showing us all the pictures.
Allison: Wrestling pictures?
Robb: Dude, I've got this, I don't even know what this is. (points to wound on neck) I landed on the table or something. My neck is killing me. I've got bruises all over. We've got ten people on here, and I think I wrestled everybody on the bus. It was a good night.
Allison: Sounds like a blast! This is the second time you have toured with Megadeth in the U.S. I assume you've become good friends with the guys.
Robb: Yeah, we're cool. I mean, we hang out. Dave doesn't hang out much, because he doesn't wanna party too much. You'll see him around before the shows but not really after. They're all pretty cool though. They're on a sober thing right now. You know, both of us are here because it's good for us to be together on this. There are benefits for Megadeth and there are benefits for us.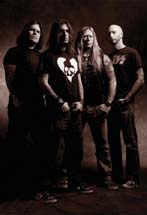 Allison: Many consider you to be one of the best live metal bands out there. What do you do to prepare for a show like tonight's?
Robb: I don't think the preparation is what makes us a good live band. We want to put on a very physical show. I mean, I drink vodka before I go on. I think that the vibe we try to create on stage is why people are nice enough to call us one of the best live metal bands. For us, this is our passion. This is our love. This is our religion. We try to make this a religious experience. That's what we're trying to get out of it. I want people to feel something, to move them. We want people to connect and make a connection. In doing that, you've got to strip away all your airs. I think people can see your soul. When you go up there and are being yourself, people connect to that. So we just try and think about those things before we go on.
Allison: You have covered a wide range of songs, from Iron Maiden's 'Hallowed Be Thy Name' to Ice-T's 'Colors.' Are there any other songs you would like to cover?
Robb: We've done a lot of covers, a lot of punk rock and hardcore because we really came out of that scene, especially when we first started. The Bay Area thrash scene was totally dead. All of our early shows were with bands like Napalm Death, Rancid, Neurosis, Downset, and stuff like that. That's where we came from. So when we do the covers, even though we're a metal band and we've waived the flag high for metal forever, we were influenced by punk rock and hardcore. We wanted to show that it isn't just metal we came from, and we respect that.
Allison: You mentioned in another interview that you listened to Rush's 'A Farewell To Kings' while recording 'The Blackening.' Did this influence the album in any way? Is this why there tend to be more progressive elements and longer songs?
Robb: Yeah, just Rush in general, all things Rush! I love 'A Farewell To Kings' but I like 'Permanent Waves' more. One of our drummer's favorite bands of all time is Rush. For the last couple of records now, there has definitely been a Rush influence on the band, especially the technical, more progressive side of things: weird time signatures, longer songs. I've never met any of the Rush guys. That's one of the few bands we haven't met. It'd be awesome to hang out with Alex Lifeson!
Allison: You recently pulled out of the UK's Sonisphere Festival in protest of opening for Limp Bizkit only to sign back on at the last minute. What was the reasoning behind this?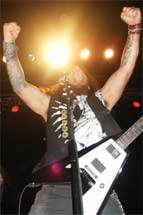 Allison: It's good that you signed back on for the fans.
Robb: We played it unannounced though which was cool. We just let the rumor mill spread a little and when the backdrop went up, that was really the first time that anybody knew we were officially on. It was amazing. I don't know if you saw it on VH1, because they broadcast it in high-def. It was fucking unbelievable, an amazing show. The UK is great to us. We're the kings over there.
Allison: Your sound is constantly evolving. I think 'The Blackening' kicks ass. How do you plan to improve on that in the future?
Robb: Well, the way I look at it, 'Through The Ashes of Empires' was a huge record for us. People were like, "How are you gonna top that?" We topped it with 'The Blackening.' We had to kinda go some place else. We couldn't do what we did on 'Through The Ashes' and now we can't do what we did on 'The Blackening.' Again, we've gottta go some place else. I don't want to write fourteen minute songs. I don't want to have songs with more changes. There's some kind of line that we're gonna find and until we start writing, we're not gonna really know what it is. We really didn't know with 'The Blackening' either. We didn't set out to write ten minute songs. We just let it happen. We were like, "Okay, this feels good." And we'll do the same thing with the next record.
Allison: Well thank you for your time. Good luck with tonight's show!
Related links: