After Rob Flynn's slanderous exodus and farewell from Vio-lence, I never eagerly followed his career in Machine Head. Now that I have heard and reviewed The Blackening, clenching the metal fist of this intent, I was grateful to spend some time getting to know guitarist Phil Demmel and saying, "hello!" to Rob Flynn; thereby, apologizing for my past disinterest. I was very excited about this opportunity, as I am quite fond of Rob & Phil's contributions in Vio-lence.
Therefore, in the presence of my amity, in order to escape the freezing cold season thither, we waited. Indeed, it was not such a beautiful morning, now turned to afternoon, but we bit the bullet patiently, until it was time to climb aboard the bus. Once we became situated and more comfortable; now I laid my thesis down, and began to indulge my curiousity with Phil: discussing the success of their new CD, how the Lamb Of God tour went for them, what response they had received from their fans, and how they were selected as the opening act for Heaven & Hell. We also discussed other future tours and festivals which Machine Head intend to play. These kind aesthetics of fate all portend that nothing may be left unfinished or unsaid.

MettleAngel: Hey man how are you doing?
Phil: Fine, I've been doing interviews all week, and this is my last one for a while, because, this is the last day of the tour with Lamb Of God, then we get a couple of weeks off. Where is your recording equipment, man? Michael, are you really going to write all this down?

MettleAngel: I have a pretty powerful memory. I don't use the gadgets or equipment with all the whistles and bells. I don't write down everything, just the juicy stuff. I just like to talk and hang out, and use the pertinent information for the interview.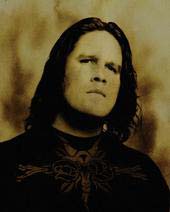 MettleAngel: I will write down exact quotes or anything I find interesting, but mostly I'll re-write the interview from memory and what my wife recalls, that I may have overlooked.

MettleAngel: So this is your last show for this tour, correct?
MettleAngel: Awesome, two weeks off, then you come back for the Heaven & Hell Tour, what a deal that is! How did you manage to score such an awesome opening position like that?
Phil: We were going on tour with Megadeth as it is. They were picked up for the Heaven & Hell tour, so we were submitted for the tour as well, and we also got asked, because we are so cool! (Ha, Ha)
MettleAngel: Well that's pretty sweet, since, like Megadeth, you are a thrash band supergroup. I know that you and Rob played together in Vio-lence; while your drummer Dave played in such great bands like Sacred Reich, Juggernaut, and San Antonio Slayer. So here in America, Black Sabbath fans, who range in ages from the very young to the well-aged, will get to see Dio sing. Some fans will witness this for the first time in over two decades, as well as be treated to two truly killer California thrash acts. Meanwhile, our brothers in Britain will soon be treated to Lamb Of God and Iced Earth as their openers.
MettleAngel: You're not?
MettleAngel: Well, then what style do you consider yourself to play?
Phil: We're a metal band with thrash elements, so we are capable of playing thrash. We prefer to just be known as a metal band, without labels.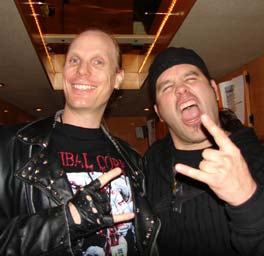 MettleAngel: Well, I'm a huge fan a Vio-lence, and have always been impressed by your guitar playing and intense solos, as well as Rob's rhythms. Unfortunately, I'm not too familiar with most Machine Head music. When Rob left Vio-lence to form Machine Head, I was quite enraged and disappointed, and never bothered to become too involved. Then, when I heard the new album and realized that you were back as a guitar dynamic duo; I instantly became curious about how Machine Head's updated approach would sound. I had heard there had been quite an evolution in song and style over the years, and that when you rejoined the band many old school fans were quite excited. When I reviewed the CD, I was blown away, because the music is amazing and the shredding is superb. It's hard to believe there are only eight songs, and over half of them are quite long; However, given their duration, they never become tedious or boring. In fact, the melodies are performed in such a manner that one would not even realize that he was enjoying a song ten minutes long. These are not those progressive outings common to Dream Theater, nor are they just long endearing sagas similar to Maiden. In fact, they are quite thrashy and ultimately raging anthems.
Phil: Thank you very much, if we had decided not to put the song lengths on the CD, people would not realize how long the songs are. When we sat down to write the songs, we constructed them with a pop style mind-set, incorporating chorus, bridge, break, solo, chorus. I feel that these songs still follow these patterns even though they are quite long. We do not write like Tool or Metallica on St. Anger.
MettleAngel: Oh, I agree, and I've read that when you and Rob wrote these songs you wrote them to endure, so that ten years from now, thrash fans can look back and say, "What an amazing album The Blackening truly is!". I myself, being such a huge Vio-lence fan, have noticed such amazing guitar work endeavours, as I aptly indicated in my review. All fans of Viol-ence and Machine Head will enjoy this album because it will be... "Impressing the masses with eternal nightmarish soloing"... I did not mention anything from Nothing To Gain since most Vio-lence fans tend to not be thrilled, or even vaguely familiar with that release.
MettleAngel: Oh yes, definitely, I have a tendency to include references to artists in a poetic fashion. I will often refer to band's albums and songs in a witty way; although, some readers may find it quite annoying. I did clarify my ignorance of the Machine Head anthology, but on The Blackening, I found Rob's vocals to actually be quite powerful. (To Rob) Rob, wouldn't you say you've improved vocally over the years?
Rob: (shrugging shoulders:) Yeah, well after all these years you tend to improve and learn how to sing. I have been doing this for so long, and since I wrote and produced the music, this become more natural.
MettleAngel: Overall the album is the perfect blend of the old and the new, even if the songs do tend to clock in beyond the standard thrash length.
Phil: That's the good thing, that the songs don't feel long. As for some bands, who will remain nameless, they may write a five minute song, that seems to go on forever; if you know what I mean?
MettleAngel: It's just like a 90 minute movie which totally sucks, even though the movie is relatively short, it just keeps dragging on and seems like forever until there is any resolution of plot or character developement. As you agonize through the neverending story, you begin to recognize that it's only half over, so either you can just give up on it, and do something else, or seriously hope there is some level of improvement. This has been the case for several movies which Wendy and I have watched lately. Now, getting back to The Blackening, do you agree with my review that there are several Vio-lence like riff qualities being performed throughout?
Phil: The new album definetely has Vio-lence elements, but we are more accomplished musicians now. This album is leaps and bounds beyond, say, something like Opressing The Masses. When we wrote an album like that, it's like we were in Junior High School as far as our guitar talents and skill. Now we've graduated to the Senior ball and are really coming into our own.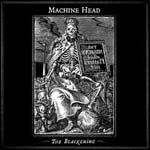 MettleAngel: I can definitely see and hear that. Do you feel that you play better now that you're playing with Rob again?
Phil: Well, when I was in Vio-lence I was with Rob for four years and now I've been in Machine Head for four years. I feel that we are equal and that there is no lead guitarist in this band. (Rob:) (Smirking) He is the lead guitarist. (Phil:) We were just so young when we began playing in Vio-lence. I think it's safe to say that Rob has his strengths and vice-versa. Overall there is a good balance between us.
MettleAngel: As I mentioned, I did not pursue interest in Machine Head until recently. Now everything has come full circle; although, I have only heard your first CD and the most recent. I really do like the new songs and look forward to seeing them performed live.
MettleAngel: I was never bitter, but more just disillusioned. I am really interested in the lyrics and subject matter as disclosed on The Blackening, as well. When lyrics are written in English, they are usually very important to me. Now on this tour do you feel you have a good blend of songs to play?
MettleAngel: Well, Trivium is not playing tonight so you should have a longer set, correct?
Phil: No, not really, we're going to stick to the four song formula. We have been conditioned to this night after night, and we are really not willing to change it up for the last show.
MettleAngel: Well, that's a bummer! I was looking forward to seeing you play longer this evening. Do you feel you have a decent mix as far as your fan base? Machine Head fans, Vio-lence fans, etc.
Phil: You know everyone claims to be a Vio-lence fan. But when I ask them what their favorite song is, they usually hesitate and stutter. Obviously, I can see that is not the case with you.
MettleAngel: Oh yeah, far from it; Vio-lence is the reason I wanted to see Machine Head; just to give me a chance to talk to you and Rob. I love all the Vio-lence albums especially the debut - Eternal Nightmare. (Then I start to sing the lyrics for Bodies On Bodies..."massive graves retain their stench...lifeless skeletons wear their flesh...").
Phil: (Begins to laugh)....Yeah, I get the idea. Vio-lence is a product of the past for which we are quite proud. It's just that now we want to concentrate on Machine Head and proceed with Machine Head type questions. When I first joined Machine Head, it was fun to reminisce about the Vio-lence days. Now that I seldom meet any true fans, it just becomes irritating.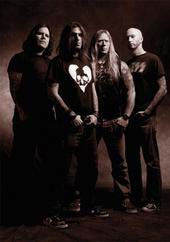 MettleAngel: Yeah man, I understand how that can be. So we'll stick to the Machine Head type questions. How would you say the audience is responding to Machine Head on this tour with Lamb Of God and Trivium?
Phil: Well you got to understand, night after night, we are primarily playing to a Lamb Of God based audience. When we get to a song the fans recognize, they usually get into it right away, but, if it's a new song, as the case may be, they will stand there and watch us play for a while and usually towards the end they'll be diggin it.
MettleMaiden: Are actual Machine Head fans coming to see you play live?
Phil: Yes they are. Initially, several Machine Head fans came to see us, but when they found out we were playing second with only a 35 minute set and four songs, so they became less inclined to attend shows.
MettleAngel: I noticed that your CD debuted quite well in the Billboard Top 100. I think you even did better than Lordi, who are one of the headliners of Ozzfest along with Lamb Of God.
MettleAngel: So, let us take some time to discuss the recording process. Did you have some of your own ideas going into the studio?
Phil: Well Rob was working on the Road Runner United project which gave me some time to write. Still it was a slow process when we got into the studio. "We were off like a herd of turtles", as my uncle used to say. After the first four songs we were really stuck in a rut.
MettleAngel: Yeah, I'm familiar with some of the struggles you had. Talk about your technical difficulties, both guitar and amps blew and Rob had to double track all the guitars. You went into the studio with 26 songs which you wittled down to eight. So, by completing those four songs, technically speaking, you had recorded half the album.
Phil: As if, two months became four, then six! We definitely had our share of difficulties. Finally, I mangaed to come up with some riffs and the intro verse for Now I Lay Thee Down. Finally this lit the fire for the rest of the record.
MettleAngel: So originally you never meant to write seven to nine minute songs, correct?
MettleAngel: Well, when did you know you had written a song worthy of the album?
MettleAngel: Were these songs written with a live setting mentality? When I hear songs like Aesthetics Of Hate or Halo I envision these in a live atmosphere.
Phil: So far it's only four songs being performed each night, as I mentioned. We have not really explored what will work well with a longer set. Once we headline, we intend to play other songs like Aeshetics Of Hate.
MettleMaiden: How many albums are being represented in this 35 minute set?
MettleAngel: Well then I'm sure you're looking forward to having two weeks off before you get to open for the mighty Heaven & Hell. What a dream tour!
MettleAngel: Man I am so looking forward to seeing Dio with Sabbath! I mean, I've seen Dio countless of times, but never with Toni Iommi or Geezer Butler. In fact, my very first Black Sabbath tape was Live Evil. I did not even know Ozzy had originally sung for them. Even though I was such a fan of his Blizzard Of Oz release, back then, and still am. Although, I'm not super stoked about his forthcoming release. However, if Ozzfest is free, this will be quite a gathering with Three Inches Of Blood, Behemoth, Nile, Daath, Lordi, Lamb Of God, etc.
Phil: So Dio was your first experience with Sabbath? That's when I saw them, on the Mob Rules tour. So yeah, opening for them will be killer.
MettleAngel: You mentioned some European festivals, which ones will you be playing?
Phil: Man we are booked for so many, let me think...There's Download Festival, Hellfest, Fields Of Rock with Iron Maiden...
MettleAngel: Wow, you get to open for Iron Maiden too!
MettleAngel: No way, talk about the definition of metal! All that tour is missing is Judas Priest, but they are currently in the studio working on their masterpiece about Nostradameus.
Phil: Well, since Metal Covenant is in Sweden, we will also be playing Sweden Rock Festival with Slayer. (Editor's note: what Phil is referring to here is in fact the Metaltown festival that takes place in Gothenburg on June 30th, not Sweden Rock Festival)
MettleAngel: My brothers at Metal Covenant will sure want to see that. So - this about wraps everything up for now, until we see you next month, with Heaven & Hell.
MettleMaiden: Let me get some real quick pictures, before we finish.

See also: review of the album The Blackening
Related links: