Interview conducted June 04 2007
Interview published June 14 2007
Swedish band Lion's Share are about to do a comeback with their fifth album ready to be released very soon. With the album that is entitled Emotional Coma, the band has woken up from six years of sleep, and many things have changed with Lion's Share during that time. The founding and only remaining original member Lars Chriss is here held accountable and is about to explain why the band has been in a coma and why now is the time to wake up in a new shroud. So why does the newly awaken lion come in the shape it does, with a new musical direction and what share have the new members in the den? Read on and find out.

Thomas: First of all, let me just start with saying that I really appreciate that you are taking the time to answer my questions and letting me and the readers of Metal Covenant know what's up with Lion's Share. In addition, let me also congratulate you on an awesome comeback album.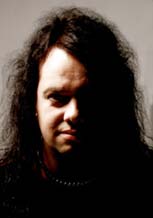 Thomas: Your last album with Lion's Share, Entrance, came in 2001. That is quite some time away from the spotlight for a band. How are you feeling now that you are about to present your new material, nervous about how people will react or are you just psyched to tell the world about Lion's Share again?
Lars: Of course we're a bit nervous, but we are so pleased and proud of everything from the songs to production to artwork, so we have done everything we can and now it's up to the fans to decide if it will be a success sales wise as well. To us it's already a success for the reasons mentioned above.
Thomas: What makes now the right time for a comeback for Lion's Share? And what have you been up to all this time in, as it has been six years since you last released an album?

Lars: After the "Entrance" album I was totally burnt out after taking care of everything concerning the band since the start. I needed a break to re charge my batteries, so I told everybody about my decision and that was it. After a year or so I came up with some ideas again and ran into Patrik Johanson who joined and we started writing songs and planning for the comeback. During the break I also went to sound engineering school, produced, wrote for, played on and mixed an album project called AUDIOVISION and ended up working for a record label. To me it feels like maybe 3 years, but everybody that have heard the album tells me it was worth the wait and that it's our best album so far.
Thomas: Apart from yourself, there is all new members in Lion's Share, with Patrik Johansson on vocals, Sampo Axelsson on bass and Richard Evensand on drums. How did the pieces fall into place with these guys and how did they get to become a part of Lion's Share? Moreover, if you ask me you couldn't have gotten hold of a better person doing the vocals.
Lars: Thanks! Yeah all the new guys are absolutely great! They were all hand picked since I wanted to put together a lineup that had both the musical skills, plus worked well together on a personal level too. We are like a big happy family with everobody's families hanging out together. In the long run this is important too. Patrik I heard on the new right before his first album came out (Space Odyssey) in 2003. Sampo I met when I did a show at Sweden Rock Festival together with Sweden's most famous weather man Pär Holmgren in 2004.
Thomas: Are you not afraid that there can be any interference with their other bands? Patrik Johansson for instance, is apart from Lion's Share also involved in Astral Doors and Wuthering Heights.
Lars: Patrik only have two bands. Lion's Share and Astral Doors. Everything else he was hired to do as a session musician (see his statement). These days many musicians are involved in several different projects, so with good planning ahead, we hope it will work out for the best for all parties.
Thomas: Is this a steady setting with the current members of Lion's Share, or do you set out to do this one and see how things are going, but no major future plans in the making? And what about Richard Evensand? As he won't be touring with you and as Stefan Norgren will fill his place, how does the future situation for the drummer position look?
Lars: That's correct. Lion's Share have three members, me Patrik and Sampo. We are a band to 100% and will continue playing and making records together. Richard will move to Australia soon to get married, so it was no good idea to include him in our touring plans. Stefan is an old friend and he was kind enough to help us out with the summer festivals. Officially we are looking for the "right" drummer, but we are in no hurry. Right now our focus is on promoting the record with interviews and live shows.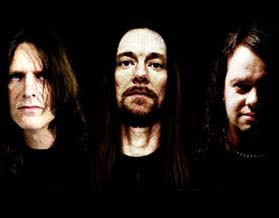 Thomas: How would you say Lion's Share today differ from Lion's Share back in the days? Heavier is what I would say, and more direct. It strikes me immediately with the opening song Cult Of Denial that this is much heavier and darker than what I remember Lion's Share have ever been. Would you agree on that? Moreover, you have thrown away most of the keyboards and the progressive elements. Was this a deliberate decision or were these elements something that you along the way found to be out of place with the "new" sound from Lion's Share?

Lars: I totally agree with you here and would say you got everything right. I early on decided that I wanted to bring more energy to the songs and that I wanted a more "modern" drumming style. I come from a metal background without keyboards, so now that we didn't have a permanent person on that position, it was more or less a return to the roots for me. In a way my songwriting hasn't changed since I still write the same kind of riffs and melodies. If you take away the keyboards and the instrumental more progressive parts on the old records, it's actually not that different. "Fall From Grace" is not that different from the new one if you take away the instrumental / progressive parts, keyboards and the bigger background vocals. "The Edge Of The Razor" from the new album could have been from any of our old records. "Soultaker" is like a sister song to "Waiting" on "Entrance". It's just that "Emotional Coma" is more focused and I think the change of drumming style has meant a lot too.
Thomas: When hearing the track Clones Of Fate I find it to have quite some Judas Priest in it with the verses, reminding me of their song Rapid Fire. Judas Priest is also one of the bands that this album could be described to be in the vein of, along with Black Sabbath and Saxon. These are not band that I would have compared you with your earlier albums, although now, when listening to Emotional Coma, it sounds perfectly all right to me. What is your opinion on this?
Lars: I grew up with these bands and I've always been influenced by them. We have been compared to Black Sabbath, especially with Tony Martin and RJ Dio since our debut so I would say these influences was on all our albums, at least when it comes to guitar riffs and melodies. I think the rawness of the riffs shows better on "EC" due to the fact that there are no keyboards to smoothen them up anymore.
Thomas: The title of your new album, Emotional Coma, what lies behind the choice of name, what does the title represent? In addition, does the really great looking artwork for the album reflect in the title somehow?
Lars: Not really. We wanted a darker cover and also a mascot kinda figure like Eddie (Maiden) that we could use on all our covers and make cool merchandise with. The title was picked from the tracks we had recorded. We just looked at them and picked the one that fitted best. Pretty much the same thing we did with "FFG".
Thomas: My personal favorites on the album are Trafficking and Hatred's My Fuel, these songs are really energetic and have some nice heavy riffs and also an uplifting spirit. And along with other songs on the album they have the feeling of that there is a new sparked flame in the band. Does this feel like a new start for you with loads of fresh energy in Lion's Share, and what songs on Emotional Coma do you feel came out the best?
Lars: Absolutely! We feel great and full of energy and I think it shows on the album. I can't stop listen to it myself, so I just hope all the fans (and hopefully new fans), feels the same way. We wrote over 20 songs, so of course we are extremely happy with all the songs we finally put on the album, but I think we agree on that the first 5 songs a little, little bit better than track 6-11. As usual this is a day by day thing, so…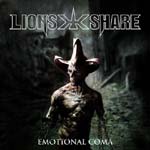 Thomas: There are also some guest appearances on Emotional Coma, first we have Glen Drover (Eidolon, Megadeth) that plays on the title track and secondly Bruce Kulick (Kiss) that plays on The Edge Of The Razor. How did you get these guys to play on the album and what did they bring with them? Was it important to have them to come in and to do a guest part on the album, or was it just great to have them to play?
Lars: It was just a cool thing really. I'm a KISS fan since I was 8 years old so it was a bit special to have an old KISS member play on my record. He even played my guitar when he recorded it and I have it on video. Afterward he had to sign all my KISS records haha. Glen Drover is a friend that I met through my job at a record label. He was kind enough to do this for no money at all. Both Sampo and I are huge Megadeth fans, so we're very happy to have these great guys on the record.
Thomas: Where do you gather lyrical inspiration? And what kind of subjects are you dealing with in the lyrics? Are there any subjects or opinions that you feel strongly about that you like to get off you chest that you are incorporating in the lyrics?
Lars: Patrik wrote all lyrics, but I know he gets inspiration from real life things he hear about on the news, from novels or films etc. He though the riffs and music was so dark so he went for a pretty dark and brutal lyric direction on "EC".
Thomas: Who writes the songs in the band? Is there anyone that is to be seen as the creative force behind the band or does everyone in the band chip in with material to the songs?
Lars: We have no set rules about this, but for this record (like with "FFG" & "Entrance"), I wrote most of the music and melodies. This was probably mainly because most of the songs were written before Sampo joined. After he joined he and I started writing the music and riffs together. Usually with one of us coming up with the first riff and then we keep on writing till we have a music background with guitars, bass and drum machine.
Thomas: What are your hope and expectations on Emotional Coma? Or are you by now just eager to get out on the road to see how the songs work live?
Lars: World domination of course! We've done some small un announced warm up shows and so far it's been working great. Obviously we want as many people as possible to enjoy what we've worked so hard to create. It's hard to sell records these days with all the illegal downloading and copying going on, but we hope our fans are loyal and purchase our records so we can continue to make good sounding high class records. After all it's costing a lot of money to work in proper studios and with professional engineers.
Thomas: One thing that actually surprised me was to see that Lion's Share are signed to AFM Records, as far as I know you work as label manager at Escapi Music, so I kind of expected to see Lion's Share being an Escapi release. Working for one company while being signed to another, can't that be a cause for conflict? Can you please shed some light over this matter?
Lars: I've kept my eyes on AFM for many years now and figured it would be the perfect label for our kind of music and our comeback. It was the first and only label we sent any demos too, so we were lucky they felt the same way about us obviously.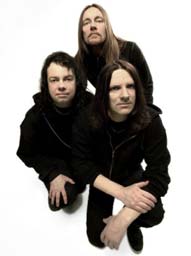 Thomas: You are returning to play at Sweden Rock Festival this summer, how did you like it the last time and how do you feel about returning?
Lars: I love that festival. We are very much looking forward to hit that stage again and it's of course a great opportunity to get new fans interested in our cd and the new lineup. We are playing the Zeppelin stage at 16.00 on Thursday and directly after we will do a signing session (17.30), so be there!!!
Thomas: And while you are there, are there any bands that you look forward to see yourself?
Thomas: Do you have any more festivals lined up for this summer? What festivals are confirmed and are there any further in negotiations? Can you give us a hint on what is about to come?
Lars: We were in the studio when most festivals were booked, but we just did Fjongstock with Mustasch and The Kristet Utseende. After Sweden Rock we will do Mälarrocken in Västerås with Behemoth, Krux and others. Manowar wanted us to do something with them in Germany this summer and then we'll do Metal Heart in Norway with Queensryche, Testament, Dimmu Borgir, Candlemass etc. I'm sure there will be some more dates so make sure you check out our website www.lionsshare.org for updates.
Thomas: And how does the future look concerning touring apart from the festival, any plans made yet? And what would you like a tour to be, as headliners or as special guest to a band that is more established and has a bigger following of fans?
Lars: I think we should support a much bigger band in Europe and maybe do our own club gigs in Sweden or something. Hopefully we will find a tour that will fit us for this fall. It's all about timing and the right combination of bands. We just said no to a tour offer in hope for something more fitting.
Thomas: And to round this off I would like to say a big thank you for taking the time to share this with us, and if there is anything more you would like to add or share with the readers of Metal Covenant, feel free to use this last space as you like…
Related links:
www.lionsshare.org
www.myspace.com/lionsshare
www.lionssharearmy.com