The talanted guys in Nocturnal Rites from the northern part of Sweden are soon about to release their 6th studio album, and we decided to have a short chat with singer Jonny Lindqvist and feel him a bit on the pulse......

Tommy: You are soon about to release your 6th album, the 3rd with you behind the mic. What can you tell us about what to expect on the upcoming effort? Is it going to be a fairly traditional Nocturnal Rites album, or are there surprises waiting for us?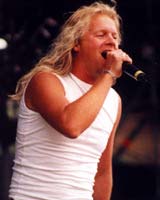 Tommy: Does the recordings this time take place at the usual place, in your home area in the northern part of Sweden? Has anything changed when it comes to the way you work nowadays compared to before?
Jonny: The work is about the same as before. And we recorded in our hometown, but we did the mix in helsinki, "FINNVOX".
Tommy: Do you think that success in this business is based on being at the right place at the right time in these time of days, rather than actual musical skills? It is an interesting thought, if you take a look at for example Hammerfall and Masterplan, to take just a few random examples out of the crowd. You are way better than they ever will be, if you ask me, and have with Afterlife and Shadowland made 2 of the best albums ever, but if you are not getting to make your name heard people will have a hard time discovering you.

Jonny: It`s hard for me to tell because i have never been successfull :-). But if i have to guess I think it`s a mix of both. Thanks for all the flattering words by the way, and I have to say that I like both hammerfall and masterplan. "jorn is the best singer in the world" we just have to keep on playing and banging our heads and hope for the best.
Tommy: How do you think the situation for Nocturnal Rites would have been today if you'd have had the same backup and promotion as the above mentioned bands?
Tommy: Is there a musical background to talk about when it comes to your life before Nocturnal Rites. Have you ever attend any classes or educations for your vocal developments? Surely you can't just come from nowhere and step in to the metal scene with this kind of amazing voice without having sung before…..
Jonny: I have been in different kinds of local bands since the early 80`s and I have taken "some" singing lessons, and that was great, but some
of these "teachers" try to take away the "colour" of your voice, the tecnic is great to have but they seem to want everyone to sound the same.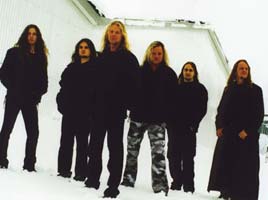 Tommy: What vision do you all have for Nocturnal Rites at this point, if any? Do you have a long term running goal, or are you basically taking it all day by day?
Tommy: How involved in the songwriting are you? Do you sometimes come up with a vocalline that a song later on is built on, or do you not have any insight in the creations at all? Who is the main composer/composers in the band?
Tommy: Do you sometimes wish to be able to have more to say about the musical directions of songs?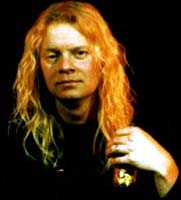 Tommy: What type of other music do you listen to, if anything? Is it mainly traditional metal or is the variation bigger than that? What is your view on the metalscene of today - are there some of the new bands that you like in particular, and perhaps even are influenced by?
Jonny: I listen to all kinds of music, but mostly hardrock/metal. The metal scene today is realy huge, a lot of great bands, I discover new ones every day. If i have to say one band i say "masterplan".
Tommy: You have already played in Japan on a few occasions, and are about to do it again soon if I am not mistaken.Tell me how it is to play over there - are the fans just as fanatic as the rumors say? Any anecdotes you can share with us from a gig there?
Jonny: They are FANTASTIC. I remember the first show we did "osaka" when we started to play the first song and came to the chorus line they ALL started to sing along, me and the bass player just looked at each other and shaked our heads, they ALL knew the lyrics, it was amazing.
Tommy: Are there places and venues that you have not played yet, but looking forward to and hope to play one day?
Tommy: I thank you very much for participating in this interview and sharing this information and your thoughts with us - these last lines are entirely for you. Any final words you would like to round off with - a tip, a recommendation or a thought for the future?
Jonny: Die young, as late as possible! NOC 'EM ALL!
Related links: