Interview conducted December 09 2009
Interview published December 12 2009
The legendary Leaves' Eyes have just released their greatest accomplishment yet, with - 'Njord' - a northbound homage to their ancestral heritage. I have had the honour of meeting the husband and wife team of Alex and Liv, behind this holy bond, and we have become familiar acquaintances; since Wendy and I are also a dynamic mettle duo.
I have been wanting to schedule an interview with Liv Kristine Espenæs Krull ever since I first heard their new (EP). I guess is was my destiny to be patient and wait for the right timing. As it turns out, Leaves' Eyes have returned from their successful European Tour, and are now on Holiday. Liv and Alex took their son Leon to New York, and felt this was a good time to call and chat with me.
I only spoke with the lovelorn lady herself, as they had issues with a busy airport, visas, and Yule Tide traffic jams; however, once the divine wavy hair maiden called me from her hotel room, she was very pleased to finally relax and engage in a fun, jubilant conversation which dealt more with our sons, our dietary choices, and our personal pursuits; more so, than the band itself.
So come enjoy some hoilday cheer, leave your worries aside, and stare into the solemn sweet eyes, and endearing heart of the velvet Viking Goddess of Northern Goth and Symphonic Metal.

Liv: Hello there Michael, it is so good to hear from you again. The whole family is here visiting New York for Holiday. After a very busy tour, we needed some rest; however, we are still quite stressed out.
MettleAngel: Really how so?
Liv: Well, here we are in the greatest city in the world, and it is cold and raining. Where is the beautiful winter snow?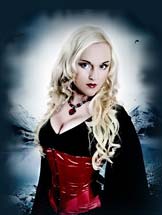 MettleAngel: Oh I know, it is cold here in Ohio too, but all we have is freezing rain.
Liv: Being from Norway, Christmas time is always special to me, and snow is a part of the moment. Also, I was delayed at the airport, because I did not have the proper visa.
MettleAngel: Oh no, so many metal acts are facing this issue.
MettleAngel: I am sorry to here you are facing such frustration.
Liv: Well, now everything is simmering down. Alex is taking Leon to Toys R' Us, and so I am able to call and speak with you. How is your lovely wife, and that son of yours, Stephen?
MettleAngel: I am so impressed that you remembered his name. So, you do recall the time we spent on the bus in Cleveland, while you were on tour with Symphony X?
Liv: Oh yes, you and your wife, and your son were so sweet, and reminded me of my own family.
MettleAngel: Leon and Stephen played Thomas The Train together, while we conducted our interview. We still have this picture on our table in the living room.
MettleAngel: Does Leon still have his really long curly hair like his mother and father?
Liv: No, not anymore, he finally cut it by his own choice. It was down to his knees, and he would not take proper care of it, by brushing, and washing accordingly.
MettleAngel: I can imagine. My son does not want the hassle of long hair, either, unlike his daddy. If only my own stringy blonde locks would grow really long like Alex and Leon's!

Liv: Leon wanted to engage in sports, and swimming, and his hair kept getting in his way. Also, he did not like it when people mistook him for being a girl.
MettleAngel: One thing that really impressed me was that he is trilingual.
Liv: Yes, he speaks fluent Norwegian, German, and English.
MettleAngel: That is amazing for a six year old boy. Then again, his mother is also incredible, as you have a Masters in Linguistics. Has he begun Kindergarten yet?
MettleAngel: That is what we did with Stephen, as home schooling was an option, giving my teaching background.
Liv: Leon will either go to a really nice school in Germany, and remain with his grandparents, or he will continue to tour with us, and we will bring along his tutor.
MettleAngel: As a former teacher, I am so grateful for the school system which Stephen is attending. The teachers really care about him, and the faculty is so diligent. They never judge Wendy and I by our appearance.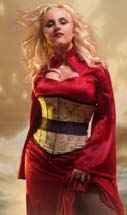 MettleAngel: My experience in teaching was quite the opposite for Public Schools. We are both truly blessed. I have read recently where you are a practicing vegetarian.
Liv: Oh yes, Alex and I both are, for many years now, I think.
MettleAngel: I am an ex-vegetarian. I did not eat meat for over a decade, but now I do.
MettleAngel: It was my personal choice. I never felt the pressure to convert. My wife was cool with my eating habits. She still is, and believe me they are not normal.
Liv: Neither are ours. One of the reasons I am this way is because I have such a sensitive digestive system. I discovered this very early on. The only time I do actually eat meat, is when twice a year I return to the fjord where I grew up. There I will do some fishing, and prepare the fish I catch, and then eat it. Alex will not even do this.
MettleAngel: Man, I imagine that is very delicious. I eat meat in moderation, but I am totally allergic to pork. Our son also eats meat, but he has always had a proclivity for eating healthy.
Liv: This is the same with Leon. One of the reasons I have begun to cook and bake for us more, is because Leon is lactose intolerant, and he must avoid glutens. Now that I cook the meals, we are all eating so much healthier.
MettleAngel: I can only imagine. I have seen that you have published some of your recipes, are you planning to write a vegetarian cookbook.
MettleAngel: Yum! I sure would love to try those. In my experience, vegetarians do make the best cooks.
MettleAngel: In the '90s, I would delight in Linda McCartney's awesome dinners, and recipes. As a bachelor, I did not cook, but her frozen dinners were to die for, and so scrumptious. I was so disappointed, and saddened when she passed away.
MettleAngel: Since you do not plan to write an all encompassing cookbook. How about including your favourite recipes as a bonus packaging deal for Leaves' Eyes albums.
MettleAngel: You could make a special re-issued version of 'Lovelorn', with some demo cuts, and include your own special recipes. Just think how successful those signed versions of the 'Legend Land' (EP) were. I imagine your hands were tired after having signed all those.
MettleAngel: I know, and you honour them so well. 'Lovelorn', was my first Leaves' Eyes album, as I have always supported all your previous work with Theatre Of Tragedy, and your more pop oriented solo efforts. Did not your sister - Carmen Elise Espenæs - from Midnattsol, another Napalm act - also sing backing vocals on the debut?
MettleAngel: Are you planning to work together with her again soon? That would be a cool tour with both bands, and the two sisters.
Liv: Yes, well, Carmen is back in Germany living in our home, and driving my car. I do love my sister, and I really should record with her again soon. Alex is working with his sister Jasmine on new Atrocity material.
MettleAngel: Oh really?
Liv: Yes, they are doing a follow up to the 1995 'Calling The Rain' release. Ever since we built our new studio in Germany, right next to our home, we have been very busy recording new music. I have a new solo album coming out next year as well.
MettleAngel: Wow! You sure do keep busy! I imagine this new studio is where you recorded 'Njord'?
MettleAngel: You are such a multi-talented individual. I really love the new album, and the diversity of songs. I think it is your best effort, yet.
MettleAngel: I am so glad that the majority of feedback has been favorable. I have read some reviews, which are less than generous, but clearly they are not taking into account you musical background and heritage.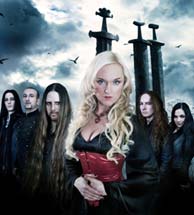 MettleAngel: I also really like the 'My Destiny (EP)'. I think some of those songs like "Nine Wave Maidens", and "The Battle Of Maldon" are as good as the songs on 'Njord'.
Liv: Thank You! We knew "My Destiny" would be a single, but we wanted an (EP) with songs that stood on their own, so Alex, Thorsten Bauer, and I set out to write some unique songs.
MettleAngel: This is why both are noble accomplishments.
MettleAngel: The one review I read did not care for the "My Destiny" (Remix). Obviously, he was oblivious to what Atrocity were doing in the '90's, and what your solo music is like.
Liv: Yes, some reviewers judge us on just the one album they have heard. They do not take into account our history, and our heritage.
MettleAngel: I know you are sometimes labeled as being Viking Metal, even though musically you are not. I know you chose to sing about the North, as that is truly your ancestrial lineage.
Liv: Yes, and we sing about other concepts very important to us. When we chose to make "Les Champs De Lavande" as a bonus track for the digipak version, I learned to sing in French. When we performed "Morgenland", I wanted to sing in Gaelic.
MettleAngel: Are you versed in Gaelic?
MettleAngel: Wow, I assumed you did.
Liv: With my degree in linguistics, I focus on the phonetics to learn and comprehend a language. When we were writing this album in the studio, we also concentrated really hard on the instrumentation. This is why "Irish Rain" has an Irish flute, this is why we have a full 50 piece Munich orchestra, we wanted to pay attention to every detail.
MettleAngel: I respect that you went all out, which is why the album is so engaging. I noticed that there are two versions of "Scarborough Fair", one on the (EP), and one on the album. This is more than just a Simon and Garfunkle cover though, right?
Liv: Oh yes, this song has a very rich tradition. I love celebrating the sacred moments in history. Everything we do is sincere, we never fall prey to gimmicks.
MettleAngel: This is what I thought, kind of like the song "Greensleeves", which even Rainbow made current in the '70s. For a band like yourselves or Blackmore's Night, a selection like this is most befitting. I read another review that accused you of jumping on the bandwagon by covering Paul Simon & Art Garfunkle. He acted like you were imitating Nevermore. It is not like you redid "Sound Of Silence", "The Boxer", or "Bridge Over Troubled Water".
Liv: I actually attended Scarborough college as an exchange student. I am very aware of this song which dates back to the middle ages. When I suggested we honoured this tradition, the band was reticent, but I feel we have added our own spirit to the music.
MettleAngel: Indeed you have, and I enjoy both versions.
Liv: For Leaves Eyes, 2009 is proving to be a wonderful journey for us. We wait to see what the universe will have in store for us in 2010. We just wrapped up a very succesful European tour, and we performed many new songs to a very honest and open audience who responded with joyful approbation.
MettleAngel: How many new songs have you added to the set list? I assume "My Destiny", and "Northbound" are now staples?
MettleAngel: So after the live CD & DVD - 'We Came With The Northern Winds/En Saga I Belgia' - you are ready to focus mostly on the newer songs?
MettleAngel: Are you planning to return to the US for a headlining tour in 2010?
MettleAngel: What would be really cool is if you were to tour with Atrocity, and Midnattsol.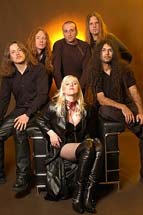 MettleAngel: Well, we look forward to seeing you again, and having Stephen and Leon spend more time together. He is approaching the video game age, so this will be his next big concern. We already bought him a Nintendo Wii for Christmas.
MettleAngel: This is what my wife says about Stephen, that there is no doubt he is my son. I guess the apple does not fall far from the tree. I just need you to cook it up into a pie which we can all digest, if you get my drift.
Liv: I do, and I know you are a great father. This has been a very enjoyable interview for me, because I do remember you and your wife. I really love to talk about my family, as much as my band; even if they are one in the same.
MettleAngel: This has always been my main appeal with the band, your sacred bond with Alex and Leon, and your longlasting friendship with Thorsten. Liv, I know you have more important things to do on Holiday, than just chat with me.
MettleAngel: Thank You, and I truly appreciate you taking the time during this busy season to converse with me. Congratulations on an excellent new album. We look forward to seeing you again live soon.
Liv: We will look forward to seeing you as well.
MettleAngel: Tell Alex and Leon Hello from Wendy, Stephen, and I.
Liv: Oh I will, and while we are shopping, I will tell him how wonderful this conversation was. I will also tell him about your recipe promotional idea.
MettleAngel: Thank You! From all our mettle hearts, we wish you the best and most blessed durinig this Holiday Season.
Related links:
http://www.livkristine.com
www.leaveseye.de