Wendy and I were overjoyed when we realized we would get an opportunity to sit and chat with both Liv Kristine and Alex Krull from Leaves' Eyes. We engaged in a gem of an eye popping and blunt chat with Liv and Alex while their three year old son Leon Alexander frolicked and flourished about. This tremendous work aiding and abetting our desire to better communicate with this zealous and talented married couple who observe the great commandment for ever and a day. Wendy and I were both curious to see if the lovelorn couple would unveil any secrets for the sequel to Werk 80 and its speculative seal of secrecy; but overall, we focused on the elegy of the Vinland Saga with Liv and Alex in tandem and apart, as they explained what a joy it was to tour Legend Land with the twisted myth-opera of Blind Guardian.

MettleAngel: Wendy and I are ever so please to finally meet you both in person. My dear Liv, I know that you may have been asked this question several times, but I am personally curious what inspired you to name the band - Leaves' Eyes?
Liv Kristine: Well, my name as you know is Liv, which is homophonous with the term 'leave'; so when I asked my husband Alex, here, what he noticed first about me when we met, he said that he loved Liv's eyes. So this became the inspiration for our band name.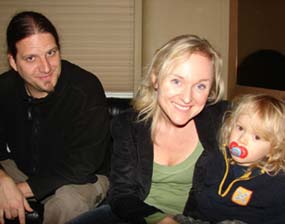 MettleAngel: So then, it was your penetrating blue eyes, and not the blue jeans i.e. Levi's, which led to this appellative. Wendy's eyes were the first thing I noticed about her as well. I think it is so great that you work with your husband and tour together. Wendy and I do everything together, as well; especially when it comes to working as a metal team. She is my Wendelight of my life!
MettleAngel: Yes, and we have a three year old boy just a few months older than your son. (While we are conducting this interview, Liv and Alex's toddler son Leon Alexander was playing, and even climbing on my back). So, Liv, it seems that many Leaves' Eyes fans know you all too well from your work with Theatre Of Tragedy, and your collaborations with Atrocity and Cradle Of Filth. Do you find that you are making new fans with Leaves' Eyes as well?

MettleAngel: So what made you want to create a band such as Leaves' Eyes?
MettleAngel: I sure can tell the difference on Legend Land as opposed to the Theatre Of Tragedy days, which evolved into more commercial pop music like your solo efforts. When did you and Alex meet?
Liv Kristine: About ten years ago, Theatre Of Tragedy was touring with Atrocity. I even served as a guest vocalist for one of their songs. Alex and I just married three years ago. We have been woking together for ten years. Now, here we are on this American tour and we get to bring our son with us. Of course, we do have a babysitter. If I don't see or interact with my son for more than ten days, I get real worried and stressed out, this puts me in a bad mood and I end up doing too much shopping...
MettleAngel: Yeah, Wendy and I would like to bring our son on more of these concert outings; but we feel he is still too young. We know that he wants to come. (Now Leon Alexander is drumming loudly all over everything; thus showing his love for metal and his two mettle parents).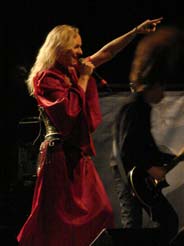 MettleMaiden: Oh yeah, he listens to metal with us and he has a toy guitar, bass, and keyboards and says that he is "Mommy's little headbanger!" His hair is not as long as Leon's though, yet...
MettleAngel: Liv, I understand that you have a masters degree in Linguistics. That is quite an accomplishment over and above your amazing musical career.
Liv Kristine: I love words, their multiple meanings, and how they should sound phonetically. This all started out as a hobby of mine. I have excellent hearing which allows for better phonetic transcriptions. Given time and scrutiny, I can effectively transcribe any dialect or language with just a few listens.
MettleAngel: That is incredible. I too love words, when you know the etymology and aietiology of words and their essential meaning, you can really impress people with your elaborate vocabulary, and pleonastic vernacular.
MettleAngel: With Leaves' Eyes following Lovelorn, both Vinland Saga and Legend Land have held a very real Viking history theme to them.
Liv Kristine: I love history, especially of the Middle Ages. This is true American history. With Legend Land we celebrate the true discovery of America. People, say, "..But what about Columbus?" They do not know about their Viking heritage.
MettleAngel: Oh yeah, I know that is sad, and Vinland literally means the land of the vine - that is wine. Legend Land is essentially about North America. This is truly something to celebrate while on this American tour. Alex sure knows how to whip the American crowd into a frenzy when you play this song live for the audience.
MettleAngel: With Leaves' Eyes, you have more control over the lyrics and subject matter, than you did when you were in Theatre Of Tragedy. I first saw you live with your husband's band Atrocity performing songs from Werk 80 at the Milwaukee Metal Fest '98. I was a huge Atrocity fan, but unaware of the Werk 80 material. I was also seriously impressed with your singing in Theatre Of Tragedy. The collaboration was awesome. Most of my friends were not too impressed with the new Atrocity direction; but as for me, I was hooked. Werk 80 is still Wendy's and my favourite Atrocity CD, and we are both super psyched for the follow-up. I'll talk to Alex more about this. (Liv had to leave to prepare for the show and feed Leon, so I only had time to ask her one last question). Now, Liv, my last question concerns this current tour with Blind Guardian. Hansi told me that he really enjoyed touring with all of you. What is your perspective?
Liv Kristine: This tour and bill works so well. We are just overwhelmed with the warm welcoming. The crowds and fans are just so enthusiastic and positive. We were so surprised with the response, overall.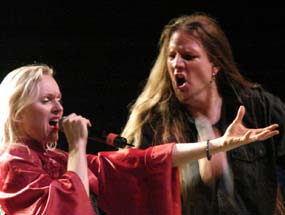 MettleAngel: Thank you so much for indulging us with these eloquent and elegant remarks. We are really excited about seeing you perform in a short while.
Liv Kristine: Thank you too, it was great to meet you both. (Now my attention turns to Alex who has been silently present during this interview, carefully watching over his son's thrashing tendencies.)



MettleAngel: Alex, Let's talk about Werk 80 and the soon to be released Werk 80 Part 2.
MettleAngel: We had MTV which mixed Madonna and Bon Jovi, and you had the discos and techno clubs, as part of your everyday party atmosphere.
MettleAngel: Yeah, for a while in the 80's metal was considered to be a bit trendy. Then there was grunge, and alternative, all mere marketing terms to sell mass music. In the States, music is manufactured; whereas, in Europe metal carries a more strident accuracy and authenticity. This is why I have always had a proclivity for European metal artists.
MettleAngel: You are a very busy person with Atrocity, Leaves' Eyes, and your producing so many bands.
Alex: Yeah, and now I am also working for the Roadrunner German office. They have asked me to do more, and offerred me a lot, but I'm not moving to Cologne.
MettleAngel: Is that how Liv hooked up with Cradle Of Filth to sing on Nymphetamine?
Alex: Oh no, she recorded that before I was hired by Roadrunner. I'm still in contact with Monte Conner, though, he will be in attendence at the New York show.
MettleAngel: Yeah, you began your career on Roadrunner, then moved to Massacre, now you are on Napalm - same as Leaves' Eyes.
MettleAngel: Well, everyone in Leaves' Eyes is now also in Atrocity, so that makes it like one big family. Atlantis was your first recording for Napalm, correct?
MettleAngel: Yeah, I am very excited about that. I still have my original copies of Hallucinations and Longing For Death. I actually purchased my Longing For Death on cassette after I read a review which mistakenly compared you to Deicide. What sparked my interest was that it mentioned your cover of Archangel by Death. I really bought the cassette to just hear this Death demo. Now, in retrospect, the Longing For Death release is way more technical thrash and much better than the death metal Roadrunner doled out in the early 90's.
Alex: Why mention Deicide, we sound nothing like them. Atrocity has been around for 20 years and we have always been innovators. Obvously, that reviewer had not heard much of our music. What magazine was it, do you recall?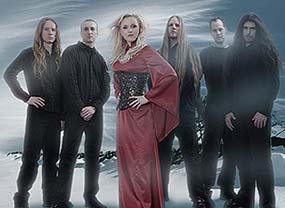 MettleAngel: I think it was Metal Maniacs, but it has been so long, so I'm not positive. You have to remember that both Atrocity and Deicide were on Roadrunner, and back then Deicide was the "Oh so shocking - 'in thing". The good news is that article inspired me to buy Longing For Death, and discover Atrocity. Then shortly afterward, I received the conceptual anti-drug abuse Hallucinations on CD for my birthday. I appreciate the fact that Atrocity have always been on the cutting-edge. How did you get permission to cover an obscure Death demo?
Alex: Well, we were touring with Death at the time, and Chuck just gave us permission to re-record his song from the '85 Infernal Death demo.
MettleAngel: That's so cool because Death never did re-record that song themselves. Your rendition kills, nevertheless.
Alex: Thank you! Did you know that Longing For Death was not supposed to be the original title for that CD? We fought with Monte heavily over that. We wanted the title to be in German, which was the case of the albums which followed like Blut and Wilkenscraft.
MettleAngel: Yeah, it was supposed to be Todessehnsucht - right? How exactly do you pronounce that?
Alex: (Pronouncing it properly)...Yes, you do know about this! Monte felt that a German title would not be a good selling point. Then a few years later, along comes Rammstein with Sehnsucht, and they go over so well.
MettleAngel: Yeah, they even sing in German, and no one seems to mind. I guess that's why you eventually departed Roadrunner and shifted to Massacre. Atrocity is way more talented than Rammstein!
MettleAngel: Celtic Frost, oh don't get me started! We just caught them live and Tom G. Warrior insulted Wendy. Needless to say, I teased him about Cold Lake. They began it all with Into the Pandemonium, then instantly turned their back on it to become glam fags; but not Atrocity!
Alex: (Chortling a bit) Blut is German for Blood, on this CD we first used female vocals mixed with my gothic arrangements. We are the pioneers for so many later popular metal genres - whether it be death metal, gothic, or whatever you call it. Really, I just don't think that way, though. I see making and composing music as an artform. It is the playground for the composer. Consider a filmmaker like Steven Spielberg, He can create Schindler's List and Jurassic Park.
MettleAngel: Yes you are a definitely a protean musician, there is no doubt. Don't forget Spielberg also did Jaws and ET. This is why each Atrocity CD has it's own sound; but is still undeniable Atrocity. Just look at your cover of Accept's - Shake Your Heads, as an example of this. Now next to Bill Steer, Jeff Walker, and a few others, you definitely have some of the longest hair in metal. (Liv swings by for just a minute overhearing the conversation...)
Liv Kristine: Yes my husband's hair is very long, I have even stepped on it while we were on stage together. (Alex): I love classical music. I admire several composers from Beethoven to Wagner. Both are unique in their style. For me and the band, Atrocity is pure heavy metal - nothing else! We strive to play dark, bombasdtic music. When a band begins to play the same style from album to album, they essentially became prisoners to their own music, and this in time will eventually limit their potential and out reach.
MettleAngel: Yes, I know what you mean, and for bands like AC/DC, Tankard, Exodus, and Slayer this somehow works; whereas, most bands feel the need to reinvent themselves; even when it means the loss of a significant fan base. Somehow Atrocity have endured and matured. Many older fans were pleased when you returned to your death metal roots on Atlantis. This is why I am so thrilled that you are doing a sequel to Werk 80. I love the way you chose to cover a mix of the real and less popular artists on Werk 80. You metalized them all!
Alex: At first, I was not a big fan of these bands when I heard them I thought that they would sound better and be more accessible if they were played heavier; so the seeds of Werk 80 were sold. Liv's vocals fit so well with certain songs.
MettleAngel: Yeah, just like your vocals work so well with Leaves' Eyes. I was quite pleased to hear your two perform the Camouflage cover - The Great Commandment live at Milwaulkee Metalfest. What's your favorite Camouflage cut?
Alex: I really like Love Is A Shield. Did you know they reformed recently? We were going to tour and have them open for us in Germany, but then we got the US Tour offer with Blind Guardian, which we opted instead for, so we could not tour with them.
MettleAngel: Wow! Camouflage open for you guys, that's like Moonspell opening for Depeche Mode. I was not aware that Camouflage were on tour. The last album which I heard from them was Meanwhile; I would really like to hear Relocated. I wonder if it still has that 80's flavour to it. So what kind of music are you leaning toward for Werk 80 Part 2? Any Madonna, Michael Jackson, or Prince covers in the works (ha, ha ha)? Will it be more pop oriented like Soft Cell and Duran Duran? I know you don't want to reveal too much, just give me a little hint of what to expect.
Alex: Let's just say that it will be in the more pop-oriented direction with orchestrations and promise. Here is an interesting story about Soft Cell, though. I'm not sure of it's overall validity, though - here it is, anyway - there was this go-go dancer on tour with Atrocity. We played Tainted Love live while she danced. Apparently, she knew the drummer of Marilyn Manson. Next thing you know, Marilyn Manson is also covering Soft Cell......ha,ha,ha.
MettleAngel: Whoah! Still, Marilyn Manson suck! I despise all of their covers. They butchered Eurythmics - Sweet Dreams, and AC/DC's - Highway To Hell. It is a sad state of affairs when less than talented bands like Marilyn Manson and hyped bands like Rammstein receive better coverage that an amazing band like Atrocity. Although, you now have Leaves' Eyes which will encourage fans to rediscover Atrocity, as well. This empowers you, your band, and your wife to continue to create quality music in the style and fashion of your choosingt. Liv's vocals and melodies all contribute to the glory and edification of the Viking heritage.
Alex: This tour is really going great. Thanks for all the support, it was great talking to you.
MettleAngel: Yes and thank you! It is truly an hour to meet and get to know you, your wife Liv, and your son Leon Alexander.
Alex: Yes, Leon has my name as his middle name...
MettleAngel: So does our son - Stephen Anthony Michael - actually his initials are S.A.M. Francisco. My middle name is Anthony, so he has my name twice.
Alex: Or SMF like Twisted Sister, too.
MettleAngel: Well, I never thought about that, but you are right! In time I'm sure he will prove to be a sick MF! Wendy and I are true fans of all of your affiliated bands. We know what it means to be married and share your love for metal. Maybe next time we meet we can bring our son along to play with Leon.
Related links: