As the 11th hourglass sifts, showing what I've become; fear is fogotten in the absence of the sacred omerta. Still, there is no more time to kill, as Wendy and I prepare to interview the bold, bound and determined poker face bassist - John Campbell. His competitive enthusiasm is the requiem for your malice. Coincidentally, he shares the same initials as the other Lamb Of God, who once was purified; but now is ruined by a warning from the pathetic redneck boot scraper. Walk with me in Hell, descending through the blackened ashes of the wake; 'til again we rise, beating on death's door, as the palace burns...

MettleAngel: John, Lamb Of God is one of the most hardworking metal bands around. You are breaking new ground musically and stylistically; it seems that you are securing the best touring gigs. From Ozfest, right to headlining the inaugural Sounds Of The Underground, to top billing on Unholly Alliance; there's just no stopping you. Now, you have teamed up with Dave Mustaine for Gigantour 2. Have you had much downtime between all of this; besides the recording of the new CD?
John: After the first leg of The Unholy Alliance, we had three weeks off in August. After Gigantour we'll be home for three or four days, then it's constant touring through Thanksgiving. After that we are off to Japan and Australia for the first time. We will also go to Milan and rejoin Unholly Alliance in Europe.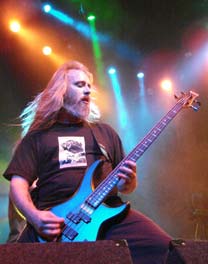 MettleAngel: I guess it's fair to say that Lamb Of God have become America's most successful new metal band. You debuted at #8 on the Billboard pop charts. That's quite an achievement!
John: Yeah, we are doing pretty good, I guess. This still does not cover my apartment payments or rent; but, the band is being well taken care of.
MettleAngel: I first discovered you when my brother raved about seeing you play Ozfest with Judas Priest. I remember reading an article in Entertainment Magazine mentioning you and Cradle Of Filth as bands to watch out for in the days to come. It was under a section in the music category saying if you like this artist, then check out this band.

MettleAngel: I had heard the name Lamb Of God, but I just assumed you were another typical death metal band from America. It was not until I received a promo copy of Ashes Of The Wake that I became a follower, and understood why my brother was such a fan.
MettleAngel: Here it is September 23rd which is acutally my brother's birthday, and here I am covering Lamb Of God again and actually interviewing you, John. Last time we covered the pre-listening party; but we never actually got a formal interview.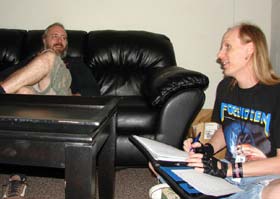 MettleAngel: Now one quality which I admire about the band is the fact that you are all in committed relationships. Everyone in the band is married, but Mark, correct?
MettleMaiden: Yeah, marriage will give you gray hair - just look at these streaks. As a model I'm supposed to color them out, but Michael likes them this way.
MettleAngel: Hell yeah, gray streaks are sexy! Now let us talk lyrics. Mark and Randy write most of the lyrics, correct? I assume Randy writes the more emotional heart-wrenching personal songs.
MettleAngel: By the way, I'm supposed to mention that a friend of yours whom I interviewed last night known as 'Analingus' says, "hello..".
MettleAngel: So, essentially Lamb Of God has really accomplished a great deal after over a decade of really hard work. Your band is playing outside the box and redefining metal musically for both old and new fans alike. I'm writing a CD review to accompany this interview. Your new CD, Sacrament, is so damn technical and beyond classification. I'm hearing Death "Human", Sadus, Cynic, and lots of thrash influences. If you close your eyes, tune everything out; save the music, you become enraptured in a musically enveloping experience of euphoric bliss and subliminal context.

MettleMaiden: Lamb Of God has maintained the same line-up in spite of so much trial and the highly recognized and publicized Killadelphia DVD incident, where Mark literally laid Randy to rest. Is the band getting along better than ever?
MettleAngel: I know that the band was torn on naming the new CD. It came down to Reverence, and finally Sacrament. What does the name symbolize for the band?
John: Sacrament is more than just a religous term. It's about ritual, and the deep thought that goes into a ritual. For the band this album is our personal sacrament. Facing addiction is part if this sacrament.
MettleAngel: Do you know the essential meaning of the word sacrament? Aside from it's religious connotations, it means to declare an oath. Therefore to make a sacrament is to be bound by oath.
MettleAngel: Lamb Of God in latin is Agnus Dei. This is symbolic because the lamb represents a holy sacrifice to God. I know how much the band has sacrificed themselves to succeed. I know how that club in LA would not let you play because you were once named Burn The Priest. It's a shame people judge you based on a name only. I guess this is the tongue in cheek reference in your new video for 'Redneck' - a simple and silly misunderstanding?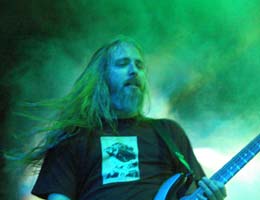 MettleMaiden: Now I understand that you went to Military School, tell us more about this. Michael also went to Military School in the early '80s.
John: I attended Fishburne Military School. It was basically a prep school run by Army based rats. I was in JROTC, I learned how to shoot a rifle and read maps. This was in Quantico, Virginia; it was an old Civil War camp once run by Confederate officers.
MettleAngel: Well, my days of military school will be forever scarred on my heart; but it was there amidst insane Vietnam ousted Marine Colonels and crazy cadets where I first discovered metal like Maiden, Priest, Sabbath, and even Riot. So for that I'm ever grateful.
MettleAngel: Thank you so much for taking the time to include us in your very busy schedule.
MettleAngel: We are both looking forward to seeing the show tonight.

See also: review of the album Sacrament

Related links: