Only lately have I become familiar with Lacrimas Profundere. Again it's over my head, the magnitude and marriage of this sad, velvet, little harkness to gothic delight; whom have suceeded not to stay just popular in Germany alone. Therefore, I took the opportunity to get to know Oliver Nikolas, that I might expand my gothic awareness; since solicitude is silence. Thus I grant thee my sweet carol lines, just a short glance into my filthy notes; that you may partake in this theme - an irresitible fault:

MettleAngel: Greetings Oliver, I want to become more knowlegeable about your band, so I have prepared these questions for you. I noticed that the terminology for Lacrimas Profundere is clearly Latin. If I were to translate it, my rendering would be - to shed tears or weep sorrowfully. For you and the rest of the band, what does the name essentially symbolize?
Oliver: We searched for a name which nobody has used before, and banal terms like bitch, slut, or whore, were just not what we were looking for! So, Christopher came up with the idea to take a Latin name; and the meaning fits our music, in my opinion!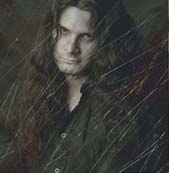 MettleAngel: Oh I see. Now, many metalheads may not view you as being a classic metal outfit; but you have several gothic influences. When I hear the CD, I detect traces of Sisters Of Mercy and Fields Of Nephelim, as well as Sentenced and Paradise Lost. What other influences incorporate your style of gothic rock?
MettleAngel: Now that's a noxious potient! You label your art as being rock mixed with sad music, what motivates you to create this somber sound?

Oliver: We hate this comparison to other bands or other styles of music. We simply do what we do and what we can! Songwriting, is a challenge to us; it's a challenge to come up with something to top yourself, or go down a different avenue then you did last time. For me, the juice is how good you can get as a musician, not about the money and the fucking chicks. So we create our own label to be singularly selective.
MettleAngel: I empathize with your frustrations. What aspects of life in general inspire you to write these melancholy lyrics?
Oliver: It's a diary of our life in the studio, on tour, and in private! We know every toilet at the highway here in Germany, we go on stages with cables and wires entwined like a bomb, and have taken a shower in rooms you would never even kill a pig in (yuck!) We have been on tour sometimes with nothing to eat for two days, and only beer in stock! This is the real hard life on tour, but, trust me, this is the only thing I want to do for the rest of my life! So, our lyrics are inspired by these moments!
MettleAngel: Yeah, it seems the more I interview bands, the more I begin to realize and sympathize with this bitter, harsh reality. With the success of bands like Type O Negative and HIM, does it bother you that your classic gothic sound becomes compared to these more commercial outfits?
Oliver: No, we don't give a shit for other bands. We only do what we like to do! We have played our goth music since 1993. We have grown up and changed the music a little bit, but we still play melancholic goth music! These bands are a chance for every goth musicians to steal away some girls from this shitty popworld, so its OK!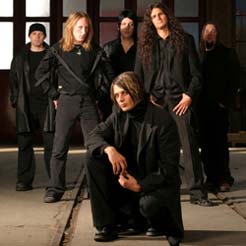 MettleAngel: Now, that's a fair assessment. What was it like to work with producer, John Fryer, whose previous work with Paradise Lost and Cradle Of Filth has helped those bands broaden their sound and approach? Cradle of Filth has even added the singer of HIM as a guest on their new CD Thornography for the song Bironic Man.
Oliver: It was fantastic to work with him! He is a strange fellow; he does not know anything about sleeping, drinking Jägermeister, or freetime! We had to work from morning till midnight or longer every day, and he does not grasp the something special about the word Sunday, idea! So, it's a hard job, but without him, it just would be not the same! That's it!
MettleAngel: He sounds like a driven producer. With all the time and personal energy which you have exhausted and put into this album, do you feel it's your best work yet?
Oliver: Yes, sure, if not, I would smash all my guitars!
MettleAngel: Well that's sounds to me affirmative! Are their any plans to tour North America, in the future?
Oliver: No, sorry not yet, we have enough to do this year because of our tour with Lacuna Coil and Poisonblack, and the gigs scheduled in Spain and Switzerland! But, we hope we get a chance to tour next year in North America!
MettleAngel: That would be cool. Touring with Lacuna Coil & Poisonblack should give you some excellent exposure. Do you feel given your success in sales in North America that you have generated a loyal fan following, stateside?
Oliver: You know, we got nothing for free ever since our beginning in the music scene. We work very hard for every fan who has bought our CDs. So yes, I´m sure after all these years we have a strong fanbase!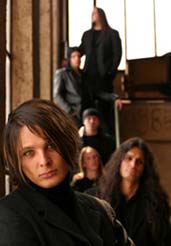 MettleAngel: That's quite encouraging. If you were ever to cover a classic gothic song, what would it be? I would suggest "Desolation Boulevard" by Sisters Of Mercy or "Blasphemous Rumors" by Depeche Mode.
Oliver: Hahaha, I don´t know, if we would ever cover a song. If, then we would never choose a goth song, we would want to choose a song from any other musical direction, in order to get the chance to built a kind of a new song structure, and then combine it with our goth roots! For me, the originals are always the best, so, why waste time!
MettleAngel: Fair enough, brother. As I only have a copy of your latest CD, what other CD from your catalogue would you suggest I listen to, given your expansive career?

Oliver: I would suggest Ave End, because this record was the milestone in our history! You could watch both videoclips at every music channel here in Germany and at Burger King restaurants! Also, check out Fall, I Will Follow which is a good choice, because this record rocks; and it is the one, where without it, the others would not have happened!
MettleAngel: I'll have to do that, and I have seen those videos, which are quite entertaining. So this just about wraps up the interrogation. Before we go, do you have any message you would like to purport to your fans about your music or the band in general?
Related links: