Finnish folk metal band Korpiklaani are on the rise and have just released a critically acclaimed album titled Tales Along This Road. When the opportunity arose, we decided to take the pulse on guitarist Jonne Järvelä about the ideals and thoughts behind the band and other things.

MettleAngel: Since, you have named the band Korpiklaani which is Finnish for "Forest Clan", what exactly is your connection with Mother Nature? Do you consider yourself to be metal shamans?
Jonne: I wouldn`t dare to rise us to level metal shamans but nature is a very important thing to us because we are from countryside, near forests. Finland is full of forests and lakes and yield of the forest is in hard use still these days in here.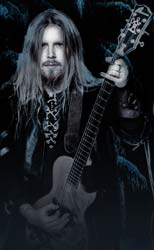 MettleAngel: Does your connection with the earth, also make you reverent for her and her blessings? What I mean is are you vegetarians, or passionate about animal rights? Just think what Carcass were able to accomplish...
MettleAngel: Do you consider your lyrics to be spiritual in nature? Are not some song rooted in classic Finnish folk tradition?

Jonne: We have few different kinds of "worlds" in this band. One side is that spiritual world of the lyrics and songs, then we have nature and forest life side and just having fun and "let`s get drunk" side of the band. Actually inside me as a person people can find all of those sides as well.
MettleAngel: Why do you feel the need to include several songs in your native language? Does this give them a deeper more metaphysical rendering?
Jonne: When I`m doing the songs, I first make the composition and after that I try to listen what the song is trying to say to me. What words comes to my mind when I listen the melody. For example first track on our new album, when the melody was ready, I couldn`t hear anything but "happy little, happy little, happy little boozer" line. That melody shouted those words and I couldn`t do anything but write it up.
Sometimes songs speaks to me in english and sometimes in finnish. Do I sound like a madman... ? On the new album I also tried a new way to work. First time I made the composition to the lyrics because we got some very good lyrics to our friend who also play kantele on the album as a guest. Virva Holtiton sent to me something like twenty lyrics and I picked up the best ones. Now on the new "Tales along this road" album all of the Finnish lyrics are made by Virva Holtiton.

MettleAngel: You have several songs about drinking and celebrating, is this an attempt to balance the more ascetic messages with a more recreational mindset? As in "Live and let live", or "eat, drink and be merry, for tomorrow we die"...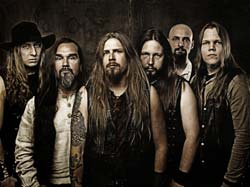 MettleAngel: Your accordion player Juho is quite talented. How do you see an accordion player fitting in the the metal milieu?
Jonne: I don`t know how an accordion fitting in to the metal general but it fits to Korpiklaani`s music perfectly. And yes, Juho is very talented. He is most talented man in this band when speaking music overall.
MettleAngel: Speaking of Juho, he wrote the bonus track on the limited edition release for Tales Along This Road, how did you decide this to be the bonus track?
MettleAngel: I see he also sings and plays guitar in Falchion is that his full-time band, or is Korpiklaani his primary focus?
MettleAngel: Who are some of your main musical influences? Folk Metal, Viking Metal, and more paganesque bands from all over the world all really becoming popular within the metal milieu. Thanks to bands like Amorphis & Skyclad who began this heathen pursuit in the early 90's.
Jonne: My influences aren`t in the folk metal or viking metal bands but all my respect goest to them of course. My influences are in the 80`s heavy rock and basic Finnish folk music. Only exeption is Amorphis especially with the album Elegy. That was the album which blow my head off when it came out.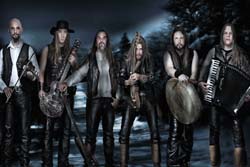 MettleAngel: Were some of the other Finninsh bands like Amorphis, Sentenced, Children of Bodom, or even Nightwish primarily responsible for metal fans opening their hearts to this type of music?
Jonne: I am sure about that. Those bands opened the doors from Finland for rest of us also who came after.
MettleAngel: As the representative for the American audience, any chance of making it to the states, anytime soon?
Jonne: I really hope that. It is one of our dream the get a chance to play a little tour there in USA. I hope it will work out soon. It is actually up to your promoters so keep on pushing them.
MettleAngel: Thank you so much for taking the time to answer these questions for my readers. I have a Masters in Theology, and I love a metal band who play from their hearts, no matter what genre or style. I especially love a band who makes me want to celebrate love and life. Your band does this for me!
Jonne: Thank you a lot. Your words warms my heart. It is nice to hear something like that because we really do this from our hearts. That`s why we don`t use and will not use any syntetisizers or samples in our music because we want to keep this honest in every way. We have real instruments, playing like real men.
MettleAngel: Is there anything which you would like to add?
Jonne: See you soon =) Thank you Michael a lot !

Related links: