Interview conducted May 09 2010
Interview published July 05 2010
Once I was given the opportunity to hear an advance of the new Keep of Kalessin album 'Reptilian', I jumped at the chance to interview founding member Obsidian Claw, for the second time.
We discussed the Norwegian awards, for which the band has been nominated, including the Eurovision Song Contest. They have received a lot of flak for entering this pop oriented event, but I feel that they have helped to open new doors for the metal milieu. I learned a lot about the importance of being a fan, and some of the process a still struggling band in Europe must undergo.

MettleMaiden: First of all I want to thank you, Obsidian, for taking the time out to do these phone interviews, I really do appreciate it. I do admit that I am a tad bit nervous, even though we have met in person, and I did interview you by phone last year.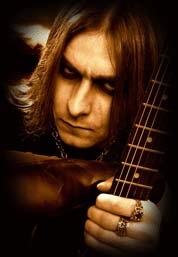 MettleMaiden: Yes, this is true. I get like this when I am doing interviews. My husband has been doing interviews for years, but when he gets an opportunity to speak with someone famous, he becomes all jitters too.
MettleMaiden: If you recall, I first fell into the unique stylings of Keep Of Kalessin when you opened for Dimmu Borgir and Behemoth a couple of years ago in Cincinnati, at Bogarts. Do you recall this?
MettleMaiden: It was indeed. I loved your music, and stage presence. Wizziac was a metal windmill. I did my very first interview at that show with Erkekjetter Silenoz.
MettleMaiden: We saw you again on the "Death By Decibels" tour, the night before Helloween and Gamma Ray in Chicago at The Pearl Room. I heard that they closed this awesome venue.
MettleMaiden: Yeah, I guess there were too many problems, and after the Exodus fiasco, where the band was banned. I do miss that club, and their cool backstage. I guess it is back to Kentucky or Cleveland to see shows.
MettleMaiden: I know, and I am hoping to catch you this fall in one or the other location. I guess it will be either Headliners in LouisvilIe, or Peabody's in Cleveland. If you also recall, I even bought the limited edition green gatefold vinyl version of 'Kolossus'. This is an excellent album by the way, but the new one shows even more maturity.
MettleMaiden: I received your new album 'Reptillian' digitally about a week ago, and I have given it several listens. I really noticed that you have put your whole heart into making more progress towards extreme music.
MettleMaiden: I think that it is wonderful how you enlisted Daniel Bergstrand's talents for production values. I was wondering, did he also produce 'Armada'?
Obsidian: No, that is not accurate. I did the production myself, Daniel helped with the drums and assisted with the final mix.
MettleMaiden: My mistake, but, with all the work you do, I am sure you appreciated his assistance and qualifications? I assume that you recorded this in your own Morningstar Studio?
MettleMaiden: I am sure you discover that this allows for more artistic freedom. Did you start recording right after the last tour?
Obsidian: We did begin the pre-production, and work on a bunch of stuff during the tour. Then, after we finished our last show, we had about a week off for relaxing once we returned home from the exhaustive tour.
MettleMaiden: Well, I am glad you got a little bit of a break after the lengthy tour!
Obsidian: Yes, but then we immediately started working on the new album. We focused on finishing up the pre-production and working on the song structures. It was our goal to nail everything down. Unfortunately, we had to wait a long time because Daniel was very busy.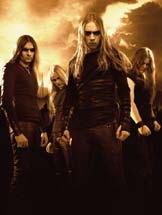 MettleMaiden: I am sure he was swamped with other projects.
Obsidian: It was frustrating for us, because we had to wait for him for two, or even three weeks after we finished the pre-production, just so he could record the drum tracks.
MettleMaiden: Well, what did you do while you were waiting on Daniel to assist you?
MettleMaiden: Now that is getting a head start!
MettleMaiden: This seems to be quite common with dedicated musicians. They are already writing new material, before their already completed, new album is even released.
Obsidian: When Daniel was ready, we recorded the drums in November. It was towards the end of November and early December then we concentrated on guitars, vocals, bass, and keyboard arrangements. Then we did the final mix in January of 2010. It was a very busy time for us all during those three months.
MettleMaiden: It sounds like you got a lot accomplished though. I have read that you will have your album release party on May 15th in Norway.
Obsidian: Yes, that is the release date here in Norway, it is a full month before it is released in the US.
MettleMaiden: Yeah, It seems like we always have to wait here an extra month for something which has already been released overseas. That is just not right! Usually with Nuclear Blast, a new album will appear in our podcast the same date as its European release date.
Obsidian: I do not think it is fair that the label makes US fans wait so damn long. It really should not be like that. With the Internet, a fan can purchase an import rather easily from several distros.
MettleMaiden: This is usually what we do, as we hate to wait. Now many digital sites like Amazon and I-tunes also make new music available on the date when it comes out overseas.
Obsidian: That is a good thing. We sent in the master tape, I think it was mid-February or something, and in the US it takes a longer time to get the disc into all the distribution systems. Here in Norway you do not need that much time.
MettleMaiden: I still do not like having to wait an extra month.
Obsidian: Well, here in Norway the venues are closed for the summer. The festivals are all the rave. This means that we need to do a small Norwegian tour in support of the album just to get the word out to others. In order to have the album release party before they close, we have to create a fuss about the release of the album at home. I suppose that is basically why it is released a month earlier here.
MettleMaiden: Oh, well that makes sense. This way you have a month to tour before your local venues close. Well, I can accept this, as we seldom really have that problem here. If a club closes, it is for good, like the Pearl Room. Our problem is that not too many good Metal shows come to Cincinnati. This means we have to travel north or south, depending.
MettleMaiden: I got my digital copy legitimately, and believe me I do not share. That would not be fair to you, or other musicians. I have been telling my friends what a great album I think it is.
MettleMaiden: It looks as though you have had quite a bit of excitement here over the past couple of years. First you were nominated in 2008 for the Spellemannprisen?
MettleMaiden: That's what I thought. It must have been exciting for a metal act to get nominated.
Obsidian: Actually we have a metal category in that awards show, so it is very common. We were also nominated for 'Armada', but Enslaved won it, and accepted the award right in front of us.
MettleMaiden: You are more deserving than Enslaved. I know they are your label mates, but they have not been too original for ages.
Obsidian: Tell that to the fans and voters! When we were nominated for 'Kolossus', Enslaved won it once again, usurping all our glory!
MettleMaiden: Those bastards!
MettleMaiden: Enslaved did not release any new material in 2010, so hopefully you can finally win! This year you were also in the Melodi Grand Prix, which I believe is the pre-Eurovision award, and you placed third. That is quite an accomplishment, even if some of your fans think you are sell-outs just for entering.
MettleMaiden: Well, I am also a Lordi fan, and when they won it, it was a first for the metal milieu. They are more Traditional Metal sounding, so for an extreme Metal band like Keep Of Kalessin, for you to have climbed as far as you did, this is most impressive.
Obsidian: It was great, since we came in third and recieved awards. Considering that we live in a country of only five or six million people, this is really great. We also got a whole shitload of press, of course.
MettleMaiden: Like they say, there is no such thing as bad press...
Obsidian: It was just really fun to do, and we had great time. We learned a lot from seeing such a huge production first hand, plus it opened a lot of doors for Keep Of Kalessin here in Norway. Actually, starting today, we will have TV commercials in prime time spots promoting this album. So let us see if maybe we can attain gold record status in Norway.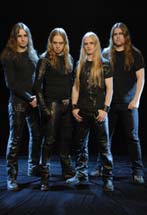 MettleMaiden: That would be well deserved.
Obsidian: This will help to push the band and open the doors for extreme music to reach a broader audience.
MettleMaiden: I have listened to 'Reptillian' a few times now, and I must say I hear more Thrash elements, than on your previous albums. I also detect a little bit of a Power Metal influence. The opening track, "Dragon Iconography" is a little more epic. Is this the new direction Keep Of Kalessin is heading in, or is it just how you chose to write the album? The melodies really make my head spin.
Obsidian: We wanted a more direct approach to this album, and we wanted to incorporate more Thrash Metal riffs, as well. As for the Power Metal influences, it is probably owing to the fact that the vocals are done melodically, and sometimes we have big choirs, which would make it sound more Power Metal oriented, than before.
MettleMaiden: Yes, I can see that.
MettleMaiden: Power Metal has become a common label, and lost its real edge. The True '80s Power Metal bands, are now linked with a bit of the keyboardy over the top acts. When I refer to you having Power Metal inspiration, I am alluding to Gamma Ray, Blind Guardian, early Running Wild, and their ilk. Clearly there is a strong Emperor presence, and your rivals - Enslaved - are mirrored there as well.
Obsidian: This is very observant of you. Essentially, it is still Extreme Music with some very unique build-up. We did not think about it too much when we wrote the songs. We were just working in the studio and on a whim we would add stuff on to see how it sounded. So, it was not this idea of bringing more melodic stuff into the mix, rather it was that we wanted more Thrash Metal elements along with more heaviness than what was represented on our previous one.
MettleMaiden: Please do not misconstrue my evaluation. The overall vibe is far from being straight Power Metal. It just has a little more of that flavour, probably because of the vocals, which remind me at times of Kai Hansen from Gamma Ray.
MettleMaiden: Really?
MettleMaiden: They are one of mine too. Actually, they are the reason why we caught you on the "Death By Decibels" leg in Chicago.
MettleMaiden: My husband and I drove all that way to see Gamma Ray with Helloween, and decided to arrive a day early to rest and psyche our selves up. It just happens that "Death By Decibels" was the day before, and we were able to get on the guest list thanks to Maurizio of Kataklysm.
MettleMaiden: I agree!
Obsidian: They are a band that has received the wrong kind of attention. The press blows every thing out of proportion! People have biased opinions about Gamma Ray just because they are thrown in the Power Metal world. This is not cool. Seriously, people should listen with their ears, and not believe everything they read, or hear from others.
MettleMaiden: Exactly!
Obsidian: Besides, why is Helloween is an accepted band and Gamma Ray is not, at least in certain circles? It seems as if you like Gamma Ray you are gay, but if you like Helloween or Iron Maiden it's OK.
MettleMaiden: Listening to Gamma Ray does not make you gay! Maybe if Logar's Diary, Highlord, or later Labyrinth, are your choice selections, you could be giving your friend, a bro job, but Gamma Ray are not, they are awesome speed Power metal, with a great sense of humour!
Obsidian: You said it babe! To me that labelling music styles is total bullshit; because, if you really take the time to listen to the music, you will realize that Gamma Ray has some really good shit that is very professionally produced, well executed, and definitely well played! They have endured for two decades because they have really good songs and great melodies.
MettleMaiden: Hell, even Kai made the moves on me right in front of my husband, but he was a bit drunk, and my husband was so thrilled to have interviewed him earlier before the show.
Obsidian: That sounds great. It is just unfortunate that with the enjoyment of music, and the whole metal scene, unfortunately comes the "lost sheep who follow blindly" mentality.
MettleMaiden: I agree, please elaborate.
Obsidian: It seems that if all of your friends like a band, then you must like them too, even if it is shit music. Why is it that if your friends do not listen to it, then you are, for some dumb reason, not supposed to like it either?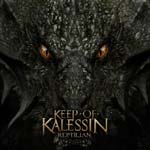 MettleMaiden: Who can say?
Obsidian: I think bands like Gamma Ray just missed the Melodic Metal wave that Helloween started, and therefore were never officially accepted. If I ever meet Kai Hansen, I will go up to him and apologize for not listening to Gamma Ray sooner, I only started listening to them about six or seven years ago.
MettleMaiden: I like the sheep and music wave analogy, I wonder if that is why Keep Of Kalessin is not doing better than it has so far?
Obsidian: Well there was that huge Norwegian Black Metal scene that a lot of shitty bands came out of, but because they were part of the wave they were accepted and stamped as being a cool band. Keep Of Kalessin is one of the bands that came after the wave. Owing to this fact, I think we have to work a lot harder than the bands who were a part of that wave.
MettleMaiden: That whole church burning Norwegian Black Metal scene is bogus.
MettleMaiden: There are some excellent bands from Norway like Gaia Epicus and Guardians Of Time, who just recently reformed. Now Varg "Count Grishnackh" Vikernes of the bullshit Burzum is finally out of jail, and we all know Jon Nödtveidt of Dissection killed himself in 2006. I feel that Keep Of Kalessin has a lot to offer, especially with the new album. Will you offer a special edition of 'Reptillian' as you did with Kolossus?
MettleMaiden: Then I should still be able to find it! With the digital version that I have sometimes find it difficult to understand Thebon's lyrics. However, I do hear a reference to 'Kolossus'. Does this suggest a continuation of the 'Kolossus' storyline?
Obsidian: Not really, there are times were it is hinting back to the 'Kolossus' theme, but it is not a continuation. Lyrically, there are a great deal of iconic themes, myths, and that kind of stuff, but not there is not necessarily a parallel story.
MettleMaiden: Then what you are implying is that each song essentially stands on its own.
MettleMaiden: Let us discuss the fall US Tour which you are planning with Ex Deo and Nile. Did this come about because you are all labelmates? Did the fact that Karl Sanders writes about Egyptian mythology, and Maurizio adores the Roman Empire factor in?
Obsidian: Actually we were offered a different tour, but then I saw there would be a Nile tour, and I asked our booking agent if he could get us on that. I think Keep Of Kalessin and Nile have a lot in common, both bands are based around Epic Metal.
MettleMaiden: Both bands have unique guitar structural arrangements, as well.
MettleMaiden: Well, no matter whom you tour with, I am planning to catch your show! Are you planning a video to go with the release of 'Reptillian'?
Obsidian: Actually not yet, we have been thinking back and forth but the problem is I have not been happy with the videos so far; I find them lacking. If we would do a video I would really like to do "Reptilian Majesty".
MettleMaiden: That would be an undertaking since it is 14 minutes long!
Obsidian: Well, I would treat it like a story or something. It would cost a lot, a million or something. When you do a video, it has to be fucking excellent, because it does cost so much money. So we have decided to go without the video for this album, and use the budget for sponsoring the commercials in Norway. We have opted to give the album more backing by investing in the Norwegian market.
MettleMaiden: I would love to see a video for "Reptilian Majesty", that's an excellent song! I do understand the cost factor for making a good video though.
Obsidian: Yes it would be really cool. We will see, maybe if we sell enough albums we will have the money to make one. Once again if we are going to do it right, we have to do it big time, so right now we just do not have the money for it.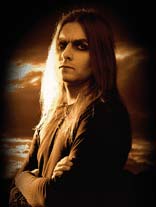 MettleMaiden: What about your thrash side project called Headspin? My husband is actually listening to it on My Space right now. You talked about it when you met in Chicago. You mentioned Coroner, Voi Vod, and Exodus influences, and sparked his interest. Are you still working on the album?
Obsidian: Well, the thing is that we recorded the album, but we never really had a vocalist and it was never a priority. I did do some research, and I found a great vocalist from London (Agamoth), who has his own band Abgott. He has a great stage personality and vocals, so he has now finished the vocal parts for Headspin. We will finish mixing the album this summer and have it out hopefully very soon.
MettleMaiden: When I sampled the tracks on your My Space page, I detected a little bit of Hexenhaus, Reverend, and clearly classic Exodus.
Obsidian: That is very observant of you! We are also influenced by Destruction and Razor. There is also a lot of Exodus inspiration to be found in Keep Of Kalessin, the entire band are fans of them. We saw them in 2005 in Eastern Europe, but we were fans way before then. We are all digging their newest album.
MettleMaiden: I must admit there new album is way better than the one previous to it.
Obsidian: Exodus have gained a lot more respect now, than what they had in the past. I feel that they are another band that is still underrated, even though they are becoming bigger and better known.
MettleMaiden: My husband got me into to Exodus. We saw them on our 5th anniversary. Michael spoke with Gary Holt, on his birthday, just last week and did an interview,. It is sad the number of underrated bands out there, I think Keep Of Kalessin is one of them, that is why I always support you.
MettleMaiden: Unfortunately since I am a woman in America, who lives for metal, a lot of people do not take me seriously.
MettleMaiden: Well, it is still not that common in the US for a woman (no less a wife and mother) to actually be a metalhead and not a "tag along" at a concert with her boyfriend. Switching gears, and keeping in mind our time allotment, how do you feel Keep Of Kalessin has grown as band with these past few albums?
Obsidian: I think that musically we are better than ever before. This line-up works really well together, and we are more accepted than ever. The recording process is taking less time, so I am really happy about that, but we are still at a very crucial point for a band.
MettleMaiden: You mean it is make it or break it time?
Obsidian: Precisely, it is simply impossible for a band to survive strictly off touring. We are not earning enough money, you know.
MettleMaiden: Which is why fans like myself purchase lots of merch.
Obsidian: This helps, but we are now at a point where we need to take a step up or just stop doing some of the tours; especially in the US. The albums cost a lot of money to produce, even with our own studio. You just cannot put 24 hours into a band and not get any money back.
MettleMaiden: I hear you....
Obsidian: We may need to down prioritize it a bit, which sucks for the fans, especially those diehards who are waiting for the tour that the band may not have the funds to perform. So yeah, we are at a crucial point, it is either make it or break it.
MettleMaiden: I would really miss it if you stopped touring, since that is how I discovered you. It sucks that Dimmu also has gone undergone such dramatic line-up shifts. You have such a great stage presence, and the band is quite captivating. I had to stop and tune in to your music, and this led to my instantly becoming a fan.
MettleMaiden: Well, I really hope 'Reptillian' is successful enough to keep you going and gets you the recognition which you deserve.
Obsidian: We hope so too! We would like to keep going. I think the quality is there. It is so important for the fans to buy the CD, because, that is what the promoters and booking agents use as a guideline for setting up a tour. We will always be stuck with playing 30 minute sets, and never headlining, if we do not sell more albums.
MettleMaiden: I would like to see you headline, and play a much longer set.
Obsidian: I hear that a lot from fans, but unfortunately, a lot of those people have downloaded the album illegally. This is what makes it so hard to convince the promoter to have a bigger name on the bill.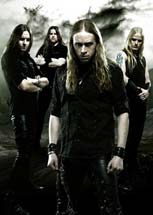 MettleMaiden: As I mentioned earlier, I actually bought the 'Kolossus' vinyl to show my support for you, since Nuclear Blast had already sent me the promo CD. Plus, come on, it was a cool green gate-fold!
MettleMaiden: Well it is only fair, since I know how much work goes into recording, getting the CDs out, securing the proper tours, etc. I know that this is a lot of work.
Obsidian: There is a lot of promotional cost for a new album. If you do not recover the production cost, you have to get it back from merch sales. Everyone in this busines knows how hard it is with marketing and selling merch. You may initially do well with merch, but if your fans disappear, what then?
MettleMaiden: You mean if they are not able to attend the show for some reason, even if they really want to? It is a definitely Catch 22 situation.
Obsidian: Yeah, some win, some lose, some never play the game.
MettleMaiden: I know how hard you struggle to recuperate the cost for a CD by touring, but you can not get on a good tour unless your have great CD sales first. The whole system is fucked!
MettleMaiden: I see I am actually over my time here, so I better let you get to your other interviews.
MettleMaiden: Really? Do you ever get a break, or are you always working?
MettleMaiden: Good for you! Thank you again, Brother, I have really enjoyed doing this interview, I sincerely hope that 'Reptillian' does well for you so Keep Of Kalessin may continue.

See also: review of the album Reptilian
Related links: