Interview conducted September 04 2010
Interview published September 08 2010
The ever determined Kataklysm continue taking the world, by storming with menace. These Montreal lunatics have escaped the studio asylum, fueled by sonic ambition, poised to promote their punishing new release 'Heaven's Venom'. Iniating and vitiating with vitriolic wormtongued vows of vengeance, on this brutal endeavour, they spit and spew forth more furious, numb and intoxicating riffs of annihilation; ever vigilant to excoriate and create more dissemblance.
I spoke with founding member Jean-François Dagenais about the new album, Ozzfest, his role in Ex Deo, and a few other prevailing concerns. Come cross the line of redemption, and join us in words of desperation.

MettleAngel: Hey Brother, how are you doing? From where are you calling?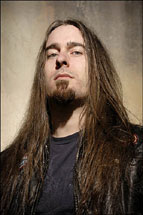 MettleAngel: You just played Colombus recently, but I was not aware, otherwise, I would have come to see you, and we could have done this interview in person.
Jean-François: I do remember seeing you, your wife, and your son at Ex Deo in Cleveland last fall with Ensiferum. It would have been cool to hang out again.
MettleAngel: Well, we will catch Ex Deo again this November at Headliners in Kentucky with Keep Of Kalessin and Nile.
MettleAngel: Wendy is very excited to see the guys in Keep Of Kalessin. Hey, speaking of Ensiferum, are you familiar with the 70,000 Tons Of Metal Cruise?
MettleAngel: They just added Unleashed to that. Was the band also asked to participate?
Jean-François: In fact, yes we were, and we really wanted to do it, but the thing is that I really get horribly seasick.
MettleAngel: With such an experience like that, you could take an extra dose of Dramamine.
Jean-François: I wish it was that simple. I even get violently ill on yachts, and smaller boats. Unless they create a wonder drug which cures all types of seasickness, we are going to have to pass on this awesome opportunity.
MettleAngel: That is such a shame! I would love to see Kataklysm or Ex Deo on the high seas. If you did go, I am sure both bands would play.
MettleAngel: Well, at least you just had the opportunity to play those few shows at Ozzfest this summer.
Jean-François: Oh yes, and that was just amazing! Here in america, we are not all that successful as a band, and we have to tour a great deal. We have our core fans who support us, but at these shows, we gained a whole new host of fans who really appreciate what we are all about. This was the closest thing to an European type festival environment.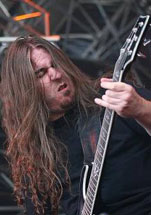 MettleAngel: That is reassuring! A band like Kataklysm is perfect for playing Ozzfest. Artists like Nile, Behemoth, and Lamb Of God have all paved the way. You probably fit right in with Skeletonwitch and Goatwhore?
Jean-François: Yeah, and we had such an early slot, but fans still showed up and gave us their loyal support. Overall, I think we had decent crowds at almost every show.
MettleAngel: I was amazed how even Exodus played a few Ozzfest shows in California. I just saw them Thursday night in Kentucky. I spoke with Tom, Jack, and Gary. I was surprised how they have already dropped "Downfall" from their set-list, claiming the fans were not too much into it. This surprised me, since they have an awesome new video for that song.
MettleAngel: You have a pretty cool video for "Push The Venom", have fans taken well to that song in your set?
MettleAngel: I really like the new album, it is so thrashing, yet melodic. Many of my friends who are not too much into Death Metal have really opened up to Kataklysm over the last few years, and especially Ex Deo.
Jean-François: We have noticed that too. Many of our older fans are not too supportive of our new songwriting direction. They still want that "hyperblast' sound and intense brutality. We as a band want to evlove and constantly try new things. We are all very proud of this new album. I for one feel it is some of the best music we have ever written.
MettleAngel: I would have to agree! I hear influences from bands that I worship such as Kreator, Exodus, Slayer, as well as some of the early Florida Death Metal acts. We also saw Malevolent Creation play with Exodus. Most of my friends were not into them at all, but they were not around when the scene was so strong in the early '90s.
MettleAngel: I spoke with Brett Hoffmann and Jason Blachowicz all about the early days, and they even played some classics like "Multiple Stab Wounds", and ended their set with "Malevolent Creation".
MettleAngel: Man, I wanted to get a shirt of 'The Ten Commandments', but they were so expensive! My point is that MC, like Immolation came from the East Coast. They formed in 1987, but back then we did not consider it to be Death Metal. We just called it Deathrash. This is how I view Kataklysm's style.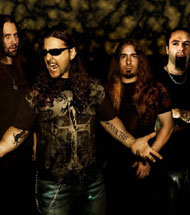 MettleAngel: Honestly, I just can not handle any of your albums before Maurizio Iacono gave up bass and switched to vocals.
Jean-François: This tends to be an ongoing sentiment among die-hard supporters, and our new fanbase. When we set down to write the new album, we decided that the only ones we wanted to please were ourselves.
MettleAngel: Good for you!
Jean-François: Normally, we compose an album with the intent to view it as how it will sound in a live atmosphere. For the first time ever, we decided to write an album that is meant to be played on CD, with lyrics, headphones, the whole lot.
MettleAngel: I can truly see this, and that is probably why this album grabs me more than any other. As you know I reviewed 'Prevail' as my first ever review for my short lived career at BWBK.
MettleAngel: Thank You! I was not too familiar with the band, at that point. I think that 'Heaven's Venom' is a far more mature and polished effort. Then again, having ensconsed myself in Ex Deo for the past year, I am more open to your guitar work.
MettleAngel: I have read reviews which were less than positive, which feel you are becoming lazy, and just putting albums out which do not matter. I do not think this is fair. I know how extremely busy you are all, and with Ex Deo, the workload is doubled. I know that you do not just release a half ass album, just to satisfy the label; although, some bands do.
Jean-François: I cannot understand why any critic would dismiss us as having thrown in the towel, so to speak. We are always creating new music, and we always feel inspired to make the best album of our careers. We are far from being complacent.
MettleAngel: I know, and hopefully, anyone who reads this interview will understand this. What I find amusing is that you all stem from such diverse musical backgrounds. Your drummer Max Duhamel is riddled with Skid Row, Twisted Sister, and Mötley Crüe tattooes, but he is still an intense, brutal drummer.
Jean-François: When we were in the studio, we focused our attention on every detail. It is true that we all enjoy a whole host of different hard and heavy acts, as you cannot dismiss some of the great songs from the '80s. Sometimes, I may only like a song or two by a band, but I still support what that band has written.
MettleAngel: I can agree there. I recall how Schmier from Destruction took so much shit when his band Headhunter covered Skid Row's "18 And Life".
Jean-François: That is absurd. When we compose songs for Kataklysm, we know what our fans want to hear, but we also know what we want to hear. There has to be a happy medium. That being said, I still stand by all Kataklysm albums of which I have participated.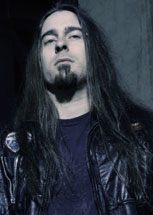 MettleAngel: As well you should! I suppose fans just fear change. I feel each album shows a level of maturity and growth.
MettleAngel: I assume you are aware that Vader released an album of covers called 'Future of The Past', and recently Italy's own Necrodeath just put out 'Old Skull' in the same vein.
MettleAngel: Our buddy Pier Gonella from Mastercastle plays on that. They do a mean version of Diamond Head's "Am I Evil?" Given everyone's love of the '80s, if Kataklysm were to release an album of all covers, what could we expect to hear?
MettleAngel: I assume there would be songs ranging from Kiss to Slayer, from Bon Jovi to Kreator?
Jean-François: That sounds about right, and do not forget W.A.S.P., Emperor, Maiden, AC/DC, etc.
MettleAngel: Of course! Man, I sure hope Nuclear Blast allows for this! Well Brother, it has been real! Kindly send the band all of my blessings.
MettleAngel: Please tell Maurizio that when I see him November 1st in Kentucky, that I want to talk all about "Spartacus - Blood And Sand".
MettleAngel: Yes, and even though it started out a bit slow, I eventually got into it. I did not like all the Milleresque "300" style modern graphic 3-D digital bloodshots, but I sure did love seeing Xena nude!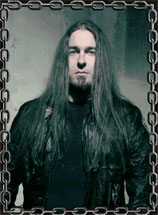 MettleAngel: I have heard that Lucy Lawless and John Hannah will return for a prequel to the series explaining what happens at the house of Batiatus. Andy Whitfield who plays Spartacus is now cancer free after a horrible bout with non-Hodgkin lymphomas. He has just begun pre-production for the second season due to air next spring.
Jean-François: I know how much you and Maurizio love to discuss Ancient Rome.
MettleAngel: Yes, it is just as well I am speaking with you, otherwise if I had Maurizio on the phone, we probably would never get to discussing the band or new album.
MettleAngel: I try to keep it exciting and original. Alright Brother, enjoy the show in Texas tonight, and the holiday weekend, if you can.
MettleAngel: I wish all the best success for the band, and I look forward to seeing you in November.
MettleAngel: Now I need to get out my CD, and play it with lyrics, in the very manner in which you intended when you wrote the album.
Jean-François: Yes, indeed, and do not be surprised if it hits you differently than just playing it digitally.
MettleAngel: I still prefer CDs, so I am grateful that Nuclear Blast sent me one, and now I am going to go jam on 'Heaven's Venom'.
Related links:

www.kataklysm.swizcorp.com
www.myspace.com/kataklysm