Interview conducted October 18 2008
Interview published November 10 2008
I have witnessed the expedition of Kameot. I have celebrated their myths & legends. Their epic alluring legacy shines forth like a black hologram in time. Twice have I been haunted by their Ghost Opera performance.
One cold (not yet) winter's night in Mokena, Illinois, I was honoured with the opportunity to engage in a soliticious conversation with their keyboardist, extraordinaire - Mr. Oliver Palotai. This classically trained composer, and accomplished musician has played with such great talents as - Uli Jon Roth, Blaze Bailey, Doro Pesch, Circle II Circle; and now he has a new band called Suns Of Season. Enjoy our time well spent together...

MettleAngel: It is really great to see you again, My Brother. If you recall, we last met when I was interviewing your significant other - Simone Simmons.
Oliver: Yes, I recall, that was in Cleveland, right?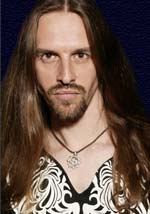 MettleAngel: Yes, indeed, so how did you and Simone officially meet?
Oliver: We actually met on the Black Halo Tour, and we instantly connected. Shortly thereafter, we moved in together in a house in Germany.
MettleAngel: Is not she quite a few years younger than you?
MettleAngel: I agree, as age is relative, and one is only as old as he feels. I'll turn 40 in November, but I feel like I'm 25. Simone is very mature for her age, as well.
MettleAngel: I just received a new CD called Xystus - Equilibrio. Simone plays the role of Lady Sophia (Wisdom) on this Rock Opera in two acts. I really enjoyed this album released on Sensory Records. It reminded me of Ayreon, Therion, Stream Of Passion, and the Classical Disney Soundtracks.
MettleAngel: I know earlier this spring, she became quite ill, and had to be quarantined. When Epica toured the States, Amanda Sommerville From AINA sang in her place. Amanda also sang with Kamelot, as you recall. We all envisioned her healing, and rapid recovery. We are all grateful she recuperated so quickly. Her vocal work with Xystus is outstanding.
MettleAngel: This is the second leg of the Ghost Opera Tour. We saw you in Cleveland last year with Leave's Eyes. We could not stay for the whole show because the club Peabody's was sweltering hot, and our then four year old son became dizzy, so we left early.
Oliver: Yeah, that was a grueling night. we just played there again last night, and it was no picnic.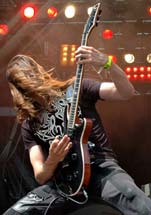 MettleAngel: Yeah, a fellow writer of mine from BW&BK, Mark Gromen covered that show. It is so difficult to get good pictures at Peabody's. this is why we chose to cover the show at The Pearl Room this evening. Is this tour, then, to support the Ghost Opera Second Coming and The Myths & Legends Of Kamelot CDs?
MettleAngel: Why was the Ghost Opera reissued with a live album? Was it remixed or remastered?
Oliver: We were originally just going to release the live album. When we discovered how many fans did not have the CD of Ghost Opera, we decided to make it a package deal. It is not remixed, or remastered. We also released Myths & Legends for those fans who were missing all the B-sides. Our goal is to give the fans what they want.
MettleAngel: Is this tour bigger than the last one, here?
Oliver: Definitely, we have expanded the tour. it is great to add on new cities and new clubs. We get tired of playing the same old gigs, every time. We are also noticing some real younger fans in attendance, which is so cool.
MettleAngel: Getting to discover new venues can be so exciting. I've actually been a Kamelot fan since their origin, when Tom Youngblood was heavily influenced by Crimson Glory. I adore the first two releases: Eternity and Dominion. I wish those would get remastered, as they are quite rare now, having been on Noise Records. Crimson Glory had become so weak and commercial with their Strange And Beautiful album; so hearing a band like Kamelot, back then was so refreshing.
Oliver: Wow, you have been into the band for a long time, even before I joined, eh?
MettleAngel: Definitely! I never got into Conception, Khan's original act from Norway, also on Noise Records. When he joined Kamelot and they released Siége Perilous, I became interested in their new direction. When they put out Fourth Legacy, almost ten years ago, I became entrhalled. This is still my favourite CD.
MettleAngel: I understand that Kamelot 2008, is quite a radical departure from Kamelot '95 -'98; just as Edguy 2008 has grown and matured. Most of your American fan based developed during The Black Halo Years, which is right around when you joined.
Oliver: We always enjoy receiving new fans, both here and in Europe. This is very important to me, because this is why I play music. I live for my hour and a half on stage entertaining.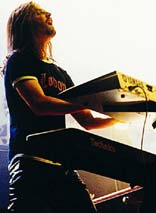 MettleAngel: I bet, and you have played with a diversity of talent. I just interviewed Uli Jon Roth last month, how was it playing with him?
Oliver: Utterly amazing! He is such a fantastic guitarists. That tour was quite an unusual experience for me. That year, I had also been touring with Blaze, Doro, Circle II Circle, and Kamelot. I was able to work with everyone's schedule, and remain active. Once the tours overlapped, I chose to focus on Kamelot, as they are like a family to me. When I was with Uli, we were trying to all be vegans, but this did not work out. I can party and celebrate with Kamelot, and still have plenty of artistic freedom.



MettleAngel: Uli and I mentioned him being a vegetarian, but I did not think he imposed his views upon his bandmates.
Oliver: Oh no he did not. It was just easier for everyone to eat the same food. We were all so grateful to be touring with him, that we honoured his eating habits; unfortunately, they seldom matched our own.
MettleAngel: I imagine having toured with so many Icons Of Rock & Metal, you have become quite friendly with several key musicians.
Oliver: Yes, this is true, but my true home is in Kamelot. Actually, tonight we are celebrating our drummer - Casey Grillo's birthday.
MettleAngel: That should be a blast, I'll have to wish him a Happy Birthday. I just discovered that he plays with Wiszdom Stone with Mike Stone from Queensrÿche.
Oliver: Yes, and the show this evening is very important to us. I love to tour. I'm not always thrilled to be in the studio, but I love to be on stage. casey has a unique drum solo planned out for this evening.
MettleAngel: Casey is quite interesting with his switch hand crossover style. He appears quite primal and tribal while pounding the skins. It is really cool when the lights go down, and he drums with glow sticks, just like a mega rave party. We enjoy watching you play, as well. One can easily tell you are classically trained.
Oliver: That, and Jazz too. I was late coming into metal. I played an entirely different style, which I later adapted to fit Kamelot, and the metal vibe.
MettleAngel: I can imagine, as many excellent keyboardist have done this.
Oliver: Actually, you might be interested in my band which will be releasing their debut CD on Napalm Records in Februaury 2009. The band is called Suns Of Season. We have Henning Basse from Metalium on vocals.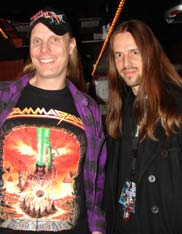 MettleAngel: I love Metalium, I met Henning when he sang for Firewind, when they toured the US last year with Edguy. We just met their drummer - Michael Ehré who was drumming for Uli Jon Roth.
Oliver: Yes, and I also have Jürgen Steinmetz from Silent Force on bass, Luca Princiotta from Blaze on guitar. I also play guitar, along with keyboards. Rounding out my line-up I have Daniel Schild on drums. He and I played together with Blaze. I desired an outcome for my songwriting, outside Kamelot. I wanted something I could compose and produce.
MettleAngel: I was not aware of this, it sounds quite promising. I love the new Blaze Bayley album - The Man Who Would Not Die. I was so saddened to hear about the tragic death of his wife. He is in our prayers. I am also a big fan of Silent Force. I'll seek this one out, and review it for you.
Oliver: I'd appreciate that, as you write very entertaining reviews. If Napalm does not send you one, I will.
MettleAngel: Thank you, I really appreciate that. next time you see Blaze, let him know how sorry we are for his loss. Thank you for such a fun-filled interview.
Oliver: Thank You! Simone and I both agreed you were quite entertaining, in her interview. You know so much, and you always seem prepared.
MettleAngel: Thank You. Actually, to be honest I did not know whom in Kamelot I was going to interview. I'm so grateful it was you, and we were able to discuss so many other topics, and projects with whom you ar involved.
MettleAngel: I will, and I'll let you know my take on Suns Of Season.
Related links:
www.palotai.de
www.kamelot.com
www.myspace.com/kamelot
www.sonsofseasons.com
www.myspace.com/sonsofseasons