Interview conducted March 05 2010
Interview published March 31 2010
It's safe to say that the appearance of Hypocrisy, one of the premier bands of Swedish death metal - and of the genre of death metal in general - was one of House Of Metal's most appealing beforehand, one that attracted many a follower of brutal death metal with superb melodies and hooks. Metal Covenant arranged a short meeting with Hypocrisy mainman and music multi-talent Peter Tägtgren, a couple of hours before the band stepped onto the stage at the House Of Metal festival in Umeå, Sweden.

Mozzy: I have to begin by asking what happened with your tour bus (the band's tour bus suddenly caught fire three days earlier)?
Peter: Yeah, what a mess, it was fucked up. It happened on the way to Gothenburg, so we had to travel by taxi for the remaining bit. But shit happens. There were some stress and chaos, but it worked out fine in the end.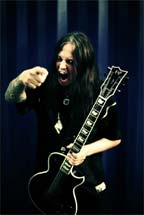 Mozzy: And you played in Stockholm yesterday?
Peter: Exactly. It was brutal, I'm sweating like hell now, the alcohol is coming out you know! You barely get off before it's back on again (laughter).
Mozzy: So how is it to be back in Sweden?
Peter: It's fun! It's nice, because when you're abroad… when you're at home you know where to go to buy things and so on, so that's nice. Also, it's fun to do a tour in Sweden; we haven't done that too often with Hypocrisy. And it feels good that House Of Metal fitted in; we have tried to make it happen before with the festival but it has not been possible.
Mozzy: What are your expectations of House Of Metal; you have played here before with Pain?
Peter: Well, Pain is more commercial of course, so more people know that band. It is what it is. But on the other hand, it is a really brutal line-up, just brutal bands on the main stage tonight, so people know what to expect. Actually, we might really be one of the most commercial bands (laughter).
Mozzy: Since you are far into your career, is it difficult to choose the setlist nowadays?
Peter: No, it was the fans who chose the setlist this time actually. We had a poll on the website and then we took the top-15 songs. That way, the fans cannot complain, they are the ones who are paying so they should be able to hear what they want to hear.
Mozzy: So you have used this setlist during the whole tour?
Peter: Yes, exactly. For tonight we had to cut two songs though; we only have one hour and twenty minutes so we had to remove two numbers. But what the hell, I think it's gonna be great.
Mozzy: You were going to tour the US, but had to cancel. Can you tell me what happened?
Peter: Well, there was some mess with visas. But everything is solved now. It really dragged out; I had to wait for two months for something which should take a week maximum you know… But now everything is good and we're going there in May, as headliners this time.
Mozzy: It was decided that Alexi Laiho (of Children Of Bodom) was going to fill in on guitar on that tour...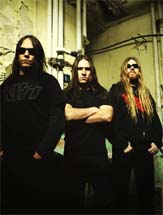 Mozzy: How did you come up with that move?
Peter: Well, I don't know... we didn't have a guitarist, so we just asked him. We have helped each other out in the studio and so on in the past. He was like "fuck yeah, let's do it!"
Mozzy: OK, that was a shame, that would have been a treat for sure.
Peter: Yeah, it would have been very cool. It felt quite different to look to the side and seeing Alexi sitting there, playing Pleasure Of Molestation, you know (laughter). But there will be more opportunities.
Mozzy: How do you view Hypocrisy and Pain today? Pain has been successful during the last few years, but do you ever feel that Hypocrisy is "neglected" in a way?
Peter: Oh no, not at all. I mean, we've had such a long career with Hypocrisy, so it's possible to take it easier on that front. With Pain I have had to work like a dog to get it going. There are kind of different conditions for those two bands. But now it's Hypocrisy this year and Pain next year. It will be juggling back and forth as long as I am able to.
Mozzy: Will there be some festivals with Hypocrisy this summer?
Peter: Yes, plus one with Pain: Tuska Festival in Finland. Just one, to get the feel for it, and then I'm in the process of writing songs as well (for Pain). But I'm sure there will be a few more gigs here and there with Hypocrisy.
Mozzy: The latest Hypocrisy album, not counting last year's A Taste Of Extreme Divinty, was released in 2005. Do you maybe feel a bit bad towards the fans; that they have had to wait so long for a follow-up?
Peter: Yeah, it was four years ago. But no, there were other things who contributed: Mikael (Hedlund, bass) became a father and had to stay at home, and then Reidar (drums, more known as Horgh) started playing with Immortal again. Then it was quiet, which gave me the chance to concentrate on my other things. So it wasn't the case that I just said "that's it, no more Hypocrisy"; there were many factors.
Mozzy: And you don't think that you perhaps lost out on an opportunity to make Hypocrisy a "bigger name"?
Peter: No, no, hell no. I think… the music is so extreme anyway, so I think we have reached as high as is possible, you know. And we're still attracting big crowds, so it's all fun.
Mozzy: You have a new live guitarist (Tomas Elofsson, of Swedish death metallers Sanctification); have you ever considered recruiting a permanent member on guitar again?
Peter: No, that will not happen. We waited so long, then in 2003 we found Andreas Holma, but then after some time… he just lost interest. He does not really want to play this kind of music, he's really a jazz guitarist. Or he's really a bassist, in fact, so it didn't work out. But now we have Elofsson, he's so fucking good, as a person as well. So we'll keep on going like this for as long as he wants to, as session guitarist.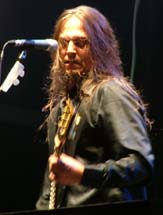 Mozzy: Tell me about the DVD you recorded recently?
Peter: Well, it was recorded in Sofia, Bulgaria. It was just crazy, what a goddamn crowd! They are loud as hell, so there is no need for overdubs there (laughter). It was a really great gig actually. The DVD will also include some documentary stuff, interviews and so on, with all the guys who have been in the band.
Mozzy: Is there any particular difference between a festival gig like tonight and your own headline gig?
Peter: Well, no, for this one we have brought our own stage, our gear which we've had on the tour, so it will be like a regular headline gig for us. Except that it's 10 minutes shorter, but that is no big deal.
Mozzy: And then it's off tomorrow to Gävle for the final Swedish gig?
Mozzy: Well, that is all I had for now. Thank you Peter and have a good show!

See also: review of the gig the same evening
Related links: