Interview conducted March 03 2011
Interview published March 13 2011
To all the initiated, it is quite obvious that James Rivera is truly one Hell of a Metal Star. Dwelling deep in the distant, thunderous heart of this Texan, there lies a mettle vigilante, and a true agent of steel.
Besides fronting the mothership of Helstar, who have released a monster of an album with 'Glory Of Chaos', he has now rejoined Seven Witches for their tenth anniversary, and is working hard with Juan Garcia and Peter Scheithauer recording the new Killing Machine release.
I have known James for over a decade, and was pleased to hang with him on "70,000 Tons Of Metal", all the while relishing in his co-fronting Agent Steel with his renewed brother of Eden - the steel prophet - Rick Mythiasin. Unto my own destiny's end, it was only befitting that he should give me a ring and dispel any blasphemous, vicious rumors of chaotic disorder.

MettleAngel: Hey Brother, it is so cool to speak with you on the phone, and finally do another actual interview. If you recall, our last one was at Minneapolis Metal Fest over five years ago.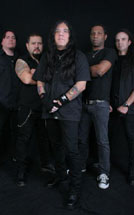 MettleAngel: Indeed we did, and I know you have always been a strong advocate of George Robert Lazenby and his portrayal in "On Her Majesty's Secret Service".
MettleAngel: I am a Roger Moore fan myself, given my generation. I did not like Daniel Craig at all. Those last two films were horrible.
MettleAngel: I like all other actors who played Bond, but him. Due to MGM's bankruptcy, it might be a few years before we see a new Bond film. Honestly, I no longer care.
MettleAngel: Now that we have broken the ice, let us get into it. I assume you had a blast on the cruise?
James: Definitely, I have played many festivals in several bands, but "70 K" was one of the best experiences I have ever had. I would love to play every year!
MettleAngel: We would love to attend every year, as well! Maybe Andy will ask Helstar to play?
James: I hear you, that would be killer! It was so cool to see you, Wendy, and even your son on board.
MettleAngel: Stephen was the youngest kid on the cruise. There was one other boy who was nine, and he joined Exodus on stage. Stephen was too shy to come on stage for any act, but he had a killer time.
MettleAngel: Tom Hunting of Exodus gave him a pair of his signature drumsticks, and to this day, my son is thrashing those sticks all over his room, pounding on the bed, pillow, wall, and whatever else.
MettleAngel: Seems so, as he has quite an argosy of band's drumsticks personally given to him, but the Exodus ones are his favourite. I kept Dave Budbill's from Sanctuary, even though he signed it for Stephen.
MettleAngel: Hmnn...because it is fukin' Sanctuary! I know when I first saw you on board I was a bit taken back, because I did not expect to see you there. You then informed me that you and Rick would both be fronting Agent Steel, which blew my mind and made me so excited for the next day, where I was face in front early in the afternoon at the pool deck.
James: Yeah, we saw you out there, you knew the lyrics better than Rick, ha, ha!
MettleAngel: I love those first three Agent Steel releases! My heart goes out to you, because some of those esoteric words on 'Unstoppable Force' can be a real bitch to remember, "NOW WE MUST JOIN Forces and rage! Disturbing the Scoffs, Neighborhoods fear, THE METAL ATTACK He's coming to town, He is ... THE RAGER!"
MettleAngel: Which is why we are all chosen to stay! I understand that you had barely a week to prepare for the job once asked by Juan, when he realized that yet again John Cyriis had flaked out.
James: John is my friend too, so I do not want to say anything bad about him, but Juan and I knew that he would not commit. I decided to just drive from Houston to Florida to meet the guys there the day before the cruise. We only had one rehearsal. I listened to Agent Steel non-stop on my road trip down to Miami.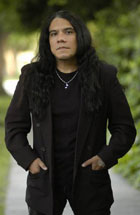 MettleAngel: We also made a road trip, but Wendy did all the driving.
James: Rick was still a bit nervous, so we both agreed we would just come out with lyric sheets in our hands, and give it our all. We chose to be the two-headed dragon.
MettleAngel: You both did one hell of a job! It was quite windy up there, so those pages were blowing everywhere, but the fact that you were trading off lyrics made it a one of a kind experience. Wendy enjoyed the show from afar, as she decided to go swimming.
MettleAngel: The one song you did not need lyrics for was Agent Steel's classic cover of Priest's "The Ripper".
MettleAngel: I saw both performances, on alternate days, inside and out. I noticed that at the second show when you played "Rager", you dedicated it to the memory of your sister who has recently passed.
James: Yes, I am glad you noticed that! She is not my blood sister, but indeed a very close Metal friend. After the cruise I flew to Australia to attend the funeral. I knew she was poorly when she was diagnosed with leukemia around Christmas time. She actually died from a virus once her immune system shut down.
MettleAngel: Well, the way you described her, a song like "Rager" is most befitting to honour her memory. You know over the years you have fronted well over a dozen or so bands, of all of these which one is your favourite?
MettleAngel: The new album is evidence of this...
James: I have been in so many bands, but with Helstar there are no egos. This was not the case with Destiny's End, even though I was the main reason for us getting signed to Metal Blade.
MettleAngel: I miss Destiny's End, as Crescent Shield are cool, and friends of mine, but not too great musically. I also enjoyed the Distant Thunder band who only released one album, already seven years ago.
MettleAngel: I know because we saw you play a show with Steel Prophet here in Cincy, a few years back, and I was so excited that it was the 'Remnants Of War' line-up, as I love this album!
James: Yeah, we all just work so well together. The thing is that this is not 1985, so the music we now write is heavier, and more updated.
MettleAngel: I think this is a good thing. I even like the reworked songs on 'Sins Of The Past'. I liked the better production values, and dare I say, "modern approach"!
James: It is just like Grand Funk Railroad says; "We are an American band!" We know our European fans want us to maintain that Classic feel, but here in the US, we have a history of violence, and this is because fear and submission are all the rage. We live in chaotic times.
MettleAngel: Again, I sympathize. 'Glory Of Chaos' is 100% Helstar, but with a new outlook, and some ragin' anthems. I also love your Saxon and Scorpions covers! Did you tell Biff about this on board?
MettleAngel: Man, hanging with Saxon, and John of Raven was like Heaven for me! They were so down to earth for being, in my eyes, such legends! As you know I have been a Helstar fan since I was in High School. I wanted to ask your honest opinion of the underrated album 'Multiples Of Black'.
James: Yeah, you have told me in the past that you like this album, and we appreciate your support, as you may be one of the few Americans who actually bought the CD when it came out!
MettleAngel: I was impressed with the new direction in songwriting and Dave Eleffson's production.
MettleAngel: Oh, you mean like Mustaine did with Sanctuary...
James: Once the money ran out, Massacre Records would not fund a nice studio, so the rest of the tracks were poorly produced. You are right, there are some gems on there. I am going to dig up the demo version of "Good Day To Die", and present it to the band to either add to our live set, or just re-record altogether.
MettleAngel: That would be cool.
James: You have to understand that when that was released in 1995, it was dead in the water. No one was buying Metal at this time, well besides you, that is, ha, ha!
MettleAngel: I know! When I first saw you with Destiny's End, you mentioned that you were a big fan of Black Metal. I can see how this has influenced the newer songwriting style.
James: Yeah, everyone thinks I just play the classics. This is dead wrong, I listen to Thy Serpent, Dark Tranquillity, Dimmu, Cradle, and the like. Those bands have all matured over the years.
MettleAngel: I agree and I would not consider any of them as being Black Metal. Dark Tranquillity were boring on the cruise playing the same set, but I still love their music.
James: Over the years, I have met many of these Black, Death, whatever Euro acts, and as it turns out, they are all Helstar fans, go figure!
MettleAngel: I can see that, given your vocals and subject matter on 'Nosferatu', or 'Distant Thunder'. I know you are signed to AFM, but last year Metal Blade re-issued remastered versions of those albums with the 'Twas The Night Of A Helish X-Mas - Live' DVD in a collectors package called 'Rising From The Grave'.
MettleAngel: When I met the other guys in Helstar, I was amazed with the diversity of their musical influences.
James: Yeah, Larry Barragan loves the newer hardcore stuff like Hatebreed and Machine Head. He brings the aggressiveness to the band. Robert Trevino loves Thrash, especially Bay Area style. Jerry Abarca is actually a guitarist with those Classical influences. He wrote songs like " Baptized In Blood" or "The King Is Dead".
MettleAngel: Those are two awesome songs!
James: I agree, but lately we have been encouraging him to play his instrument, the bass. Finally, he is doing that and this allows for a better bottom end sound on the new album. In the '80s it was like having three guitarists, like with Maiden!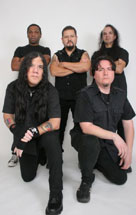 MettleAngel: Or if you are into the Punk scene, this is the case with Bad Religion. I appreciate the various music elements which go into creating the Helstar sound. After hearing the Eternity Black Demo which Larry gave me several years ago, I can verify his modern Metal influences.
James: Too many people assume that I enjoy Opera, and that I am classically trained. I hate this shit. My vocal influences come from Engelbert Humperdinck or Tom Jones, now those dudes can sing!
MettleAngel: I always laugh when I hear his name. His birth name is Arnold George Dorsey. Did you know that he adopted the appellative of the famous German opera composer Engelbert Humperdinck and assimilated it as his own stage name?
James: Uh, no! I just like that Pop Standard, Jazzy style, not to mention all those chicks those guys still get at their age, like Hugh Heffner!
MettleAngel: Or Lemmy, who has a new movie getting great ratings, and he is 65! Before we go, I do have one more question that I have always wanted to ask you.
MettleAngel: On the 'Burning Star' album you are listed as vocalist Bill Lionel. Why did you use this fake name?
James: Let me explain, it is not fake at all. My middle name is Lionel. My nickname for ages has always been Bill. Jerry still calls me Billy, and not James. It goes back to the early '80s when we all lived in neighboring barrios in Houston.
MettleAngel: That is interesting. Back then before we had easy access with the Internet, some of us actually thought that the vocalist on the debut was not the same guy as on 'Remnants'. I for one always defended that it was you, but there was some controversy.
James: I know, and tell me about it. I went with James Rivera, not to establish my ethnicity, but because this is my true name. In Houston, many Hispanics supported the band early on. We are even recognized by LULAC (League of United Latin American Citizens).
MettleAngel: Now that we have that straightened out, do you have any parting words of wisdom?
James: I am very pleased with the new direction of Helstar. Our album "The King Of Hell" has officially set the standard for the future of Helstar for the next 20 years. I encourage all you older fans to give the band a chance, and not just dismiss us. Come see us live, and you will not be disappointed!
MettleAngel: I concur! Thanks again Bill, stay in touch!
Related links:

www.helstar.com
www.myspace.com/helstar