Interview conducted August 07 2015
Interview published November 08 2015
Before power metal kings Helloween went onstage at Getaway Rock, Metal Covenant had the opportunity to get a chat with the band's bassist Markus Grosskopf. The German was a very cheerful fellow and a nice, relaxing time was had outside in the sun.

Mozzy: Let's start with the new album. Are you happy with it and the response it has gotten?
Markus: Yeah! It's nice. We play a couple of new ones live. One has an audience part and it's working great.
Mozzy: It has been high in the charts as well.
Markus: Yeah, people seem to like it and that's what I like too (laughs).
Mozzy: Compared to the previous albums, do you like to try things just a bit with each album, or?
Markus: Well, it's not like we have a master plan to change things. It's just comes out like this, you know. We don't plan to go in this or that direction; you just write songs and they come out like they are and then you see the result. Maybe you could feel that you need one more fast song to complete the album or whatever, but the general feel is not something you can plan. It just comes out in a very natural way.
Mozzy: Well I like the album, maybe a bit more than the last one although I liked that one too.
Markus: Ok, good (laughs).
Mozzy: You played with Judas Priest recently. That must have been fun.
Markus: Yeah! It was planned before but it didn't come together for some horrible reason (laughs). But it was very nice. I grew up with them and their music and saw them live. So to play with them was a great thing.
Mozzy: So in those occasions you are still a fan?
Markus: Yeah! It's great. They are still playing very well and are in great shape. It's still touching and emotional, I like that a lot.
Mozzy: This line-up of Helloween has now been together for ten years, which is the longest in your history.
Markus: It is actually! A whole decade! (laughs)
Mozzy: Do you feel like you are a strong unit?
Markus: Yeah. It helps working together if you know what to expect from the other guys, you know. And if you have a kind of routine going on, it makes things very comfortable.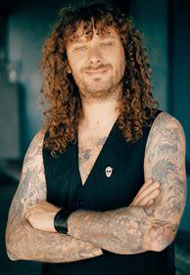 Mozzy: Another big anniversary is that you celebrate 30 years since Walls Of Jericho, the debut album.
Markus: Yes! It makes me feel a bit old (laughs).
Mozzy: I remember when it came out, and now it's been thirty years, that is amazing.
Markus: Yeah. And imagine that I was listening to Judas Priest before I even was in Helloween (laughs).
Mozzy: 30 years is a big achievement. Do you feel some sense of pride about that?
Markus: Well, of course I can feel lucky and happy about it. The thing I once started is still going very well. That makes you feel very good.
Mozzy: Have there been some tough times as well?
Markus: Of course. Ingo's (Swichtenberg, late drummer) suicide… record company issues… and other struggles we had from the early days. Being in a band for 30 years is not just about partying and all the good stuff. It's also about struggling in some bad situations and making tough decisions. You even have to make some cruel decisions sometimes to keep the band going, you know.

All of that comes with playing music and spending your life in music. Then you have to deal with that stuff, it's not just partying. I mean, we had a lot of good times as well as bad times. It's not always easy but you can only survive when finding solutions and making decisions.
Mozzy: You mentioned Ingo, and it's actually 20 years since that happened.
Markus: Yeah, that was probably the worst thing that happened during this time. Because we were young and nobody knew what was going on with that situation, and then having to face that is cruel for a young musician, you know. It was the toughest time we had.
Mozzy: There have been many highlights too, can you single out some?
Markus: Yeah, there have been those too of course. Like I said, it's been up and down. Luckily, in the last years we've had a lot of highlights. And through our career we've had… like more than one beginning. I call it a second beginning with Master Of Rings (1994). Everybody thought we were kind of dead and then we came back with that album. That was like a second birth. And those situations you bear in mind, like that feeling of 'yeah, we did it again', you know.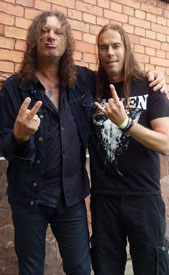 Mozzy: Like you said, the last few years have been really good for Helloween. Also, it feels like you have a very strong brand in that everyone knows the name "Helloween".
Markus: Yeah, and I feel great about that we have a 30th anniversary and that there has been no break. A lot of bands have been around for 20 to 30 years but they have had a break in between somewhere. That was never the case with Helloween, we were there all the time. Even when some albums were called bad or was disliked we were still touring and going on, trying to make it. Trying to keep the brand, you know.
Mozzy: And you have had great songs too which has helped, of course.
Markus: Yeah, there has been a few after all these years (laughs).
Mozzy: Today's business is even more about touring than before.
Markus: Yeah, but we learned to tour a lot even in the beginning. And because we had all this success with the 'Keeper' albums, we learned that the only way to keep the band up is to go out on the road, you know. So we got used to it in the very beginning and it didn't really hurt us.

It hurts a little more when you are a little older, but still we can find our own speed and way of touring here and there with gaps in between and so on. But we're still going: we're doing the festivals, touring America, Australia… there's Japan and Asia… It's still going on; we're just doing it at a bit different speed. We can decide how, so that's good.
Mozzy: Are there some places you have not been to where you would like to tour?
Markus: I don't know, there are probably many. We've been to China and Indonesia, but we haven't been to South Africa for example. There are more too, I'm sure. We have not played in the Arctic yet (laughs).
Mozzy: People are often speculating about rumours of a reunion with the old line-up. Does that bother you?
Markus: Well people are asking and still have that in mind. But there is no talk about it, because we're touring and we have this strong bond now.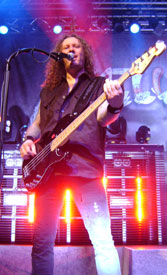 Mozzy: So some kind of temporary reunion thing would not be possible either?
Markus: No. We're doing this tour, then the next one and then we will think about the next record. We take it step by step.
Mozzy: Kai has guested the band a couple of times, however.
Markus: Yeah, that was nice. It felt familiar. We had fun and shared a couple of drinks. It felt comfortable and I liked that a lot.
Mozzy: You have a book coming out as well, right?
Markus: Yeah! We are putting it together and giving some advice. It's just like a little hello after all those years, for some collectors. It will be one of those big collector items, I guess.
Mozzy: To conclude, I remember when you filled in on bass in Edguy at Bloodstock in 2010. I saw that gig.
Markus: With Edguy? Oh yeah, it was England right?
Mozzy: Yes.
Markus: Yeah, Tobias' (Exxel) wife was expecting a child so I jumped in for that gig.
Mozzy: You really seemed to enjoy that one.
Markus: Yeah, to do something different is always good for your brain (laughs). It's fun to do things like that from time to time. I did some gigs with Gamma Ray too when Dirk (Schlächter) had a bad knee. But Helloween will always be the main thing, of course.


See also: review of the album My God-Given Right


See also: review of the gig the same night
Related links:

www.helloween.org
www.facebook.com/helloweenofficial