Interview conducted December 07 2012
Interview published December 27 2012
Are you Metal? Then you are as excited as I about the new forthcoming album from Helloween: 'Straight Out Of Hell'.
In preparation for this occasion avenue, I had a perfect gentleman's discussion on "Pearl Harbor Day" with the powerful guitar legacy known as: Michael Ingo Joachim Weikath.
We delved into our opinions over the end of times and the future of our world. Then he enlightened me on the recording process for the new album, and even hinted at a possible Classic Keys era Helloween reunion with Mike Kiske.
So I encourage you to let your inner eagle fly free and to keep in key with "Weiki" and me.

MettleAngel: Hey Brother, it is so good to have the wonderful opportunity to conduct an interview with you again.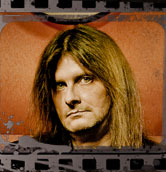 MettleAngel: As I recall you were very reluctant to do an interview, and acquiesced at the last minute.
Michael: Yeah, I had been inundated with boring American interviews, and I was not up for another one; however, the time we shared was very enjoyable. I still remember the conversation, and it was one of the best ones I experienced while on tour with Gamma Ray in the States.
MettleAngel: Thank You! This means a great deal to me. I know you do thousands of interviews a year, so to remember mine is quite an honour. I will be publishing this one for the same site: Metal Covenant.
Michael: I just remember that you asked some intelligent questions, and that you had a strong Theological background. I always appreciate the fans and members of the press who truly know about and value my band.
MettleAngel: I am sure you are eager to discuss the events that are to occur over the next two weeks. We will get to that I assure you. By the time I get this interview published given the impending Holiday rush, it will either be Armageddon, or just another day where everything is falling to pieces.
MettleAngel: I am sure there are those insane assholes out there determined to make it a self-fulfilling prophecy. There are dark forces aligned to bring about imminent tragedy, but we have to look on the bright side of life. I have always been inspired by Helloween lyrics, and their positive view of life.
Michael: Yeah, when we set out to write this new album we wanted to recapture that light and happy feeling, but also keep it up to date with modern production values. This is why we enlisted the talents of Charlie Bauerfeind, so that even the casual listener will have to do a double take once he hears what we have created.
MettleAngel: I do want to discuss the new album, as I have been enjoying it immensely. I congratulate you on three decades of being in Helloween. I am also amazed that you have consistently had the same line-up since 2004.
Michael: Yes, we are grateful to still be doing this after such a long time. It was Andi who coined the title for the new album. He felt that if we can survive the end times, then we will return from "Straight Out Of Hell"!
MettleAngel: Tell me about the recording and writing process.
Michael: As I mentioned, we were aiming high, aligning with a more positive feel, but still focused on making quality music with well-constructed lyrical values. I wanted to achieve more brightness emphasizing more impressive choirs and robust orchestrations. I still wanted to maintain that Classic feel, with some modern elements sure to please new and old fans alike.
MettleAngel: I am confident that you have again achieved that. I have always supported what the band delivers, albeit, sometimes a departure from the norm like with: 'Chameleon', 'Better Than Raw', 'The Dark Ride', or even 'Unarmed'! I understand that you have just completed a video for the opener "Nabataea".
Michael: Yes, that has big production values, 3-D animation, CGI, etc. Andi came up with the idea of while watching the first "Indiana Jones" movie. He instantly became fascinated with the mythical city located in the Middle East between Israel and Judea, and how recent German archaeological evidence supports its existence. They may have been the first community to have had democracy well over 3000 years ago.
MettleAngel: I look forward to watching the video. I am grateful that the band still has its tongue-in-cheek elements on the new album, as well. Track #10 "Asshole" pretty much sums it all up. The song reminds me of "Son Of A Bitch" by Accept, or what you did on "Anything My Mama Don't Like".
Michael: Well it is really quite simple. People piss you off because they are just plain dicks. So as I hum to myself to calm myself when confronted with these type of people, I came up with the idea for "Asshole".
MettleAngel: The song is so catchy, and yet so true!
Michael: I realized that we were on shaky ground when we chose to do this. Sure it can be goofy, and a bit cheesy, but we are after all Helloween!
MettleAngel: Yes you are, and I am sure you recall our discussion about "Heavy Metal Hamsters". Changing gears what is your take on Unisonic?
Michael: Honestly, I have only heard a few songs, and watched the video for the single. I respect what they are doing, and as we will soon be again touring with Gamma Ray, I know Kai is happy to be doing this. I especially enjoy their version of "March Of Time" live. We are also adding this back into the set, and it is creating a real buzz for a "Keys" era reunion.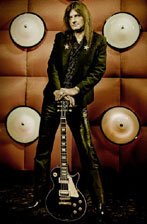 MettleAngel: That would be awesome. Mike Kiske is singing on the new Gamma Ray Live DVD/CD and when he does the extended version of "Future World" he is doing his Elvis bit again. In fact, Unisonic have even done some Elvis covers.
Michael: I know that fans are excited about the possibility of us reuniting with Mike Kiske to do "Keys" songs. I have heard everyone is on board, but Kiske himself. Apparently he still has issues with me. I am willing to sit down and talk with him in the hopes of working something out.
MettleAngel: Man, that would be awesome!
Michael: There will either be two results, either we work out our differences, or we do not. If we can all be on the same page, we will book a tour, play festivals, and even record some new songs to promote the whole thing.
MettleAngel: Assuming all this comes to pass, who would you get to play drums? Obviously we cannot bring Ingo back from the dead.
MettleAngel: I would so love to see the Classic line-up again. I would hope you could return to the US. I am so grateful that I was able to see you when you visited with both Headbanger's Ball Tours. Each one was so memorable: Grim Reaper and Armored Saint, or Exodus and Anthrax. All those bands are all active again too.
MettleAngel: Are you referring to the 'Live In The U.K.'? Here it was released as 'I Want Out - Live'.
Michael: Yes, and there are still some lost tracks from those sessions which I would like to see re-mastered and remixed to see the light of day. If we get the proper financing, this would go great with a Classic Helloween reunion.
MettleAngel: That is killer. Alright, now for the moment you have been waiting for, let us discuss the impending time of the oath - December 21st. Will it be the end of the world, or just a cold day in December just prior to Christmas?
Michael: I saw the program on television where both the American and Russian governments declared the Mayan prophecies to be inaccurate. Apparently, they are mistranslated and the Media has blown everything out of proportion.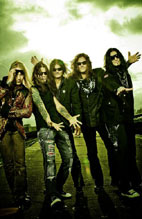 MettleAngel: Well, they do this all the time, anyway. I can recall all the hype over "Y2K". I agree the recent hurricanes are a tragedy, but this does not mean it is the so-called: "End Of The World". This is why when confronted about all the chaos on the News, I still quote a line from "How Many Tears" with the lyrics: "There's so much misery on the screen with commercials in between".
MettleAngel: I have heard that when you joined Helloween, when they were still Gentry or Iron Fist, and Piet Sielck left, you brought with you a Powerfool demo called "Sea Of Fears". Do you ever plan on releasing any of the Powerfool material?
Michael: Time will tell, as there will have to be enough generated interest, and money to pursue these endeavours. Right now I will continue to focus on Helloween.
MettleAngel: That is a noble choice. Are you excited about playing on "70,000 Tons Of Metal III"?
MettleAngel: Are you planning on playing any special songs for this cruise only?
MettleAngel: I suggest attempting "How Many Tears". I will not be on the cruise this year, but I will check YouTube to catch glimpses of your performances. Do you have any other big plans for the rest of the year?
MettleAngel: You do that! Michael, I want to thank you again. I am always honoured to converse with you. Have a great Holiday and an abundant New Year. Hopefully next time I see you will be with Mike Kiske, Kai, Markus, and Dani doing Classic Keys songs.

See also: review of the album Straight Out Of Hell
Related links:

www.helloween.org
www.myspace.com/helloween
www.facebook.com/helloweenofficial
www.youtube.com/user/helloweenorg