Interview conducted December 07 2013
Interview published January 04 2014
Having just followed up the sensational Human Remains with another class record by the name of Curse & Chapter, English heavy metallers Hell embarked on a high-profile tour with Amon Amarth and Carcass. At the show in Stockholm, your Metal Covenant writer was escorted downstairs, fittingly, to the Hell quarters where guitarist and founding member Kev Bower appeared for a nice chat.
The relaxed, well-spoken guitarist gave answers regarding touring, live shows and writing and revealed an ambition to reach even greater success. That the Englishmen take what they do seriously is of course also evident in their spectacular live show, which is a must-see.

Mozzy: So, you were well received tonight, don't you think?
Kev: Yes. This is the seventh show we've done in Sweden, I think. We've done Rockstad Falun, the Sweden Rock cruise, Sweden Rock Festival, Muskelrock, and then three shows on this tour including Gothenburg and Malmö. So yeah, it's really good to see our fan base starting to grow in Sweden.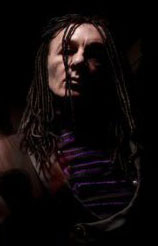 Mozzy: You really seem to have a great relationship with the Swedish fans.
Kev: Definitely. And for us, the whole objective of this tour is to reach out to new people. I mean, for any band it's fantastic playing to a whole audience full of Hell shirts, but for us it's like preaching to the converted. And for this tour, because Amon Amarth and Carcass are really rooted in death metal, it's a whole new crowd for us. And we're winning friends everywhere and it's going fantastically well.
Mozzy: Yeah, you got a good response tonight, even though you are playing a shorter set than normal. I think you are balancing the set really well though.
Kev: Yes, it was excellent. And I think many people who go and see us and really like us then go away and look at Youtube and they learn a bit more about the band. Then they see that normally, we bring a further, big production with pyrotechnics and fire; the whole kind of insane show. But I think they also discover the fact that compared with the two bands we are touring with, we are still a very little fish. So for us it's good to at least get the opportunity to give new audiences just a little 30-minute taste of what Hell is all about. It's working really well for us.
Mozzy: Great. About the Sweden Rock cruise, I met you that time, and at Sweden Rock Festival too…
Kev: Oh, I knew I had seen you before!
Mozzy: You said to me then, on the cruise, that you were really grateful for this second chance you have gotten in your career with Hell; I guess you feel the same now?
Kev: Yeah, that is right. And it's the same now with this tour as well; I would really like to go on public record just to say what incredible touring companions Amon Amarth have been.
Mozzy: They seem to be great guys.
Kev: Nothing has been too much trouble, they're fantastic guys, and we've just had an absolutely super time. I mean, we respect them as a band already, but we also respect them as human beings and the way they have helped us on this has just been incredible. So here is a public thank you very much to those guys!
Mozzy: Cool. About the Swedish fans again, I know there were also some present at that special hometown Derby show you did (in February this year, including the full, awesome stage show).
Kev: Yes.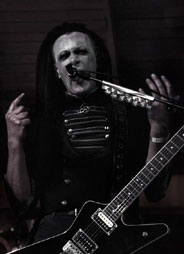 Mozzy: I have the special edition of the new album, where a part of that show is included on a DVD. You recorded the whole show, were you planning on releasing it all?
Kev: No, unfortunately… Well, the original plan was to release the whole show, as a back-to-back DVD, but unfortunately we had some really big technical problems, which meant that only about six songs actually ended up being usable. For example, the ambience part of the audience didn't record, my guitar crapped out the radio system in the third song, and then halfway through the set Andy's guitar hadn't been recorded at all. So it was all sorts of problems. We had distortion on the bass too. And we couldn't have gone back in and re-tracked everything; it would have defeated the objective of putting out a live DVD.
Mozzy: Yeah, others have done that.
Kev: Of course. But we decided that we would rather be honest, and we made it public why we couldn't release the whole thing. But you know, our time will come again. Maybe in a few years' time, when hopefully the band has continued to grow. Obviously another album will have been made which will then have another live DVD as a bonus disc, who knows?
Mozzy: And as you grow, you will have a bigger stage show as well which will then be perfect for a DVD recording. I guess an even bigger stage show is something you are aiming at?
Kev: For sure. I've said before in interviews that if we had the budget and the fan base and the popularity, you know, we would be emulating what Rammstein do. That really is the goal.
Mozzy: I saw them at Download this year, what a show it was!
Kev: Yeah, it's just… I saw them as well, at Nottingham Arena, on the last tour, the Made In Germany tour. It's just on another level, to everything else that is out there, ever. I mean, we would like a big, impressive stage production with lots of props, fire and pyrotechnics, but the problem with us is that we hardly ever get the chance to put that on. It's either because we are doing a support show like this where we have 30 minutes; we are on and we are off again. Or alternatively when we are doing all the 'flying shows'; the festival shows throughout the summer, where we literally arrive at the airport with a guitar in hand. At the moment, we're not enough high up the bill to be paid enough to transport all the equipment over from the UK. But our time will come, you know.
Mozzy: Will there perhaps be a repeat of that special hometown show too, do you think?
Kev: Well, we have just signed to a new booking agency, who have lots of plans for us, but at the moment we don't really know what's happening as far as shows. Actually, we only have one show confirmed for next year so far, which is Wacken.
Mozzy: That's a good one to start with!
Kev: It's pretty good, yeah. It's not a bad one to be playing (smiles).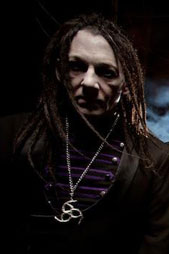 Mozzy: Another great band, like Hell, to come along over the last couple of years is Ghost. Do you like them?
Kev: Yeah! We actually played a show with Ghost in Athens. In fact, it was the day after the Sweden Rock cruise. We got off the boat in Stockholm, got onto an aeroplane and flew to Athens. We played a show the next day there with Ghost and Candlemass.
Mozzy: Oh, cool!
Kev: Yeah, what a bill! So we got to know those guys very well. Even though what Ghost and Hell do musically is poles apart, they do what they do incredibly well, and we have lots of respect for them as musicians and as people as well.
Mozzy: I read something about you wanting to do a tour with them.
Kev: Yeah, people said to me "what would be your perfect tour?" And it would be like a 100-show worldwide tour with Ghost and King Diamond.
Mozzy: Exactly, that was it! That would be entertaining for sure (laughs).
Kev: Oh yeah (laughs).
Mozzy: Ghost are playing here in Stockholm tomorrow actually, but you might be travelling then?
Kev: Are they really? Yeah, we will go to Helsinki then.
Mozzy: Moving on; congratulations on the new album, it's another great effort!
Kev: Thank you.
Mozzy: How hard was the writing this time, now that you wrote new material as well?
Kev: Well, I mean, probably 60 % of the material on the first album was my work as well. Obviously, David Halliday, my former song-writing partner, is sadly no longer with us. So this time around, the burden of responsibility really fell heavily on my shoulders to write a lot of new material. But of course this time, we have Andy Sneap (guitar) contributing to the songs. And don't forget, this is the guy who wrote all the music on the first two Sabbat records…
Mozzy: Oh yeah!
Kev: So he's pretty good (smiles). And of course we also have David (Bower) writing lots of the lyrics for us now. So it's kind of a three-point creative partnership. And I think, when you listen to what we've started to do already, I think you can imagine how much this creative partnership can develop and how potentially good album number three is going to be. We have nowhere near peaked creatively yet, so we think that the future for us is very bright. I hope so, anyway.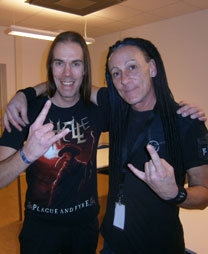 Mozzy: As for the future, you do have ambitions to really make things grow, then?
Kev: Of course. That's one of the principal reasons, you know… we are not doing 26 shows in 13 countries and being away for home for five weeks just for a joke. We are very ambitious. I mean, just from the reaction of everybody that sees and hears the band, especially when they see a bigger production; people say "nobody's doing this stuff anymore!" And as lots of people have said, all the old-school headline bands - the Judas Priests, the Iron Maidens, and all these guys - they are all getting older and older and there will come a point where they just don't want to do this anymore. And the problem for fans of traditional metal is that there are no new headline bands coming through to replace them. So who knows, I would love to think that it would be us, even though we are not exactly that young ourselves (smiles).
Mozzy: You're younger than most of those guys though.
Kev: Yeah. And the thing is, because we had like 25 years away from all this, even though we're old in physical years, inside we're all still 22! And it shows, when we're onstage doing what we do.
Mozzy: Definitely. When you are not on tour, do you have regular jobs?
Kev: Yeah, all of us are self-employed. Andy, obviously, is a record producer. And I have a company which produces carpentry; I do kitchens and stuff like that. David spends some of his time acting and some of his time as a supply teacher. Basically, he works for an agency, so if a school has a teacher who can't come to work that day because they are sick, they call the agency. Tim (Bowler, drums) is between jobs at the moment. Tony (Speakman, bass) works in the metal working industry, and he works on a self-employed basis. So that is really the only way we can all take five weeks off work and come and do something like this.
Mozzy: Let's hope that you can do this full-time later on then. That was all I had, thank you!
Kev: Yeah, let's hope so. Thanks, it was a pleasure to talk to you.

See also: review of the album Curse & Chapter


See also: review of the gig the same night
Related links:

www.hell-metal-band.com
www.facebook.com/hellofficial