Interview conducted February 20 2010
Interview published March 03 2010
2010 has already proven to be a great year, so far, for Power Metal's alumni, with new albums by Gamma Ray, Dream Evil, Heavenly, Freedom Call, etc. all proving to be quite enjoyable. This is a commensurate notion for the Traditional Metal field with new Rage, Finland's Armour, Icarus Witch, and the most recent Blaze Bayley blowing me away.
Incidentally, Blaze's latest magnum opus, and previous effort are far superior to the last two Maidens! I am very excited for the final Scorpions, new Armored Saint; and especially, Raven! I suppose, that time will tell what happens with the Accept reunion.
Sadly, the thrash resurgence is becoming a bit overplayed, with too many new thrash acts showcasing very little originality, and too many once Metalcore poseurs, now crossing over.
Thankfully, the tried and true thrash Gods of the original Bay Area scene, and East Coast are still serving us with their supreme talent. New Overkill is absolutely awesome, new Hirax sounds like Katon is channeling the late Sam Kinison, and the new, highly technical, torn riff epic by Heathen - 'The Evolution Of Chaos' - is most impressive!
Recently, I was given the opportunity to speak with original recovered Heathen vocalist - David White - who has been a part of the true spirit of thrash for over two and a half decades. As he broke the silence, we discussed the excellent new album, and I extolled my praise. Mr. Godfrey expressed his personal soul journey to illumination, and the past, present, and future of a band who are clearly neither heathens, nor even victims of deception.

MettleAngel: Hey Man, I want to sincerely congratulate you on a really kick ass new album! I just now, less than ten minutes before you phoned, finished playing the new CD on my walkman. I still do not own a MP3 player, and since I am so inundated by digital metal; it was a real treat to go old school, and play a CD on my old player.
MettleAngel: I can proudly proclaim, "Heathen are back!". Just like the name of the album suggests, there is a true evolution of the chaotic Heathen sound, typified by the classic Bay area feel, matched with a modern, technical, complex, and yet prominently engaging verve.
MettleAngel: I enjoyed the music, the lyrics, but I was also particularly surprised by the number of guest appearances. You have the Sadudes of Sadus playing on the "Intro". Steve DiGiorgio plays the sitar, while Jon Allen lays down the percussion. Steve also contributes his bass skills on other cuts. Gary Holt of Exodus proudly plays those insuperable leads on "Control By Chaos". I also noticed that former Heathen guitarist - Terry Lauderdale - adds some searing solos for "Arrows Of Agony" & "Silent Nothingness".
MettleAngel: I would not have known this, by only hearing the digital version. This is why I enjoy sitting down and playing an actual CD with a booklet. I am so grateful for the Earsplit team sending me this disc! I just am not always capable of sitting at a computer for extended periods of time, to play music.
David: We are really grateful for our friend's contributions on the album, overall. On the opener, leading into "Dying Season", we knew we wanted a sitar, and Steve was the right choice for that. Actually, while we were in the studio, Lee worked with the sitar, as well, in order to come up with his guitar solo parts.We worked diligently to create a crushing opening riff.
MettleAngel: Well, you sure succeeded. Steve, and even Ripper Owens are keeping busy lately. Their supergroup Charred Walls of The Damned, with Jason Suecof and Richard Christy was a decent, but laconic endeavour.
MettleAngel: I have been a fan of Heathen ever since 1987. I first heard "Goblin's Blade" on the 'Who Is Guy Bidman?' compilation. That promo cassette featured so many killer Combat acts like Dark Angel, Possessed, Ludichrist, Agnostic Front, etc.
MettleAngel: I had just purchased 'Kill For Pleasure' by Bloodfeast, and my friend had picked up the debut by Sword from Canada. The cashier told us that we get a free tape with our purchase. This sampler opened our minds and hearts to many acts of whom we had never heard; especially, Death, Agent Steel, Crumbsuckers, and, of course, Heathen!
MettleAngel: No, but as soon as I could afford 'Breaking The Silence', I purchased it immediately! I have some sweet memories of playing that tape with my friends.
MettleAngel: Well, for one I had a roomate in College who liked to partake in reefer madness. I recall one night being in the back of the car with the dudes from Thruster, engaging in a contact high while enjoying "Open The Grave" and "Pray For Death". Needless to say, they did not save the skullbong for last.
MettleAngel: I have all your albums, both the Century Media Remasters, and the Metal Mind Remasters. I also have the 2005 Demo, and of course, 'Recovered', which included my friend Ira Black on guitars.
MettleAngel: I know, I am friends with Ira, and also Jason Viebrooks, who lives in Cincy, along with ex-Forbidden drummer Steve Jacobs. They play with Ira in a more rockin' act called Lorenzo.
MettleAngel: I also recall, when I first saw the video for "Set Me Free" on MTV, before there was a Headbanger's Ball. I actually thought you were covering Saxon, who did that song on their 'Crusader' album. I was quite ignorant of The Sweet. I even thought that Krokus wrote "Ballroom Blitz".
David: Yeah, that is how it was back then, without the Internet, and all, I guess.
MettleAngel: I had heard "Love Is Like Oxygen", on the radio, but I did not know about the band. When the "Wayne's World" movie came out, I though Tia Carrere was covering Krokus. Now, I am much more versed in who did what song, originally. This is why I totally did your 'Recovered' release.
David: That was an interesting album, and difficult time for the band. We wanted to let the fans know that we were still out there, and also showcase some of our influences.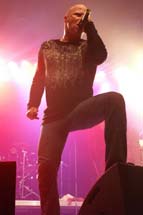 MettleAngel: Once again, I first heard your version of "Kill The King", and Liege Lord's before I heard the Dio Rainbow version. On 'Recovered', I dig the variety with the Queen and Thin Lizzy covers, but also Tygers Of Pan Tang, and Sweet Savage. Those new versions of the tracks from 'Victims Of Deception' are damn tight too.
MettleAngel: You also had Terry Lauderdale, who contributes some sweet solos on the new album. However, he did not work on 'Recovered', right, only the 2005 Demo.
David: Well, it is complicated, but Terry was a part of the band. Ira was too flaky, and the other guys were always getting involved in other projects, not staying committed to Heathen.
MettleAngel: This is before Lee Altus officially joined Exodus, a dream come true for him. I do know that he was active in Angel Witch, along with Darren Minter, your longstay drummer, Jon Torres, and original Heathen guitarist - Doug Piercey.
David: Yeah, this band has truly been through some chaotic evolutions. We really tried to get Terry to join the band permanently. Unfortunately, he plays a more rockin' style like Van Halen, and overall, he just does not write the crunchy Heathen type riffs.
MettleAngel: This is why you opted for Kragen Lum, then?
MettleAngel: I have been into Prototype for awhile. I even have their '95 Demo. I was never too impressed with the band. However, after hearing Kragen's guitar work on 'Evolution Of Chaos', I am blown away! He even wrote some killer cuts, which showcase the band's...well, evolution.
David: Yeah, this is why we wanted Kragen in Heathen. Actually, we originally wanted their other guitarist Vince Levalois, who is also Prototype's amazing vocalist. When Vince could not commit, he suggested Kragen.
MettleAngel: How did you come about working with the guys in Prototype?
David: Both Kragen and Vince came to "Thrash of The Titans" Festival to check us out. They were both big Heathen fans. I am a strong supporter of Prototype, and even considered joining them, so Vince could concentrate on guitar. I have auditioned for many acts over the years, even Ruffians, back in the day, when Carl Albert left to join Vicious Rumors, but I never seem to get the gig.
MettleAngel: This is why you are always meant to sing and front Heathen. I know you mentioned your differences with other past Heathen members. I am sure you and Lee miss Mike "Yaz" Jastremski who died of a heart attack in May 2005. His replacement Jon Torres is a killer bassist. I dig the racing track he wrote - "Bloodkult".
David: Yeah, Jon is a great guy. We do miss "Yaz", but other members of Heathen have also passed, like our original vocalist Sam Kress. He was a total freak. I remember seeing him with the band in the early days, before they even had a bass player. He would bring out this grill, and try to do a fake animal sacrifice. The whole thing was a joke, that is until he burned down the stage one night.
MettleAngel: Heathen have had a really interesting career. Even Paul Baloff filled your spot, when you briefly exited. I know you were in the band Laughing Dead, of whom I have never heard. I also know you were in Defiance, and Inner Threshold, who were more '90s style groove. I guess it is really no laughing matter since Defiance guitarist Doug Harrington also died in November of 2006 from Cancer? The new Defiance album was a big disappointment.
David: Yeah, this is why I have re-evaluated my whole life, and personal soul growth. We actually had the honour of enlisting Doug's brother Adam, who is a professional voice-over announcer, to do the spoken dedication on "A Hero's Welcome".
MettleAngel: That is my favourite song on the new CD! The song is just so patriotic and inspirational. It reminds me of what John Schaeffer from Iced Earth is doing with his new project Sons Of Liberty. I feel that this is his best work since 'Glorious Burden'.
MettleAngel: By this I assume you are referring to the Thin Lizzy song?
David: Man, you are right on! Unfortunately, our International fans, think the song is pro-American, and in favour of the war in Iraq.
MettleAngel: Really? I did not see it as promoting the war cause. I felt that it was more of a sincere way to honour the troops, stationed over there. I seldom support a war, but I always honor the troops who are laying down their lives for a noble cause.
David: Same here! We just want to let our fans know that this song is for all the soldiers everywhere who fight for freedom. It is not political, it is sincere, and also very personal.
MettleAngel: Do they not realize that Lee Altus is from Russia?
MettleAngel: This just goes to show people's ignorance. I actually first met Lee when he was on tour with Exodus for 'Shovel Headed Kill Machine'. It was my fifth wedding anniversary, and I had a great conversation with Lee all about Heathen, and his soon to be born daughter.
MettleAngel: With today's technology, it is so simple to research a band. I know that when I first heard the band, I did not even know what a heathen was. I looked it up, and realized it was a term for a non-believer. Now, I know it really comes from the term for "hearth", and it really means "those who keep warm by a fire". Obviously, in the Middle Ages, only the privileged were allowed in the castle, so the poor and outcast had to hover by a fire, most likely in the woods.
David: Actually, the name comes from the '70s show "Sanford And Son". Sam Kress always got a kick out of hearing Redd Foxx rant about those godless heathens who live for wine, women, and song.
MettleAngel: Wow! I never did consider the band to actually be heathens.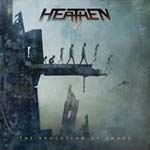 MettleAngel: Oh you mean when those damn Christians (no offense) during "Manifest Destiny" who stole the Indian' land, and made it their own, relegating the original inhabitants to hopeless reservations?
David: That and countless other atrocities! This is why we call the album - 'The Evolution Of Chaos'! It is all about Man's inhumanity to Man. I may not necessarily support evolution, per se', but I am disgusted by how we treat each other. Why does Man feel the need to manipulate man?
MettleAngel: I honestly cannot answer that, as it has been going on ever since we first stood erect.
David: Just look carefully at the cover art by Travis Smith, and you can get an idea of where we are heading, or even where we came from.
MettleAngel: I think the cover art is killer. It suggests that just as soon as Man begins to walk, he is already falling off the edge.
David: You may not be able to see as well on the CD, as the vinyl, but the first dude actually has red eyes, as if he is an alien or something. Once again, just as the songs, lyrics, and band name itself, are misunderstood, so is the intention of the cover art.
MettleAngel: Really, I did not know that people made such a big deal about the covers of an album, nowadays.
David: People really just do not understand me personally, my beliefs, my intentions, anything.
MettleAngel: That is a dirty shame!
MettleAngel: I cannot say that I have, why?
MettleAngel: Of course! I watch "Bullshit!", and I have learned a great deal from that. I have known of those two characters, their weird magic, comedy, and philosophies, ever since I first saw them in "My Chauffeur" with Deborah Foreman, who was also in "Valley Girl" and "April Fool's Day".
MettleAngel: I love Beavis & Butthead, but I did not care for that movie. I also have never watched "King Of The Hill"; although, "Office Space" was great.
David: You need to watch "Idiocracy" again. I thought that the film was a bit perverse, and odd, but now when I see the world through my new eyes, I get it. Man, people are so messed up, and they just keep devolving into total chaos.
MettleAngel: I guess this is sad but true. I strive to see the good in all people, but usually I resort to what Ludichrist say, namely, that "Most people are dicks!"
David: I also want to see the divine in others, but sometimes it is so difficult. There are actually ignorant reviewers and bloggers out there who hate us, just because we are not a "Heathen Metal" band. They do not like our name simply because we are a thrash act. They feel we should be pagans, or something, I don't know...
MettleAngel: This is crazy, as Heathen have been around for so damn long! You just described how the band even got its name. Incidentally, I have always wondered what is the deal with your name. You are now credited as just David. White, but on 'Breaking The Silence' you are listed as being David Godfrey. Is this a pseudonym like Bill Lionel with James Rivera on the Helstar debut?
David: Oh no, it is really my name. Godfrey is my stepfather's name, which I have had since I was five. I have always been David White, and I changed it legally to that when I was 18. The thing is everyone I knew at the time called me "Godfrey", so we used that on the debut.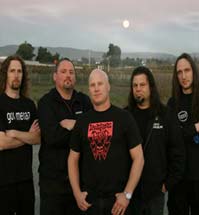 MettleAngel: So "Godfrey" was the name by which you were most associated?
David: Well, if you think about it, I am in a band called Heathen, so they think of me as being "God-free", like "Pepsi Free" get it? Now, I want to clearly let all know I am David White, and I am certainly not "God-free"!
MettleAngel: So you are a god fearing member of the band Heathen, I get it David. I also see that you played with Blind Illusion. I love their debut 'The Sane Asylum'. Did you ever record anything with them?
David: No, but you have to understand that the reason I was in all these bands was because we all went to school together. Founding member Marc Biedermann was also in Heathen, at one time, in the very early '80s. Marc and I were good friends, and we also hung out with Les Claypool of Primus, as well as Larry Lalonde, who was in Possessed. Hell, even Kirk Hammett attended the same High School. When he first joined Exodus, he served as the impetus which inspired Les to pick up a bass.
MettleAngel: That is so awesome! Les is quite a character! I can imagine what it was like back then. I know you are truly an old school veteran. I do hear some Exodus and Metallica type riffs on the new album, but given your background, and Lee's tour de' force with Exodus this is all to be expected.
MettleAngel: I also want to let you know that I think your vocals have really improved. The new album is truly an accomplishment. I love all the Heathen albums, even if 'Breaking The Silence' is still my favourite. With seasoned thrash artists finally being recognized for their die hard work, I wish you and Heathen all the best.
MettleAngel: I am sure that touring is an issue, as Lee is committed to Exodus. Perhaps an opportunity will open up for a support position. Hell, Exodus and Testament got the Megadeth gig, when Slayer backed out due to Tom's back injury. I see that already 60% of the shows are now sold out, in arenas! I guess thrash is back, as is Dave Jr. Ellefson, with MegaDave. Perhaps Lee, Gary, and Exodus will invite Heathen to open for some headlining shows this summer.
MettleAngel: I know that the new Exodus album - 'Exhibit B: The Human Condition' is coming out this spring. I was not thrilled with 'Exhibit A', so we will have to wait and see. I can already feel in my heart that the new Heathen will be far superior. You are clearly a better vocalist that Rob Dukes.

David: Thanks again Man, for all the support! Any time you just want to chat get ahold of me and we will reminisce.
MettleAngel: I will do, and tell the other dudes that I totally recommend the new album, and let Kragen know that I plan to revisit those Prototype albums. All the best....open the grave and set me free!
Related links: