Interview conducted November 08 2012
Interview published November 16 2012
In just over a month Steve "Zetro" Sousa will release the debut album by Hatriot on Massacre Records. This is his new band which '80s era Exodus fans have been dying to hear. I have the fabulous demo, I have seen the new video, and trust me, the globacidal sonic impact is imminent.
I called up Zetro to chat all about his lasting legacy, and to discuss the new album and what he has been up to as of late. Old habits die hard, and Zetro is back with full force. It was a pleasure to flesh out what his deranged and twisted mind are about to unleash on the thrash world. No Pressure, just seriously fast and melodic songs guaranteed to make you become brain dead from all the vicious skull smashing to the intense tempo of the damned.
So, choose your weapons of class destruction and join us in this toxic waltz....

MettleAngel: Hey Man, I am so glad you wanted to speak to me about the debut album by Hatriot.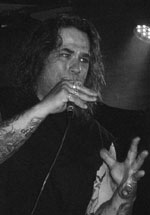 MettleAngel: I have the demo, and those four cuts are absolutely killer. This is exactly what all us old school '80s era Exodus fans have been wanting to hear!
Steve: I decided to just do what I do best and write music from a thrash perspective. Hell, I was in bands like Exodus and Legacy. We started this shit, so I just want to continue with it.
MettleAngel: I hear that! I always preferred you in Exodus, and I really like your voice.
Steve: Thanks Man, I have a great deal invested in my past. I know just how important my contributions are to the thrash market. I have decided to make Hatriot my main focus, and I am not really even doing much with Dublin Death Patrol right now.
MettleAngel: I always enjoy those DDP releases. It is cool to hear you and Chuck Billy sing together. Honestly, I still respect what Gary is doing with Exodus, it is just I am still not a big fan of Rob Dukes.
Steve: Man, you have to give him his props. Hats off to him for stepping in when I let the band down. He has now been in Exodus for over seven years, and that is quite an accomplishment.
MettleAngel: I really like the name you chose, as Hatriot really captures what you are all about musically and lyrically.
Steve: I have to thank Gary Holt for the idea. It comes from a line in the song "Scar Spangled Banner", where I sing, " I'm no partiot, just a hatriot...". Consider a politician like Jesse "The Body" Ventura, he is a true partiot who loves and hates America for all the right reasons.
MettleAngel: I get it! So, have you solidified the lineup for Hatriot? I know you were searching for a replacement drummer.
Steve: We considered Andy Galeon, as he wants to get back to playing, but we decided to just go with my 18 year old son Nick.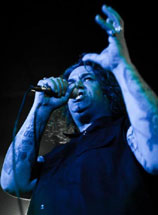 MettleAngel: Oh really, but will not fans cry out, "Nepotism!"?
Steve: I already have my one 20 year old son Cody playing bass. I did not just put my kids in this band, because it is my band. They had to earn it. They have grown up hearing my other bands, but I wanted them to prove that they can handle this style. My son Nick listens to a lot of current drummers from Shadows Fall, Machine Head, Slipknot, etc., but he really delivers. I make both my sons constantly practice.
MettleAngel: That is very noble, and I am sure that it is cool to truly be a family unit.
Steve: My guitarist Kosta Varvatakis is only 24, but he really knows his Metal Trivia. He even knows shit that I did not. He is well versed in the genre. He does not just want to copy old Exodus and Legacy riffs. He wants to write his own music utilizing those bands, and others as his structure. Hatriot is old school, but we also want to employ new dynamics and still have that modern approach.
MettleAngel: Are you still writing insane lyrics?
Steve: I am really into vampires, and the classic "Dark Shadows" episodes, so I have a song based on that, and also Elizabeth Bathory.
MettleAngel: Man, I just watched the new "Dark Shadows" movie with Johnny Depp. When he lay there in the coffin, the lyrics to "Alone In The Dark" played in my head, and finally began to make sense, as did "The Haunting", and "Burnt Offerings". I just always assumed you wrote lyrics from a political perspective.
MettleAngel: The new season is finally gettng back on track.
MettleAngel: No, I did not know that! Did you write anything from the new album?
Steve: Absolutely! Eric gives me a call when he comes up with the music, and I provide the words from my sick, twisted mind.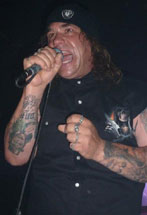 MettleAngel: Which songs on the new album did you pen?
Steve: I did "True American Hate", "A Day In The Death", "Throne Of Thorns". I also wrote "More Than Meets Then Eye" for their last album. I am always writng lyrics, when I feel inspired. We are in the studio now already writing music for the next album. I have a ton of ideas for songs.
MettleAngel: I always did enjoy your vicious, yet tongue-in-cheek type lyrics.
Steve: I have Gary to thank for that. He always showed me how to get the point across, but also have fun with it. Then I showed Chuck Billy early on when we did our switch, and he joined Legacy, and I Exodus.
MettleAngel: When you play live shows, like the one you just did with Death Angel, where they played the whole 'Ultra-Violence' album, do you ever play any Exodus or Legacy cuts?
Steve: Definitely! We just hammered out "Last Act Of Definace" and "Reign Of Terror". We will do this to fill time in the set, but once we begin to tour for the new album, we want to just focus on Hatriot.
MettleAngel: I would love to hear you play "Burnt Offerings" or even "Raging Waters". This is one of my favourite Testament tracks for which you wrote the words.
Steve: If we do any covers, we want to honour Dio with "King Of Rock And Roll". I really got to know him well when Exodus toured with Sabbath during 'Dehumanizer'. I want to pay tribute to his lasting memory.
MettleAngel: That is very noble. What about AC/DC? I always enjoyed your covers of them and Ted Nugent when you sang for Exodus.
MettleAngel: I would enjoy hearing your take on that too. In closing, I have always wondered how you got the name "Zetro".
Steve: It goes back to a bad acid trip I had in the '70s. The guys in Exodus would call me "Zet", because I was so wasted at this party, and staring at this cat. That is my past, and I have no problem with the name, but we are all clean in Hatriot. We do not use drugs. My sons are even too young to legally drink.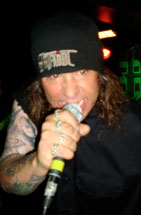 MettleAngel: I imagine that must make it difficult for them to play at a bar for a show.
Steve: I am very tough on my kids, and if we play a show at a 21 and over club, they will just wait until we hit the stage. They may be young, but they are still serious about this band.
MettleAngel: Well, I am super excited to hear 'Heroes Of Origin', and hopefully catch you all live early next year. The new album is slated for a January 25th release - exactly a month after Christmas.
Steve: Man, Michael we are stoked too. It is going to be 47 minutes of mindcrushing mayhem. The artwork is cool too, as we are all going to be on the cover. Bands just do not do this anymore.
MettleAngel: I know! Your three best Exodus albums all featured the band on the cover.
MettleAngel: Thank you for taking the time to speak with me all bout this.
Steve: Michael, thank you for pursuing this. I know you really wanted to do what you could to see us finally get the recognition we desereve. Once you hear the album, you will not be disappointed.
MettleAngel: Well, I love the demo, and the "Blood Stained Wings" video, so I am sure the mechanics of the new album will just crush and annihilate me.
Related links:

www.hatriotmetal.com