Interview conducted August 09 2013
Interview published September 27 2013
One of the most anticipated appearances at this year's Getaway Rock Festival, for me and many others, was American hardcore/metal outfit Hatebreed. Known as a killer live act, the quintet from Connecticut have become very popular in their field, certainly partly because they have been a very ambitious band when it comes to touring the world. After being escorted backstage, a nice conversation was had with drummer Matt Byrne, mainly about the touring aspect of the band.

Mozzy: So how is it to be back in Europe?
Matt: Ah, it's great man. We've spent a lot of time here during the last couple of years, doing festivals during the summer. It's a lot of flying, and driving around from country to country. A lot of longs days and not a lot of sleep, but that's how we do it.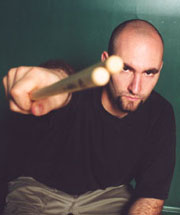 Mozzy: I guess it can be difficult.
Matt: Yeah, but you get used to it. We started doing the schedule last summer where we fly over from the states for like two weeks and then fly home for two weeks, so we're going back and forth. Typically, most bands just come over and stay for a month and a half or two months and then go home. But we kind of break it up, it makes it a bit easier. It's a lot of flying though, but…
Mozzy: How do you find touring in Europe, is it different than in the US?
Matt: Oh, absolutely. As far as the fans go, they appreciate different genres of music. I think that is obvious in the festival line-ups, where there are a lot of musical genres on the bill. In the States, you know, they did the new Woodstock thing in 1994 and then in ´99, and there were all these fires being lit, people getting beat up and towns getting thrashed and… it just doesn't work in the US. The best festivals we have are the Mayhem festival and the Ozzfest, which we've played a couple of times, but on the scale that Europe does their open-air festivals, the US could never do it.
Mozzy: Yeah, you never see fights or anything.
Matt: None. Everybody takes care of each other, it's friendly and it doesn't matter which kind of music it is either, everyone gets along.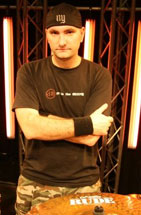 Mozzy: I noticed that it was Jamey's birthday the other day when you played in Liverpool. How was the reception there?
Matt: Oh, it was cool! We played a small club in Liverpool, and I don't think we've been there. It was a good crowd, very close-knit and up-close. It was typical birthday stuff, they sang Happy Birthday and we had a cake and everything.
Mozzy: Yeah, they know how to sing, as they are big football supporters the most of them.
Mozzy: What do you think of Sweden, then? You have been here a few times before.
Matt: Yeah, we've been here several times. I think it's great. It's very clean, altogether. The sights are great. I mean it took us an hour to get to the festival site from our hotel, so it's great to take a seat and see things from the highway. I think the people are very nice, and I think they speak better English than we do in the United States.
Mozzy: Haha, I don't' know. But we're good at English, we learn it from the third grade or something.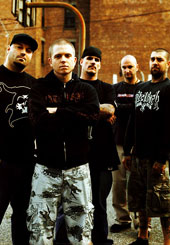 Mozzy: What about your popularity here; have you noticed that you have gotten bigger with time, or?
Matt: Well, I mean we've been coming here since 2002 or 2003, so we've gone from playing small clubs back then to now, when we are playing direct support slots on festivals during the summer. So it's good to know that we are constantly moving forward, in the right direction. That we're getting more popular on this market.
Mozzy: Great. So have you heard of this festival, Getaway Rock?
Matt: I've heard of it, I think it's our first time doing it. It's cool to see that we're doing it with so many great bands. Like Behemoth, they are killing it. I haven't seen them since the Ozzfest in 2007 in the US. And Killswitch Engage, we've played with them, recently a couple of nights ago in London. It's cool to see them too. And System Of A Down, what a great band… I haven't seen them in years. I think it was in 2006 we did the Ozzfest with them. We've crossed paths with them at festivals over the last couple of years, but I haven't had a chance to really hang out with them.
Mozzy: Yeah, I'm really looking forward to seeing them tonight!
Mozzy: I first saw them in 1998, supporting Slayer, when they were coming up. They were brilliant then too.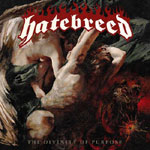 Mozzy: I think you would be interested to know that Agnostic Front played at this festival two years ago.
Matt: Oh! Yeah, they've been killing it this year too. We've played a couple of festivals with them but otherwise I've seen a lot of them of YouTube when they've been playing festivals. And the crowds are huge.
Mozzy: They got a very good reception here. This is more of a metal festival but I'm guessing you will fit in really well too.
Matt: Yeah, it seems like we fit in pretty well. Because, you know, we have straight metal songs, we have hardcore songs, and filling the gaps in between as well.
Mozzy: Cool. I'm curious of your energy onstage which you are known for; is that hard to keep up? Do you have to stay in shape?
Matt: You definitely have to stay in shape. You know, we toned down the drinking and stuff like that, because you can't get older and keep up the partying and put on a great show every night. It's impossible. The older you get the harder it becomes. We just try to do all the things you are supposed to do to keep going, you know. Eating right, drinking a lot of water, and not partying as much. Just trying to keep the stamina. We tour a lot too, we're kind of a non-stop touring band, so you run yourself into the ground faster if you don't take care of yourself.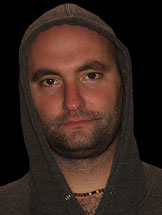 Mozzy: Have you noticed that it gets more difficult in some ways? I mean, you're not old yet, but still?
Matt: A little bit. But I'm still young (smiles). But yeah, definitely. You don't hit as hard if you're tired, and you cannot play as long if you're tired, so you have to make sure you keep yourself in shape.
Mozzy: You really are a hard-touring band, but in these times with downloading and all of that, do you have to tour even harder, to get by financially?
Matt: No, not really. I think every band makes adjustments. We never changed our touring schedule; we tour just as much now as we did years ago. That's just the band that we are. Maybe there are bands that are doing that, maybe they rely on record sales more than touring so now they have to make adjustments. But we've always toured a lot, we're road dogs, you know.
Mozzy: As an outsider, it's interesting to know if you get by financially, whether it's more difficult now. Are you able to live on the band?
Matt: Yeah. We pay our bills. We're not like these rich billionaires or anything with lavish houses and I don't have five cars or anything, but we're able to make a living on music, and that's all we ever asked for.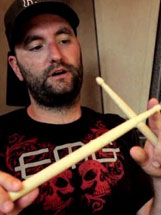 Mozzy: Ok, cool. Well, it's certainly different nowadays from like the 80´s and the big bands back then.
Matt: Yeah. I don't think that really exists anymore. When you have your computer and you can go in your bedroom and make a record there's no need to go and spend a lot of money at these huge studios with these huge record producers. You know, the lavish lifestyle, however you wanna say it, it doesn't really exist anymore. And with a band like us, we were not like that from the start, so why would we do that now.
Mozzy: But it must be great to be able to play music and live on that.
Matt: Oh, absolutely. All you can ever wish for, and everyone playing an instrument is probably the same, is that one day you can make money on playing your instrument, being in a band and playing live and the stuff that comes with it. And I think we've definitely achieved that. Meeting a lot of great people, seeing the world, playing these huge shows and festivals to a lot of people. That's a dream come true, right there.
Mozzy: For sure. I regret I didn't start playing when I was younger, but you have to have patience.
Matt: Oh yeah. You start young… well some guys start older too, but you spend a lot of time honing your craft, for sure.
Mozzy: It must be an experience to be onstage and see that crowd reaction.
Mozzy: Well, that was all I had actually. Thanks and have a good show!
Related links:

www.hatebreed.com
www.myspace.com/hatebreed
www.facebook.com/hatebreed