Interview conducted July 15 2008
Interview published July 22 2008
The multi-talented Greg "Wags" Wagner remains quite active by fronting three major American Metal acts: Cleveland's Classic Metal Gods: Breaker, the thrasher Shatter Messiah with his partner in grime - Curran Murphy (ex-Annihilator & Nevermore), and his own metal infused - H.A.T.E. (Halfway At The End) band, with long time bassist Chuck Ruszin.
After having seen Breaker warm-up in Cleveland last month before their landmark Bang Your Head Festival appearance, fronted by "Wags"; and having just witnessed H.A.T.E. tear it up, giving me a concussion, last Saturday, while opening for Destructor, who themselves were preparing for Headbanger's Open Air and Wacken, I knew I had to have a chat with this archetype of aggression.

MettleAngel: Hey there Brother, how is it going?
Greg: Great Man, I'm super psyched to discuss H.A.T.E., and my other projects. I'm currently working on a new non-metal endeavor, simply called the Greg Wagner Project. It is more commercial oriented, kind of like Bryan Adams, but there are still some great songs.

MettleAngel: I'll bet, everything you do has a killer mettle edge to it. Just seeing you play last Saturday at The Jigsaw with H.A.T.E. was an awesome experience. You and Curran tore the place apart. You have actually been keeping H.A.T.E. active since its inception in 1988, correct?
Greg: Yeah, that's right! We played many shows, and had a great local following, back then. Unfortunately, too much inner-strife caused us to disband in 1991. I guess we were a bit naive, and young. We even considered signing with Auburn Records, but Bill Peters was concerned about the band's future. We were also in negotiation with I.R.S. Metal.

MettleAngel: Well, it is a good thing you did not sign with them, as they screwed over Seduce & Nuclear Assault. The good thing, is now H.A.T.E. has returned, and you are working with Bill Peters recording new material, some of which you played Saturday night. Your only other CD is the self-released: Metal Forever.

Greg: That Metal Forever CD was a real rushed job. We did this low budget recording in one day, from morning to evening. There are some good songs on there, though, but the new songs will blow you away!
MettleAngel: The songs on your My Space page for H.A.T.E. can give the metal fan an idea of your musical capabilities, and what is to come. Chuck has been you bassist in H.A.T.E. since the beginning, right? Now, you also have Curran Murphy, your partner in Shatter Messiah, playing guitar with you. He really adds a new dimension to the overall sound, providing that classic 80's Speed Metal feel of Megadeth, Overkill, Exodus, and Annihilator.
Greg: Curran contributes to the melodies, because, he can really shred. You don't play in bands like Nevermore or Annihilator, unless you can deliver the goods. He is engineering and producing the new H.A.T.E. material, as well.

MettleAngel: Will the new H.A.T.E. be released on Auburn Records, then?
Greg: Yes, we are hoping to have it out by December, early January of next year. Bill is very professional about how he handles everything in the studio. This is why he puts together such great shows, with such killer line-ups and performers.
MettleAngel: You mentioned to me at that show, that you have some 50 new songs from which to choose for the new album by H.A.T.E.
Greg: Dude, this may sound crazy, but it's more like 900! I always have songs in my head, I'm always writing. I just like to remain active, and productive. I guess you could say that I'm a very prolific songwriter. Realistically, we'll focus on about 14 - 17 excellent songs. Then we'll whittle those down to about ten crucial cuts, leaving a rollover of seven or so tracks for the next album.
MettleAngel: There is no doubt that you definitely keep busy, with so many bands. You also played at one time in the progressive band Archetype.
MettleAngel: I have that EP, but I did not realize that it was you. Then again you did play a song called "Schizo", at that show. Let's talk about your key role in Breaker, as this is what fans really want to know. Originally, you left them in 2006, but now you are back, and you just played Bang Your Head, creating quite a stir!
Greg: I left Breaker back then only because they were not being too active. They had become rather innactive, with so many things going on in their personal lives. We have always kept in touch, but I needed to keep busy. When Breaker had their issue with *Jim Hamar, Bill tried desperately to reach me, in order to sing for them. (*note: Jim Hamar was forced to step down as Breaker's vocalist due to illness. He had vocal problems, and polyps in his throat, which kept him from rejoining the classic line-up and going to Germany to perform at Bang your Head. Greg Wagner stepped in, and did an excellent job.)
MettleAngel: So now you are officially Breaker's full-time vocalist, right?
Greg: Yeah, I guess you could say that. I mean, if Jim recovers, I'll gladly step aside; otherwise, I'm it.
MettleAngel: After your incredible live performance at Bang Your Head, I'm sure Breaker fans will welcome you into the fold.
Greg: Definitely, I guess you could say that. That show was such an amazing experience for us all. We played some warm up shows in Germany to prepare for that big event. We were really dead on for that show. Fans in Germany really love Breaker. Our meet and greet table was total chaos, with us signing for 45 minutes straight. We had to turn away several fans, when our time was up, they were lined up three rows back!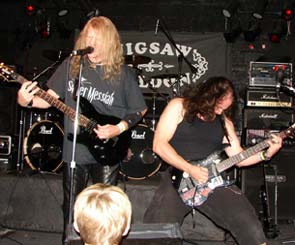 MettleAngel: I also heard that Breaker sold more merch than any other band who played. I'm sure that after your ridiculous stage dive into the crowd, against all surmountable odds, the fans won't forget the stellar performance.
Greg: Yeah, that was a crazy jump, dangerous, but worth the risk. Bill had been egging me on to make that jump, all damn day. I had to do it, to show my worth.
MettleAngel: Well he tested your mettle, and it paid off. That was quite a leap you did, no easy task. You actual flew into the crowd. What was going through your mind as you soared with the metal angels?
Greg: Man, my boot just scuffed the railing, as I landed into the crowd, so it was a close jump. I just wanted to land on the audience, and become one with them. I've always been into stage diving, and doing crazy shit like this. Those fans were just screaming, going crazy. It was total chaos, in the heat of the moment. While I was in mid-air, my only thought was, "I hope I'm caught".
MettleAngel: Well, if you had not made that sizable leap, I doubt we'd be speaking right now, as you could have been paralyzed. Anyone familiar with the Bang your Head stage, and the aperture between the crowd, knows that that was no simple jump. Thankfully, you made it, and now you have made metal history! In the Iron Maiden fashion, Breaker also performed with three guitarists: Don Depew, Michael Klein, and Nick Giannokos of Wretch.
MettleAngel: Other than Maiden, the only bands who made a difference with three guitarist are Racer X and Leatherwolf. With each band whom you front, you contribute unique character elements. With H.A.T.E. you mix that AC/DC Bon Scott vibe with "Zetro" Sousa of Exodus, Dave Mustaine of Classic Megadeth, Jeff Waters of Annihilator, and a hint of Udo Dirkschneider. Whereas, with Breaker there's a more classic rock vibe akin to UFO, Scorpions, Accept, Saxon, and Ted Nugent. With Shatter Messiah, there is that new thrash approach with a Fight like Rob Halford contingency.
MettleAngel: Breaker just released a new EP entitled: Peace Love Death. On this you sing on many songs, new and live; while Jim only has a few contributions.
Greg: Yeah, I do several songs on that. There are some new cuts on there like "Satellite Dog", and "Luck & Gasoline", along with some cool covers by Saxon, Scorpions, Accept, & UFO. Breaker is busy at work on all new material. We really rushed that EP to have it ready for our trip to Germany, and Bang Your Head. I think I did my parts in, like two nights.
MettleAngel: My first Breaker experience, surprisingly, was the warm up show with you on voclas, last month in Cleveland; even though I've been a fan of the band since the mid 80's. It was cool to see you step up to the plate on such short notice, and hammer out those classic cuts like "10 Seconds In", "Get Tough" & "Blood Money", along with the newer choices. I loved it when Jim came up to the stage to do my favorite Breaker song "Still Life"! I knew that your performance was a bit rough, as you had to iron out the kinks.
Greg: Yeah, that was our first show in ages. Breaker seldom practice, so I still had not memorized all the songs, as of then. by the time we hit Germany, though, I was totally prepared, and the Bang Your Head performance proves this! Our performance was absolutely flawless!
MettleAngel: So I've heard, if only I could have been there. All the reports I've read including the one Mark Gromen did for BWBK*, and the one in "Metal Maniacs" elucidate this. (*http://www.bravewords.com/news/92592)
Greg: As far as my singing style, I agree with the AC/DC and Udo comparisons. When I sing for Breaker, I have more mid-range than Jim; some call that gruff vocals, but it is still clear enough.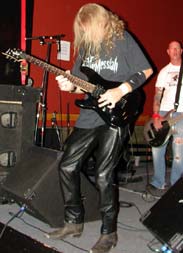 MettleAngel: Definitely, I love your vocals for all bands. I'd hardly call it gruff, but even Lemmy of Motörhead gets referred to as that. With H.A.T.E. there is such a rippin' 80's speed metal ennunciation, which you seldom hear anymore. This is why I choose to compare you to Jeff Waters, "Zetro" Sousa, and Dave Mustaine. Your pronounced percolations, show that you have been singing this way for a long time.
Greg: I love old school 80's oriented metal! I want to bring this style back to the tainted ears of today's youth who have been conditioned by the monotany of three chord dissonance. I like my metal happy, not all angry and filled with hate. People see the name H.A.T.E. and think we are all evil, but this is not the case. We just want to have a good time, and play. I'm in this business to have fun!
MettleAngel: Yeah, they don't realize that H.A.T.E. stands for "Halfway At The End", hardly a negative reference. The title Metal Forever, I feel sums up your might, mettle, and overall attitude. I think that classic metal fans of Breaker, as well as old school thrashers will totally dig the new material.
Greg: Hell yeah, the production for the new tunes is five time better than it was on Metal Forever! I've even recorded one, possibly two radio friendly commercial tracks, to provide some versatility and flavor.
MettleAngel: In keeping with the true 80's vibe, this just makes sense. Now, you often refer to yourself as "Wags" on stage, from where does this nickname stem?
Greg: When I was a kid, I played a lot of baseball. There was a famous ball player named "Daddy Wags". With my last name being Wagner, and the baseball association, the nickname just stuck.
MettleAngel: That is cool, and it is a clever stage name, easy to remember and articulate. I am so excited for hearing more new H.A.T.E. and Breaker songs. It was so cool to see you perform live this summer with both bands, and chat with you as a fan, and now friend. Thank you so much for agreeing to do this interview for me, and your International fans.
Greg: Thank you, Brother, too! I'm very excited to promote all my work. After all, it is people like you who really make the difference, and keep it alive. I enjoy remaining underground, and doing all the work myself. I celebrate the metal lifestyle, I live it 100%! Thank you for volunteering your time and energy to promote my music. Shatter Messiah is also working on some brand new songs, for which Curran and I are very excited to record. It is so cool to have people like you enjoy what we are doing.
MettleAngel: I do enjoy what you are doing, and I'm sure many other metal enthusiasts will, as well. Keep up the good work, and stay in touch.
MettleAngel: That sounds awesome, have a pleasant day.
Related links:

www.myspace.com/wagsmayhemofmusic
www.wehateu2.com
www.myspace.com/halfwayattheend
www.myspace.com/shattermessiah
www.auburnrecords.com