Polish band Hate have recently released their latest album Anaclasis: A Haunted Gospel Of Malice And Hatred. An album filled with furious and razor sharp death metal in the way of elder gods like Morbid Angel and Vader to name a few. We contacted the bands' guitarist, vocalist and songwriter, Adam The First Sinner to find out a bit about the past as well as what the future holds for this band.

Tim: First of all congratulations to a well done work with the latest release from Hate: Anaclasis - A Haunted Gospel Of Malice and Hatred (Listenable Records).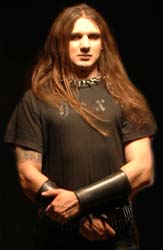 Tim: Hate has been around since its first breath back in 1990. Could you tell us how it all started and give us a presentation of the band, members etc.?
Adam T.F.S: Yes, sure. I started Hate back in 1990. Since then we've released three albums outside Poland: "Holy Dead Trinity"(World War III 2000), "Cain's Way" (World War III, 2001) , Awakening Of The Liar (Listenable, 2003) and the DVD "The Litanies Of Satan" (Metal Mind Productions, 2004). As you know our new record called "Anaclasis - a haunting gospel of malice and hatred" has just been released worldwide on Listenable Records. That's the whole story in brief. As for the line up, we are a four-piece again, although we recorded 'Anaclasis" as a trio: me -guitars, vocals, Hellrizer -drums and Cyprian-bass. Kaos, our former guitarist left the band in January for some personal reasons. It was his own decision and we parted ways with him in perfect peace. Since then we've been a three-piece, collaborating with a session musician at times. We decided to record the new album as a trio, because it was too little time to look for a new musician. Two months after recording session for "Anaclasis" we started looking for a new guitarist. When we announced it on our website, many talented people came forward; some of them from such distant places as Ukraine, Holland and even Brazil! We were simply amazed by the response. After numerous auditions we have finally agreed on Hellbeast (a guitarist from our home town Warsaw) to be a new member to the line up. He's a young, talented man known from several underground death/thrash bands. He has just outstripped all the other candidates. We're rehearsing a lot these days to make the songs as tight as possible.

Tim: Two years have now passed since the last release. What's been going on in the Hate camp since The Awakening Of The Liar album?

Adam T.F.S: In 2004 we released a DVD "The Litanies Of Satan" world-wide on Metal Mind Prods. We shoot it in a professional TV studio in Krzemionki, Krakow in February 2004 where we played in company of Gorgoroth, Carpathian Forest and Carnal Forge. It was one of the longest gigs we've ever played - altogether 15 songs. We presented mainly the material from "Awakening Of The Liar" album, but also from "Cain's Way" and "Holy Dead Trinity". I think it's a great gig and it sounds fucking unholy. There are some things on the DVD we would have changed (Metal Mind didn't consult us about the shape of the record..), but generally the concert itself is a killer and the artworks were done by our long-time graphic designer - Graal. In February 2005 we played a European tour (that didn't cover Scandinavia unfortunately) which had a great response from magazines and fans in the countries we invaded. I hope we'll soon come back promoting the new material and I'd love to play in Scandinavia this time too.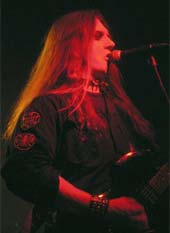 Tim: I would say that Hate have managed to create a very own musical identity. Any comments and thoughts regarding the musical development of the band? And all those cool samples, where do they come from?
Adam T.F.S: Well, you see..progress is always the most important thing to me. There are too many bands nowadays copying one another and I must say I was just fed up with it. I wanted new Hate album to sound in a different way from most of death metal shit on the market now. Extreme music needs fresh ideas, sounds, ways of expression, and that's what we bore in mind all the time when working on "Anaclasis". This album is an attempt to play extremely in a fresh way without giving up the extremity. As for inspirations, I think it might be the electric heavy rock that I listen to quite a lot. I mean bands like Nine Inch Nails, Y Front or M. Manson, but also some metal acts like Thorns or Zyklon. However, we arrange the samples/backgrounds in our own way. Some time ago we were the first metal band in our country to use a sequencer on live shows - a device that enable you to play the background sounds/samples on stage in a real time. It means that the audience can hear not only the guitars, bass, drums and vocals but also all the industrial backgrounds - exactly as on the album. Using sequencer on stage is very demanding on a musician; you must always keep to the tempo..otherwise you can get a complete chaos. We've been playing with a sequencer for over a year now and I must say it gives our music some new dimension. When composing "Anaclasis", we decided to use more synthetic sounds which gave the new songs some dirty, industrial climat which is not usual among traditional d/m bands. However, it's still the guitar riffs and vocal lines that play the main role in our music.

Tim: You used the Hertz Studio in Bialystok for the recording of Anaclasis. Could you tell us how the recording procedure was this time? Were there any problems on the way or did it go smooth and easy?
Adam T.F.S: Everything went quite smooth this time, however it was harder than recording "Awakening of the Liar", because the new material is generally faster and quite demanding technically. It took us over a month at Hertz Studio, where most of the tracks were laid. Earlier we worked on a synthetic background and samples at Hard Studio, Warsaw, with Kris Wawrzak as a co-producer. All the rest was recorded at Hertz with Wieslawski Bros - producers of our previous album. We had a comfort of 6 weeks booked at the studio which enabled us to experiment with the sound and work on every small detail to get the best effect possible. The tempo of almost each song is well above 250 metronome beats per minute. It's a really devilish speed. Our drummer Hellrizer proved to be in a good shape at the studio so we decided to play some tracks even faster than planned before. We also experimented with the sound quite a lot this time. We wanted the album to sound quite cold, almost industrial, so we had to check many differend amplifiers and pre-amps. Finally, we used Randall signed by Dimebag Darell with Pantera. It has quite specific, sharp sound.
Tim: What are the main subjects that influence you when it comes to writing your music and lyrics?
Adam T.F.S: This time I didn't draw my inspiration from any written materials. It was more my own emotions that really played role. All the lyrics were written quite spontaneously in the studio between the recording sessions. Working on them I felt like a relay between this real world and the world beyond receiving some emotions and pain that was not mine but coming from other people or souls. A metaphysical/mystical experience of sorts. To me it's strange because I never wrote lyrics in this way. You will also find this idea reflected in the music - besides my vocals there are demonic, women's voices that sound as if they come from beyond. We used such effects in almost each track on the album so you may get an impression of a "haunted" music.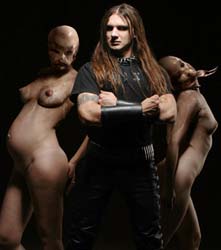 Tim: How massive will the touring and promotion on the Anaclasis album be? And is there any hope for the fans in Scandinavia to see Hate live?
Adam T.F.S: There's a European tour in our plans for 2006. I don't know details yet but it's probable that we'll go across Europe in February or March. It's hard to tell at the moment if we'll go to Scandinavia too; I've no details about the tour as yet. We've also been invited to some summer festivals in Germany, Ukraine and Czech Republic. Next year we'd like to enter the studio to record next album. Probably a continuation of "Anaclasis".
Tim: I've been visiting Poland a couple of times. Seen cities like Gdynia,Warzaw, Katowice and the magnificent city of Krakow were I got a new experience; Sitting and drinking excellent Polish beer in a dungeon that I was told to be an old shelter room from the world war II.. Anyway, we all know that your country produces not only the best of beers in the world, also some of the greatest bands in the death metal genre. How does it come that Poland produces so much good metal and which are the main reasons do you think?
Adam T.F.S: Hard to tell. You should ask a sociologist (laughs). Maybe the fact that Poland is still very traditional catholic country has made some reaction in young people against this whole shit. The other explanation may be that Vader's success in the mid- 90's motivated many young bands to follow their footsteps.
Tim: Back to the new album. Hex is one hell of a song, you also got a mighty one called Fountains Of Blood To Reach Heavens. Do you have any song you hold above others on Anaclasis?
Tim: What are you up to when not creating devilish metal for Hate? Any other activities on the musical front or side projects?
Adam T.F.S: Well, I have a project band called Mothernight which is heavy rock with an industrial vibe. We're at the studio now finishing our debut album now and soon we'll stary looking for a publisher. I think this band can be really something; however Hate is always my most loved child..if you know what I mean.
Tim: I've read an interview where you said that you are educated psychologist. Has your private work affected on your work as a musician?
Adam T.F.S: Yes, it's true, but I don't work as a psychologist at the moment. And yes, my education is really useful specially when dealing with people in the band as well as those in labels.. Sometimes you need to be a shrink to convince people to your ideas.
Tim: I've got this neighbour of mine that supplies me with this excellent brew called Szywiec. Your favourite brew?
Tim: Well, everything has an end and so do my questions. Thanks for taking your time and keep up the good work. Any last words?
Adam T.F.S: Thanks for this interview. I'd like to say hello to all those who support Hate in your country. We're looking forward to visit you country for some gigs. I hope it'll happen as soon as possible. For the time being, you may visit our official website under www.hatesatanic.org Praise your daemons!

Review of: Anaclasis: A Haunting Gospel Of Malice And Hatred


Review of: Awakening Of The Liar
Related links: