Interview conducted April 10 2015
Interview published April 18 2015
Hardcore Superstar has been on the road for a month to promote its new album HCSS, which releases on April 22nd. One stop was at the venue Klubben in Stockholm and Metal Covenant took the opportunity to meet up with lead vocalist Jocke Berg to find out what the guys in the band really had in mind when they decided to put an older vibe to the record.

Tobbe: You've now been on tour for a month. How did it feel to be able to present your new album a little bit?
Jocke: It felt good. We were gonna do the whole platter at first, but we actually chose to only do 4 songs. If we had done 10 new songs straight, people would have wondered what the hell was going on. We spread them out in the set just fine and I asked the crowd if they wanted to hear a new song. Usually they said "Yes". It would have been tough if they had say "No".
Tobbe: A tour right before the album release is rather bold.
Jocke: Yes, it's a little bold, but we saw it a little bit as a promotion thing and a chance for the fans to hear the songs before it releases. We also brought records with us of course, so that people would be able to purchase it.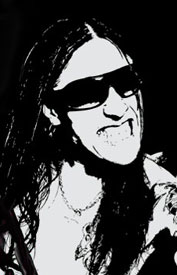 Tobbe: Sometimes it's hard to take the songs in at first glance.
Jocke: Yes, I know. You can buy an album and you don't really dig it until like the 7th time and then you realize it's actually good shit.
Tobbe: I will return to this soon, but let's continue on touring a little more. You have announced some festival gigs this summer, but what happens this fall?
Jocke: The plans are that we're going to Japan and then there's another European tour. I don't know if it will be a longer European tour that we will split up into 2 legs. This is what I know at this point.
Tobbe: Okay. Your new record is about to be released and when I listen to it, it shows obvious signs of old Hardcore Superstar. It sounds like you have brought in influences of other bands too, but maybe you have just brought in your own old influences?
Jocke: We found an old demo with 3 songs. It was Fly, Glue and Growing Old. We felt that those songs were too good to throw away. We rewrote and rearranged them a little bit and that triggered the whole songwriting process, so we were helped by finding those songs. It wasn't like the well was dry, but I think that we're such good musicians and songwriters that we don't have to make the same platter every time. I mean, I still sing the songs, so it will still sound like Hardcore Superstar, you know.
Tobbe: Personally, in the beginning, I had a hard time to take the record in. It felt weird and the songs seemed odd. Did you sometimes feel that it was time for a change?
Jocke: Well, I don't know if we really talked about it. It kind of just took that direction and that way. But I think it's both healthy for us as a band, songwriters and musicians and it's equally healthy for our fans who get something new, but still it's Hardcore Superstar.
Tobbe: I think the album is really diverse.
Jocke: Yes, it is.
Tobbe: Was it something you thought of?
Jocke: Well, it just turned out that way, I think. We weren't trying to make a Pink Floyd album or something, but if you listen to the song Fly; it's kind of our Pink Floyd song, I usually say.
Tobbe: Absolutely. It's undeniably a special song.
Jocke: It's kind of psychedelic and a little schizo, you know, and I like that. If you look at it song-wise, it's very slow and easy, then it bursts out, and then back, then it bursts out. And in the end it has that outro wail and it's almost kind of like Ronnie James Dio vocals, you know. I like that song and we played it in London and people just stood there and looked puzzled, but in a positive way. They just stood there and listened, you know. It has a kind of magic feeling.
Tobbe: I think it's the record's best song actually. Maybe it's that kind of song that comes out better on a record than live? At the same time I believe that it will go down well if you play it somewhere in the middle of a set, since your sets are very energetic.
Jocke: Yes, 8 minutes of peace and quiet.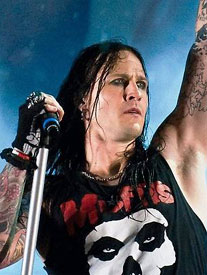 Tobbe: You personally run around the stage a lot and you're not 20 anymore.
Jocke: No, 41 in a couple of days.
Tobbe: Oh, congratulations. Anyway, where do you get all your energy from? There aren't so many singers that move this much during a set.
Jocke: Okay, I admit that it becomes tougher when you get older, and it hurts more the next day. I have 3 kids now and I don't have that much time for workouts anymore, but I try to run at least 15 kilometers (~10 miles) every week, but I used to run 50 kilometers (~30 miles) a week. It shows when you get older and I can feel my love handles and I don't like that. I try to workout and do sit-ups, you know. I try to stay in reasonable shape and not drink too much. I mean, I'm like every other old man, I like beer. But I remember when we first started and I was hammered every night, but there's no way you can do that anymore. Not a chance. You woke up every morning and were ready to go again.
Tobbe: If we go back to the record again. Its cover; what about it? It's quite different from all your other albums.
Jocke: We tried to make it more skateboard oriented, since I and Adde [Andreasson, drums] have skated some. In fact he was a really awesome skateboarder. We tried to make it into a concept, you know, that you might, if you think that the cover is really cool, make a tattoo of. We will also sell skateboards in our webshop.
Tobbe: I think that the album is more glammy and therefore lacks a bit of the intensity you've had during the last decade. It's kinder really.
Jocke: Yes, I agree. We have the song Don't Mean Shit which is a little tougher, but I agree, it's a little kinder. But I understand what you mean. I also like, like on Dreamin' In A Casket for example, you know, the thrashier guitars and such stuff. But that's what's great; if we do a record like we did now, we can go back and make a customary record later. You know, to break the pattern, because it gets really undistinguished otherwise, like "Okay, Hardcore Superstar has released a new album and it sounds exactly the same as usual.".
Tobbe: Are people honest and tell you that you've made 4 similar albums in a row? Although I personally think that they aren't that similar to each other.
Jocke: Each album is quite different than the next one, even if they resemble each other. Now we have come to a platter which is a turnabout almost, but nobody has put it that way. I read a review of the album though; "What have you done? It was good as it was.".
Tobbe: I feel a little that way too. I will review the album and maybe I won't give it a top rating. I have probably listened to the album 20 times and there are some good stuff on it, but at first I didn't like it at all, so do you think that your fans will have the needed patience?
Jocke: Our fans can really give us a hard time on social networks. When we released Touch The Sky as a single, it was comments like "What the fuck!" and "What are you doing?" and so on. With this record, I have noticed with the singles and by those who have bought the album on the tour, there's no one that likes it a bit. It's like you like it a lot or not at all. Something like that.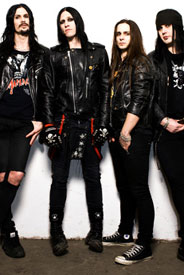 Tobbe: You will have the same fans still of course. I don't think that they will abandon you because of…
Jocke: I really hope not. It would be sad. "Thank you and good night. This was my last interview. I quit!". [Laughs]
Tobbe: Right. About quitting. Let's go back to before your black album [The self titled 2005 release]. You had some thoughts about disbanding and how serious were those thoughts when you now look back at it?
Jocke: From my side it was really serious. I felt that I was so sick of all the shit. We had toured, rehearsed, recorded and blah, blah, blah constantly for 6 years. I felt that we really didn't get that real break. Nothing really happened, you know. On the first 3 records we were kind of searching for the Hardcore Superstar sound, which we then found when we decided to keep going with the black album. The formula, you know. We see that record as kind of original Hardcore Superstar. What we did earlier was more a search for our sound.
Tobbe: Don't you think it's a little tough sometimes to always be associated with that record? I mean, the record is awesome and a lot of people think so too, but you know, too associated? You have also played it live in its entirety.
Jocke: Yes, we did it on Sweden Rock [Festival]. But to answer your question; No, because we're so proud of that record, you know. Someone wrote that it was a masterpiece and I can definitely buy that, if someone wants to write that, you know.
Tobbe: I really don't know what makes it so great. It's not especially varied, but you just made great songs all throughout the record, you know.
Jocke: It's a little uncompromising. We just went for it. You just count the album in, and then it's over, you know.
Tobbe: By the way, do you see HCSS as your 9th or 10th album?
Jocke: If I count It's Only Rock 'N' Roll, you mean?
Tobbe: Yes, does it still count? [Bad Sneakers And A Piña Colada was the band's first international release and it includes many re-recorded versions off the debut It's Only Rock 'N' Roll]
Jocke: Well, I guess it does. A funny thing with that record is; I was in London a couple of years ago and I was in a used-CD store and I found that record for 63 £ and I was like "What idiot buys this one for 63 £", you know. I went back another time and then it was gone, so obviously someone had bought it, or maybe they had put in on sale?
Tobbe: Back to the new album again. Were there any moments during the recordings that you found a little tougher, or did everything went smoothly, with all experience you've got?
Jocke: I have small children at home and I'm sick again. I'm having a cold again. It never ends, and I'm the vocalist and I have to lay down vocals on the platter, so we had to proceed carefully, you know. It's sounds good as hell anyway. I love my kids above anything else, but it's hard when they are that age, 7 months and 3,5 years. It just flows out of their eyes and noses all the time and they constantly put their hands in my face. I go "Daddy's a singer. You can't put your hands in my face right now.".
Tobbe: So how do you personally think that your voice has developed during the 17 years that you've released albums?
Jocke: I think it has become better. I try to nurture my voice, like with my exercise for example. I also warm up my voice at around 45-50 minutes before the gig. Start nice and easy, and on my computer I have a black guy who's fantastic and I do lots of stuff. I sound weird, but it actually helps and it's really good. At yesterday's gig I really had to fight hard to make things good. You know, I'm a little spoiled with having such a range in my voice and can kind of do everything, but when you get sick, you're not that big and cocky anymore. But I personally think that I have developed in the right direction song-wise.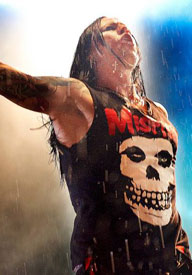 Tobbe: You mentioned your family, so how do you guys combine your family lives with the band nowadays? You're not a huge band, but you're definitely not some fucking small band that does like one gig a month either.
Jocke: You know, we've sort of had this for a living since 2006 and then I work as a painter occasionally and my boss is a great guy. And you can actually combine this with your family and my partner is fantastic. She does a fantastic job with our kids at home and I try to show her appreciation as much as I can, but she knows that we're doing this because it's our job. A lot of guys that return home from a tour are really tired and want to rest when they come home, but you can't do that when you have a family. The first thing I did when I recently returned from Europe was to clean our entire house. I was picked up at Landvetter airport [outside Gothenburg] at 8.30 a.m., went home and had breakfast, then cleaned the house and this week I built a sandbox for the kids.
Tobbe: So outside the music you're just like everybody else… So how much time do you work as a painter?
Jocke: You know what; I haven't worked since the end of January and it will actually be nice to go back to work. You know, the social life, like this, we just sit and talk shit during breaks, and then you go out and do your job.
Tobbe: I guess you're mostly one of the guys there.
Jocke: Not really, actually. You know, when I come to a construction site, a lot of people want to talk. We have actually gotten a few jobs because I sing in Hardcore Superstar. It's all connected in some way. Usually we listen to radio when we work and when they play Hardcore Superstar I just sit down for a while and the other guys go "What are you doing" and I just say "Give me a reason to why I should double my salary?".
Tobbe: Right. That's a good one. When talking money. How much more would you have made if it wasn't for illegal downloading?
Jocke: Oh, my God. Much, much, much more.
Tobbe: You started around the time when downloading just barely had begun.
Jocke: Look at Bad Sneakers. It sold gold at 40000 copies and today gold is 10000.
Tobbe: So what do you guys do to expand your popularity outside Sweden? I know that you have gotten recognition abroad as well, but anyway.
Jocke: Yes, it goes pretty well in the rest of Europe too, but we try to use the social networks. You know, facebook and Instagram. And then interviews, you know this thing, and we also try to do great records as well.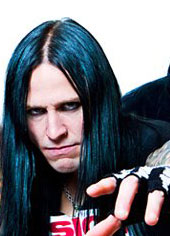 Tobbe: The competition is killing nowadays. You know, there are bands everywhere, so what do you guys believe that you can offer that other bands can't?
Jocke: I think we're a better live band than many other bands. We create a sort of joy and we let the fans be part of the show. I think that's really important. A lot of bands just go up there and do their jobs and then they just walk off stage. It might work for certain bands, but I don't think that's fun at all. It's kind of easy-going when we're on stage and we don't present the songs in a cool way and we high-five the crowd. It's kind of relaxed and it's because of the crowd we are here.
Tobbe: In a party band like Hardcore Superstar, who is the best beer drinker?
Jocke: Well, I think Adde is the best beer drinker.
Tobbe: How do you look at the band's future? Like in 5 years.
Jocke: In 5 years I'll be 46… Oh, what happened? Anyway, if we play our cards right, we will keep doing this. We still continue to grow, at least a little. If we continue the way we do now, we will do this for at least 5 years more. It would have been cool to go on stage on my 50th birthday.
Tobbe: It won't be a problem. Just go for it. So which is the album's best track, besides Fly?
Jocke: I like The Ocean, but I'm the only one who does.
Tobbe: I agree with your band mates, because I think that one is one of the weakest.
Jocke: I really like that one. I really have a weak spot for that song.
Tobbe: But isn't music great? Everyone likes different things.

See also: review of the gig the same night


See also: review of the album HCSS

Related links:

www.hardcoresuperstar.com
www.facebook.com/officialhardcoresuperstar