Interview conducted February 25 2011
Interview published March 06 2011
Many bands from younger generations are discovering the appeal of rock music from the seventies, or even further back. One prime example is certainly Sweden's Graveyard, who have managed to capture the sound of that particular era in a most impressive fashion, while also incorporating other influences. Their debut album, simply called Graveyard, really created a buzz on the hard rock scene, with its genuine, appealing blend of retro rock, blues and other tasty ingredients.
In addition, their spellbinding live shows have won wide acclaim. No wonder, then, that their second album, named Hisingen Blues - out March 25 in Europe and April 19 in the US - is long-awaited and is looked upon as a release which could generate a definitive breakthrough for the Gothenburg-based rockers. An interrogation with the band ahead of the new release was thus in order. The member who kindly provided answers to some quick questions was bassist Richard Edlund (Graveyard also consists of vocalist and guitarist Joacim Nilsson, guitarist Jonathan Larocca Ramm, and drummer Axel Sjöberg).

Mozzy: For those with less knowledge of Graveyard, describe how the band was formed?
Richard: We're a bunch of outcasts to Gothenburg who formed the band in 2006. I and Joacim had been playing in the band Norrsken in Örebro, together with Krille Sjödal (Deadman) and Magnus Pelander (Witchcraft). We then moved down to Gothenburg and started playing in the band Albatross with Axel. When Albatross split up, we formed Graveyard with Trulls Mörck on guitar, who later quit and was replaced by Jonathan (ex-Solarius).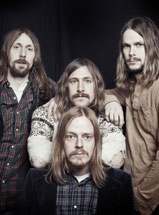 Mozzy: Even though Graveyard's music is very much characterised by 70´s rock, it's also much diversified. How would you describe your music and what are your main influences?
Richard: We're all very fond of heavy blues rock from ´67 to ´74, such as Black Sabbath, Fleetwood Mac, Ten Years After, Mayblitz, Jethro Tull, Bang, Neil Merryweather, Groundhogs, November, Bubbly Puppy, Savoy Brown, and so on. But we also get influences from blues, such as Muddy Waters, Howlin Wolf, Lightning Hopkins and John Lee Hooker, as well as from hardrock and metal bands like Judas Priest, Slayer and Metallica. In addition, there have been periods of listening to traditional folk music from all over the world, for example Ali Farka Toure, Comus, Steel Eye Span and Fairport Convention. So you can say that if you add all these influences, plus some other bands as well, the result is Graveyard. Sometimes there has been periods when we've been listening to just old music, but that is starting to change.
Mozzy: Tell us about the creation of Hisingen Blues, the follow-up to the self-titled first album.
Richard: It has taken quite a long time to create this record, partly because we have toured a lot and partly because our producer Don Ahlsterberg has been working with other artists (Jose Gonzales and Soundtrack Of Our Lives). Therefore, it's been difficult to fit it into everyone's schedule. Also, when you've been out on the road for a long time, you want to take it easy for a while; whether that's lazy or a bad idea I don't know but that's how you feel. The recording process itself starts with someone bringing some riffs which fit together and then we arrange it together. We also write the lyrics together. Don puts his stamp on the music as well, by giving feedback, arranging and creating a good sound.
Mozzy: In terms of style, how does the new record compare to the debut? Are there aspects you have changed or developed?
Richard: Well I would say it's more diverse than the first one, we hadn't been playing together for that long when we released that one. Also, we have a new guitarist and he has definitely been part of influencing the sound. When we sat down to write songs, we didn't decide on a particular direction, we simply played what everyone in the band feels is fun to play.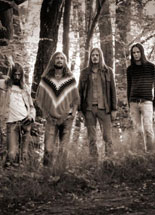 Mozzy: You have received great response for your live shows; would you describe them as a central part of Graveyard?
Richard: Yes indeed, that is the way we should be experienced. We feel that we want to give the audience that comes to the show something extra, so the songs rarely sound the way they do on the album. For that purpose, we try to jam out a bit, something I see as very rewarding both for us and the crowd. I remember as a teenager, when you were looking for bootlegs with bands just to get the chance to hear some different versions of songs compared to the record version. I remember listening to Black Sabbath from Paris in 1970 and hearing that they'd changed the lyrics a bit, which made you jump for joy, just a small thing like that.
Mozzy: A couple of years ago, you toured in the US; what was the reception like?
Richard: The reception has been fantastic. We have quite a lot of fans over there. I remember the first time we played in Los Angeles, when we were walking down the street someone pulled the window down and yelled "GRAVEYARD!". That said, you might hear the words "fucking hippie" if you're in some small town, but on the other hand you can hear that in Sweden too. On the whole, the States has been great and I would gladly return.
Mozzy: What's on the tour schedule for 2011?
Richard: The album is released on the 25th (March), so around that time we'll tour in Sweden, then Finland for a bit and then down to Europe. After that we've reached the summer, when we'll do some festivals in Sweden, and then cross the Atlantic to cruise around in the US of A.
Mozzy: Otherwise, what are the future plans for the career of Graveyard?
Related links: