Interview conducted August 11 2010
Interview published August 13 2010
After having seen Gormathon live at Getway Rock Festival this summer, I felt that I wanted to know a bit more about the band. Therefore I contacted their guitarist Stefan Jonsson for a quick interview. The impression I get from this band is a very sympathetic, down to earth and friendly one, and if they keep producing more of the quality metal they have done so far, we will definitely see, hear and read more about this swedish band in the future.

Tribe: To get this going for the readers who are not yet familiar with Gormathon; what genre of metal would you say yourself that you belong to? There is some death metal, some classic metal, and the vocals shift from harsh to light and both break off and blend the different musical parts very nicely. But let's hear it from you...
Stefan: I guess it's the blended type of music we all listen to that makes Gormathon so special. We've all been around for many years now and have both heavy, thrash and death metal inspirations in our composings. We haven't said like: Let's play death metal or so, it just comes naturally. It's mostly me who writes the music and our singer Tony that writes the lyrics and creates the vocal melodies.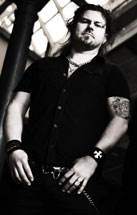 Tribe: You are a relatively new band and have just released your debut album , Lens Of Guardian. Do you at this point of time have more material on stock that you are working on? How much have you managed to write during the course of the band's existence?
Stefan: Yeah, I'm writing new stuff all the time and we have about 30 new songs ready to be arranged by now, and it's still flowing...
Tribe: Do you already within the band have a clear vision on how future music and albums from Gormathon will sound? What direction do you feel that you will be heading; heavier, faster, more focus on melodies, etc.?
Stefan: One thing is for sure, we won't be softer anyway! ;-) Of course the next album probably will be a little bit different than Lens Of Guardian, mostly because we are still searching for the hardest riffs and still maintaining a melodic touch. The music would be hard and aggressive and I now that the vocals will be more powerful than before too.
Tribe: I know that I am not alone hearing similarities with Amon Amarth in your music, mainly due to the production, the riffs and the melodic leads. Would you say that you see them as an influence today, or at least did during the formation of the band?
Stefan: Amon Amarth has definitely been an inspiration to us. But there's so many more bands that we listen and get inspired of. It's really hard to find a unique touch to the music you make, that no one have ever done before, but our goal is definitely to sound as Gormathon, and no one else.
Tribe: On the Lens Of Guardian album, there are some pretty powerful song names like Wings Of Steel, Devil's Claw and so on, but one song title doesn't seem to fit the profile in my opinion and that is Love Is A Motherfucker. Can you tell us a little more about this particular song, does it have a personal meaning for you or anyone of the other members in the band?
Stefan: Haha, we've been asked that question before and the truth is that it's just a silly meaning from a bad movie that sounded pretty cool. But you're right, it doesn't fit in and I promise you it won't happen again!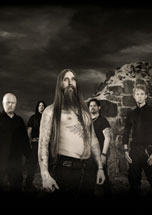 Tribe: It's starting to move a bit for you and you have done some gigs lately, but still it seems to be on a relatively local level. Have you had some enquiries yet from other , bigger cities and venues or even other nordic countries?
Stefan: Well, we've played the Getaway Rock festival this summer and have also made a couple of gigs in Mariehamn, Åland earlier this year. We have some gigs planned this next months in mid/south of Sweden, but of course we want to reach the bigger stages, but I'll guess we'll have to start off from the bottom first.
Tribe: What kind of obstacles are up-and-coming bands like yourselves facing when trying to make a name in the scene? What is the hardest thing about it all?
Stefan: The main thing in that question that I think, is that it's so many talanted bands out there nowadays. Ok, it's really easy to reach out with your music, even if you don't have a record company behind you, with websites like Myspace and so on, but if it's easy for you than it's easy for everybody else too.
Tribe: I saw you at the Getaway Rock Festival in Gävle this summer, what did you and your band mates think of this particular festival, and do you think we get to see you there or at other festivals again next year?
Stefan: The Getaway Rock festival was awesome, everything was just perfect, both backstage, onstage and everything else around. They did a great job! We sure hope to play some bigger festivals next year, both in Sweden and in other countries too. I mean, there's always a huge crowd at a festival and a major party aswell. So it's a great opportunity to show the big audience who you are!
Tribe: Is there a particular festival that you guys would "die" to play on in the future; Sweden Rock Festival, Metaltown, Wacken Open Air, etc?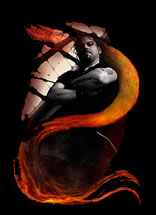 Tribe: In the more northern parts of Sweden it´s pretty hard to get to see some quality metal bands. Do you have any gigs planned in the northern region any time soon? If you do let me know immediately!
Tribe: Finally , it has to be asked: your vocalist Tony Sunnhag has an appearance that is remarkably similar to the character Saruman in the Lord Of The Rings movies, played by the legendary Christopher Lee. Is he deliberately and continuously working on that image, or did it just happen to turn out like that?
Stefan: Hahaha, yeah isn't he a look-alike? No, seriously he's had that look for over 20 years now and I think it's great! He's the frontfigure in our band and when you've seen him once, you'll remember him. Just the way it should be.....

See also: review of the album Lens Of Guardian
Related links:

www.gormathon.com
www.myspace.com/gormathon