Interview conducted september 15 2009
Interview published September 22 2009
Bayonne's own French metal monsters - Gojira - have been creating a unique blend of metal, for over a decade now. Their 2005 effort - 'From Mars To Sirius' - garnered quite a critical reaction. Last year's follow-up - 'The Way Of All Flesh' sealed their success. Now a dream has come true, and the band have earned themselves the opening support slot on the fall Metallica Tour with Lamb Of God. This is truly a site to behold.
I spoke with vocalist and guitarist - Joe Duplantier - this past Tuesday, when Metallica visited Cincinnati, on the second day of this extravagant tour. We discussed the heaviest matter of the universe, and our love for Metallica, so join us in the words to come...

MettleAngel: Hey Brother, it is cool to meet you. I just received my confirmation yesterday, so I have been playing my Gojira CD, and prepping for this moment.
Joe: Yes, I just found out about you and your site, just a while ago, as well.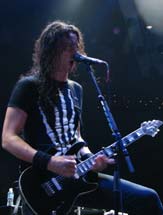 MettleAngel: A fellow writer of mine who calls himself: Dux reviewed - 'The Way Of All Flesh' - for the site. I know he is planning to review new Alice In Chains, as well. An ex-writer named Tim wrote the review for - 'From Mars To Sirius'. He gave it a 9 out of 10. I have not heard this album, but I did listen to 'TWOAF' last night, while preparing.
MettleAngel: I was impressed. It is long, but the songs do grab you. We were planning to see you a year ago with In Flames, but we had to cancel at the last minute.
MettleAngel: Well, not really, considering we just set up this interview, and we get to see you with Metallica. I have often heard Gojira compared to Mastodon, even being called the French equivalent. Honestly, I just do not hear it. Mastodon are another one of those boring "washing machine" bands, who somehow have become too popular.
MettleAngel: My friend came up with that comparison, as they sound just like a washing machine in its rinse cycle; especially, the drums. I wonder if they achieved their namesake by combining the terms for mass monotony and boredom.
MettleAngel: Honestly, when I listen to your music, I hear a strong French Canadian influence. Two bands which really stand out to me are: Voivod and D.B.C. (Dead Brain Cells). I have seen your list of references like: Meshuggah, Sepultura, and of course, Metallica; and these I can understand, but, overall I really hear a pronounced vibration for Voivod.
MettleAngel: So, I assume they are a major influence?
Joe: No, not actually! It is funny though, because when a lot of people talk to me about our influences, this is one band which gets mentioned a great deal. I guess people automatically assume we are big fans of them, but this is not the case.
MettleAngel: Wow, that really surprises me! This was the same deal with the band Blackguard, who I automatically thought were named after the song - "Order Of The Blackguards" from - 'Killing Technology'.
MettleAngel: You mean they did not appeal to you?
Joe: No, I mean I was not really paying them too much attention. I would like to take the time to really listen to them, and properly get into the music. Once I am into something, I am into it for good. Voivod is still a mystery to me. I still have to open this door, and check it out.
MettleAngel: Hopefully you will not be too disappointed. I imagine, then, that you missed the whole evolution of the band from the Noise Records days, through Mechanic & MCA, and the beginning of their "Spacey Metal & Punk" style, up through the mid '90s Proto-Industrial phase with Eric Forrest on bass & vocals, leading up to the tragic death of Piggy, and the two post mortem releases thereafter? Man, I could not imagine life without Voivod!
MettleAngel: Well, it is never too later to hear them. Voivod set a standard for a new metal music evolution. Whether it was their musical style, their concept albums, or Away's amazing artwork, they were, and still are totally unique. Also Jason Newstead played with them.
Joe: I plan to sit down and hear some of their music soon, because people keep telling me I have to. I must discover for myself this entity that is Voivod. All this makes me curious as to what I am missing.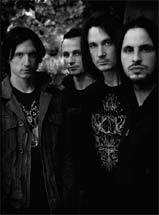 MettleAngel: Once you set apart the time, and divest your energy to absorb their music, I would recommend - 'Nothingface' and 'Dimension Hatröss' - first, but you can decide, when the time is right. If you are curious about D.B.C., their debut is very punk, but their sophomore - 'Universe' - is more akin to what Voivod would eventually sound like.
Joe: I will check out those albums, and thanks for the recommendation. I come from a strange music background like Dire Straits, The Beatles, Public Enemy, and...well...Metallica.
MettleAngel: Man, that is diverse, but Dire Straits set a precedent for the MTV generation, and video graphics, those killer Beatles remasters just came out last week, and here we are all psyched about seeing Metallica!
MettleAngel: The important thing is that you discovered music, and that made you decide to become a musician.
Joe: That is true. I think that there is a reason why you would compare us to Voivod or D.B.C. This is because we are all basically influenced by the same type of emotion and feelings that music conveys. There is some level of connection, mentally, and spiritually. This is how I feel when I play the music that is so personal to me. I strive to express something precise, similar to what perhaps, someone else is feeling.
MettleAngel: I understand what you mean. Even subconsciously the music is there, and it drives you. Sometimes a musician may write a song which appears to sound. like another band. He may have done so, without having actually heard that band - or if perhaps he did hear it - he may not have been tuned in, at the time. I have spoken with a number of musicians, who to me, sound like a certain band, who I assume is an influence; and it turns out this artist has never heard that band, which I compared them to in my review.
MettleAngel: You also mentioned that Metallica was definitely an influence, so I would imagine that playing on this tour is like a dream come true?
Joe: Yes, for the four of us, this is a dream come true. Metallica saved my life, well not in the literal sense; because, I was never in any danger, it is just that they were there when I needed them the most.
MettleAngel: You mean the music inspired you during the tough times?
Joe: Yeah, when I was in High School, I was like 15 or 16; but I was not one of those kids who got into Metallica when they were seven. I would listen to "Fade To Black", and the words spoke to me.
MettleAngel: That is one of my favourite songs, as well.
MettleAngel: Well, your English is excellent, and you seem pretty articulate to me.
Joe: Thank you, I try. I would play 'Ride The Lightning' and 'Master Of Puppets', and those albums helped me get through my day.
MettleAngel: So the music was your driving force, it gave you the motivation, and inspired you to keep going on, despite all opposition. I can relate to that.
Joe: Exactly, I did not know why, but I felt like I was a part of the band, more than just a casual fan, but an integral, active member, by association, if you know what I mean?
MettleAngel: I do, I understand how the music can become so essential to your very being.
Joe: Now, here we are on tour with these guys! This is the second day of the tour, and we are all still reeling. Last night in Nashville, we had to express to the audience what a joy this is for us to be on this tour!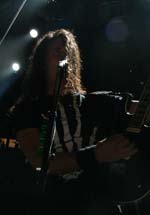 MettleAngel: I also understand that Lemmy from Motörhead was in town, and joined Metallica on stage to do some covers. What a way to begin to begin the tour, for which you are now an important member. I mean it must be killer to play on that awesome stage!
MettleAngel: When did you first get into Metallica?
MettleAngel: I was into them from the beginning. I am very fortunate, because I lived in California in the early '80s. I remember being a junior in High School, in San Diego, and we had this big spelling test. None of us really cared, we just could not wait to get to our local Record Store and pick up 'Ride The Lightning', the day it came out. (MettleMaiden:) This is actually my first time seeing Metallica! (MettleAngel:) I first saw them with Cliff when they opened for Ozzy, then with Jason on the 'Justice' Tour here in Cincinnati, where it was Kirk's birthday, and Queensrÿche opened for them supporting - 'Mindcrime'.
MettleAngel: I am just amazed that every time I see them they have a different bassist, but then again it has been 21 years! I really love - 'Death Magnetic'!
MettleAngel: That is when you called yourselves Godzilla, but changed it due to legal issues.
Joe: Yeah, when I was younger, I did not know what I wanted to be, perhaps an artist, one who draws, or something, but then I heard Metallica, and I knew I wanted to play guitar, and be in a band.
MettleAngel: You also played bass for Cavalera Conspiracy on the - 'Inflikted' album, which was a damn good release, and a return to the classic Sepultura sound. It was much better that any Soulfly release.
MettleAngel: You mentioned that you were into The Beatles, as well, have you heard any Beatallica albums?
MettleAngel: Their new album - 'Masterful Mystery Tour' is awesome. The Beatles represent the essence of pop music. The Beatles and Michael Jackson made music what it is, more accessible, more noteworthy. Metallica have become the defining force in Metal. Sure, Maiden is the best Metal band ever, and even Metallica are influenced by them and Sabbath. However, they have achieved what those two bands could not, a fanbase outside the realms of Metal, and Rock.
MettleAngel: This is why even Beavis & Butthead wore AC/DC & Metallica shirts, Mike Judge knew, even back then, their impact on music.
Joe: Metallica is not really a band anymore, they are more like an institution. They have like 11 trucks, and 100 crew members, who are all nice and friendly, but work so hard to make this tour special. They are like their own little Metallica village, or community.
MettleAngel: I know, they really put everything into making it a good show. They even have returned to playing some of their thrash classics, and dropping the 'St. Anger' songs. When you hear an entire auditorium singing the words to - "Master Of Puppets" - in unison, it is so surreal. I saw this on You Tube, and was blown away! I thik it so cool that you can visit their website, and purchase a digital version of the show you just witnessed.
MettleAngel: One thing I admire about Gojira, is that you have had the same line up, since your inception. Like Lamb Of God, you have your brother, drummer: Mario in the band. How have you managed to keep this family together?
Joe: The key is communication. If we find ourselves getting exhausted, or if the spontaneity wears off, we sit down and decide how to handle the situation.
MettleAngel: So everyone in the band are really brothers beneath the skin?
Joe: We have been a band for 14 years, we are all best friends. We are happy to see and be with one another. We all love each other. We know how difficult it can be on the road, so we organize punctual band meetings, which we all agree to stick to, and come up with new ideas to keep us together.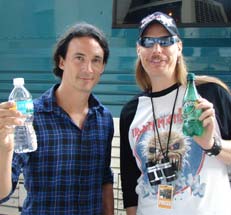 MettleAngel: So like a marriage, you have good days and bad? I am sure sibling rivalry can also become an issue?
Joe: Some bands will choose their members because of talent, or expertise. Once they get on the road, they realize that they can not get along. We have not changed members, because the band is as important as each and evey one of us, indivdually. We will not exchange a member based on talent or notoriety.
MettleAngel: Once again this reminds me of those Canadian acts, who would rather break up the band, rather than sacrifice their lasting friendship.
Joe: In this business, you have to be smart,, and know what you want. Our love of Metallica brought us together, and now here we are on tour with Metallica. Each of us make our own contributions to keep the spirit alive.
MettleAngel: Many bands have a leader, and the rest are followers. Here it seems like you have a working democracy. You have built a solid brotherhood based on character and integrity.
MettleMaiden: Since you are on tour also with Lamb Of God, and since Randy sings the song - Adoration For None - with you on your album, do you plan to have him join you on stage for this, during this tour?
Joe: Usually, when we do tour with Lamb Of God, we do have Randy join us on stage. Right now, this is a big tour, and we want to get our feet wet, before attempting anything like that. We may do it down the line, as we always have fun when we do. Right now, we do not have any plans for it, though.
MettleAngel: I have to ask you, when you toured under the name Godzilla, that is when the Mathew Broderick movie version was popular. I actually like the movie, but I remember being a kid, and watching the original black and white, and colourized versions. When did you decide it was the right time to change the name, despite the legal issues?
Joe: We already had four demos done, but the name really did not fit, so we did not mind the change. Now, people know the name, and everyone has an interesting way of trying to pronounce it. In '96 we were not that famous. Once we changed the name, we began to fall into our own. We like to focus our lyrics on environmental concerns.
MettleAngel: Now, you have arrived, so let us go see you play live, and go cheer ya' on!
Joe: Ha, ha, yeah, we are still nervous, as this is only the second show.
MettleAngel: I am sure you will do fine. (MettleMaiden:) Michael and I will get some great pictures for you.
MettleAngel: Then, we will see you on stage here soon! Thank You again.
Related links: