Dutch death metallers God Dethroned have played the biggest festivals and toured with the biggest bands, and are now about to release their 8th fulllength album Lair Of The White Worm this month. We put the spotlight on drummer Ariën in order to answer some questions about the band and the new release. The following is what he shares with us......

Gothina: Congratulations, God Dethroned! AriŽn, what is your feeling after you have recorded the new album The Lair Of the White Worm?
AriŽn: Thanks a lot! I feel very excited about the new album! I really like the sound and I am satisfied about the way the songs came out with the recordings. The album is on the one hand more agressive than on Into the Lungs of Hell, with much more breaks, and on the other it's more melodic, especially the guitar solo's from Isaac. He gave a great new twist to the God Dethroned-sound!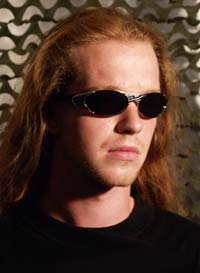 Gothina: Can you tell me how did the band find you to become their new drummer?
AriŽn: I was working on a demo with my former band 'Pandaemonium', when I read an interview with God Dethroned in the Dutch magazine Aardschok. The Ravenous album had just been released, and they were looking for a new permanent drummer. I saw the band live a few times and I bought some albums, and I really liked their music. So when I read that interview, I HAD to send them the demo which I was working on, just to see if it would be delivered at the right adress, haha. Later I got a phonecall from Henri, and he invited me for an audition. After that I was the permanent drummer of the band.

Gothina: Have you got any other side projects?
AriŽn: I am working on another band called 'Down Till Dawn'. We recorded 5 songs, and the artwork is almost finished. First we want to play a lot of gigs and get some reviews about the EP. Isaac is playing in Down Till Dawn as well. And I am playing gigs with a sixties-blues band called 'Pace Grace'quite a lot. I'm not a permanent bandmember, but I am actually hired to play with them, which is fun!

Gothina: Which is the band you really respect and why?
AriŽn: Definitely Morbid Angel. I just love their feeling in their music, no matter what music they write. All the albums have this great dark, threatening atmosphere.... I think they just can't do anything wrong for me anymore, haha!

Gothina: What is it like to be a part of God Dethroned?
AriŽn: It's great!! When we get together to rehearse or playing live and hanging around with eachother, we really have a good time! And playing the music is always a challenge. Especially the live-gigs are very phisical for me. But it always feels good to play with the guys! And when we write, or perform our music, it's just great to work with creative and fanatic musicians.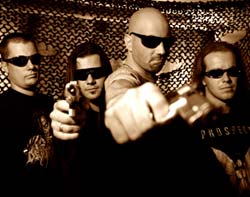 Gothina: Usually the drummer is at the back of the stage. Don't you miss the close contact with the fans?
AriŽn: On bigger stages I do miss the contact, with the fans, and with the bandmembers too. But on smaller ones, than I have contact with the fans, so there's interaction. And that's the nice part of playing live, of course.
Gothina: The lyrics by the band are a kind of blasphemy. How do you regard this type of thinking?
AriŽn: Well, the blasphemous lyrics are more or less with a sense of humor - not too serious. And it's pointed to the hypocrite people who call themselves true believers, and act in the name of christ or god, yet for real they're criminals or terrorists or whatever. And I think they are the ones who make trouble out of the lyrics and find it evil or something....
Gothina: Have you ( or any other member of the band ) ever had troubles with some religious fanatics because of your music ?
AriŽn: No, not really. Back in 1996 there was a concert in Zwolle (Holland), in the same time of the local elections, there was a Christian group that wanted to have the concert being cancelled. But the only thing they achieved is that only more people came to the show, haha! Oh, and a few weeks ago we got an e-mail from someone in the States, who was saying that we are brainwashing today's youth and that we had to quit and that he would like to see everything we do was to be boycotted. We wanted to post this on our website, to make fun of him and so that people could respond, haha, but we kept it quiet. But for the rest, no it's quiet from the side of the religous freaks.
Gothina: If you had the opportunity to tour with a very famous metal band, which one would it be?
Gothina: God Dethroned is one of the most brutal Dutch bands. What is your opinion of other bands who made a big success ( W.Temptation, The Gathering ), though not so hard and actually different from your sound ? Would you play with them?
AriŽn: I wouldn't buy cd's of these two bands, but it's high-quality music! We played with Within Temptation last year in Germany and in Austria, and live they're very powerfull! And of course Sharon's voice is fine to listen to. And that goes for The Gathering as well! And After Forever, The Wounded, Orphnanage....As long as the quality of the music is high, than it doesn't matter if I like it or not.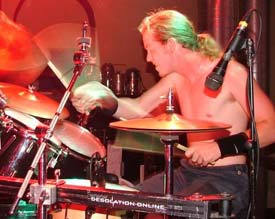 Gothina: Which is the best support band you have ever had?
Gothina: If you get an offer to play in a non-metal band what will you say?
Gothina: What type of music do you listen when you want to relax?
AriŽn: Dead Can Dance, Heather Nova, Osdorp Posse, The Cure, pfff.... even Morbid Angel helps me relax, haha! Really, when I'm sitting in a bus and with my discman on, playing Morbid Angel and looking out of the window, than I'm in a calm, hypnotic mood.

Gothina: Can you describe yourself with part of your favourite song or anything else that represents your inner self?
AriŽn: That's a good question.... I can find myself sometimes in the lyrics of Osdorp Posse, a Dutch hardcore-hiphop band. The frontman Def P writes very realistic lyrics taken from everyday-life, concerning a lot of what's going on in people's minds and in the world. I guess you really don't know what I'm talking about, haha, but I think Osdorp Posse is my representation of myself.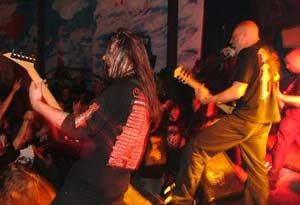 Gothina: How will you convince an average fan to buy the new God Dethroned album?
AriŽn: I'd offer him a thousand euro's, haha!! And after that, we'll play our best concert EVER! And if he/she still doesn't buy the new album than he'd better run like hell, haha! (I guess you know that I'm kidding....)
Gothina: Which bands inspire you?
AriŽn: Recently I saw Slayer playing live again, and my God, what a band!!!!! When I see a band like that, than it reminds me why I play music again. Morbid Angel is a continuing inspiration. And Osdorp Posse because of their non-conformity attitude and straight in you face-lyrics and beats.
Gothina: Thanks a lot for the interview and which is the question you have always wanted to be asked? Or is there anything you would like to share with your fans?
That was all I had for now, Ariën - the staff at metalcovenant.com wish you all the very best for the future, and we sincerely want to thank you for keeping the spirit of Metal alive!

Related links: