Interview conducted April 21 2014
Interview published May 05 2014
With a brand new album to promote, Empire Of The Undead, the German power metal veterans of Gamma Ray visited Stockholm, Sweden, as part of the band's European tour with Rhapsody Of Fire. Metal Covenant took the opportunity to talk to bassplayer Dirk Schlächter, who definitely is a kind-hearted and, what I believe, a truthful man, whose answers about his financial situation, the democracy within the band, etc, had an interesting outcome. We were looking for a quiet room in the venue to sit in, but since everything seemed occupied at the moment, we eventually found ourselves sitting comfortably in Dirk's favorite place; the lounge of the band's tourliner.

Tobbe: Okay Dirk, let's talk about the new album.
Dirk: The new album, wonderful.
Tobbe: You know what? In my ears, it's your best album since No World Order! [2002]. It seems like you have like taken a step back in terms of songwriting, if you know what I mean.
Dirk: The things that especially made these songs so special might be that with the new drummer Michael [Ehré], we had the Helloween tour last year, so there were plenty of shows to grow together to sound like Gamma Ray, so we did the same thing with the songs. Every song was played by the band in the rehearsal room, or rather the old studio, so the arrangement was done by the band. All the songs were proven by just playing with two guitars, bass, drums and vocals. Without keyboards, without production, without thousands of overdubs. The songs had to sound and work just by the band, without any adds and all the songs have this. On the last couple of albums, we did this with many songs too, but there were always songs that came in late, which were done at home and we changed some arrangements during production, but they hadn't been played by all of us. This time all the arrangements were proven by us playing together and I think you can hear this.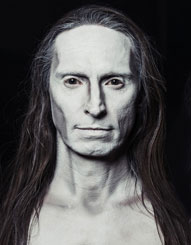 Tobbe: It's still very much in the Gamma Ray vein nonetheless. I was thinking about your studio burning down, but didn't it feel fresh to now record somewhere else?
Dirk: Oh yes, of course. It was good, because normally in our old studio I took care of all the technical stuff. You know, that every mic, that every cable and all the pre-amps are working and all that shit. In the new studio I was taking care of that as well, but there was also a guy there who knows the studio and he knew the desk and everything, so I was more free, and more and more into the actual recordings.
Tobbe: What you basically mean is that you wrote more songs in the studio, right? Is that why it's so diverse?
Dirk: Yes, but it's also diverse, since for example the songs Henjo [Richter, guitar] wrote have a certain style, you know. Then we had some ideas from Michael, who plays the guitar as well, which is very good. When we're arranging the songs and you come to a certain point in the song where we're missing a thing to combine the end or something to make the song go on, he sometimes has an idea as well. He grabs the guitar and play something. Everybody has put in ideas and we have really worked hard together.
Tobbe: So now you've got 4 guitarplayers so to speak, including you.
Dirk: Yeah, yeah, yeah. Everybody has ideas for the riffs and the arrangements, because everybody is able to play the guitar, which is a very important instrument in metal music.
Tobbe: Yes, totally. But still all the instruments are important factors to me and I think that your bassplay is very significant for Gamma Ray.
Dirk: The bassjob in heavy metal is normally, let's say, not too interesting in terms of playing great bass lines or crazy stuff. Instead you need to have the energy and the basic grooves, which both must be heavy enough with metal attitude, you know. Many bassplayers are maybe able to technically play the same stuff. It's not easy to play the sixteenth, eighth and 4 quarter notes in the right groove, you know there's so many possibilities. Of course I learned this when I switched and started to play bass again, in Gamma Ray. It was pretty interesting and through the years I've really learned to fit in what is needed for the Gamma Ray sound.
Tobbe: So what keeps the fire burning? It's been like 24 years for you and Kai [Hansen] together and you played some parts on the first record as well.
Dirk: Actually the first time I met Kai was at the Music high school in '89, so this is actually exactly 25 years ago. The first time that we really worked together was some months later when we played a song at that school. At the end of '89 I started to join the band in the studio on the first album, just for one song. So what keeps the fire burning? That's actually still the same that brought me to Gamma Ray and to this style of metal. Of course I listened to Judas Priest, Iron Maiden, Saxon and stuff like that. I liked it, but I was not thinking about playing music like this, but when I heard the demo, you know Kai gave me the demo tape for the first Gamma Ray album, Heading For Tomorrow, I was really overwhelmed by the energy and the positive power. I also fitted in as a guitarplayer and that was just great music and this energy is still here.

Of course, after production days there are always little things that you want to do slightly different and in general there's always something to complain on. Especially when the studio burnt down. Everybody really had to work in its own place and some things did not turn out the way I would have done it. I played my bass on my own, Kai played his guitar on his own and things like that. We recorded 3 songs in the new studio and this work was of course very diverse, but we worked with people that really knew what they where doing, so that was pretty good to us.
Tobbe: When did you actually started the recordings for the album?
Dirk: We were supposed to start in May, but we started with the first rehearsals in July. We were keeping up ideas and we played and recorded with 2 microphones in the room. We had a few sessions just with ideas and we met later to finish the first songs. I said that we needed to start recording or we wouldn't make it. I was pushing them to start recording, but they told me "It's better if we have all the songs" and I said "No. If we wait until we have all the songs done perfectly, we won't make it. If we're certain of some songs, we will start". They told me "But then you will have to set up things again". I said "I don't care, I'll do it". So I made pictures of everything, of all the tunings, of the pre-amps, of the setting of the drums and of course the second time we started, it wasn't the same thing. But then again, it's the same drummer, the same drum set and nearly the same microphones. You don't hear any difference directly.

If you go into detail, maybe you can hear something, like they told me "Have a listen to this symbol in this song, it sounds different". Anyhow, overall it's the sound of what Eike Freese [mixing/mastering] did. It's his concept. Of course he had to adept a little and get used to the Gamma Ray style, because we know what we want to hear. We have been doing this for so long, so it's always tough for somebody else to get these things, which for Kai and me are pretty clear. We definitely know how things should be and somebody else may wonder what he should do with the tracks. We're not really thinking about how things should be, it's pretty clear what it should sound like in the end, which is not clear to anybody else. Eike had to learn some things about our drum sound, because his style of drum sound doesn't fit, but it's a nice thing and the result is pretty good. I always say "pretty good", because when you're a musician and you work in the studio, you get this kind of perfectionism, so when I say "pretty good", it's already brilliant.
Tobbe: You know, with everything being spread on the internet nowadays, which kind of sales figures do you expect?
Dirk: Actually I don't know. The record company is dealing with how it is nowadays. You know, with this copying, uploading, downloading and all that stuff. They are already calculating with this. For us it's a strange policy that they have, but they know what they're doing and they analyze the results. "If you spread it more like this and if you use the internet, maybe you'll get slightly more sales". Maybe it works, I don't know. For us, it's strange that you are able to listen to every song. Anyhow it's difficult. The record companies need to think of crazy new methods to promote the albums. Imagine for example, to give it with numbers, a known band only sell one third of what it did in the 90's. That's what you need to deal with. This is really heavy, because this also means that it's only one third of the money, so it's really hard to make a living out of this. If you wouldn't have the tour and the merchandise, then it would be tough. Also, for example, if my wife didn't had a good job as well, it wouldn't be easy. Anyhow, it's not easy.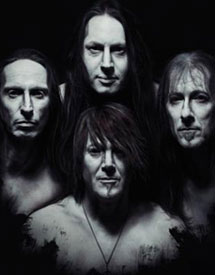 Tobbe: This internet age affects us all. It's not only in music.
Dirk: The young people don't feel that they're doing anything illegal or bad. I mean, we were also trading when we were young. Someone bought a vinyl and you made a copy on tape, but that was also kind of a social thing. You met, you talked, you spent some time together, but still you bought something and now it's 10 times worse. With a mouse click you have 10 hours of music, so you can't compare this actually. So that's why the record companies must find new ways and I hope it works.
Tobbe: Let's go to something more fun. You mentioned Heading For Tomorrow. Next year is its 25th anniversary. Have you talked about doing something special for that one, like play the entire album live?
Dirk: If we start working on an album next year, we might pick that up. Maybe something, maybe something about the title. Just an idea I'm thinking of right now, you know something with heading or with tomorrow. Maybe we should do something like this with 25 years of Gamma Ray, which should be celebrated.
Tobbe: What about having Ralf Scheepers doing the vocals for a couple of live shows and play songs off the 3 first albums?
Dirk: Maybe, maybe. Maybe we'll invite him for a song or something. I don't know. Also we could maybe do a nice tour for this. The first tour was in autumn '90, I think, so it should be in autumn 2015. We need to do something special and maybe do a special anniversary tour. Maybe invite all the people for some shows. I don't know and there's many possibilities, but we should do something and of course we're thinking of it and collecting ideas.
Tobbe: About Kai's throat and his bronchitis. Obviously this is something you guys don't prefer, having him sick. Is this something you worry about on a long term basis?
Dirk: After the shows, he drinks a cup of tea and goes to bed. We need to take care of it when we plan a tour in the future. Last year we did 8 weeks in a row with Helloween. He did that quite fine, but that was only 1 hour of singing and now we sometimes play up to 2 hours. If things like this happen, you can't do anything. It was nothing bad with his throat, but some days off would have done good. First it was not his voice, it was his upper lungs really. His bronchitis was really heavy, really heavy. Now it's different, his lungs are pretty okay, but all this singing has stressed out his voice. Sometimes he's singing and he's dropping the tone and it's really like a broken cable. When we played in Hamburg, the sound engineer said that it sounded like there was something wrong with the microphone or with the cable, but it was not like that. It was his voice that was really bad and now we have the other singers and that works all right, but we were close to canceling the remainder of the tour.
Tobbe: It's a financial situation to cancel shows also.
Dirk: Also. We where close to say "Stop!" and send everybody home and do the whole package 2 weeks later or something, if possible. But we are able to do the shows and it's always bad for the fans to cancel and it's maybe pretty interesting to see this and see Kai running around.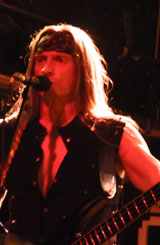 Tobbe: I was gonna ask about that last thing, if it's difficult to have Kai moving around and taking up space that he normally doesn't.
Dirk: Yes, that's one thing and of course, if the stage is not too big and there's 2 singers in the middle, it's something I have to get used to. Of course he's enjoying his freedom and sometimes I have to take a look at where he is.
Tobbe: Would you ever consider bringing in a permanent replacement, if things don't work out the way you want to?
Dirk: Actually these shouts or these voices always come up when a situation like this appears. You can't replace him, that's the problem. There's many good singers, but Kai is also a good singer. He has become better and better with every album. Now he's really on a high level and his expression and his singing are really hard to copy for someone else. He maybe not be the best singer and his voice is limited to what he is able to do, but what he does with his voice is really heavy to do for another singer. There may be singers who's able to sing higher, louder, deeper, more aggressive and whatever, but that's not the point, because the variety in his voice is really amazing.
Tobbe: Yes, and his character.
Dirk: Yes, his character isn't easy to copy and it's so good, you know. It's the voice of Gamma Ray and you can't change that, I don't think so.
Tobbe: Kai is playing with Unisonic as well. How does that affect you other guys?
Dirk: It does affect time-wise with the schedule and we really need to keep an eye on the time schedules. For example, last year we had a meeting about general plans and we talked to them [Unisonic] and then we said which time would be given for Gamma Ray and Unisonic respectively. Of course with festivals we look at who has an offer first. In general we said "Okay". After the summer of 2014 there will be a Unisonic tour somehow and the Gamma Ray tour will be done by the end of June and we will be done with all the international activities as well. But this does not always work. So far it's pretty fine. It was just, when he started with that, and he said that he just needed to do this and this and that, then there was nearly a year without any activities for Gamma Ray and that was pretty bad, because it came out of nothing. That was pretty hard, because I had to look if I could do other jobs, in the studio, or for somebody else on tour, or as a bassplayer for another band.

Actually I took this time and I joined this Neopera project. Well, it not a project, it's a band with the guitar player from Dark Age, Jörn Schubert. It's his baby and I did that in 2012, the recordings with the bass and the guitar and I joined as a member. At first I said that I would be able to join if I had time to do it, but when Kai joined Unisonic I realized that there was enough time to do it. It's a new band of course and you're not really making any money with it, but the music is really good and I will spend my time and energy after the summer to promote this. The album was done a year ago and we're just waiting for the right moment to bring it out and to do the promotion and all that stuff.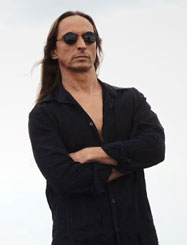 Tobbe: So how much of a democracy is Gamma Ray in fact?
Dirk: When it's about the songs, we are 4 people. Let's put it like this; if you have 2 people against 2 people and the opinions differ, what can you do? There's always a little right of the composer, "The last word of the composer". If it's for the basic arrangement and 3 of us tells that this is it and for example Kai says "I hate this, I don't want this!". It happens, like a little kid. Every musician is a little kid. But if 3 people want something, he will accept it. For touring, we're all in it together, but the decision what to do and if we spend money on something, it's up to mainly Kai and me, and I'm taking care of that shit, that we're not spending too much money. It's important, you know. It was more easy to spend money on touring or on anything in the 90's, but I'm still happy that we are able to do this. But if I don't have something to spend time on when Kai is on the road with Unisonic, it will be tough.
Tobbe: Are there ever moments when you feel like quitting music and do something completely different?
Dirk: No, I can't do anything else, but I can do many jobs that's related to music. Of course I prefer to be a musician, but I know all the other jobs as well. I can do front of house, I can work as a sound engineer, a producer in the studio. I can work as a stage tech and I can even work as a tour manager or something. Maybe I'll be a tour manager when I'm 60, if I still love to go on tour. All this is something I have in mind. I have the experience to tour and of course I know everything about all the technical things around music and in the studio as well. Of course I've learned to do metal and for example it's a completely different thing to record jazz or pop stuff. As a musician I'm pretty open minded. Maybe not as a guitarplayer, but maybe as a bassplayer I'm able to play all kinds of music. I did that before I came to Hamburg, you know played in cover bands and stuff like that.
Tobbe: Where do you see Gamma Ray in 10 years?
Dirk: I hope we will meet in the same place and that you will ask me this very same question again.
Tobbe: That's a good answer. I didn't expect that.
Dirk: Actually it's really like this: I hope we will still be able to do this. We need to take care of our health and our bodies, you know. I'll be 50 years old next year and if you want to play this kind of music, you need the energy. Besides the stage, the touring affects your body. Even if you're in a good condition, it's heavy. If somebody brings in a disease, there's nearly impossible to not get it. You need to take care of many things if you want to still do this in 10 ten.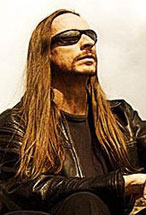 Tobbe: Well, it's a tough job to travel around the world.
Dirk: When we were 25 or 30, we partied all night and played the next day. I mean, I think we play better today. I can only speak for myself actually. For the bassplaying, I'm now more a bassplayer than I used to be. You know, I was able to play the same stuff and I could play as fast, or maybe faster than I do now, I'm pretty sure. Or it was easier for me to play that fast, let's put it like that. But to play it how it should be, really play the bass, I've really learned a lot along the road and this never stops. There's always things you can do better and it's a great motivator to get all this with a clear head. And when seeing everything clear, it's not about controlling the thing, it's about doing more, you know. If you want to do this when you're 50 or 60, it's the only possibility.
Tobbe: There are a lot of bands that continue to play until they're almost… dead.
Dirk: Yeah, but you can also see that in some of these bands there's maybe a few lineup changes. Some of the musicians are not there anymore.
Tobbe: When people turn 60 or something, they also probably want to retire like normal people.
Dirk: Yeah, that's one thing, but I also think that they disappear because they don't have the right lifestyle.
Tobbe: But it's also hard to work with the same guys for such a long time and you've been working 25 years with Kai.
Dirk: It's sometimes hard to deal things with Kai, he can be… I mean, it's me as well. I'm not too easy as well. There's always 2 sides and 2 people who argue about things.
Tobbe: All right, Dirk. It looks like we're done. Have a great time tonight.
Dirk: I hope it will be fine. I don't know how Kai is feeling today. Now we have a singer in the band that I know [Frank Beck]. I brought him in and he's a really good one. Also one important thing, he's accepted by the fans. Somebody can have a good voice, but the image and the aura of a singer and especially for an unknown singer is very important. Kai has this to 100 percent, but many singers don't. This guy has this, maybe not like Kai, but it's an experience thing maybe, but he knows what he is doing and he's a good singer. I was talking to him today and he said that so far nobody has said anything bad about him.
Tobbe: So maybe he might be the new lead singer on the next Gamma Ray record?
Dirk: Maybe we'll invite him for 1 or 2 songs? It might not be the last time that he will be on stage with us, because this thing with Kai has happened 2 times before. We had Henning Basse singing, you know the Metalium and Sons Of Seasons singer. He's doing things with Uli Jon Roth as well, so he's doing pretty fine, but he could not do this, there was no time, I called him as well.

See also: review of the album Empire Of The Undead


See also: review of the gig the same night
Related links:

www.gammaray.org
www.facebook.com/gammarayofficial