Interview conducted January 17 2014
Interview published February 11 2014
Freedom Call's new album, Beyond, releases February 24th and Metal Covenant got on the phone with main man, lead vocalist and guitarist Chris Bay to get a little information about this effort. Chris had some trouble with the connection and he sounded pretty much in stress, when he eventually got me on the line. Things went smooth though, as Mr. Bay is in fact just as positive as his happy metal music reflects.

Tobbe: Hey, what's up?
Chris: I'm so sorry for the delay. I tried to call you with this Call by call, but they couldn't find any connection. I'm sorry.
Tobbe: No worries. You got a busy schedule with interviews now?
Chris: Well, no. Today there are two left. It's in Belgium and one more in Sweden, so it's cool. But I'm working in the studio to find new melodies…for the next album. It seems like time is flying.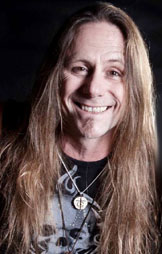 Tobbe: That's kinda early. Last time we spoke was about 2 years ago at a club in Stockholm.
Chris: Yes, at Harry B. James.
Tobbe: On the tour you called the Restaurant tour.
Chris: [Laughs] Yes, the American burger and restaurant tour.
Tobbe: So let's get down to business. I wanna ask a lot of questions about the new album, so let's start with that one. So what do you think differs this album from your latest one, Land Of The Crimson Dawn?
Chris: That's a good question. As an artist you usually don't notice these differences between the albums. I didn't create a synthetic difference between all these albums. All this music is just a mirror of the emotions you have during a year and it's changing from day to day and from week to week. Obviously 2013 was a very happy year for Freedom Call and a very fast living year, because the songs were written quickly and I think it sounds very happy. Maybe there is some connection back to the early times of Freedom Call. Fast drums, very melodic, catchy melodies. I think this is the trademark of Freedom Call.
Tobbe: Yes, totally. This is a typical Freedom Call album. I think this is an album that covers all of your career. When I listened to Knights Of Taragon for the first time, I heard things that definitely could have been off your first record, and in Paladin too. So were there no intentions behind this?
Chris: I always feel totally free with songwriting. I'm not calculating in which direction the album should go in the end, before I'm starting the songwriting progress. For me, it's a good sign that I'm still able to write songs like those Freedom Call wrote in the early times. It's shows me that I'm still fresh and highly motivated to write music and it makes me feel younger.
Tobbe: What about the album title? Why did you decide to call it Beyond?
Chris: Maybe it's a piece of our life philosophy. Beyond is just an invitation for all the listeners and all the visitors to our concerts. We want to give all these people a possibility, or an opportunity, to try to live the life like we do in this very happy, very positive and very optimistic way. In the lyrics, we try to explain these concepts with short stories. It's just a small link to come with us and to try to see the world with happy, optimistic and positive eyes. You will notice that there's so many more things in life that you never saw before. Maybe you were not enough open-minded, maybe you were not happy enough to be able to see all these small things in life, these colors. Maybe some noises or maybe some characters of persons you never noticed before. So Beyond is an invitation for the people to come with us to see the world in this positive way. It's really honest, because we are an optimistic and positive thinking band and we are optimistically thinking people, all the members of Freedom Call.
Tobbe: Yes. So what songs are a little extra important for you on the new album?
Chris: I think the title track, Beyond. I think it's close to 8 minutes, it's an opus. But for me, there's a lot of emotions in the songs. I think I needed more than 6 weeks to arrange and to write the songs. I began, again and again and again and I never was happy with the results. I started it again and again and a lot of things happened in my private life. I think you can hear it the songs, because there's happy moments and there are some melancholic moments. I think it catches a month of ups and downs in your emotional life.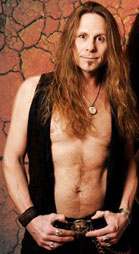 Tobbe: About the album's direction. Do you think that this release is something that may bring back older long lost fans to Freedom Call, if they give it a shot?
Chris: Oh yeah. I have read some of the older fans' response, which says that some songs are going back to the history of Freedom Call and sounds traditional. They are really enthusiastic and says "Yeah, Freedom Call is back, this is cool and let's go back to the older times.". But I'm not a person who likes to go back to the past, because I think more about the future. Today is more important, because I'm able to change something in my life or I can change something in the direction of my life. The past is gone, it has passed away and I can't change anything. I think the music came from the heart and Freedom Call is one of my best friends, because it's joining me through ups and downs. I think this music was born with this kind of traditional style and I never want to leave it.
Tobbe: You say something like "always look forward", but when I look back at your career I see like 15 years of mostly happy music.
Chris: Yes, it's not less. But the next 15 years [laughs], go for it, no problem.
Tobbe: So what will you do in 15 years? Do you think the band will exist then?
Chris: [Breathes] I will have to see. I do not expect special things or that the band will still exist in 15 years. Why not? But I will not try to force it. When it's still fun, when it's still running and when there are some people that are interested in our music and there are people that comes to our concerts, why not?
Tobbe: I've listened to the album 6 or 7 times…
Chris: [Interrupts] Oh yeah, oh no, I'm so sorry. [Laughs]
Tobbe: Yes, it's been very bad, you know. I've been crying all the time. [Sarcasm] - Anyway, I've been looking at the song titles and some of them has similar titles to your past work, like with Knights Of Taragon [see Tears Of Taragon] to begin with. Why do you sort of reuse your titles?
Chris: Okay, I didn't do that on purpose. Look, this album's like the old albums. I think I used this word Taragon, because when I listened to the new song, it was quite similar to the Stairway To Fairyland album. You told me yourself that Knights Of Taragon could have been a song off our first album. That was the inspiration and Taragon was born with Freedom Call. It was on the first album and I think it is a similarity or a connection between Taragon and Freedom Call, so why not reuse or reactivate this name Taragon. It's more fun than to say that it's very serious or a special meaning behind it. I just did it. And I think you also talk about the song, The Rhythm Of Light and we have a song on The Circle Of Life album that's called The Rhythm Of Life. Maybe the reason for this is that rhythm exists in music and I think this word sounds well. I said "Why not?". I feel totally free in music and entitled with whatever comes with Freedom Call. So I don't think that it's a bad mistake.
Tobbe: As long as it feels good for you, I guess it's all right.
Chris: Yes, it feels good for me, so I'm fine.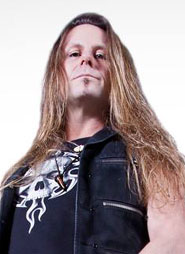 Tobbe: Because you also have a song called Heart Of The Warrior and you seem to love the word Warrior, because you've used it a lot of times before.
Chris: [Laughs his way through this section.] Okay, the first thing I told the band was "Please, no Warrior on this album. Do not use the word Warrior on this album", and I didn't do it, but Lars [Rettkowitz] did. That song is written by Lars, our guitar player. "That's your fault, you have to tell the journalists why there's a Warrior again!".
Tobbe: So how much did Lars write on this album?
Chris: He wrote 2 songs, Heart Of The Warrior and Edge Of The Ocean. Then he and I co-wrote Paladin.
Tobbe: To me, Paladin, is the best song. It has like a beautiful opening and a cool riff through the verse. Then it has a great melody and the chorus, that's fucking killer, man.
Chris: Lars had the first idea to do a song like this, but it was not arranged. I told him that I liked the chorus line very much and if I may work on that song. So I did the rest and the chorus line is from Lars and me together. So we said 50/50.
Tobbe: You have chosen to co-produce this album with Stephan Ernst once again. What makes your collaborations special?
Chris: I decided to work with Stephan because he is an unknown guy. He don't produce a lot of metal bands. He produce a lot of stuff like live recordings and live productions. He did for example Saga and Wishbone Ash. But he is a very young guy, he's 28 years old and he has done a lot of different things but metal. That made it very interesting to me, because he hasn't this synthetically creative thinking of metal drums, or guitars, or whatever. I think his sound is more natural and that's what I love about his work.
Tobbe: I only know him through Freedom Call, I think.
Chris: We don't use him only because he is less expensive than others. [Laughs] No, I'm kidding. He's a very good producer and he's able to motivate our performance. This is the most important thing, that you have someone besides you that motivates you and gives you inspiration for your performance.
Tobbe: Isn't that a bit strange when he's so young and he's like the motivating factor?
Chris: Young people are inspiring me. For example, our front of house technician, who's traveling with us, did the first job when he was 17 years old. Now he's 19. This young generation inspires me, they have new ideas and they have a different way of thinking and that's makes it very interesting to me. It keeps me from falling back in the old traditional paths. I like the attitude of this new generation.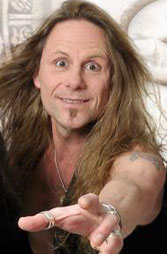 Tobbe: That was pretty much all I had on the album. I was thinking of your touring schedule. I checked your homepage and you're touring to promote the album all over mainland Europe in like March through May. Then you have a few summer festivals confirmed. Do you have anything for fall yet?
Chris: Yes, the plan for Sweden is to play festivals and we're still waiting for some announcements. Then we plan to play there for a headlining tour in autumn. We usually have Sweden on our schedule from the beginning, but not on this tour. This time we do it in a different way, first festivals and then a tour. But Finland is not so far away, so if some fans can't wait, they can come to Finland and see us.
Tobbe: And what about Ilker [Ersin, bass player] being back in the band on a permanent basis?
Chris: I was really happy about his decision. At first it was planned that Ilker was just going to fill in for Samy [Saemann], our previous bass player. Samy became a father in 2012 and he decided to settle down and he didn't want to travel that much. His maximum was not longer than one week away from home. But I can understand that, okay. He's got a baby and I think a baby can change a lot in your life. I supported this, there was no problem. I asked if Ilker could help us out and then later I asked him if he would play with us as a fixed member. Everybody is happy now. I think it's like a lost son coming home.
Tobbe: So what does Ilker bring to the band that other bass players don't?
Chris: I think that Ilker has the right understanding. It's not only the music, but the attitude of Freedom Call. You can find better bass players, you can find a lot of better singers than me, you can find a lot of better guitar players, or better drummers, than the musicians of Freedom Call. But they don't have the attitude of Freedom Call, "Show the people the best performance that's possible.". It's the attitude, it's the atmosphere, it's the will to bring the light to the people, to bring the light on tape. I think Ilker is a perfect member of the band, because he can understand the meaning of Freedom Call perfectly.
Tobbe: And Ramy Ali [drummer] has replaced Klaus Sperling. Klaus was in the band for about 3 years and I remember that when I talked to you and him in 2012, he was very positive to a future with the band, but yet he left last year. What about that?
Chris: I like Klaus very much and I still have a lot of connection to him. He was totally happy all the time with Freedom Call, but there was one problem. He also have a 9-5 job and especially when we came to the end of the year, his boss said "No rock'n'roll anymore this year. You have to work.". So we had to find a stand-in drummer and that was Ramy, of course. Then Klaus came to us after the production of Ages Of Light, the best of-album, and he told me that he has to work more with his company, so there was less time for Freedom Call. He told me that he would help out every time he could arrange it, but that he was not able to play all the shows. I was disappointed, because he is not only an excellent drummer, but also a very nice person. But we found an excellent new drummer, Ramy, so things will work out. I didn't lose a friend, Klaus is still there and everything is fine. Ramy played with us for the first time in 2009, I think, and he helped out for a couple of concerts when we toured with Axel Rudi Pell later. I know him very well, he's from my hometown.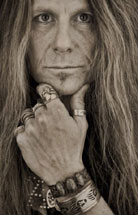 Tobbe: So what about Daniel [Zimmermann, former drummer]? He once told me that he probably will occasionally be in the studio even after he left the band. Was he somewhat involved in this album?
Chris: Yes. Dan is still one of my best friends. Last time we had contact was 2 or 3 weeks ago. He's totally fine, he's doing great. He's a little bit off in the professional music scene, but he still plays in a heavy metal cover band, who is very successful in Germany. I think he was a little bit tired of this traveling around the world and he was longing for more privacy and more time with his girlfriend. He's totally fine and he's in a good mood. I never say never, so maybe in a few years, he will return to the music scene. I do not know, but the most important thing is that he's doing great.
Tobbe: Let's talk about the 70000 Tons Of Metal cruise. What about it? [The cruise set sail on January 27th and I talked to Chris on January 17th]
Chris: We're totally happy. It's the best present you can give a band. Before we start our tour we get a 5 day Caribbean vacation and we get to play 2 concerts during that time, and we're getting paid to do it. What could be better? That's paradise.
Tobbe: It's a great adventure. I've been there twice.
Chris: That's sounds brilliant. We're very excited. It's the first time we play outside Europe. It's a good feeling to travel to the States and to this big ship, and have fun.
Tobbe: And if you like to drink a little beer or something, the cruise might even get better.
Chris: Maybe 1 or 2. [Laughs] Could happen.
Tobbe: So for how long have you been confirmed?
Chris: This week. We got the request on Monday [January 13th], I think.
Tobbe: I think you were announced Wednesday [January 15th]. That's late.
Chris: I had to book the flights were quickly and look for a hotel, before and after this cruise. My telephone was burning for a couple of hours. Then I had to ask the band if everything was fine, because Ilker is Turkish and Ramy is from Jordan, even if both have a German passport too. It could be problematic if you come as an Arabian to the States, but it shouldn't be a problem.
Tobbe: Do you know on what times you will play?
Chris: Not yet, but I don't care. I'm happy to be there and we don't decide when to play, you know.
Tobbe: All right, Chris. Those were my last questions.
Chris: Okay. Thanks for your time and effort.

See also: review of the album Beyond
Related links:

www.freedom-call.net
www.facebook.com/freedomcallofficial