Interview conducted June 03 2011
Interview published June 28 2011
A few hours after Freedom Call's show at the Rockstad Falun festival in Sweden, I talked for thirty minutes with lead singer and guitarist Chris Bay. An open minded and honest interview over a couple of beers.

Tobbe: Tell us about the new DVD.
Chris: There's a lot to tell about this DVD. At first, we are very, very proud of it. It was released in the end of May. Our first DVD ever. We were really longing for making a DVD, beacause I have gotten a lot of response that the albums are sounding great, but live you are really kicking ass. So we said: Let's fix this moment and bring these special things that the band Freedom Call is able to bring live to the audience. Then last year we got a change in cooperation with our label. They told us that we were free to record a DVD and it was fantastic. To record a show is normal. You have a great show. You have some pyro technique. The audience is doing a great job, but for me the most important thing is the bonus DVD, where people can see parts of the real life of a band, because Freedom Call is a band who people say are so positive, but this is our life and on this bonus DVD you can see that we are really authentic and that we are really living this positive life.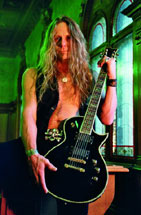 Tobbe: So what you are saying is that you can really catch the true spirit of Freedom Call on that DVD?
Tobbe: The people that have seen and heard Freedom Call since the start, are they gonna get a new shot at Freedom Call?
Chris: I think so. Maybe you can kind of see it as a new start, because my partner, the co-founder of Freedom Call, Daniel Zimmermann, also playing drums in Gamma Ray, quit the band, because he couldn't find time for both bands. So his decision was to leave the band. He was not only the co-founder and drummer of Freedom Call, but also one of my best friends and still is. He will be there for me to give some advices. I think this DVD was a good start with the new lineup and our new drummer Klaus Sperling. He played for Primal Fear and Sinner and is well experienced and he knows exactly what melodic metal means...
Tobbe: What about the next studio album? Have you written anything yet?
Chris: Yes, of course. We were not lazy. We toured a lot last year and we played more shows than Freedom Call ever played before. The result made us very happy. We are working on a new album and hopefully we get the new album out in January 2012.
Tobbe: Your latest album, Legend Of The Shadowking, has darker sides. Is that the new direction of Freedom Call?
Chris: No, I don't think so. These dark sides are based on the shadowking, Ludwig II. It was the topic of this concept story. I think it would not have been true if we had written an all over happy music album if you have a concept album about a real person of history, who had these dark sides of his life. If you have a concept, you have to move with the emotion of this person. It was the main reason to bring some dark influences into Freedom Call's music, but we are a happy and positive thinking band and the meaning of Freedom Call's music are the positive and optimistic sides of life.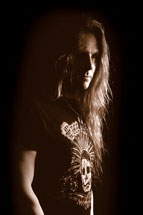 Tobbe: Eternity is your magnum opus. A lot of people came to your shows and you were at the top of your career. What are you going to do, to reach that level again and be as big as you were back then?
Chris: At first I do not hope that Eternity was the top of Freedom Call's career. Most of our fans prefer that album, because there are very strong songs, especially live. For example, the songs Warriors and Land Of Light are working perfectly with the audience and I think that the fans are always longing for the older songs. There is no fan that says that they prefer the latest album when a band has recorded like seven or eight. I think it's an emotion, just like when you get a new girlfriend, you quit school, you get your first money or maybe visiting your first festival. Even though we are growing, we will never forget the roots of Freedom Call's music. We try to keep our positive and our happy style, but we are also developing, so I don't want to repeat an album like Eternity. It was a special and very emotional moment. Maybe I will get it again in five or ten years, or maybe on our next album, but I can't force it. I'm just trying to bring my emotional situation over to the songwriting process. That's it. Not more and not less.
Tobbe: Now to a serious issue. Illegal downloading, what's your thoughts about that?
Chris: It is a situation we have to live with, because there is no way to control it. Honestly, I would be happy if we get paid for our music, but it's good promotion for us when people are downloading our music, so I really don't know which foot to stand on, because I don't get paid and I can't pay my musicians and I can't pay myself for this work we did. On the other hand it's a platform to promote Freedom Call.
Tobbe: Have you ever considered bringing a keyboard player back in the band?
Chris: We had a lot of keyboard players and honestly the situation we have now, with four musicians and with the keyboards coming from a sampler, is the healthiest combination we ever had. I love to play live with a keyboard player, but in our case it's very hard to handle, because Freedom Call is not a band without financial problems. With four persons you need two twin rooms, you know. When we have parts on our headlining shows played with a piano I'm doing them by myself. We bring our piano and I'm really playing it live and I'm not a piano player, so when I'm playing it, I think everybody can hear that it's played live.
Tobbe: What's your favourite country or city to play in?
Chris: It really hard to say. Last year we played the first time in Greece, which was good. We also played in Bulgaria for the first time and Bulgaria is a country where people are poor and I expected this eastern controlled situation, but it was the opposite. In Bulgaria I met people who were very open minded. They gave me a good feeling and the country is growing and longing for change. It was one of the best concerts Freedom Call ever played. The people were totally freaking out and the whole club was singing the lyrics. The whole band was totally impressed. We never expected this.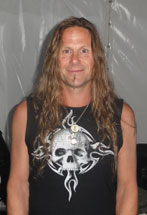 Tobbe: Let's talk about the setlist. Who chooses which songs to play? Do you choose them or do you vote, or do you choose them together? It must be hard to choose now when you have released six studio albums.
Chris: It's really hard to decide. On festivals we try to play songs that we think people want. So many bands are doing special things and try to be progressive, but Freedom Call is a party band. We want to have fun and enjoy the show. Especially on the DVD, the decisions were very hard. So with six studio albums we have close to seventy songs. At one point you have to decide. There was a discussion with the band and we decided which way to go.
Tobbe: So you're not a dictator, choosing which songs to play?
Chris: Yes, I'm a dictator. No. I give suggestions and the band can vote. The most important thing is that we have a great show. We have great ballads and we could play seven of them in a row, but I don't want people to get bored. It's also very important for Freedom Call to entertain the people. I think that people's jobs, relationships, families and friends mostly are depressing.
Tobbe: But you've got the final call which songs to play?
Chris: Yes, but I think the whole situation with jobs etc is depressing. You pay $30 for a ticket and then the singer says that you're a bad crowd. We want to change the mind of the people. When you are buying a ticket for Freedom Call, you can be sure that you will get a mood change. After the concert you can say that it helped and you will be happy for the next couple of hours or maybe for the whole week. That's our job.
Tobbe: You are playing power metal now and has always played power metal, but you call it happy metal. Is that the whole deal, to make people happy?
Chris: The first question is: What is power metal? Is it music played with power? All metal is played with power. You have so many categories. Is it melodic speed metal, or speedy melodic metal or is it power metal? I don't give a fuck about it. I think Freedom Call is playing rock 'n' roll. The people can decide if it's melodic power metal, power metal or rock 'n' roll. I don't care about it. I was not the founder of metal. We got songs like Far Away and Mr. Evil, which are mainstream metal and we have some speed metal songs. It's just entertainment. You have to decide whether you like a band or not.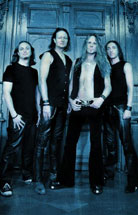 Tobbe: Actually you answered parts of this question, but I'm asking you anyway. I talked to Daniel in January at the 70000 Tons Of Metal cruise. He said that he won't be playing live anymore, but he will be in the studio. Is that correct?
Chris: The situation is that we started this band and did this together. We are very, very good friends. He was so sorry and he was so sad to tell me that he had to leave the band. It was not possible for him anymore. It was working for six or seven years to find a cooperation between Gamma Ray and Freedom Call, but it comes to a point where it's not working anymore. Kai (Hansen) is looking after his band and I was not to happy about cancelling shows, because Gamma Ray was doing things. Daniel will still be one of my best friends and he will give me advices. He will be into Freedom Call for our next album and give me some tips, but he's not a member of this band anymore.
Tobbe: What about the 70000 Tons Of Metal cruise. Daniel was there last year, so you are familiar of it. Are you going there next year?
Chris: We are not already booked, but I've told my agency to do everything to make Freedom Call a part of this. I saw a lot of trailers and it was good fun, I guess. On the other hand, we have never played in the US and I can understand that the promotor is very careful. I would love to be part of it, of course. I've heard from our agency that all the bands around the world wants to play on this festival, so it's hard business.
Tobbe: Which is the best Freedom Call song?
Chris: One of our best work is Bleeding Heart. Actually I love the whole Eternity album. No, no , no, stop. The Quest.
Tobbe: But you didn't play it tonight?
Chris: Well, it's seven minutes long and on this festival we don't want the people getting bored. We want the entertain the people, but on every headlining show we play it. I'm playing the piano by myself. This is one of our most colourful songs and for me, it's the most impressive song. But maybe next week I will give you a different answer.
Tobbe: Okay, don't chicken out now. The worst Freedom Call song? The song you never should have recorded?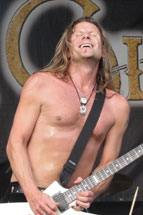 Tobbe: That's an answer I won't accept. Don't chicken out now. I won't leave before I get a good answer. You got to have one song.
Chris: Okay, you did not expect Land Of Light. That's my opinion. There are so many. I need a list of the songs. (Long pause). Maybe Starlight from The Circle Of Life album. I thought at first that it was awesome, but when I hear it now, it's not. I love all the songs though, because there was hard work behind them.
Tobbe: One last question. You still have your hair left. What will you do if it starts falling off?
Chris: I think I never will lose my hair, because now I'm 67 years old, so there are not so many years left on this planet. For the future, I think I'm fine. I don't have any savings, but I have my attitude.
Tobbe: So if it falls off in like twenty years, will you still have long hair or will you shave it all off?
Tobbe: That was not a good answer. Are you gonna shave it all off or will you keep it to the end?
Tobbe: Well, that was all. Thanks for taking your time, Chris.

See also: review of the gig the same night
Related links:

www.freedom-call.net
www.myspace.com/callforfreedom