Interview conducted May 18 2008
Interview published June 12 2008
When I knew that I was finally going to get to interview Kostas Karamitroudis, otherwise known as Gus G. of Firewind, I was ecstatic, always holding my head up high. I had met this mercenary man when I saw Firewind breaking the silence with Edguy last fall. I absolutely love the new CD: The Premonition. This is an album that will definitely be remembered by the true power metal fans. We discussed the new album, and the "Tyrant & Bloodshred Tour".
I also was afforded ample opportunity to meet with all the other members of the circle of life in Firewind like: Apollo Papathanasio, Bob Katsionis, Petros Christo, and Mark Cross. I briefly spoke with them about their other projects, and their artistic contributions to The Premonition.
In my opinion, Firewind are the next Stratovarius, so listen to what all members, especially Gus, have to say about this evolution renaissance.

MettleAngel: Hey Brother, it is so cool to see you again. Do you remember when we last met, you were touring in the fall with Edguy. While Edguy played, we just sat at the bar and talked. I showed you my knowledge for Greek, I even wrote your actual name in Greek penmanship.
Gus G.: Oh yeah, I definitely remember you doing that. How are you, it's really good to see you again, man.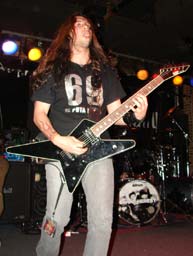 MettleAngel: We were going to schedule an interview back then, but too much happened which kept us from following through; sadly it never came to pass, but here we are now, and even your band is here to join in.
Gus G.: Yeah, I know we only toured America for a brief time, and then we were back in the studio. We had to finish up the new album.
MettleAngel: I did not even know there was a new album in the works, so quickly after Allegiance.

Gus G.: Oh Yeah, remember, I told you we were working on new music, and that you would really like it.

MettleAngel: Oh I do, but I got confused, because Henning Basse was doing vocals for the tour, and when he talked about a new album, I just assumed he meant Metalium. Then again, they also just released new material. Anyway, it seems you already had these songs in mind, and they are quite good. I honestly feel that The Premonition is my favorite release of the year, so far. I heard it way back on Bill Peters "Metal On Metal" Radio Show on www.wjcu.org. He played it as early as February, he usually gets new music, so quickly. Once I heard the new songs, I knew I had to obtain a copy from Century Media to write my review.
Apollo: Yeah, and you MettleAngel, you gave it an 8.5! I really enjoyed reading that review! (Gus G.): Yeah, thanks Man, we appreciate the high marks. We already had the new album written, and we did get in the studio quickly; we just did not know when it would be released.

MettleAngel: I love everything about it, from the opening Metallica type intro, right to the ending cut 'Life Forclosed' with it's crunchy Megadethish vibe.
Bob: Actually, if you listen carefully to the intro to 'Into The Fire', you will hear an homage to Metallica, on many levels. We have the 'Battery' acoustic, then it goes into 'The Thing That Should Not Be', then it becomes an actual Firewind song.
MettleAngel: I assume the title of the song is also an homage to early Metallica?
MettleAngel: You know, 'Fight Fire With Fire', 'Jump In The Fire', etc.
Gus G.: Oh No, we just wanted to honor Master Of Puppets, as that was such a break through album, and there had never been an intro like that on 'Battery' before. The song is called 'Into The Fire', because we are Firewind, plain and simple. We just decided we also wanted an opener like Master has.
MettleAngel: That makes sense! There are such powerful and positive lyrics as well, all throughout.
Apollo: We always try to stick to uplifting concepts, not so much fantasy based info. I really wanted to write some positive lyrics, which I find to be quite inspirational. This was my idea, on a more personal level. Firewind does not sing about Dragons, you know!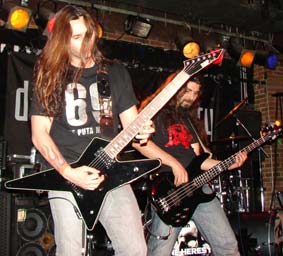 MettleAngel: I find the lyrics very fulfilling, especially on songs like 'Head Up High', 'Angels Forgive Me', 'Remembered', etc. I feel Firewind will be the next Stratovarius, with the elements of excellent guitar work, keys, and such awesome lyrics. Hell, I was just watching some Tesla videos last night, and playing the CD in the car, and I always loved their motivational lyrics.
Apollo: Yes, like Tesla, we want to maintain a relatively positive outlook. (Bob): Stratovarius' first five albums are just incredible. I love that Finnivox sound. We are not up to their level of expertise, yet. They really started it all, back in the early 90's. We are definitely influenced by their style and perseverance.
MettleAngel: Bob, watching you play live is amazing! I have never seen anyone shred on guitar and keys simultaneously, save maybe Pedro Paixao Passionis of Moonspell.
MettleAngel: That's different, When he play keys for Rush, he is not playing guitar, but only bass; but still he is a gifted genius! Gus, let's discuss the awesome cover of Michael Sembello's 'Maniac' on The Premonition, how did that come about?
Gus G.: Well, we were thinking of doing the cover of Maniac anyway, as a B-side. It didn't take a lot of effort, really, it just came out of jamming in the studio. So we did it and thought "Hey, this is actually good. We shouldn't waste it on a B-side." So we put it on the album.
MettleAngel: Have you ever heard of a band from Italy called Sigma, they also did their version of it?
Gus G.: No, I've never heard of them. Sigma, you say?
MettleAngel: Yeah, just like the Greek letter, they performed it in '98 on their self-titled release, but you're version is way better! The movie it is from, Flashdance, is deplorable, we couldn't even sit through the whole movie, but I love the soundtrack. It's the same with Saturday Night Fever.
Gus G.: Yes, I had not seen it until after we did the cover, the only thing good about it is the dancing!
MettleAngel: It is a fantastic take on the pop track, a lot of bands are stepping out of their respective genres to do covers, but this just fits Firewind's sound so well.
Gus G.: Well, our fans either love it or hate it. For a metal band to go and do something like that; a lot of metal fans think it is "not cool." But, when a metal band covers a metal song it's really just a remake of the original.
MettleAngel: With pop covers you give your own personal edge, your own touch, you basically metalize it.
Gus G.: Yeah, that's right!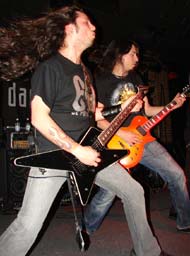 MettleAngel: Plus, pop songs from the '80s have so much commercial appeal. Even if you do not like the original song you still know, it will be cool once a metal band takes a stab at it. Look at Gamma Ray's cover of the Pet Shop Boys' 'It's A Sin', you can't even recognize that it's a cover. Then again the song 'Gamma Ray' is also an old dance club song, so go figure.
Gus G.: That was a good song. Another thing, too is that all the best pop was created in the '80s. You can't go wrong picking any song from the '80s, any of those hits, just work.
MettleAngel: Yes, and given your age, you actually look back on this music, while my wife and I lived through it.
Gus G.: Yes, but it was still popular in Greece when I was a kid in the early 90's, so I grew up with the songs as well. My sister and my cousins were always listening to it. And, as much as I thought it was gay, as a kid, I always thought that Duran Duran was cool.
MettleAngel: Absolutely, all those '80s bands had some appeal. Whether it was New Order, Michael Jackson, or even Duran Duran, whom Gothic Knights did a mean version of 'Hungry Like The Wolf'. Many metal bands are putting their own unique touch on those songs and I think that is noble. But, getting back to the new album, even before I received the promo I saw everyone comparing the opening track to Metallica.
Gus G.: As I said before, we did that on purpose. The whole idea of the intro was to start the album with something more epic like Master Of Puppets, something similar to that, add each instrument to that to build it up, then blast through a six minute speed metal song. That was the idea behind it, we used 'Battery' as an example, that's what we were going for.
MettleAngel: Then you counterpoint that with the next song sounding similar to Dio/Heaven & Hell, then Thin Lizzy takes over with your first single for 'Mercenary Man'...
Gus G.: It makes a good track listing and the second song is my favorite. Even though it sounds like Dio it still sounds very fresh, very 2008.
MettleAngel: I mean the vocal style of 'Mercenary Man' is very reminiscent of Phil Lynott. The guitar tone is very Gary Moore.
Gus G.: You're right, and the opening line for 'Head Up High' is totally Dio. That's what Apollo told me "let's do something Dio here" or in that vain.
MettleAngel: Yes, and in my review I said you have the album so completely balanced. The main difference between The Premonition and Allegiance, is that Allegiance is very commercial with a lot of female vocals and more keyboard layers; whereas, The Premonition is heavier but still catchy, such that within two to three listens, you find yourself joyfully singing along.
Gus G.: The goal was always to make really catchy songs, you know memorable melodies, and just good songs, which is always our goal. Even though each chorus is poppish, the album is still much heavier and with less keyboards. That wasn't done deliberately, it just somehow happened, and it worked out rather effectively.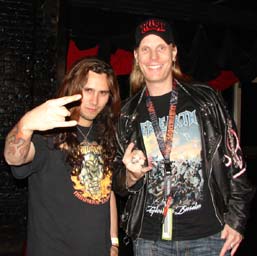 MettleAngel: I think it's the next step. It seems like you are stepping up to where Stratovarious were, has anyone else suggested this to you?
Gus G.: No one has said to that to me, per se', but the press and the fans are saying that we are definitely advancing to the next level.
MettleAngel: I agree with that statement. After all, I became a fan overnight, after having seen you guys perform live with Edguy. In fact, The Premonition is now my favorite album of the year, along with new Whitesnake, Death Angel, Black Tide, and a few others.
Gus G.: Thanks! That really means a lot to me. Is the new Whitesnake really good?
MettleAngel: The new Whitesnake is awesome! It totally takes me back to their glory days. This is where they should have gone after the self-titled release. This is the direction which is most befitting their sound. Their is a solid mix of the late 70's era with early 80's. It sounds like that album, plus Slide It In, Good To Be Bad, and Snakebite. It's easily the best album they have had in years. Same with the new Def Leppard.
MettleAngel: It's sounds like Adrenalize meets Euphoria. Vivian is finally doing some solo work again. I have not guitar that pronounced since Holy Diver. I digress, though, so let's get back to the interview. I understand that Firewind just shot a video for 'Mercenary Man', correct?
Gus G.: Yes, and that is a real fan favorite. We are also working on a new one for 'Head Up High', which we're going to release this summer. We are also working on a full length DVD, hopefully to be released later this year.
MettleAngel: Will it be a live DVD? I know that the special edition version of The Premonition includes a bonus DVD with four live tracks recorded live in Thessaloniki on January 12, 2008.
Gus G.: Yes, it will be live like that, but I plan to also put together a cool little package with a couple of road movies from this world tour that we are doing, plus, I want to include all the official videos that we have done, and some extra stuff, too.
MettleAngel: That sounds quite promising. So, this is your second American tour right? Last time you also performed for Prog. Power. Have you found that you have gained a lot more fans in the states?
Gus G.: Yes we have been noticing people showing up with Firewind shirts, so it's been pretty cool. The last tour really served it's purpose. It's not always easy to visit North America. The cost is quite high, and their are so many details. Overall, we have been pleased with both our visits.
MettleAngel: I'm so grateful that I was able to see you both times. I look forward to seeing you again soon. Thank you so much for finally doing this interview. I appreciate the other guys joining in while they could, as well. I wish the band all the best!
Gus G.: Thank you, and we truly appreciate it as well!
Related links: