Interview conducted by Michael
Interview transcribed by Niklas

Metal Covenant has attended two shows on the 2006 Dragonforce/Firewind tour, once in Holland two weeks ago and once in Stockholm last week. When the chance rose prior to the Stockholm gig to have a few words with guitarist and main man behind Firewind, Gus G. himself, Michael was not late to line up the questions.

Michael: So, what's up?
Gus G.: We're on a European tour with Dragonforce and we're having lots of fun along the way. We have completed five shows so far. Now we're in Sweden but a few weeks ago we played in Taiwan and Japan, on this really cool festival called Loud Park, with bands like Megadeth and Anthrax playing on it. Now we have a long tour ahead of us, until mid-December.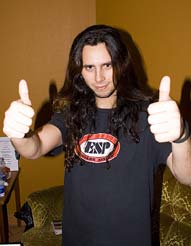 Michael: What can you tell me about the new album?
Gus G.: It was released in July and is called Allegiance, with eleven brand new songs on it. Fredrik Nordström engineered and mixed it in Studio Fredman in Gothenburg, and then we mastered it here in Stockholm. The difference between this album and the others is that this was more of a teamwork effort. We have two new members in the band and everybody contributed with song writing- and lyrics-ideas. For the first time the whole band entered the studio together and rehearsed the material before we recorded it, usually we do everything on a computer. That's what I think made this album so good, because we did everything together.



Michael: Why did you choose to make your new album in Sweden?

Gus G.: I've recorded so many albums here in Sweden, so I feel comfortable working here. Sweden is my second home, basically. Fredrik Nordström has mixed all our previous albums, so we always get a good deal here. We recorded it in January and February this year, it was ice cold and we had to relocate to an isolated place and just work. I told the guys, "Hey, why don't we all go to Sweden for a month?" And we did.

Michael: How is everything working out with Apollo, your new singer?
Gus G.: Very good. He's singing his ass off every night and is a funny guy as well; he knows how to handle the crowd. I think his voice sounds very good together with our material. I've known him for many years, so it's not like we picked a stranger from an audition or something. It's good to have old friends in the band, which is the same with Mark, our new drummer. I've known him for many years as well. It feels like a big family, basically.

Michael: Why has Firewind had so many different singers over the years?
Gus G.: They were simply not the right persons we were looking for. Stephen, our first vocalist, is one of the best singers around, but he lives in Atlanta so it was hard to meet him and to rehearse. So we were forced to move on without him. Then Chitral came in, and everything worked great in the beginning, but when we got out on the road we realized that we didn't really get along on a personal level. We had different ideas about how the band should sound, so he decided to leave last summer. That was around the time when I joined Arch Enemy to help them out on Ozzfest, and Chitral didn't like that I played with any other bands. But at the time Firewind had no obligations, so it felt like the right thing to do.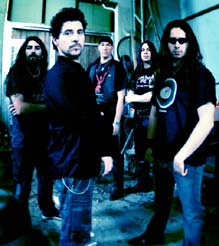 Michael: Speaking of which, why have you jumped around in so many different bands during your career?
Gus G.: I played in a lot of band at the same time, actually. In the beginning I didn't know what would happen, and then many of the bands I played in started having more success and therefore had more obligations with tours and such. Back then I always put Firewind aside for everything else, which wasn't fair to Firewind and on the other hand not fair to the bands I played in. So I had to tell all my friends in the bands that "I'm sorry, but I have to quit and focus on the band that I want".



Michael: And now you have chosen your band?
Gus G.: Definitely, it's been like that a couple of years now, it just took me some time to get out of the obligations that I had. You can't just walk out on your band one day you know, there are commitments that you have to fulfill.
Michael: So there are no other bands that you work with now?
Gus G.: No, but people keep asking me when I'm going to release a solo album! At the moment I obviously don't have time, but if I had I would definitely consider doing it. It's the only thing I haven't done yet, to make a solo album! (laughs) It would be fun to explore other musical styles, not necessarily metal.
Michael: Where do you get your inspiration to write music?
Gus G.: I like guitar music, but also more classic rock. I mostly listen to old music and don't really keep up with the new. I do listen to new music, even if I'm not a fan of any particular new bands. Deep Purple, Rainbow, Scorpions, Megadeth and Black Sabbath are probably my favourites.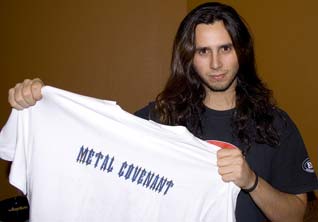 Michael: You grew up in Greece, which is a very Christian country. How did that inflict on you, playing metal and all?
Gus G.: I guess you could say that things are a bit conservative over there, but I would say that Christianity is more of a tradition in Greece nowadays, people don't believe in it as much. But yeah, we're definitely more religious than the Swedes; here everybody is an atheist! (laughs) Anyway, I never had a problem with the religious things, it is rather the whole system in Greece that is a problem if you're in the music industry. It's not like in Sweden where you have great producers, studios, record companies and promoters. You guys can watch heavy metal on the TV and listen to radio channels like P3 where they play hard rock, because the government wants them to broaden their programs. In Greece the government doesn't want that, and that's why the biggest scenes in Greece are folk music and pop. There are a lot of metal-heads in Greece though, but for a musician it's much more difficult. It's not the best place to start your music career, so I had to move out, first I lived in America for a few years and then moved to Sweden, to play in Dream Evil. Sweden was the first country that gave me a go, and in Dream Evil I finally got my name out. I probably wouldn't have reached this level if I still lived in Greece.
Michael: Where do you live now?
Gus G.: In Greece. (laughs) I moved back there three years ago, it came to a point when a decided to put up my base there, my studio and office. Now I have a full-Greek line-up in Firewind so things are easier. We get more offers to tour and things are following a course. We're not trying to get signed anymore, you know.
Michael: Personally I found your new album to sound quite different than the previous ones. Do you have a plan for how you want Firewind to sound in the future?
Gus G.: Maybe it's because we have a new singer and a new drummer now? Who knows, but I never really think about what direction I want to take the music to when I write songs. Perhaps this album has some songs that sound more modern, like the single Falling To Pieces or Breaking The Silence, the duet we did with Tara. Allegiance sounds very much like heavy metal, but still has a contemporary sound. But we also have more traditional songs like for example Ready To Strike or Insanity, which are full metal gear, if you know what I mean. I don't know how familiar you are with our discography, but we always try to add something new to each album. On Allegiance we've used more keyboards than before, many themes are played with keyboard with a guitar underneath. We're trying to blend the past and present sound, which has always been my goal with Firewind. About what directions we'll take in the future, I believe we're going to keep up with what we do, a lot of guitar-driven heavy metal-music with catchy hook-lines. Loud stuff, that kind of direction! (laughs)

See also: review of the gig the same night



Double G sends his greetings.....

Related links: