Interview conducted July 03 2008
Interview published August 03 2008
I ask you, is The Music Of Business really worth the risk? Why do so many poseurs make a good killing exploiting the art of others? Is everything in Metal really so far, so good, so wait...I think NOT! Former Megadeth bassist: Dave "Jr." Ellefson has just written a book dealing with these very issues. His insightful critic writings are quite enticing, as he deals with these realist concerns. His countdown to distinction elucidates over thirty years of experience in the Metal milieu. This publication will appeal to youth in Asia, Europe, America, and mettle brethren worldwide.
The Metal World needs a hero, so I interviewed the bass master - David Warren Ellefson - himself recently, but not to discuss his book, but rather to talk about his band F5 and their new album due in mid-August. For everyone there comes a reckoning day, and for Dave this is it, a chance to reconcile past hurts, and move on, promoting a quality album, and an awesome act of condition. I say, "Trust in Peace, even if peace $ells!".

MettleAngel: Hello Dave, how are you doing this fine day?
MettleAngel: Well, I was sick for a few days there, and I had no voice, whatsoever. I was concerned that I'd have to cancel this interview, but I persisted, really wanting to speak with you, so here I am. I admire all your accomplishments with Megadeth. It's a real honor to speak with "Jr." himself, the Mega bassist of 'Deth!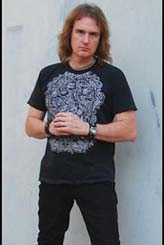 MettleAngel: Hell yeah! I really did not want to pass up this opportunity. I know in a matter of weeks you will be swamped with interviews. I recently received a promo of the new F5 - "The Reckoning". I'm very impressed. I'll hopefully review it as the release date gets closer. I have to admit that it does not sound anything like Megadeth, and yet it's a solid album. I hear hints of the early L.A. metal like Armored Saint, Heretic, Lizzy Borden, & Savage Grace, or the assiduous acts of Arizona, like Cereberus & Flotsam. There is also a subtle hint of modern commercialism in the vein of Disturbed, Trapt, and The Offspring. Even though I've never personally met you, I've always considered you to be the coolest dude from Megadeth. You've always been the most approachable, and genuinely friendly member, as I have heard. It is truly admirable that you play in a band like F5, where you can explore your real artistic outlet, while playing quality music.

Dave: Thanks a lot Man, this means a great deal hearing this from a fan, and a critic. Honestly, I was never a guy like that...you know one to upset things, or cause problems.

MettleAngel: That is good, even still, you got the raw deal with Megadeth. Mustaine is a mystery, but he is a freak! Now, you can finally put all that B$ behind you.
Dave: Dave and I still communicate. I was even offered a position back in 'Deth, but it never panned out. I never set out to pursue a solo career. I guess life is just how you play it. With F5, it's like the alignment of the planets. There's a certain energy which I just cannot pinpoint. When I play with these guys, it's like magic. I regain my giddy feeling, you know like that of a kid, when he joins his first band? I'm enjoying the creative process. I once again recently realized that I love music, and I love to play. With F5, I'm really having fun, which is really what it's all about. I'm creating my new avenue of success.

MettleAngel: So, essentially, you have found your inner peace, and reconciled with Mustaine? I respect the fact that you have freely chosen to no longer carry all that unwanted baggage. I know how difficult it is to forgive those who have really wronged you!
Dave: Well, for the most part, yes, all is cool. I mean, I do have my days where I reflect upon past glory, don't we all? For the most part I choose to just move forward. You can compare my Megadeth experience to the break-up of a marriage. I understand that that part of my life will always be with me, but what matters is how I choose to deal with it. In the same respect, all that chaos has defined who I am, and led to the soothing of my soul. F5 is healing my wounds, to a large degree, enriching my life. As I see it, the past is the past.
MettleAngel: So you see it as a blessing in disguise, so to speak. You can compare it to the tragedy of Tim "Ripper" Owens, or even Jason Newstead.
Dave: Exactly, now the phone rings continually requesting my presence playing on all these albums. I'm constantly asked to contribute to some project here, and there. I'm involved in several endeavors, even non-metal.
MettleAngel: Oh I know, you have performed with Lance King's Avian, Max Cavalera's Soulfly, Temple Of Brutality, and even some Jazz recordings. You are so damn cool! I know you claim to be a Christian, and I respect that. The deal with Mustaine, is he is so ambivalent, his faith is a mere front. He has such an addictive personality, that Jesus is just his latest drug of choice, much to the bitter annoyance of his classic fan base!
Dave: (Laughs) Yeah, with Dave, I guess that is true, he is quite a character once you get to know him. I watched him grow up, but also lose it. I like to keep the peace, and just go with the flow. I'm a father now, and I have a new perspective on life. Everyone in F5 has his own unique role, and soul. I'm not always thrilled by my former situation. It's a catalyst for release on the one hand, but I'm not going to spend the rest of my life in bewilderment. The roles you play, ultimately define your character. I've discovered that I am more than all that, and I just let my spirit guide me.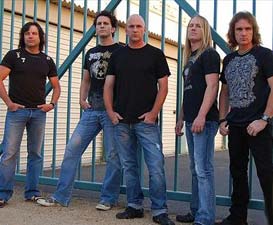 MettleAngel: Yeah, so your faith is in your heart, despite what you believe. I respect that, like with Tom Araya. It's like Paul Stanley versus Gene Simmons. Paul is a stand-up guy, a real man; whereas, Gene is a prick who has made himself into god! As a true Christian, you exercise the ability to forgive which is noble, and which validates your faith. I honor your ability to share the love. Now let's get away from all this hubris, and focus on F5. Your new CD is called "The Reckoning" and it comes oout August 13th. Did you achieve the title based on your personal convictions?
Dave: Actually, our singer Dale Steele came up with the title and all the lyrics. He too has travelled a similar path. On our first record: "A Drug For All Seasons", he was going through a dynamic transition, and a separation from his wife. It amazes me how many songs on the new album appear to be about me, when it's really all about him, and his emotions and struggles. Writing this record has brought us all a semblence of peace and assurance. The whole process has contributed to our overall spiritual healing.
MettleAngel: I see, but what about the name for the band? Is that F5, as in a deadly tornado?
Dave: Our former drummer, Dave Small, was watching Twister, and he seemed to like the title. Actually, he suggested Finger Of God, but that does not roll off the tongue too well, so we went with F5. The only problem at the time, was that there were only four of us in the band. Once we recruited John Davis on guitar, everything just fell into place. We feel truly blessed.
MettleAngel: Is it fair to say, then, that F5 is your tornado of souls, who have reached their reckoning day?
MettleAngel: How did you get Jimmy De Grasso into the band?
Dave: Jimmy has always been a good friend of mine. We've been in touch since 2002, since we both played on The Worlds Needs A Hero. When our former drummer's interest began to waver from the new, heavier approach, the guys in F5 encouraged me to call in Jimmy. He does not live here in Phoenix, but we wanted him anyway. Actually, he wanted to play on the debut. He does not care about the money factor, he does not want to be viewed as a hired hand. When he plays, he wants to give it his all. He really wanted to contribute to the creative process. Our producer Ryan Green is himself a drummer, so he really let Jimmy lay it out, share fills, and have a field day in the studio. Honestly, I think this is the best drumming Jimmy has ever done, on any album!
MettleAngel: I definitely here that Suicidal Tendencies style on certain tracks. S.T. sure has farmed out their talent lately, as Rock George plays with Fishbone, Robert Trujillo plays with Metallica (a job you should have had), and now you have Jimmy working with you, but as usual I digress. My wife Wendy even hears some White Lion stylings on the F5, which is peculiar, as your replacement in Megadeth - James Lomenzo - also played in that pride, strange huh!
MettleAngel: I recall when S.T. opened for Megadeth on the Countdown Tour, I still have the shirt with both mascots. With the current thrash inundation, and too many new bands not having too much too offer, I'm pleased F5 went with the more commercial Metal Blade speed metal approach of the glorious 80's, with such forgotten heroes like Krank, Taramis, Pandemonium, and Obsession.
Dave: I agree, too many new thrash bands and hardcore acts lack that feel of the past. Dale is a real singer. F5 write solid compositions, not mere senseless riffing, replete with nuanced time-changes, and utter disonnance. I accept that today's thrash is influenced by the past glory of the 80's, which is why it's not always authentic.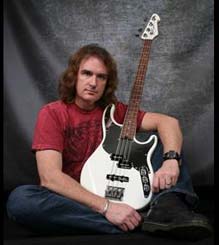 MettleAngel: I do respect certain new thrash bands, but they lack that 80's essence, and the 80's bands reuniting like Hallow's Eve or Lääz Rockit should not even bother! Hell, for me Megadeth were the epitome' of true speed metal. I respected the logical commercial progression all throughout the 90's, buying every CD. I never saw them as selling out, just evolving. I even purchased all the remasters, as I so love the 'Deth. Sadly, once you departed, the 'Deth should have rested in peace. No bass replacement will ever match your talent and ability in that band! Tell me a little about your job working for Peavey Electronics.
Dave: I'm a liason for Peavey, by that I mean it's kind of like an artist's position - a glorified endorsement. I've always enjoyed their products. I went to college to get my degree in business. I've travelled the world witnessing so many diverse cultures, lifestyles, and religions. As I remain musically active, the academic aspect keeps me in focus and balanced between left brain activity, and right brain creativity.
MettleAngel: You would probably enjoy Sam Dunn's new movie: Global Metal which deals with the international culture of metal, a follow-up to his Headbanager's Journey video. You also have your own signature bass - The Zodiac - how cool is that!
Dave: I love having this! It really is a solid product. When people play on it they can sound like me, but get this, dudes in Nashville, Tennesee also use it. I have to laugh when I watch these Country musicians picking away on my black metal bass! It's pleasing that non-metal artists make use of it too.
MettleAngel: Just think, Country & Western, Bluegrass, or Jazz afficianados plucking on the strings of 'Deth!
Dave: Dude, I love metal, I live it and breath it! I'm even teaching my daughter to play piano with Sabbath songs. The fact is I'm formally trained, I can read music, and really play instruments, possessing the capability to expand beyond the borders of metal. I actually enjoy dumbing it down to play the riffs I do in F5.
MettleAngel: You began by playing saxophone, right?
Dave: In High School I played in band orchestra settings, with a jazz base. When "Destroyer" by Kiss came out, I wanted to be just like Gene Simmons.
MettleAngel: Who else influenced your bass structure, Geddy Lee, John Entwistle, Steve Harris, Lemmy?
Dave: When I was young, I never got into the Beatles, but when I later realized that Gene sampled Paul McArtney, I flipped. I also like Chris Squire of Yes. Aerosmith were my generation's Rolling Stones. I love Rush, but once I heard the NWOBHM sound, I was hooked on Maiden, Saxon, Motörhead, Venom, etc. Those dudes set the standard for Megadeth.
MettleAngel: No doubt, as Metallica, and Megadeth borrowed heavily from Diamonhead, Holocaust, Blitzkrieg, Tank, etc., almost to the point of misappropriation, early on. Yourself, Dan Lilker, D.D. Verni, Jason Newstead, and Cliff Burton set the precedent for the thrash bass riffage, following Cronos' & Lemmy's lead.
Dave: It's all about conviction. I don't want to be remembered as a fretboard wizard. Music is personality, which is why their are some may reunions, as of late. There's a hunger and passion for the past. I'm not saying that someday, I might rejoin with Megadeth, anything's possible, and probable; for now my focus is F5. I became adjusted to living in the same "home" for too long, and I missed out on so much of what life has to offer. I've planted the flag, now I can flow. The versatlity of F5 allows for an invigorating level of uncertainty. I invite my fans to follow me on this creative journey. We really lived the thrash lifestyle back then, it was new, and we were naive, but times have definitely changed.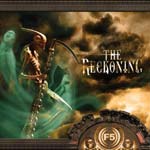 MettleAngel: I respect your motivation, sincerity, and alacrity. I encourage you to embrace the unknown, fearlessly. Like Iced Eath, Megadeth are a pale reflection of what they once were. Fans have to accept this. Like with Judas Priest, some albums may disappoint, but we need to look at their integrity, the overall perseverance, and level of conviction of these artists of mass inspiration.
MettleAngel: I never heard the debut, but I know it was maligned. I never got to hear Temple Of Brutality, either.
Dave: This is why the internet is such a tremendous source for this music now. With the debut, no one quite knew what to expect, as most wanted Megadeth part two. Now, everything is fresh, we've all gained new perspectives, the timing is right!
MettleAngel: I'm glad you chose August as a release month, as September in muddled with some 45 + metal releases, and many great titles will get lost in the shuffle, eclipsed by new Metallica, Iced Earth, Metal Church, Motörhead, and a truck load more! Any tour plans currently being booked?
Dave: We are constantly discussing this. The new album is the priority for now, as you noticed this fall is packed with great expectations from so many bands. If we decide to tour, it will be a package deal with bands we respect, and who complement our sound.
MettleAngel: Dave, it has been a honor to converse with you for the past hour. I anticipate reading your book, which we never had a chance to discuss. I'm grateful that you are at peace with Megadeth, and I wish you all the best with F5, hoping to catch you on tour in the future.
Dave: Michael, thank you for all the kind words, and wisdom. I'm grateful to speak with you as well, and hope to catch you when we eventually hit the road. Tell everyone F5 is the real deal, you know, because you have also been there since the beginning!

See also: review of the album The Reckoning
Related links:
www.f5theband.com
www.myspace.com/f5thebandaz
www.davidellefson.com