Interview conducted October 21 2011
Interview published October 30 2011
Does anyone remember the amazing album by Exxplorer called 'Symphonies Of Steel' featuring the incredible vocal talents of Lennie Rizzo? I sure as hell do, and I am going to always celebrate the feeling I had when I first heard my cassette on Metal Blade Records. Well, get ready for fun tomorrow, as Exxplorer have returned with their new album for Pure Steel Records called: 'Vengeance Rides An Angry Horse'.
The new album is another recipe for Power Metal enthusiasts, although it is not a full return of the cycle. Lennie is not always chasing the high staccato octaves; however, his angry bellows are sure to leave him hoarse as he belts out his hopeful songs like a freight train from hell. Mighty Metal detectors will also recognize the shredding of Kevin Kennedy, and Fred Gorhau. Straight from the city streets, these glory hunters prey on your coldblackugly hearts, breaking down the grand illusion.
I contacted the band to learn a bit more about a few symphonic "X" determinating facts. Thankfully, the band collectively and willingly responded. Enjoy the wisdom and spirits of their minds.

MettleAngel: Hey there guys. I am so grateful that you reunited, and have recorded a new album. Do you ever plan to re-release re-mastered versions of your other albums like 'Coldblackugly', or 'Recipe For Power', like you did with 'Symphony Of Steel' in 2002? I have noticed that those albums are very difficult to track down.
Kevin: Thanxx Michael for your support, we all appreciate it! I for one would not want to re-release 'Coldblackugly'. This is the reason why I left the band in 1996, because I did not want to change our style.
MettleAngel: I can sympathize, as that album is a major departure from your debut.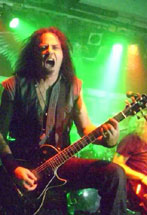 MettleAngel: I hear you...
Kevin: However, I would like to perhaps put together a 'Best Of...' after a while. I would like to include songs from 'Symphonies', 'Recipe', and 'Vengeance'.
MettleAngel: That would give me a chance to hear 'Recipe', as I have never heard any of these new songs. As far as newer tracks I would include: 'As The Crow Flies', which has that "Sons Of Anarchy" vibe, and 'Chasing The High'. I noticed you mentioned "City Streets" in the song 'S.N.O.E.'. Lennie when did you decide to rejoin the band?
Lennie: I was in the band for a brief period of time around 1992 -1993. It was a short stint, and I packed it up and decided to chill for a while. Then around 2007 ~08, I met up with Ed Lavolpe. We spoke about starting a cover band just for fun. Then we decided to get the boys in Exxplorer back together to mess around for a little bit.
MettleAngel: When did you discover that there was a cult status demand for such a great band such as yourselves to reunite?
Lennie: As far as our cult status, yes I was aware of it, and this was part of the reason why I decided to get my shit together, and reform Exxplorer. I love to sing, as it is a major part of my life.
MettleAngel: You have an excellent voice, and on the new album, you really show your capability, not always singing in high range, and sometimes responding with a more bluesy vibe.
MettleAngel: Do you still have people ask why you spell the band with two "XX"s?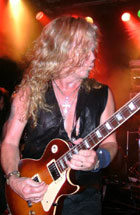 MettleAngel: That is interesting, as I know originally the band spelt the name with only one "X", and the I heard that your debut album was released briefly under that name. I think back then there was some confusion with the Japanese act called Exploder. Kevin, I have spoken with Michael Pinnella of Symphony X, and he mentioned that his wife played keys on 'Symphony Of Steel' in the studio. I wonder if that is her on "Prelusion".
Kevin: Jennifer Sakowski's performance was an EPIC Timeless piece. We actually know someone who has made arrangements to have her parts played at his wake. She is our drummer, Mike Sakowski's, sister, and, yes she is Michael Pinnella's wife.
MettleAngel: I have played the new album a few times, and when I reviewed it, I informed fans that this is clearly not 'S.O.S. II'. Why the directional change? I can understand the need to experiment as 'Coldblackugly' was indeed a departure.
MettleAngel: Well, you definitely have accomplished that!
Fred: I am very happy with how it turned out. I encourage you to keep looking, because, 'Recipe' is still available out there, and we are talking about re-releasing it, possibly on vinyl.
MettleAngel: That would be cool, as well as the compilation which Kevin mentioned. Honestly, I would prefer CD, but vinyl is cool too. What do you think of the bands who have covered such songs as "Run For Tomorrow", like Viron from Germany and Shadows Of Steel from Italy?
Fred: I have heard both bands' covers of this song, and I think they both did it well. They both have done a great job with it. We are very flattered that they chose one of our songs to cover, and record.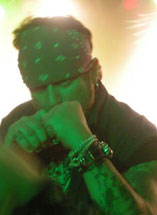 MettleAngel: Well, this is clearly your best song! As an American act, signed to a German label, along with so many US traditional acts like Omen, ASKA, Widow, etc., do you plan to tour America, or play some festivals like perhaps "Warriors Of Metal"?
Fred: Yes, we would love to do that. We are already talking about the possibilities for touring and performing at various festivals next year, in support of this new release. Playing live is what we really enjoy the most. (Kevin): Pure Steel has helped put new power back in Exxplorer, and we thank them all for that!
MettleAngel: I just want to say I will never forget the first time I heard my Metal Blade cassette version of 'Symphony Of Steel', and the "Run For Tomorrow" song on A Metal Blade Comp. in the '80s. What is your favourite memory of those times when the band were truly groundbreaking?
Kevin: Well, here is the amazing thing...Metal Blade was a Good Signing for us, and we were very proud of it. I still have THE ORIGINAL METAL BLADE CONTRACT..not a copy...with Brian Slagel's signature.
MettleAngel: That is awesome!
Kevin: That was cool to make the 'Best Of Metal Blade' comp. We relish that time in our lives. I also have that compilation on cassette!! So, we must thank Brian for that! I want to thank you too Michael for everything!
MettleAngel: It is my pleasure, and thank you all for reuniting and releasing a new album.
Related links:

www.myspace.com/exxplorerband