Interview conducted May 04 2012
Interview published May 14 2012
Those mortals in black known as Exumer have just unleashed their first studio endeavour in well over two decades for Metal Blade Records.
Rising from the seasons of the abyss, unearthed, and promising to provide even more decimation, this crushing, poignant, aptly titled 'Fire & Damnation' is another destructive solution sure to wake the fire of wrath that still burns and possesses us all.
Recently, I was able to briefly chat, scan or deliberate with the fallen saint and frontman - Mem Von Stein. So sound the siren for this dark, startling new album, and unless you are deaf, partake in our sorrows of the judgement of a new mortality.

MettleAngel: Hello, Mem, I live in the US, but I wanted to let you know that I am a very big fan of Exumer. I have supported you for over two decades.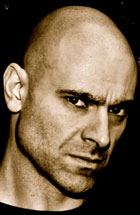 MettleAngel: Actually, many of us in America have been very excited about hearing the new Exumer. I will never forget when I first heard the song "Possessed By Fire" on an SPV sampler.
MettleAngel: Oh yeah, I have always been dedicated to the band. Did you realize that there were fans of the band in the US back then?
Mem: No, not really, but I do remember in '87 or '88 going through the LP inventory of the CBGB'S record store and seeing our second album there. That did please me.
MettleAngel: You did not sing on the second album. I was surprised to realize that you were not the vocalist on the sophomore release. Why did you choose to leave the band?
Mem: Well, back then, I was pretty young and we used to fight about who owned the rights to the band.
MettleAngel: How did you come up with the name for Exumer? I always assumed that the band belonged to you.
Mem: My father actually suggested the name Exhumer, and I thought it would be a cool thing to drop the H, making it a bit more personal and unique. Back then, we fell prey to all that silly adolescent stuff. So, one day my inflated ego took over and I just quit the band. Thankfully, two weeks later we were all friends again, but I stuck to my decision and continued pursuing other projects.
MettleAngel: Well that explains why you are not the vocalist for 'Rising From The Sea. I have heard your other band called Sun Descends. Is your name really Mem, or is that short for something else?
MettleAngel: I did not know that! Getting back to my anecdote about first discovering the band, I instantly sought out the cassette for 'Possessed By Fire'....
MettleAngel: I still use cassettes today! I really appreciate the cover art with the villain in an hockey mask...
MettleAngel: It reminds me of a thrash reaction to Quiet Riot.
Mem: Now, that is hilarious but it surely was not the initial intent, at least I do not think it was.
MettleAngel: I guess we will never know? However, when I first bought the CD debut on Disaster Records at a ridiculous import price, the music on the disc was surprisingly similar to the album 'To Dust You Will Decay' by the German act Angel Dust.
Mem: See, I never knew that. The CDs were pressed in Japan back in those days and it was still a kind of new medium, so I guess they made mistakes.
MettleAngel: I wonder if the label was even aware of the error?
Mem: I guess they were probably aware, but tried to rectify the problem, and they did not want to lead people around.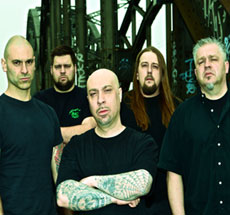 MettleAngel: It was not until I got the 1998 Rock Machine 2 on 1 CD reissue with 'Rising From The Sea' that I finally had all the music. I later picked up the High Vaultage re-master of the debut with the bonus tracks from Sentinel Steel.
MettleAngel: I agree, I was very impressed with the packaging. What prompted you to redo two older songs, on 'Fire & Damnation', including "I Dare You" from 'Rising'?
MettleAngel: Oh wow, I did not realize that when I played my digital promo....
Mem: Oh yes, I chose to sing "I Dare You", and Paul picked "Fallen Saint". It is kind of unique and very fitting for this album because it is our first in almost 25 years.
MettleAngel: I Know! This was a highly anticipated release for me, once I heard that you had just signed with Metal Blade. Do you now play a mix of the first two albums live, along with the newer material?
Mem: Yeah, the new live set will consist of 50% 'PBF', 40% new songs, and 10% tracks from 'RFTS'.
MettleAngel: I wonder what new songs you will choose? I would assume the title track, "Waking The Fire"and "Crushing Point" would be included. I am surprised that you are not representing 'RFTS" as much.
MettleAngel: I think that it is fair to suggest that Paul did a decent job on 'Rising', but I always preferred your vocal style. The sophomore release was a little too much Slayeresque, do you not think?
Mem: Thanks, but I think Paul pulled off the Slayer vibe very well on the second album. Overall, 'Possessed' was like Sodom and Kreator, whereas I agree that 'Rising' was too much like Slayer.
MettleAngel: I hear more Kreator than Sodom, but also so many of those early German Noise acts, as well as Holy Moses, Living Death, and Violent Force.
Mem: Most of us were quite influenced by 'Reign in Blood', and the impact that album had on us, so this is the reason for the heavy Slayer vibe on that album.
MettleAngel: Interesting, as I hear more of a 'Hell Awaits', style, rather than 'Reign'. Who were some of your other influences?
Mem: We were all just listening to those good bands that were around back in the 1980s such as Exodus, Slayer, Mercyful Fate, Possessed, etc....
MettleAngel: I assume that you would also include Dark Angel in there. When you were with Sun Descends, what inspired the Exumer reunion?
Mem: I went as far as I could with Sun Descends and I wanted to move forward. However, Exumer had some unfinished business, so I decided to get the band back together.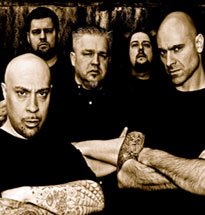 MettleAngel: For that we are forever grateful. I like Sun Descends, but the songs are more epic, and not in the vein of Exumer. How does it feel to now be signed to Metal Blade Records? I have been telling everyone how killer the new album is. I want to get the digipak version with the three live tracks.
Mem: I became friends with the German / European office staff of Metal Blade in 2000, and they actually were very helpful in getting us on the Wacken show in 2001. It was quite normal to send them our new material and we were well aware that we needed to release this album worldwide, hence Metal Blade felt like a perfect fit.
MettleAngel: I agree. Are you familiar with the US act called Merciless Death?
MettleAngel: Then you know that their vocalist Dan was just a teenager when he formed this band. He even got an Exumer tattoo, and they have a song called "Exumer" on their 2006 'Evil In The Night' debut.
MettleAngel: So what are your hopes for the future of Exumer now that there is such a major thrash resurgence?
Mem: We will just continue what we have been doing for the past four years, namely to tour, record and keep playing to people who want to hear us. I suppose that the resurgence is like everything else, it comes and goes. We try not to be sucked into that circumstance. We decide what we do outside from what is hot and what is not.
MettleAngel: Good for you! Do you have any plans to come to and tour the US, any time soon?
MettleAngel: I sure hope I get a chance to see you live, then. Thank you, Mem, for spending some time with me.
Related links:

www.myspace.com/exumerwakingthefire
www.thrashunlimited.com/forum