Interview conducted March 22 2016
Interview published April 21 2016
A couple of hours before Exodus' ass-kicking show in Uppsala in Sweden, Metal Covenant was invited onboard the thrash legends' tour bus for a nice and interesting chat with singer Steve 'Zetro' Souza. Zetro made a celebrated return to the band in 2014, something he is very enthusiastic, humble and grateful about.

Mozzy: Last time you visited Sweden was at Sweden Rock Festival last year. Now you're doing smaller indoor venues. Do you find that fun?
Zetro: Yeah, they are fun, because when they are two inches from my face. Thrash metal is made for the crowd to be as much a part of the show as the band is. So if they are up close, stagediving and being part of the show then they are doing what thrash metal is all about.

At a festival, you get a big-size pit, some crowdsurfing and so on, and that's cool. But they're so far away, I hate that. I like having them up close. I do like both aspects of playing, but tonight is going to be fucking awesome. It's gonna be sick!
Mozzy: For sure. This was a bit of a surprise, to have you playing here.
Zetro: Why is that?
Mozzy: Well, you're quite a big band and they don't play these venues that often. But it was great news.
Zetro: Well we like to do this, and this tour is calling for it. I think they said that they have sold something like 400 tickets for this place?
Mozzy: Yeah, it's going to be sold-out tonight I think.
Zetro: Cool, we'll kick some ass.
Mozzy: You always do. You went to South America recently, that must have been a great experience?
Zetro: It was a blast!
Mozzy: I saw some pictures online, the fans there seem to be really into it.
Zetro: They're nuts! They really are. I mean, I hate to pick and choose where in the world it's the best, but honestly, they are just fucking relentless, man! They don't give up and they keep coming. We had a great time down there, we really appreciate them.
Mozzy: You seem to have a great bond with your fans overall, everyone in the band.
Zetro: Yeah. We're not an ego-ridden band by any means. I'm very easily approachable by any fan, you know. I got a present today by a fan [shows a baseball cap with the brand "Zero", with a 'T' hand-written by the fan in the middle].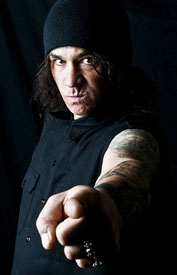 Mozzy: Cool!
Zetro: Yeah, neat isn't it? So we're very close with our fans. I think that bond is what has kept us real through the years, and they know that. We don't picture ourselves as rock stars, you know (laughs). Hey, we're just like you guys; we're metal fans who like to bang! We just make the music and you thrash to it. That is the mentality.
Mozzy: Yeah, I've met the other guys a couple of times before, like at the Sweden Rock cruise, and they are really cool.
Zetro: Oh yeah? Yeah, nobody has an ego or an attitude in Exodus, it has never been that way.
Mozzy: You got a great response for the latest album, Blood In, Blood Out, and rightly so.
Zetro: Yeah, we did. It's actually been a year and a half now. Time goes so fast. But it was a great response, and we're playing a lot of that stuff tonight. We're probably going to be writing new stuff soon. We're really planning to follow it up with a new album in 2017.
Mozzy: Having you back on vocals was a big factor, I think. The voice is quite important, even though Rob did a good job too.
Zetro: I think so too!
Mozzy: I guess you have noticed that kind of response as well from the fans?
Zetro: Of course. Every night, I hear them going 'thanks for coming back' and so on. Even myself, you know, I love the original singer guys. I mean, you wouldn't say that Bruce is the original singer for Iron Maiden, but boy he is the voice for Maiden, you know! And the same thing goes for… I love Bon Scott, he is my hero, but Brian Johnson was in the band for 36 years so… You know, it's not necessarily that easy. Paul was there before me, but I was there when we were building it. This was the voice you heard on the records in the 80´s.
Mozzy: People associate your voice with Exodus.
Zetro: Sure. I think that adds an element to it. And I'm not being forced into doing this, I doing it because I truly love it and want to be here. I think that showed on the record and in the live shows too. I'm really having a lot of fun this time as opposed to the last time. It's kind of like we're back in the 80´s again (smiles). I'm having a great time again, without the drugs and the sex (laughs).
Mozzy: (laughs). I bought the limited edition of the album which included an entertaining DVD. On that one, Gary points out just how enthusiastic you are, he finds it a bit funny even. I guess you still have those feelings?
Zetro: Sure, yeah! I think that's what keeps me fresh. I'm excited to do it again. As a fan and as a performer I'm fortunate to get an opportunity to do it again, if that makes any sense.
Mozzy: Oh yeah.
Zetro: It's like, how many people in the world would love to do what I get to do every night?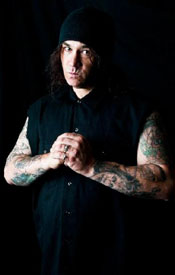 Mozzy: Many!
Zetro: Sure, so I don't take it for granted, I'm very appreciative of what I have. And I'm here for the duration; I'm not going anywhere. I'm here for good!
Mozzy: Good to hear. I saw you with Exodus at Sweden Rock in 2004 as well.
Zetro: Sure! Great day, I sang with Chuck Billy (Testament singer) that day, remember?
Mozzy: Oh yeah, that's true!
Zetro: I remember quite well (laughs)! I do a lot of shows but I have a good memory when it comes to those sorts of things. And those are the things why I do this business. I don't do it for money, or any of those things. I do it because I truly love doing this and being this. I always have and I always will.
Mozzy: That was a great gig and you had released Tempo Of The Damned which was a great comeback record.
Zetro: Great record, yeah. A lot of people say that's the best comeback record ever, by a band that has been away for a while.
Mozzy: Yeah, I remember when that came out, it was killer.
Zetro: We play a lot of that tonight too.
Mozzy: So what happened back then; it looked so good then?
Zetro: It looked good, but honestly, if I look back on it now it wasn't even that good. It was very, kind of, lacklustre. If I was to look at it that way, I would say that the performances in 2004 and those sorts of things were pushed. Now it's truly genuine; we're banging and digging it and having a great time with it. And there's nothing that is going to change that. We love what we're doing and it's fun again.

Back then I wasn't having fun. My kids were little and I wanted to be a father to them. I was out here, missing their graduation and I was sad. The business of the band wasn't doing what it is these days, and it was just a lot of things that were working against me. I was with my ex-wife who is now my ex-wife - there is a reason for that. And I have to take back the way I approached it. I should never have done it that way. I ducked out the day before a tour and I left the band high and dry. That was not the way to do it and I can't take that back. I own up to it.

I probably should have done the tour and then told them I cannot do it anymore. I was quite angry back then, but I've changed. I don't carry any resentment. I love it and am having a good time and refuse to argue about shit I used to argue with the guys. I won't do that, I want to be a good bandmate and not be like 'oh, what is he going to come up with today?' Because that is how it was.
Mozzy: They found Rob after your departure so they did well anyway.
Zetro: Yeah! Do you know what my favourite Exodus song is? The Ballad Of Leonard And Charles. And I don't even sing on that song, that is a great fucking song.
Mozzy: How do you find singing that material from Rob's time in the band?
Zetro: I love it. It's fun. They are all great, well-written songs. It's like 'wow, I get to sing these songs'. So it's cool.
Mozzy: Do you remember when they asked you to return and how that felt? Were you surprised?
Zetro: I remember it. Well, yes and no. I was under the impression that they would never need my services again. I felt that especially after Exhibit B that Rob did a great job so why would they replace him. But again, I don't know what went on there and I never asked or inquired. It's not my business, that's between him and the band.

We all wish Rob the best and really hope he does well. I really like what he did with Generation Kill and I think he should continue in music if that's what he is cut out to do. I was cut out to do it obviously; I played with Dublin Death Patrol, I did the Tenet project and I had a band with my kids, Hatriot. My oldest son is now the singer in the band.
Mozzy: Oh, I was going to ask about Hatriot. I was thinking they might be eager and waiting for you to be available?
Zetro: Oh no, they're not! They're playing all the time. In a couple of weeks they're playing with Death Angel and Flotsam And Jetsam. They're doing really good, and my son sounds just like me! I'm going to help them write lyrics for the album which they should have out before the end of the year.
Mozzy: Great.
Zetro: I think the show on Thursday, which is my birthday, will be my 200th show in Exodus since I got back. So there was no time to do Hatriot as well.
Mozzy: About the situation with Gary then, was that a bit of a bummer for you; that he is away sometimes now that you're back?
Zetro: No, not really. Out of the 200 shows, Gary has played 70 shows, I keep track (smiles). And if you close your eyes tonight, you won't know a difference. Kragen (Lum, stand-in on guitar) plays great and to the note.

Unfortunately, Slayer put out a record 11 months after we did, so when we're in the middle of our tour cycle they are going to start their tour cycle. That has never happened before. Gary wasn't in Slayer when World Painted Blood came out, he was just filling in later. Now he has become kind of like a full member of Slayer as far as the touring goes, and he plays great leads on their latest record.
Mozzy: Yeah, it was excellent that Slayer got him too.
Zetro: I'm telling you, man! Who else are they going to get, he's the real deal! We understand that. But Tom (Hunting, drums) was in contact with him about a week or two ago and he said he was going to be home with Slayer in April and May, so we're going to try and get together and get some new riffs together.

So he's full-on Exodus. I would say, for the next album cycle, you're probably going to see more of Gary, because Slayer will slow down at some point, you know. Their record hasn't been out a year yet so they're hitting it hard, and we know that.
Mozzy: Kragen does a really good job for sure, but perhaps he looks a bit more comfortable now onstage than in the beginning.
Zetro: We're comfortable with him, he's played so many shows with us so we know what to do. And he's a good friend and we love him like one of us, you know. Look at Anthrax, they have been using Jon Dette on drums sometimes and other guys have filled in too. Same thing in other bands as well. Sometimes you just can't be there when the band calls. But for the most part, we keep it intact and don't switch it around. If you weigh it out, it definitely works in our favour.
Mozzy: I think now that you're back on vocals, it makes it a bit more authentic too.
Zetro: I think so, it brings an element to it.
Mozzy: Even though Gary is out sometimes, now you're there again as one of the old guys so to speak.
Zetro: Right. And when he's here there are three fifths of us. And Jack (Gibson, bass) has been in the band longer than anybody, he's been there forever! Since 1997. My three stints in the band don't even add up to that, you know (smiles).
Mozzy: Well, it's very good to have you back.
Zetro: It's good to be back, thank you. I appreciate that.

See also: review of the gig the same night
Related links:

exodusattack.com
www.facebook.com/exodusattack