Interview conducted September 25 2014
Interview published October 07 2014
Exodus are back in black,13 times more deranged. Their latest collateral damage incorporates the absolute best lessons in violence, culled from over 30 trained years of being bonded by blood, and as a force of habit - dynamically driven to thrash under pressure.
The pleasures of 'Blood In Blood Out' just have to be heard, but I will flesh out the essentials. A changing of the guard has occurred, and after a decade, Steve "Zetro" Souza returns to forward the band, marching to the tempo of the damned, pouring more salt in the wound, ready to harvest his body of work, sealed with a fist, wrapped in the arms of rage.
I spoke with "Zetro" about the new experiences in his life, and what it means to still spread the seeds of hate and corruption. His contributions always guarantee an imminent impact, but are seldom a mere last act of defiance, so enjoy this fabulous test matter of discussion...

MettleAngel: Hey Man, it is good to speak with you again. Our last phone conversation was in February to promote your second release with Hatriot. I assume the band is still very much active.
Zetro: Oh yeah, we just played a show a few nights ago. On the upcoming Slayer Tour I will have time to write, and get ready for our third album. Kostas already has the music worked out for me.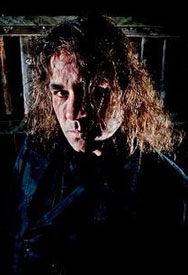 MettleAngel: I am sure the lyrics will be excellent, as always, as well as the joy of working with your two sons. I realize you had to learn the new Exodus material rather quickly when you rejoined, and that the music was mostly completed. Were you able to contribute anything lyrically?
Zetro: I was asked for my participation on "Body Harvest". I love all the new songs. I worked really hard to learn them and make them my own.
MettleAngel: There is no denying your distinctive sound. It is like with Eric Cartman, you just know the voice.
Zetro: I call it the "Roy Orbison Effect". It is like with Bon Scott too. The album was almost finished when I came on board in June, but Tom, Jack, and Lee really helped me to get back into the groove.
MettleAngel: It has been already ten years since 'Tempo', but the new album may even be better. There are some sick riffs, and the songs kick serious ass.
Zetro: Yeah everyone is on their game. I am really proud of what we have accomplished. We just shot a video for the title track. That was an insane "Fight Club" type experience.
MettleAngel: That song is the perfect follow-up to "Toxic Waltz" and "Bonded By Blood". I just watched the lyric video and then told all my friends to check it out, shortly thereafter. They were amazed. I hope you will be playing that one live.
Zetro: Hopefully, that and "Black 13". We only get seven songs with Slayer so we want to stick to the main ones for which fans are already familiar.
MettleAngel: I hope to see you headline and hear more of the classics. I am tired of the same old set-list. I am cool with you doing "Blacklist" and "War Is My Shepard", but enough with the Dukes' era, we want to hear songs from 'Pleasures', 'Fabulous', Impact', and 'Habit'.
Zetro: Man, you are preaching to the choir. I keep making suggestions, but right now I am learning to sing on the Dukes' material as well. You cannot deny his contributions too, so I am learing "Iconoclasm", Children Of A Worthless God", Deathamphetamine", and more.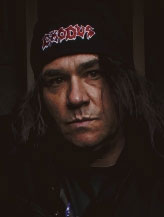 MettleAngel: I hope the band decides to play older material too. I know you recently did "Brain Dead". You play "Last Act" with Hatriot. I assume you enjoyed working with Chuck Billy on "BTK". Over the years, you have written so many lyrics for Testament, and of course your enduring work with DDP.
Zetro: Chuck is a great friend. He is the manager for the band. He is primarily concerned with every aspect and detail of Exodus.
MettleAngel: That is so crazy because in the '80s when you were promoting 'Fabulous' and Testament released 'Practice', the bands were bitter rivals.
Zetro: Yeah, we were all struggling and wanted to be like Metallica. All that is water over the bridge these days.
MettleAngel: Kindly ask Chuck to make a request on Facebook for fans to choose their own set-list of songs that they really want to hear. I guarantee it will be the classics, more than material from the last few albums.
Zetro: That is a good idea. I am getting my life in order also to prepare for the tour. I have joined a gym, lost weight, and preserving my voice. I am determined to fit into my 'Pleasures Of The Flesh' sweatshirt.
MettleAngel: You are 50, so you have to keep healthy. I chuckle at how Gary has a Grizzly Adams beard, and is now a vegan, but he still writes ragin' riffs, and I am sure he has his hands full with Slayer. I was greatful you stayed in touch by texting me this year. I know you appreciated it when I sent you pictures of my 'Objection Overruled' cassingle and 'Trial By Fire'.
Zetro: You may be the only one I know who has those, they are so rare, and I look so goofy in the 'Objection' photo.
MettleAngel: Tell Chuck I just bought a 'New Order' shirt at Hot Topic, because my original longsleeve no longer fits me, and I, like you, need to get in better shape. It is always a blast chatting with you. I hope to see you in December.
Zetro: You too Man. Thanks for promoting the new album!
Related links:

www.exodusattack.com
www.facebook.com/exodusattack