Interview conducted May 04 2010
Interview published May 14 2010
Exodus are about to release their ninth lesson in violence with 'Exhibit B: The Human Condition'. This fabulous disasterpiece is sure to keep all those who follow the metal command, forever bonded by blood.
I spoke with the mighty riffomatic maniac - Gary Holt - on his 46th birthday. He was supercharged with all guns firing. This cap'n of crunch continues to make an imminent impact on my life. Come join our meet party as we celebrate the temper of the damned fools, the full force of thrash habits past and present, and all things good, friendly, virulent, and F.U.N.

MettleAngel: Well, Hello again my Brother...
MettleAngel: I am good. I want to wish you a very mettle birthday...
Gary: Yeah, and thanks, but for those of us in the Exodus camp, it is just another day in the rehearsal room.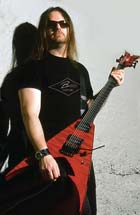 MettleAngel: I was so grateful to get the slot, so I could speak with you on your birthday. We have met and interviewed in the past, but this will be our first phone conversation.
MettleAngel: Indeed, and since I am only a few years younger than yourself, I can relate to the feeling of getting older, budweiser.
MettleAngel: I know we have discussed your daughters, and my son. Being a father, like son, is a real bitch. Alright, just a little Exodus humour there. I did want to let you know that I totally am digging the new album!
MettleAngel: Oh definitely, I got a digital promo. I have also been ensconced in digging out my older Exodus titles and playing them. The other day we went to an amusement park, and while I was experiencing those thrill rides, your killer perennial Exodus riffs arrangements just echoed in my head, making the ride even more exilerating!
MettleAngel: Dude, there is something special about the riffs you create, that just stick to the skin and bones, and linger with a brutal, yet inspirational resonation.
MettleAngel: Incidentally, speaking of our ages, I like to go to the "Guess Your Age" booth, and challenge the guy there. I won a cheesy prize for my son; because, the kid actually thought I was only 29! That made my whole day!
MettleAngel: Cool! as I mentioned I have been playing all Exodus albums non-stop. I am very impressed with you lyrics, and choice of subject matter. You are actually a talented writer.
Gary: Well, I don't know about that... I agree, that we do create those Exodus riffs to stick out and punch you in the face. This is why we work with Andy Sneap to get that bone snappin' crunch.
MettleAngel: Yeah, Andy's production over the last six years and four (five) albums, has definitely made a difference. I know some old schoolers who refuse to listen to newer Exodus, just because they loathe the modern production values.
Gary: That is a shame, but we still respect them as Exodus fans, as they appreciate what we create, or have done in the past. The fact is we are Exodus, and we do what we have always done. It is not like suddenly we are going to write a ballad, or something.
MettleAngel: It is funny you should mention that; since the first track on the new album is called "The Ballad Of Leonard And Charles". This brutal epic about serial killers Leonard Lake and Charles Ng is a befitting way to experience the next lesson in violence. I know this is neither a ballad, nor a song you wrote, as Lee wrote the music, and Rob the lyrics.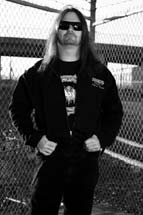 MettleAngel: Otherwise, I assume you handle the majority of the songwriting. Essentially, you and Tom are the backbone of Exodus.
MettleAngel: You can easily tell the difference between the tracks you wrote, and the ones Rob penned. I know he complains that you are very verbose. He claims it is quite a challenge to remember all the words you submit, as you are very voluminous and pleonastic, but still I would suggest whimsical and witty.
MettleAngel: I really love your lyrics. I laughed my ass off when I heard "Burn, Hollywood, Burn", and I totally agree with the fact that reality television blows. When exactly, though, did you begin to create the longer, more enduring epic songs? I know the song "Pleasures Of The Flesh" is a bit long, and the cuts on 'Impact Is Imminent' and 'Force Of Habit' will test your resolve; however, now, one expects Exodus songs to clock in at over seven minutes, a far cry from the 'Bonded By Blood' days.
Gary: I can see what you are driving at, and the fact is that there was really no set time, as we just evolved into writing bigger songs. Now that I am essentially my own boss, things have changed for us.
MettleAngel: I sort of felt it had something to do with artistic freedom. In the late '80's and early '90's, during those Capitol years, I imagine you were more limited in writing what you wanted; especially, on 'Force Of Habit'.
Gary: I like that album, and there are some good songs, but now I am the sole decision maker about the music I write. I am grateful that I make a moderate living from my talents. I love the fact that I can do whatever the fuck I want. If I feel a song needs more, or to be longer, I play it that way. Basically the song is over, when I feel it is over.
MettleAngel: The amazing thing, is that with the really long songs, they never get tired or red. When I was playing "Bedlam 1-2-3" on my CD player with headphones, jammin;, and skull smashing, I glanced at the clock, and realized that this was up to nine minutes, and still going, yet it is such a fast song!
Gary: Well, with a song like that, and others you have mentioned, like "Pleasures", or "Ballad Of Leo & Chuck", you have to take into consideration the intros, outros, and other bullshit. When we play "Bedlam" live, it is half the length.
MettleAngel: Yeah, when I last saw you with Kreator, I recall that.
MettleAngel: I know Tom mentioned he prefers playing the newer material, but what about so many ignored classics, too many too mention? When I spoke with Jack he mentioned wanting to play "Last Act Of Defiance" someday.
Gary: Well, first of all the main reason we do not do too much of the middle Combat / Capitol shit, is that I have some lazy fucks in the band who are too lethargic when it comes to rehearsing and learning the older songs.
MettleAngel: You have had the same line-up for over five years. Surely, Lee can play the old shit, and Rob can add his punishing touch to it?
Gary: On the recent US tour with Megadeth and Testament, we pulled out "Brain Dead". We have all expressed interest in playing the older shit. Lee wants to do "Parasite", Tom wants to play "Only Death Decides", I would love to hammer out "Chemi-Kill", etc. The deal is now we have a new album to promote, and we only have so much time to play live, but we'll have to see what happens.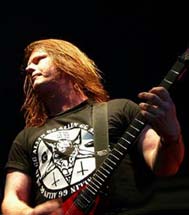 MettleAngel: I am just relieved to know that you are still proud of your other work. I heard rumours that you did not want to be affiliated with most of the "Zetro" Sousa material, save the "Tempo" tracks.
Gary: Hell no, we want to play the songs we write and have written. I am proud of everything I have done, even if some of the early '80's shit is a bit of a blur.
MettleAngel: I assume you mean the early Exodus "Turk Street' demo days with Kirk Hanmet. I was so grateful when you re-recorded "Hell's Breath" for 'Let There Be Blood', and "Impaler" for 'Tempo'. Is there ever a chance that you may re-work "Die By His Hand", "Deathrow", or some others?
Gary: Perhaps? We actually attempted "Deathrow" in the 'Tempo' recording sessions, but it never came together right. Dude, I had to sift through a shitload of bootlegs just to get the riffs, and words correct for "Hell's Breath" while mixing 'Let There Be Blood'.
MettleAngel: Speaking of 'Let There Be Blood', I know you have taken a lot of slack by die hards who did not want to see a masterpiece like 'Bonded By Blood' touched.
Gary: Yeah, and I can respect that. These dudes are supporting a landmark thrash album, of which I was a part in the making, so I can understand they want it to remain raw, and not remixed.
MettleAngel: I actually really like 'Let There Be Blood', as it had a real modern feel, but it still maintains the spirit of 'Bonded'. You can tell that Dukes adds his own vocal touches, and Lee's guitar work and shredding is noticeably different form Rick's.
MettleAngel: Andy did a great job with Testament's - 'First Strike Is Still Deadly' too. I can respect why you did this, as Destruction, Sodom, Tankard, and others have chosen to re-record their past efforts with todays' production standards.
Gary: There is that aspect, and the fact that there are a ton of Tribute albums to Metallica, but no real one to pay homage to Paul Baloff. We wanted to do something memorable to honour his memory.
MettleAngel: I know that you also released the 'Double Live Dynamo' DVD in 2007 with some classic Baloff footage from both the early incarnation of the band in '85, and the revamped one with Jack Gibson in 1997, when Century Media put out 'Another Lesson In Violence .
MettleAngel: Yeah, I know, this is also on the Zaentz Records label. Disc 1 has the October 27, 1985; Dynamo Club concert where you play "Deathrow", "Impaler", and "Hell's Breath". Disc 2 from May 17, 1997; Dynamo Open Air Festival has Paul doing the songs he wrote which ended up on 'Pleasues', like 'Seeds Of Hate". This is such a good DVD for the fans.
Gary: Yeah, for those who do not dig 'Let There Be Blood', there is this vintage concert footage now on DVD.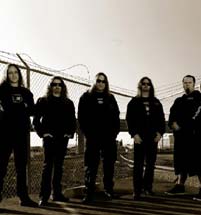 MettleAngel: I really dug the 'Shovel Headed Tour Machine' triple pack. Damn, you are a killer guitarist. I was amazed to hear you play "It's A Small World", as well as Poison's "Talk Dirty To Me".
Gary: That song is not too difficult to play, and well as far as "Small World", I do have daughters.
MettleAngel: I was saddened to hear than Brett Michaels is very ill. You are so accomplished. I just saw Warbringer with Overkill. I know you produced their second album 'Waking Into Nightmares'.
MettleAngel: Overkill will tour more this fall with Bonded By Blood, a band named after your masterpiece.
MettleAngel: Anyway, as concerns the DVD, I sat through the whole third disc, without any interruption. Dukes did a great job with filming that. I must admit I used to not like the guy, but I have come full circle. I now really respect the man, who is almost my age. I would testify that his vocal performance on the new album, is his best work yet.
Gary: He has really worked hard to become a vital part of the Exodus tribe. I will tell him that you appreciate his hard work, as we all do.
MettleAngel: I know he has taken a lot of shit from us traditionalists, but I now give him full horns up! In continuing to honour Paul, you have the new song "Hammer And Life". You just shot a video for this and "Downfall" on the old "Night Court" set, I bet that was a lot of fun?
Gary: Actually, I was not able to be there, due to a personal issue, but when I saw the dailies, I was floored. Thankfully, with todays' technology, they can just green screen me in, and it all looks real. Years ago, my absence would have cost us a fortune, and we would have had to scrap the whole shoot.
MettleAngel: Technology does have some benefits. I also saw some of the pictures, and the fan based shots, but I did not realize that you were not there. I know Jack had a blast, playing the "Night Court" theme on bass.
Gary: Yeah the band had a great time. When I saw the footage, I was waiting for Judge Harry Stone (Harry Anderson) to hammer the gavel, or Christine Sullivan (Markie Post) to shirk off another lurid attempt by Dan Fielding (John Larroquette) to bed her.
MettleAngel: Or for Bull (Richard Moll) to incite a mosh pit?
MettleAngel: Funny you should mention that, as earlier this year I spoke with Dave White of Heathen, and he told me that is how the band got their name.
MettleAngel: Exodus have come a long way both musically and lyrically. I wonder do you ever get tired of playing "Pirahna"? I showed my wife the footage of Wacken from the 'Tour Machine' DVD, when Rob incites the crowd during "Strike Of The Beast". They just clash in utter madness and a violent frenzy.
Gary: Yeah, the whole Braveheart thing, Rob loves to do that shit. We never grow tired of the classics, as long as the fans want to hear it, we play it.
MettleAngel: I just ordered the new CD from metalseason.com, they have such killer prices. I am excited to hear the bonus track "Devil's Teeth", which I understand Rob wrote based on his fascination with sharks. I have heard that Dethklok's own Brendan Small contributes a mean solo on that.
MettleAngel: I would love to hear the Japanese version with the Scorpions cover of "Don't Make No Promises (Your Body Can't Keep)" from 'Animal Magnetism'. I know you have covered Ted Nugent & Blackfoot in the past, Did you choose to honour the Scorpions, since they are retiring?
Gary: That was not it at all. "Don't Make No Promises" was one of the first songs I ever played with Exodus. When I asked Tom to track it, he did it by heart. We are real proud of this. Check out what Rob does with the last verse!
MettleAngel: I guess by now it is in the blood, so to speak?
Gary: Yeah, like when we did 'Let There Be Blood', we did not even rehearse. We are at a point, if we do not know this old shit cold, then we should call it a day.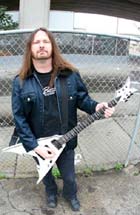 MettleAngel: I sure hope you will not do that. I have always noticed a strong AC/DC element to Exodus. it is as if you took those Angus and Malcolm riffs, and just made them heavier and more crunchy.
Gary: I love Classic Rock, so of course, this is going to show in my song compositions. When we first started out, we knew neither Paul nor Steve could handle the Halford highs, so we emulated that Bon Scott edge.
MettleAngel: That makes sense, as early Slayer was essential sped up Priest. I agree Zetro sure embodies that Bon Scott texture, which is why you recorded "Dirty Deeds" and "Overdose". I am amazed how successful AC/DC still are; especially, with the new "Iron Man II" soundtrack. It is like a sequel to "Maximum Overdrive" which spawned "Who Made Who".
MettleAngel: I am actually quite impressed with the new Accept, as well. That new dude Mark Tornillo from T.T. Quick, does not sound as much like Udo,as I had anticipated. I am so glad they got a dude with range like David Reece on 'Eat The Heat'. Man, Nuclear Blast is really dominating the metal milieu!
MettleAngel: Just out of curiosity, do you think when Markus Staiger started the label in 1987, that he perchance chose the name based on the lyrics from "And Then There Were None"? Just think..."Wars coming.. start running... eyes blinded by the nuclear blast...".
MettleAngel: I heard that he was travelling in America and saw this punk act called BL'AST!, and that was his inspiration; but who is to say he also did not see Exodus, and the subliminal message was planted?
MettleAngel: I also want to commemorate you for having the guts to disclose the atrocities of Nanking and the Nanjing Massacre. I thought there was a typo when the song came down on my podcast. I figured it was "Yanking", or something like that. Then, when I researched it on the net, I was blown away by the atrocities!
Gary: Yeah the atrocity exhibition is the human condition. That is a brutal part of Japan's past against the Chinese, before WWII, which was just swept under the rug.
MettleAngel: I thought the lyrics were intense, until I read that this shit really happened! Although, some Japanese nationalists deny the incident as fabricated propaganda. I also noticed a strong similarity musically to Slayer's "South Of Heaven".
Gary: Yeah, there is a very strong Slayer element and residual all throughout the song. I am convinced something did happen, even if the casualties may be exaggerated. It makes for such a great Exodus song, though!
MettleAngel: I thought I heard some Slayerisms, but I did not want to insinuate that you were borrowing. After all, I remember the very first time I heard Slayer's song "Season In The Abyss", when it came to the solo fills, I thought to myself, this sounds just like Exodus' "Corruption"!
MettleAngel: This summer we will celebrate the reunion of the "Big Four". I am so glad that acts that were just under the radar, like yourself, Testament, and Overkill, are finally getting the recognition they deserve. I know you remarked that your fan base is mostly youth, with a few gray hairs, here and there.
Gary: Yeah 17 - 25 is about the mean. I know the older fans still dig us, but they have lives, and are not always able to attend the shows. They still buy the music, which keeps us going.
MettleAngel: That includes me. In reflecting again on the horror of it all, and Nanking, I have been watching HBO's "The Pacific". I thought I knew a great deal about WWII; especially, the Marines involvement, but after watching the shit on Peleliu Island, I am both astonished and disgusted how the military used good Marines to achieve pointless ends. In the end General McArther decide the airfields of Peleliu were not ultimately that vital. It is a shame he came to this conclusion after the loss of several worthy lives. I can see why you chose the title: 'Human Condition'.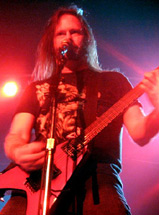 MettleAngel: I am also really impressed by the cover artwork this time. I did not care too much for either cover version of 'Atrocity A'.
MettleAngel: I did not like the freakish depictions which had a H.R. Giger tone. This sepia, surreal cover really makes you think, and it conveys a deeper message. What is with the heads on the chopping block? I would have thought you would have opted for the actual cover as part of the T-shirt package pre-order with Nuclear Blast? Although, I have not seen the slipcase artwork yet.
Gary: We will have those designs on tour, but the heads are just more grimmacing and gruesome, don't you think?
MettleAngel: Well, I look forward to seeing you on tour, headlining this fall. I sure would love to attend those album release parties with Anvil Chorus, Heathen, Lååz Rockit, etc.
Gary: Yeah, we are excited to play with our friends, and for our fans.
MettleAngel: Well, I am proud to still call myself a fan. I also love the new Heathen, and am very excited about the new Death Angel and Forbidden. Happy Birthday, Brother, and all the best, until our tainted paths cross again.
MettleAngel: So, any final thoughts?
Gary: Hell yeah! I live to lay waste and crush all who fuck with me, so if you are in my way, get the fuck out!
MettleAngel: Well said, like in the song "March Of The Sycophants"! Might I add...everyone likes a Lunatic Parade!

See also: review of the album Exhibit B: The Human Condition
Related links: