The night before their gig at Sweden Rock Festival, Evergrey played at the youth centre Galaxen in Sollentuna, outside of Stockholm. Metal Covenant decided to book a meeting with Tom S Englund (vocals/guitars), Richard Zander (keyboards) and Michael Håkansson (bass) in a conference room in the same building.

Niklas: So, what's going on at the moment, guys?

Evergrey: (Michael): We've just returned from America, where we did a really great tour together with In Flames. So we've just been home for a week, and now the festival season starts. It can't get any better, really.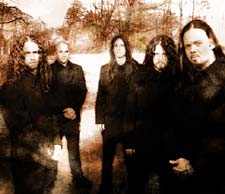 Niklas: We were surprised to hear that Evergrey were coming to Sollentuna to play a gig, isn't it unusual for a band of your size to come to a small place like this?
Evergrey: (Tom): When we were in America we got the question if we wanted to do this gig one day before Sweden Rock Festival, and since we're on the move, why not? I mean, this is the reason why we're doing tours. Unfortunatley the premonition was a bit short for this to be perfect, but we're still glad to be here.

Niklas: Isn't it a big difference to play in America for several weeks, then coming home to play here?

Evergrey: (Tom): We try not to have preconceived thoughts about any places we go to, you never know beforehand how successful a concert will be. There was one club we played in America that was really worn out and about ten times smaller than this place, so we've seen just about everything and try to stay positive.

Niklas: Are you pleased with the way your new album Monday Morning Apocalypse has been received?
Evergrey: (Tom): We're still waiting for most of the reception since the album is so new, and we've just been in America and are just starting our tour with the album. We were in Germany the day before yesterday and played a festival there, and got great reception from the audience. It seems like Monday Morning Apocalypse has succeded in a whole other way than the other albums. A wider audience seem to have taken it to them.

Niklas: How would you compare this album to your earlier ones, music-wise?

Evergrey: (Michael): Evergrey has always been about an on-going revolution with our music, none of our albums really sound like the other. Sure, at first it might not sound like a gigantic step, but if you for example compare the first album with the third you really hear the difference. But then there's an album inbetween, so perhaps it takes two steps for us each time to really evolve. (Tom): Yeah, and especially since it's been such a long time between this album and The Inner Circle, because we made a live-album inbetween. Which means that we have marked out different paths, and that's why Evergrey sounds like this today.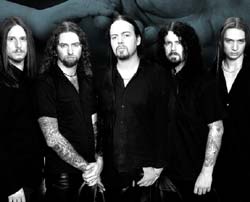 Niklas: On your American tour, did you feel that there were any songs on the new album that worked extra well with the crowd?
Evergrey: (Richard): We have played three new songs on this tour, and all of them have worked great. I think that all the songs on Monday Morning Apocalypse would be able to work live if we decided to play them, which we will probably do in the future. To me these songs feel like great live-material. (Tom): The songs that we have shot videos for are always the ones that gets the best response, obviously. But our new video hasn't been played in America yet, so it will probably be received even better on our forthcoming tour over there this fall.
Niklas: I recently watched A Night To Remember on DVD, and was mighty impressed about how ambitious and grand everything was. Will you ever try to do something similar?
Evergrey: (Tom): Personally, I never want to do a DVD again. (laughs) I mean, it was a hell of job to do and we had to sacrifice a lot of our free time to do this. It took quite a while to gather all the backstage material, too. We have to do at least a couple of albums more before we try something like that again.
Niklas: I would like to have your comments on your discography, how do you look back on each album that you have made? Starting with the first album, The Dark Discovery (1998)?

Niklas: Solitude Dominance Tragedy (1999)?

Evergrey: (Tom): A bit more balanced than the first album, we knew what we were doing this time. On the first album we tried to get as much out of us as we could, since we didn't know at that time if we would be able to do more albums. A bad-ass record, if I may say so.
Niklas: In Search For Truth (2001)?

Evergrey: (Richard): To me, it feels like the most progressive album we've done. If you choose to look at our music from a certain viewpoint, this is the record with the most progressive elements. (Tom): But still, personally I don't think that any of our albums feel that "progressive". To me, that kind of music is more like Rush, and that's not what we play.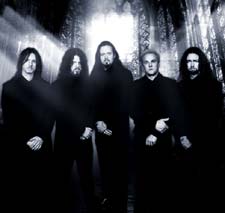 Niklas: Recreation Day (2003)?
Evergrey: (Michael): That album has great collection of terrific songs. (Richard): It was the first album I did with the band, and I feel that we wanted to make something more straight-forward and more live-friendly than before, which really showed.
Niklas: The Inner Circle (2004)?
Evergrey: (Tom): That time, we tried to do something opposite of Recreation Day. It was a relief to finally get everything out of our system when the album was finished. (Richard): We took the time we needed on The Inner Circle, and really dug in deep, contrary to what we did on Recreation Day.
Niklas: And finally, Monday Morning Apocalypse (2006)?
Evergrey: (Tom): A really great album, it sounds good, it feels good, it smells good… (laughs) It's the most even album we have done, and it's great all the way through.
Niklas: How do you think your next album will sound?
Evergrey: (Richard): It will br über-progressive! (laughs) (Tom): That's impossible to say, we don't even know if we'll do any more albums after this. We don't plan ahead that far. It's just as hard to say as how Sweden's game against Trinidad and Tobago will end. Hopefully we will win with 6-0! (it ended 0-0… - ed)
Niklas: Can you describe a typical Evergrey-concert?
Evergrey: (Tom): We're not into this thing about building castles on the stage, and so on. We always let the music speak for itself. We have become a really good live-band over the years. We normally play for one hour or maybe one and a half, more than that I don't wanna see any band play!
Niklas: Do you prefer to alter your set list during your tours?
Evergrey: (Michael): It depends, on longer tours we usually stick to a specific set list, more or less. But otherwise, we're not afraid to change set lists. (Richard): If there is long time between the gigs, we often change quite a lot. I remember on our last tour in America, we felt that the set list didn't work the way we wanted after 4-5 concerts, so we made some adjustments. That's what you have to do, try the set list a few times and see how the audience reacts. Then of course, you have to make some changes here and there from time to time, otherwise you get tired of it all.

Niklas: It's been precisely four years since you last played at Sweden Rock Festival, what are your expectations?
Evergrey: (Tom): Wow, it's been that long?! Anyway, we're looking forward to breaking WASP, since they play the same time as we do. Normally on festivals you collide with 3-4 bands, but not this time. And seriously, I doubt that 21.000 persons on this festival are WASP-fans, because then they would surely play at Globen or Scandinavium all the time, which they don't. Most of all I'm looking forward to NOT playing at 12 AM which we have done two times, this year we're almost playing at 12 PM, so we must be making some kind of progress here! (laughs)
Niklas: Any last words to our readers?
Evergrey: (Michael): They should check out the new album, of course. Even those who didn't like us before, because hopefully Monday Morning Apocalypse has something for them as well. (Tom): Definintely, we noticed a huge change on this tour we did with In Flames. We normally don't play to their fans, but this time there was a victory for us every night. So a message to all the In Flames-fans: check out the new album!
Then Tom and the others sign the Metal Covenant-shirt (they choose the grey pen, of course) and then go out and play kind of an exclusive gig in front of roughly twenty people. Unfortunatley, due to a mistake by the arrangers Evergrey were only allowed to play for half an hour, since there can't be any music at Galaxen after 2 AM. But as you can see on Michael's pictures, Evergrey made sure to give all they had for the audience who had waited so patiently.

See also: pictures from the gig the same night »»

Related links: