Wendy and I finally got to spend some quality time with Cleveland's sensational artists - Eternal Legacy. We first discovered their raw talent and the rise of the daemon when they opened for Dragonforce, early on this summer. Then we watched them play to a crowd of thrash fanatic old schoolers at Venom's fires wrath. Now, tonight, they were getting ready to open for Epica and Kamelot after successfully winning the Battle of the Bands. Hark and listen to the tremor lowbrow of the two guitar brothers Jason and Shaun Vanek consistently melding the ice, the boisterous bass synapses of Josh Gatka, the shy and reserved drumming style of Steve Dukuslow dearth, and the keyboardist extraordinaire Spencer Phillips solioqouy youth. Their command of the partitions still have Wendy & I enthralled in the essence. This collection of characters who embody true mettle and talent have now also become our dear friends, and won the lasting hope, well into our hearts. Join us as we all await the coming of the tempest and cyberplague of procreation.

MettleAngel: Well, brothers here we are again hanging out with you guys as you prepare to open for Epica and Kamelot. I'm glad we were able to gather the whole band for a round table discussion, since we could not do that at Venom or Dragonforce.
Eternal Legacy: (Shaun): Yeah man, we appreciate all the support you have given the band, and we look forward to a cool show this evening. So we are all here, let's begin.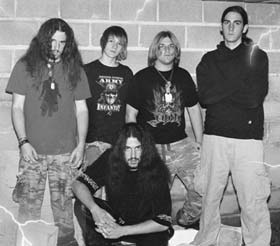 MettleAngel: Well for starters how long has the band been around?
MettleAngel: I guess you realized that name was already taken.

MettleAngel: You should have called yourself Mersinary or More-Sin-Harry (ha, ha). Anyway, then you changed your name to Eternal Legacy, which I feel fits the style and sound. Were you influenced by bands like Testament, given this new appellative?
Eternal Legacy: (Jason): We were definitely thrash influenced by bands like Iced Earth, Slayer, and older Metallica - pre-Justice era. (Shaun): We also like bands like Fates Warning and Solitude Aeturnus. When we became Eternal Legacy, we played in the Hammerfall power metal vibe; then after about three years we discovered our own niche.

MettleAngel: Well, I must admit that you definitely fit the Cleveland sound of hall of fame metal; thus following in the footsteps of such killer acts like Destructor and Breaker. Your band does have certain progressive elements and the obvious Dragonforce/Cellador references; still you are not the self-indulgent mathematic prog. sound which becomes too monatonous. A band like New Eden had such great potential, but too many line-up changes resulted in their stagnant progression.
Eternal Legacy: (Shaun): Yeah man, we don't want to lose the focus of the music; because, we are metal. We also want to tour more. Our goals are to tour Europe and play festivals like Wacken. We are already writing new material for our third CD.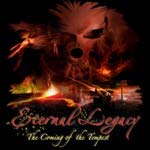 MettleAngel: Wait, hold on a minute, you already recorded a new CD which will be out soon entitled - The Coming Of The Tempest, so you mean you are already writing music for the album after that?
Eternal Legacy: (Shaun): Actually we already have that music written as well. Our next album will be a concept. We are all really excited about the new material. Jason is our primary songwriter. He writes most of the lyrics after he completes the musical compositions. (Jason): I still write some lyrics while composing the music as well, depending on the vibe I'm in... (Shaun): Yeah, he does that since he is the vocalist, he will adjust the vocals to fit any given song. This gives him more energy for his overall stage performance. (Steve): Our music has a lot of appeal. Even non metal fans come to our shows. I'm proud to admit that I love Manowar. (Josh): Exactly man, we want to give everyone a taste of what we have to offer. (Steve): I listen to a variety of different music to incorporate all of this into my drumming; the key is in not limiting your scope or falling into the Dragonforce syndrome. (Josh): Yeah, I began as a band geek playing trumpet. Then I was Jason's guitar student. When I joined the band I decided to play bass.
MettleAngel: Hey, even Dio began his career playing trumpet when he was in Elf; then he moved on to playing bass. Now Jack Black has asked Dio to play himself in the new Tenacious D movie
Eternal Legacy: (Spencer): I studied classical music, but I love everything about the '80s. I got into metal through the band In Flames. (Josh): Tell him about your mall experience... (Spencer): I studied at the institute of music... (Shawn): (interrupts) He was in this music store in the mall and he picked up some sheet music for Bach and played it precisely, drawing a crowd of 50 spectators! The store employees were totally blown away.
MettleAngel: Wow, that reminds me of the scene from Bill And Ted's Excellent Adventure, except instead of Beethoven it was a 13 year old prodigy playing!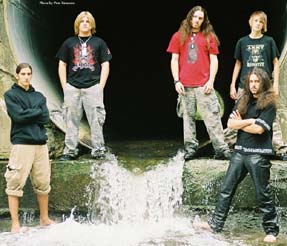 MettleAngel: I can see that, given your age, you want to look back and vicariously experience what it was like. I still feel, given your incredible musical aptitude, that you exhibit mettle humility, but hey, you're still young, so enjoy the journey.
Eternal Legacy: (Josh): Yeah, you have to admit that there was something very special about the '80s and you lived through it man! I recall my early days of getting into metal listening to Guns N' Roses and Metallica. I remember wearing my Def Leppard shirt which, then, was way too big for me.
MettleMaiden: So you guys all love metal and deserve to open for all these great bands like Dragonforce and Venom. Now, you won the Battle Of The Bands in order to play for Kamelot tonight, correct?
Eternal Legacy: (Jason): Yeah, we competed with all these other simple acts. (Josh): They all sounded the exact same, imitating all the popular deathcore bands out today. It wasn't really too much competition, overall.
MettleMaiden: Now Josh, you are in college - what are you studying?
MettleMaiden: Are you familiar with the band Ancient Rites?
MettleAngel: What aspect of history appeals to you the most?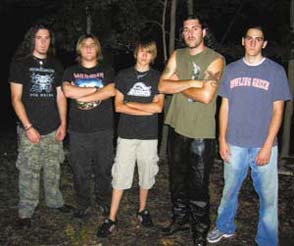 MettleAngel: I can see that. Iron Maiden has written a great deal about WW1 lately.
MettleAngel: Spencer, you were just interviewed for an article for the Cleveland Plains Dealer. I know your mother, who is also the band's manager, is so proud of you for that. There's even a blurb mentioning how you had to convince the Dragonforce crew to let you back into the Agora club, since you were, in fact, the keyboardist for the opening band. Now that's what I call a protege.
Eternal Legacy: (Spencer): Yeah, well it's no big deal, but I know it does please my mom. She is really proud of this and us.
MettleAngel: She has been such a great support for the band.
MettleAngel: Now, guys I know that you have an argosy of songs written for the next album and beyond. Have you considered doing any covers or B-sides?
MettleAngel: Any chance of covering a non-traditional metal song, perhaps?
MettleAngel: Hell yeah - Starship - make that one into metal! (MettleMaiden): I love that song - I would love to see a metal version of that for sure.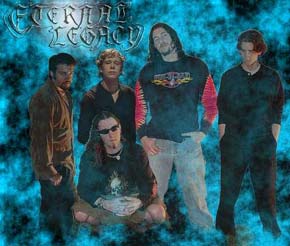 MettleAngel: I love it when a very talented band decide to cover a non-metal song and thereby metalize it. Just look what Paul Stanley did with I Was Made For Loving You. You know you can't deny that disco really set the standard for power metal. I'd love to hear a metal version of New Order's - Perfect Kiss or Lips Inc. Funky Town. Spencer could easily transpose them onto his keyboard. Never let anyone accuse you of not being metal when you incorporate your influences - essentially that is metal!


MettleAngel: What amazing talent it is, given your age. I feel like the grandfather here or at least the metal elder.
Eternal Legacy: (Josh): Yeah, but you have the coolest job, and you write so damn well. I'm going to quote you on the "Mortal Kombat Tryouts" thing. That's hillarious and so damn true. You guys are so metal.
MettleAngel: Well, thank you guys. Thank you for making our evening so exciting and fun. We definitely look forward to seeing you again in early November when you open for another amazing Cleveland act - Wretch.
Eternal Legacy: (Josh): Yeah, that will be a great time for us all. (Jason): Thank you again man for everything. (Shaun): Yeah, we are so glad that we have had the chance to hang out and get to know you two better!

See also: review of the gig the same night

Related links:
www.legacymetal.com
www.myspace.com/officialeternallegacy