Interview conducted April 25 2009
Interview published May 05 2009
Epica are excited about their new release - the double live CD called - The Classical Conspiracy. I was asked to personally speak with Simone Simons about this amazingly epic album. We also spoke about her health conditions, her personal life, and a myriad of topics. Enjoy our Maiden to Maiden mettle on metal conversation.

MettleMaiden: Hello there Simone, I'm so glad to speak with you. I imagine you don't have too many interviews with other true metal maidens? My first question is about your work on the Xystus album - Equillibiro. That is a bombastic effort, and quite an accomplishment. Your performance as Lady Sophia is quite astounding. How did you become involved in this project and why did you choose to do it?
Simone: Well, their drummer: Ivo van Dijk, called me about three years ago, and said he had an idea for a musical. He enquired as to my interest and desire to play Lady Sophia. Since it was different from Epica, and I wanted something new to try with my voice, I pursued this opportunity. He came over to the house and we recorded some demos. After that we reworked the music a little, to make the proper adjustments.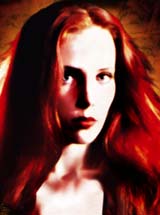 MettleMaiden: So you wanted to do something that was different from Epica? Xystus is different than most metal operatic endeavours.
Simone: Yes, plus we were given the splendid opportunity to actually perform the whole play in a live atmosphere, and it was very successful. I played Lady Sophia - The Goddess of music. It was a bit challenging, as I had to sit on a cloud for the whole show. It was difficult because I couldn't even come down to use the restroom. You know how that can present a problem for us ladies (ha, ha). Also, I had to be focused and act, as well as sing. It was a great experience for me, something different from Epica. A DVD was released as well.
MettleMaiden: Yeah, the DVD is extremely limited, and includes two CDs containing music from the whole show. I sure would have loved to have been there, or at least watch the DVD. It sounds like you really enjoyed the experience. Speaking of live performances, the new Epica album - Classical Conspiracy was recorded live in Hungary with a 40 piece orchestra and a 30 piece choir. This seems like the next logical step for Epica. How did this project come about?
Simone: Our music is already orchestrated, and it was a really a dream come true for us, to have an orchestra play with the band. We got in contact with a Hungarian organizer who runs the festivals there. He had done this type of project before, and thought that Epica would be a great follow up. We had to prepare a half year in advance, and rewrite the Epica songs for an orchestra. When we played live, the response was wonderful. I've discovered that there are a great number of Metal fans, who also love classical music.
MettleMaiden: I know! I grew up studying classical music as I play the piano and the flute.
Simone: I wish I could play the piano, my boyfriend, Oliver (Palotai) has tried to teach me, but I still haven't learned. Right now he is working with Sons Of Seasons, their CD comes out in this spring.
MettleMaiden: Yes we interviewed Oliver in Chicago, last fall, when he was on tour with Kamelot and Edguy. He mentioned his band Sons Of Seasons, he also plays with Doro. He is quite the busy man! He really enjoyed speaking with my husband - Michael "MettleAngel". You actually met us in Cleveland when Epica toured with Kamelot, a few years ago. Michael & I interviewed you in the basement of the Agora.
Simone: I think I remember that, but I do so many interviews. Oliver is quite the music master. Our house is always full of music, playing everywhere.
MettleMaiden: As is our home, Michael and I are always playing music, and our son is attempting to learn how to play various instruments. I see you have added ex-members of God Dethroned to your line-up, including your new guitarist: Isaac Delahaye, but he did not play on the live release. As concerns - The Classical Conspiracy, how did the band decide upon the order and selection of classical songs, and movie scores for this album?
Simone: That was a tough decision, because, we all have our favorite classical pieces. We decided that the best thing to do was to have everyone write down all the songs they wanted to do, and we selected the most popular ones from that. We only had six months to prepare, so it was done very quickly, and expediently. There were several songs I wanted to do but thought of them too late, as an afterthought. The orchestra was already rehearsing the ones we had already chosen. As for the theme songs we are all fans of epic movies. The classical set had to be worked on in a hurry, but efficiently.
MettleMaiden: I noticed that you also have an interesting allotment of theme songs on the album, as well.
Simone: Yes, we are all fans of the Pirates Of The Caribbean movie. Of course, we love Star Wars as well, so we did the Imperial March.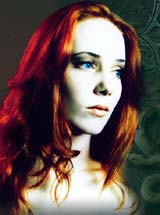 MettleMaiden: So am I! I grew up on the Star Wars movies. That is the true Trilogy! I really did not see the need for two more Pirates movies. This leads me to a question about your videos. In the concept for - Never Enough - I can't figure out how the video adapts to the theme behind the song. The video seemed so pop oriented, with tales of infidelity.
Simone: Never Enough was written about people who are so greedy that they put themselves, and their needs, above everything, including other people. The video was shot in Belgrade and shows a couple that are both cheating, because they are so cupiditous. They are obsessed with sex, so that being with one person is just not enough. It is very sad that some people always want more, and forget about the important things like health and love. I love to shop, after all, I am a girl, and I love to purchase a variety of sunglasses and handbags; but, the most important thing in my life is my relationship with Oliver.
MettleMaiden: I'm not much of a window shopper. When I go to the store, I get what I want, and get out. You will only catch me at a shopping mall, so I can walk around and get some exercise. I may stop to get a coffee, but that is it. I totally concur with you, because the most important souls in my life are definitely my husband - Michael and my son Stephen. We even take our son with us to shows, he's a real headbanger!
MettleMaiden: Definitely! I still proudly wear my Epica babydoll shirt, that I bought. Stephen has an awesome collection of metal and rock shirts, and he can always use another! Sometimes we both fit into the same shirts. This frustrates my husband, because we can always find our size in the clearance bins at places like Hot Topic or Spencers; whereas, his size is the most common, and seldom marked down.
MettleMaiden: Lately, all three of us have been struggling with ongoing illness. It is becoming a challenge to stay healthy. I'm sure you can relate to this, as when Epica was on tour in the US last year, you became quite ill. It was disheartening, because, you were unable to perform for several shows. We were going to see you in Cleveland again, when we were made aware of your ailments. We heard that, Amanda Sommerville of Aina was asked to fill in for you. What happened? Are you fully recovered now?
Simone: Yes, that was a tragic situation indeed. After years of consuming antibiotics, they eventually killed my immune system. Also, I was under a lot of stress and not taking care of myself properly. I ended up with a bacterial infection and went to four hospitals, where they would give me even more antibiotics! I had a reaction to all the antibiotics and had a rash all over, I looked like a tomato! I didn't want to do it, but I had to regain my health, so I could continue with Epica in the future. Honestly, it was still difficult to say, "No, I can't tour!" I did not want to disappoint our loyal fans.
MettleMaiden: Again I can relate, as Michael is always the exception when it comes to antibiotics, or even over the counter medicines. He's the kind of guy who when he takes Nyquil, he is wired, and up all night. I sincerely agree that the most important thing is your health, I'm sure the fans understood. Are you fully recovered?
Simone: Yes, I've been healthy for about a year now. The fans were very understanding about it, I really did not want to let them down. I was faced with a very tough dilemma.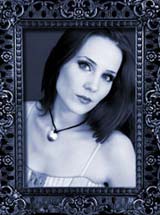 MettleMaiden: How did you choose Amanda to cover for you?
Simone: Amanda and I are best friends, plus she has been involved with Epica from the start. She has been a vocal coach, performed backing vocals, and assisting with a whole host of actions. She is basically like a seventh member of Epica. Her voice is similar to mine, and she is an American which was a benefit. It was a difficult choice, but the doctor said it was not safe to tour, so she filled in.
MettleMaiden: That's wonderful to have such a great and reliable friend, overseas. I've always been impressed with her Aina project - Days Of Rising Doom. That was her baby. She created her own language for the story she created for that album. She had so many guest appearances, like Candice Night and Toby of Edguy, and other key members of Avantasia contributing. I celebrated the fact that the entire second disc included an instrumental rendition of the album, narration, and unreleased material. The packaging was also killer. I've heard she has a non metal band, also with Sascha Paeth (guitar), Miro (keyboards), Olaf Reitmeier (bass) and Robert Hunecke-Rizzo (drums).
MettleMaiden: I wish she would make another album, it has been six years. Now, that The Classical Conspiracy is almost out, will you be returning to the states anytime soon?
Simone: We really want to tour the US again. We will be touring Europe in October, maybe after that tour, we will tour North or South America, but nothing is definite. We have had several offers, but it costs a lot to tour, and we are looking for a nice package to tour on; one which showcases a great deal of variety and talent. We are not popular enough yet in the US, but we hope to come back as headliners in 2010.
MettleMaiden: Maybe by that time our son can attend. He had a blast when Leave's Eyes came here, even playing with their son, Leon, who is the same age, save a month. Well, I cannot tell you what an honor this has been for me. As a woman I love to speak to other women about metal; especially, ones who are metal and still feminine about it. It a world of mostly men, that is not a normal; construct. Several of the metal chicks, whom I've come across are very masculine, and act like men! I don't see why ladies can't also enjoy metal. I know this is what Doro has been championing.
Simone: Yes, well guys still have a lot of influence on women in metal. It is still a male dominated society. You have to have thick skin around them; but, there are many more female fronted bands out there now that I have a kinship with, and this makes for some excellent metal fellowship.
MettleMaiden: That is very reassuring. Thank you again for the information. I'll let you go now and allow you a chance to rest before your next interview.
Simone: I appreciate that, but actually I have some down time until my next interview, so I'm going to watch a movie.
MettleMaiden: Now that's mettle!
Related links: