This is not my feast for the vain; nor a facade of reality. I feint to fathom agony, and smother the light, listless and transfixed by Simone Simons' sensorium; her sheer beauty and vocal dalliance. For indeed, it is merely her symbolic dance of fate which has me staring into blank infinity and consigned to oblivion. Wendy & I were so blessed to participate in this pellucid quietus with this creative crimson idol; in order that we may unravel the latest mysteries and wander the wilderness daring to descry for the tune and linger in the neverending embrace...oui, we'll take you with us...

MettleAngel: It is an honour to finally meet you and conduct this informal interview. You sure did demonstrate an excellent performance; it was quite a show this evening.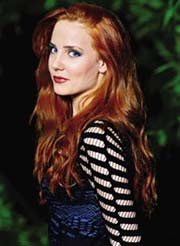 MettleAngel: Well, since Tarja left Nightwish last year, many female fronted bands have been competing for that top rank position. I think that your band and Edenbridge are the two main contenders now.
MettleAngel: Yeah, but Lacuna Coil is more commercial friendly and fits the American music style better. Personally, I just can't get into them. The only song I liked off their new CD was the Depeche Mode cover. It's like Arch Enemy, Angela has her own vocal style which fits their brand of melodic death metal; whereas, a band like Epica which is similar to After Forever is more of a blend of the Beauty and the Beast style.

Simone: Yes, Lacuna Coil is more rock oriented, and of course we have our connections to After Forever; since Mark Jansen was kicked out of that band. After his unfortunate dismissal, though, we formed Epica.

MettleAngel: Now, you recently played Prog Power in Atlanta just prior to embarking on this US tour. It's a shame you could not join Jorn Lande in his encore rendition of the Hear 'N Aid song "Stars".
Simone: We did not even know he was planning to do that. There was no contact, we had our signing session, and we were so jet-lagged, so unfortunately, we just missed out on this.

MettleAngel: Now you begun your tour shortly thereafter, teaming up with Kamelot who are good friends of yours...
Simone: Yes, we are great friends with those guys. Their keyboardist Oliver is my boyfriend. Our fans are so dedicated too, they always expect me to come out and sing on The Haunting with them. They see me as a cute chick with balls and a great deal of energy, because I can be so aggressive, when I am on stage.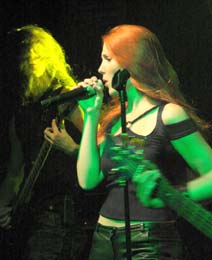 MettleAngel: Well, you do thrash and flail around while singing, and you got that whole head banging windmill effect down perfect.
MettleAngel: Now, you are currently looking for a new label, given the decline of Transmission Records, correct?
Simone: Yes, we are ending our deal with Transmission. We are writing new material, which is much heavier than before. There will even be some black metal references. Several labels have expressed interest in us, so we'll just see what happens.

MettleAngel: When you were on Transmission, though, The End Records really promoted your band...
Simone: Yes, The End really supported us and helped us to get a great start, and we are so grateful for that.
MettleAngel: What about that risque cover picture for The Phantom Agony, I'm sure that picutre helped to sell a couple copies...(heh, heh..)
Simone: I'm not happy at all with that cover. They used nine seperate pictures and photoshopped the whole thing, just look at the position of my hand. I was only 18 then and naive - now I'm 21 and I know much better. Our second album was a concept and I chose not to be on the cover this time.
MettleAngel: Do you ever perform that Cats cover of "Memories" live, like you do on the DVD - We Will take You With Us?
Simone: We played it at a few accoustic show while touring for The Phantom Agony, but we are pleased not to perform it any longer. We also did that DVD bonus track song in German. Linger is our bonus track to the latest single for Quietus. On May 4th, in front of 15,000 fans in Amsterdam at the Paradiso we recorded an amazing concert. This was never released due to difficulties with Transmission. The Kamelot DVD due out on October 24th does include an interview with Epica and I.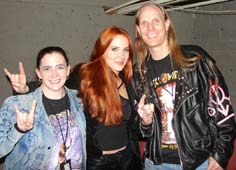 MettleAngel: How long have you been affiliated with Kamelot and Roy Khan?
Simone: We were recording The Phantom Agony, then they recorded their Epica release. We decided to call ourselves Epica naming ourselves after the Kamelot title. When we changed our name from Sahara Dust to Epica, we felt it fit the sound of the band better. We supported Kamelot and At Vance on tour in 2003. Mark wanted Roy to sing a song with us - and they were searching for a female vocalist to perform with them. Khan agreed and we sort of swapped, singing for each other. Now I enjoy doing The Haunting live with them, and I'm so glad they added Oliver on keyboards permanently.
MettleAngel: So how is the new material which you have written coming along?
Simone: Everything is almost finished. We enter the studio sometime in November. This is our last tour before we do that. There we will spend about three or four months writing, recording, and mixing. Then we will deal with the labels, afterward.
MettleAngel: So Epica is now your primary focus...
Simone: I am the face of Epica - this is my band. I prefer to grow with Epica. They are my lyrics and I write my own vocal lines. I am a mezzo-soprano, singing more classical. We debuted a new song "Never Enough" when we played live in Holland recently. This was written by our bass player, Yves, and it may be the most commercial and poppiest song we have done to date.
MettleAngel: Yet, I hardly see you becoming like Within Temptation or Evanescence - you are too talented for that type of sound.
MettleMaiden: Have you had professional vocal training?
Simone: Yes I have, I sung in a choir. I performed with a pop-jazz choir for four years when I was younger. My singing is still spontaneous, and it's different every day, in every way.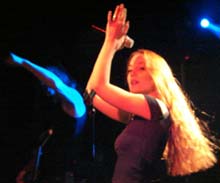 MettleAngel: That's amazing! Is there anything else you would like to say to your fans?
Simone: Oh yes indeed! There is this book in english and dutch called The Road To Paradiso. This is made by fans for fans. It includes a cd with demo versions of our first songs. It's good quality and you can find it at Amazon.com. I'm amazed how many fans already have this and bring it to us to sign. We wanted to bring it along to sell at our merch booth, but it's just too heavy. It's only about $25, so look into it. Everyone in the band is happy with it.
MettleAngel: It's a shame you could not bring it to sell at your merch table along with the guitar picks, jewelry, sweat bands, and some other Epica oddities, as far as product or impulse paraphenalia.
MettleAngel: That's the first time I ever seen guitar picks being sold at a merch table, but Wendy bought an Epica baby-doll shirt and she will wear it with pride. Thank you so much for taking the time to respond to my probing questions. Please continue to keep up the great work, and keep playing Crystal Mountain live, even if you don't sing on that one. Although, I wish you would. I'm sure eventually, Chuck Shuldiner would have embraced female vocals, had he lived long enough to do so...
Related links: