Interview conducted August 13 2009
Interview published August 19 2009
The Finnish Folk and Power Metal legends - Ensiferum - will release their new album: "From Afar", in early September. I was very grateful to see them perform live on the most recent "Summer Of Slaughter" Tour. I am also very excited for seeing them headline this winter, sometime.
In the meantime, I was able to speak with main lyricist - Sami Hinkka - all about the new album, incessant touring, and the iron clad metal head ragin' songs of victory, penned and inspired by fierce hymns, from a land afar.

MettleAngel: Hails Brother! It is great to speak with you once again. If you recall, we met when the "Summer Of Slaughter" Tour visited Cincinnati, in July. We hung out backstage, and in the parking lot, where you also met my wife and son.
Sami: Ah Yes, indeed I do! I noticed your name last night, when I was reviewing the call sheet for interviews today. That name, "MettleAngel", and Metal Covenant, both stuck out in my head. I was very much excited about speaking with you again. I know you are a big supporter of the band.
MettleAngel: Yes I am. We joked about South Park, Team America, The Pick Of Destiny, etc. then; but today I definitely want to focus on Ensiferum.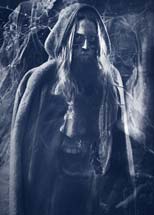 MettleAngel: As you well know, Ensiferum were the main band I came to see on Summer Of Slutz. I chuckled when you referred to yourself and the band as the "White Sheep", on that Tour. Indeed, Ensiferum were the odd band out, which I would think is the "Black Sheep"? How do you feel the Tour went overall?
Sami: It was a very good experience for us all. All the bands who played were very nice to us. Everything went smoothly. We recruited some new fans, and gained approval of many who would not normally listen to us.
MettleAngel: I assume the die hard fans in America saw you on the first "Paganfest" Tour in '08. I did not care for most bands playing SOS, save perhaps Blackguard, who we know; and Darkest Hour, who really impressed me. I picked up their new album, recently, after seeing them perform. Surprisingly, it is quite good, if you like bands like Unearth.
MettleAngel: I've seen them before, a couple of times. I saw them in '07 with Amon Amarth on "Sounds Of The Underground". They have really matured, and grown as musicians. They are no longer generic metalcore. I'm always impressed by Blackguard. I suppose you are excited to have them join you for your big headlining tour in November?
Sami: Yes, we are so excited about that US Tour. What surprises me, is that Hypocrisy will be opening for us! They are legends! What an honour!
MettleAngel: They have a new album due out soon. Ex Deo will also open for you. Nuclear Blast really has some quality talent supporting you. I'm so glad it is not named, like "Pagan Fest", or "Pagan Knights", etc. It is just a killer package of noteworthy acts.
MettleAngel: Now, let us discuss your forthcoming album. I received a digital promo, and I've been playing it non-stop! I really feel this is your best album yet! Their is such diversity to the song structure, and the musicianship is top notch!
Sami: Thank You! I'm so pleased you like it. It means a great deal to us to hear this from writers as knowledgeable, as yourself. The early reviews have definitely been favorable. 'Metal-Reviews' gave us a 94!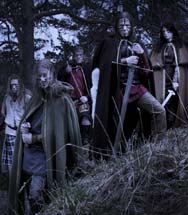 MettleAngel: I find it interesting how the release date is 9-9-09, which inversed, is of course, 6-6-06. I'm sure the band did not plan that. Either way, the album does deserve a 94, or 8.5. I know the press had a field day with "Victory Songs", and all the controversy surrounding Wintersun. I liked that album, there were some really good songs, but "From Afar" just trounces it! The balance and blend of songs is amazing. There are so many notable arrangements.
MettleAngel: Absolutely! "Twilight Tavern" will be your next "One More Magic Potion".

Sami: We intended for that to be a fun drinking song, where fans could raise their glasses to the chorus. Like Tankard meets Korpiklaani, perhaps.
MettleAngel: It reminds me of my wife's Playstation II game called - "Bard's Tale", with all its frivolity and merry mirth. As far as Finnish folk legends, you have surpassed Korpiklaani, and mirrored Amorphis, in my opinion. Children Of Bodom are stagnant, but I am excited to hear their covers albums forthcoming; although, I have heard so many of their covers, already, over the years.
Sami: Wow, you think we are on the same level of Amorphis? Their new album - 'Skyforger' took a while to hit me, but once it did, WOW!
MettleAngel: Same here, now I really like it because it mixes their early roots, with their hippy hard rock sounds of the '90s. Speaking of doing fun covers, Ensiferum have also chosen some quality songs to replicate, in their own manner. Your take on Uriah Heep's - "Lady In Black" is exceptional. I've always enjoyed your choice of Amorphis' - "Into Hiding", from the 'Dragonheads' (EP), as well.
Sami: It means so much to hear you make the Amorphis analogy. 'Tales From 1,000 Lakes' is one of my Top 10 albums of all time. Markus Toivonen founded the band based on his love and appreciation for Amorphis. With a song like - "Lady In Black", where there are only two chords present, we knew we would have to improvise, and make it our own. So, we decided to change it up, and give it our own spin, with more bass, guitar, and drumming. We really enjoy doing covers, from Judas Priest to Uriah Heep.
MettleAngel: This would explain why you chose to cover Nordman's "Vandraren", as a bonus track on the new album. I'm not too familiar with their music, but something tells me that, like Turisas with "Rasputin", the Boney M cover, or even what Gamma Ray have accomplished, this is a more pop based song.
Sami: You are correct. Nordman had a popular following in Northern Europe. "Vandraren" was a big hit for these Swedes, like ABBA. When we chose to cover this song, we hired a session vocalist, since none of us really speak Swedish too well.
MettleAngel: That makes sense.
Sami: When we chose to do a certain cover, we actually give it a great deal of thought. It is our goal to expand upon the simple concept of just copying the music. We take some time to think it out. We sit down and go through each aspect, and decide what we may alter, or rearrange to make it more our own. This may seem silly, but even our covers are very important as to how we want to represent the band.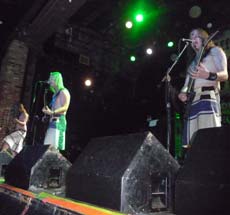 MettleAngel: I imagine that this is your songwriting process, overall. Is this also how you came up with the masterpiece - "Stone Cold Metal"? That song is amazing! What is up with all those Spaghetti Western motifs? I suppose if one really scutinizes your early work, he will clearly hear references both on 'Iron' and 'Victory Songs', but here it is blatant and more pronounced. Obviously, the band are fans of Sergio Leone films with Clint Eastwood, and Ennio Morricone's amazing scores?
Sami: Yes, you hit the nail right on the head. We have flirted with these type of stylings before, but this time we decided to make it completely obvious.
MettleAngel: By this you mean that cool banjo solo from - "Stone Cold Metal"? This song is definitley a metal song, but not focused, per se', on the mettle milieu.
Sami: Markus, initially played the solo on his guitar in the studio. He wanted to try it on banjo, to see if he could attain the same effect. Once he accomplished this, he knew this is what he wanted for the album. We all agree the banjo solo is a better choice.
MettleAngel: I would have to agree, as it gives the song more character, and flavour. The song is so layered, and cleverly performed. Who knows perhaps "Cowboy Metal" is the next big thing, after "Pirate Metal", whatever that is essentially. "Cowboy Metal" will be the next style all bands jump on the wagon to play, all in league with those southern trendkillers from hell who started it all!
MettleAngel: I know, I was just alluding to the music. Ensiferum have always been original, and one step ahead of their imitators. This is why your songs are so good. I would also assert the same notion for the two parter - "Heathen Throne".
Sami: Originally, that was going to be one very long epic song. Thankfully, we chose to split it up, and space it out on the album. It would have been too much for our drummer - Janne Parviainen - to keep up the right pace, had it been over 20 minutes. That was just hasty and ambitious thinking on our part, so we made it two parts. We feel that our ultimate decision really paid off. The songs are evenly spaced, allowing for more thematic value and structure.
MettleAngel: I agree, the breather makes the songs stand out more. You are not a prog band, or even like Zandelle, who can pull it off. Your music is so deep, and mysterious, it was a wise decision to make the separation.
MettleAngel: It is a funny thing, how several acts are doing two parters. New Metal Blade Records signed Boston speed metallers - Ravage - did the same thing with - "The Nightmare's Hold: Part 1& 2".
Sami: Ensiferum is all about the process of evolution. We want to write memorable songs, but we also want our fans to experience something new, on a different level. We do not want to write the same album, over and over, as that is plain boring.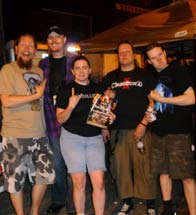 MettleAngel: I understand. You want to stick with a certain formula, then expand upon it, and not become staid or stifled. I would definitely suggest that you have accomplished this. "From Afar" is a true mixture of the old style meets the new, with added nuances. Just like your progenitors in Amorphis, who began young, and have become idols, you continually strive to re-invent yourself.
Sami: Exactly! Man, I wish most of the press, were like you, and really understood the direction of our hearts and minds.
MettleAngel: The press will always be biased, and highly opinionated, just ask Tobias Sammet. What matters is what the fans think, as they buy the music, and attend the shows, and represent the true essence of the band.
Sami: When I first joined Ensiferum, I did not really know anyone who was into metal. I did not feel worthy to work with such admirable musicians. I did not realize what an assett I would provide for this band, as we broke away from our roots, and found our own niche.
MettleAngel: Your work with the - 'Dragonheads' (EP), up until now, is what really inspired me to continue with the band. I had all the other albums, which I purchased as expensive imports, just to get the Metallica - "Battery" cover on 'Iron', or get the limited edition versions. By the time you joined the band, everyone I knew was forsaking Ensiferum, and favoring Wintersun. I stuck with Ensiferum, as I always felt the band had more to offer. I always appreciated that you maintained your Finnish heritage lyrically, and even vocally on certain songs. I always enjoyed your unique clean vocal style. I'm so grateful that I was persistant, as now you have written the album of your career.
MettleAngel: Here is a tidbit, as the band is named after the Latin term for "swordbearing", I'll teach you some more ancient wisdom. You were humbled when asked to join the band, experiencing a true "Wayne's World" moment. The Latin phrase, "Ego non sum dignus" translates into" "I am not worthy". This how it feels to have befriended the band. I was so excited to see and meet Koprpiklaani this spring on "Pagan Fest II", but my experience overall, was less than satisfying; whereas, it has been nothing but an honour, and esteemed joy getting to know you and the guys in Ensiferum!
Sami: Michael, the time has just flown speaking, and getting to know you better. Thank you for so many kind words.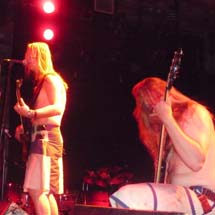 MettleAngel: I have been telling all my friends that this is the album to get. They are envious that I already have it, but they will definitely purchase it when it comes out September 9th. I'm sure they will get the bonus version with the cover song.
Sami: I have so enjoyed this conversation. Thank you for promoting the album to your brethren. So far, there have been no internet leaks. We look forward to hanging out with you in November on our headlining tour. Look for the dates to be announced very soon.
MettleAngel: November is my birthday month, so hopefully, you will be in town around that time. I'm planning to be there with my loyal friends, who attended "Pagan Fest" and SOS. Like myself, they feel that Ensiferum are the upper eschelon of quality epic, folk, power metal; although, new Týr is quite good, and much better than their last effort - "Land". I like the video for - "Hold The Hammer High". Although, overall, they are an entirely different sound than Ensiferum.
Sami: We had a good time with the guys in Týr on the Pagan Fest Tour, although, they were often quite ill. Us Northern European bands really are truly honoured that you Americans let us visit and play our music. We would have never thought the US supported us so much, a few years back.
MettleAngel: A lot has changed, but yes we love you guys, and are very excited about your headlining tour.
MettleAngel: You bet, and until we meet again, I will appreciate our new found friendship, from afar.
Related links: