The Japanese punk/rock band Electric Eel Shock came to Stockholm just a few days before Christmas to play at Lavaland, and Niklas and Michael from Metal Covenant were allowed to disturb the vocalist/guitarist Aki Morimoto for a few minutes while he was preparing for the upcoming gig by drinking beer - his rock & roll-petrol.

Metal Covenant: How would you like to describe Electric Eel Shock?
Aki: Our music is based on 70s and 80s hard rock and heavy metal. Our style is very old school, but we always try to put something new into the music. We try to make something original out of it, something of our own.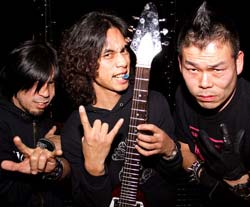 Metal Covenant: Why did you decide to form the band?
Aki: I and our bass player Kazuto were high school-mates. We started out with a shitty cover band in school, playing songs from bands like Ozzy Osbourne, Queensryche, Iron Maiden and Hanoi Rocks. But when I was 20 years old we decided to try and make our own music instead. We reformed the band and found our drummer Gian, who's not really a hard rock-drummer, but more into funky stuff. His favourite is actually Michael Jackson! Kazuto and I though, have the hard rock-spirit deep inside of us, that's what made us form the band.

Metal Covenant: What is the biggest difference from playing in Japan and in Europe?

Aki: The Japanese audience is definitely not as crazy, instead they like to watch the band carefully. There are some bands that have fans that are rather crazy, but they are nowhere near the Swedish fans, for example! (laughs)

Metal Covenant: Your new album, Beat Me, was the first one you recorded in a real studio, right?
Aki: On our previous albums our budgets have always been very thin, but on Beat Me we had the proper equipment for the first time. At first I was slightly worried about it, since it used to be I who handled all of the production, and if we invited a producer he could have changed our sound too much from what it was from the beginning. But in the end, our producer Attie Bauw understood us completely, luckily. He understood our music and knew what we wanted with our sound. He never forced us or anything; we always had discussions about how the album should sound. The recording was turned out very smooth.

Metal Covenant: What did Attie Bauw, who previously have worked with both The Scorpions and Judas Priest, add to your sound?
Aki: He discovered new possibilities for us, and showed how rock & roll could sound when played a certain way. He didn't only work a lot with the guitars, but also the drums. For one song he put nearly twenty microphones around the drums, which worked great, but on the song "Beat Me" he only put two microphones around the whole kit, and it worked fabulous in another sort of way! It made it sound almost like a Led Zeppelin-song, actually.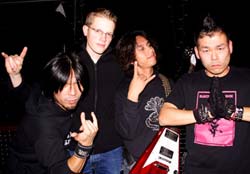 Metal Covenant: When do you think you will release your next album?
Aki: I have a lot of ideas on my mind, but when we are touring we don't have enough time to do something out of them. But hopefully we will be able to record some new songs sometime early next year, and maybe release them during the summer. I really should go to the studio very soon, because my head is nearly full of ideas by now!
Metal Covenant: You practically live on the road; why have you chosen such a life style and what do you hope it will give you?
Aki: Three years ago we left Japan, but before that we toured over there, although not so often, just a few gigs in Tokyo and Osaka. We never did a proper tour because Japan is a really hard place to do that in; the major bands can make it but probably not the underground ones. The petrol is expensive and you're not guaranteed any big sums of money from the venues. All underground musicians in Japan must have other jobs to make money and you must be prepared to spend all that money on your one big tour. But since we left Japan we don't need any part-time jobs and we have decided to live on the road therefore. We are actually more successful abroad than in Japan these days. But I think that if we will be a success in the US or in Europe, the Japanese people will notice us and hopefully take Electric Eel Shock to their hearts as their #1 band! (laughs)
Metal Covenant: Could you recommend some good Japanese bands that we haven't heard of yet?
Aki: You should definitely check out the post-rock band Natsumen. The guitarist of Natsumen had another band that broke up earlier, called Boat, which is also great. They are not so famous in Japan, but underground, just like us.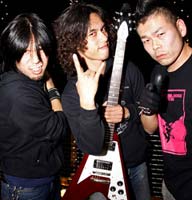 Metal Covenant: How many times have you been to Sweden, and what do you think about this country?
Aki: Our first time was on the Hultsfred Festival, and then we have played at Debaser twice, which makes this our fourth visit. Stockholm is one of my favourite cities to play in, because the fans are always really crazy here. That's why this is one of the highlights on this tour for me and I'm really looking forward to tonight. Another thing I like about Sweden is boiled eggs. You know, there are two types of eggs; the hard boiled ones and the soft boiled ones. I like the soft boiled ones! (laughs)
Metal Covenant: What do you think Electric Eel Shock will be doing in 2-3 years?
Aki: Well, I really would like to tour more on the southern part of the world. We have played a lot in North America, Europe and Asia, but I want to go to Australia, South America and Africa too. We are curious about the parts of the world that we haven't experienced yet.
Metal Covenant: Your shows are known to be very energetic, isn't it straining to play night after night?
Aki: Actually, no, because I take lots of beer on the stage. Beer is my rock & roll-petrol! But tonight there will be under minors in the audience, so we'll have to make due with orange juice on the stage and make sure to fill up on petrol before the show instead!
Metal Covenant: Since it's Christmas-time and all, what do you wish from Santa?
Aki: What I want the most is actually a new record in fishing! You know, deep down I am a fisherman. I still write a column in the biggest Japanese fishing magazine every month, and in Japan I am more known for being a professional fisherman than being the singer in Electric Eel Shock, believe it or not!

Aki of Electric Eel Shock says hi.....


Electric Eel Shock live at Lavaland 2005 12 14 »
Related links: