On July 18th I received a call at the zero hour from what appeared to be the parallel otherworld. In fact it was from the apostle of defiance -Glen Drover. I wonder, was his eternal call from the ghostly nightmare world of hallowed apparitions? Fate holds no warning when the oath is forsworn. The guardian spectre with interrogation follows forwith, so enjoy the majestic interlude:

MettleAngel: Hey, Glen, before we begin, I just wanted to let you know that at Metal Covenant we are running a contest to give away a signed copy of your new CD. We are making it really simple, utilizing a King Diamond Trivia Question. Also, this interview is going to be focused on Eidolon; so I will not be asking you any direct Megadeth questions. If you are ready, then we will commence. Since I have a Masters in Theology, I know ancient Greek; therefore, the very first time I noticed your band's name, I saw that it was spelled in the actual Greek. I automatically assumed you were a Greek band. What does the name Eidolon mean to you, personally?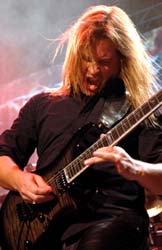 MettleAngel: I assumed the band was Greek because of the use of the Greek epsilon before the word which we translate as "image". Your rendering is more of a transliteration of eidolon.
MettleAngel: Eidolon has been around for quite some time; and is clearly not just some side project. With your new CD how were you able to find so many guest musicians?

Glen: Being in Megadeth provided us with excellent opportunities. When we played the first BWBK Festival we approached Michael Denner and Hank Sherman, who play in Force Of Evil, and asked them if they would contribute to the new CD we were writing. When we decided to cover "The Oath" we felt it would be perfect to have them play on this song, and they do all the solos except I did the last one. We met Michael Romero last year on Gigantour, Frank Aresti was also at one of those shows. They are all our friends., so we just asked them to contribute to our CD project. This spawned interest for us to see who else we could get to play. This goes the same with Chris Caffrey. As for Kim Mitchell - are you familiar with the band Max Webster?

MettleAngel: No, not really - should I be?
MettleAngel: Now I get it; so how did you decide to get Nils from Pagan's Mind to sing and contribute to the new CD?
Glen: A few years ago we discovered Pagan's Mind and Nils because we found out he was a huge King Diamond fan and I played with the King. I liked Pagan's Mind song style and Nils vocal approach. We decided to work on a project called "Dimension Infinite" featuring myself, Shawn, Nils, and the bassist from Pagan's Mind . This project would comprise two Eidolon and two Pagan's Mind members, respectively. Sadly, this project is shelved for now due to our committment with Megadeth. As we were recording the new CD we were having difficulty with Pat, our previous vocalist, so we contacted Nils, let Pat go, and just brought Nils into the fold as our third vocalist. We don't like changing vocalist; but sometimes you just have to do what's best for the band.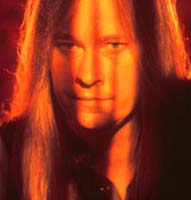 MettleAngel: I think Nils sounds great on "The Parallel Otherworld". I noticed that he occasionally uses his voice differently on certain songs; which provides for subtle nuances on this CD, there are definitely arrangements in Eidolon, that you just don't hear in the music of Pagan's Mind.
Glen: I agree, each song calls for specific adaptation in order to complement the writing style. Pagan's Mind sound one way and Nils sings for that style, and with us his vocal melodies fit our music.

MettleAngel: I noticed that Nils wrote all the lyrics this time which tend to have more of a surrealistic metaphysical bent?
Glen: Yeah, Nils wrote all the lyrics - this gives the band a new dimension, since this is the first time Shawn has not written the lyrics. There is an evolution to our sound; it's as if we are going up the ladder; rather than down it.
MettleAngel: What is precisely the Parallel Otherworld - is the album a concept?
MettleAngel: I agree, I find Nils' vocal accompaniments and writing style to be more detailed, layered, and intrinsic; which is quite different then Pagan's Mind, who tend to have a more progressive feel. Tell me about the artwork for The Parallel Otherworld - again painted by the same artist who painted your previuos covers, namely Jen Menninghaus?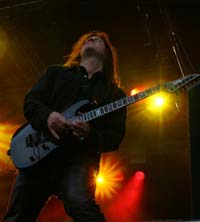 MettleAngel: The cover has a black and white almost sepia tinge to it with the city reflecting over the water, and the man bursting out of the ocean - but there is also the dark reflections in the water beneath.
Glen: Yeah, kind of like the city (beneath the surface) is hell - but Shawn deals with the coverwork - I usually don't mess with that, as I am more involved in the musical considerations for the band in general.
MettleAngel: Now you mentioned your other CDs on Metal Blade - how has the transition to Escapi worked on your behalf? Even though they are often tagged as the side project label with Speed/Kill\Hate, Dragonlord, Force Of Evil, Eidolon, etc. Lately, it seems like I've been enjoying their bands more than any other label.
Glen: We had our differences with Metal Blade, we were disillusioned with their promotional efforts. Initially, we signed for a five CD contract, did the four CDs and the bonus with "Apostles of Defiance", and after this, we were done with them. When we spoke with Ole Bang, who manages King Diamond, we asked him who he thought we should consider signing with, since Force Of Evil was happy with Escapi - he suggested it and we persued it. We are pleased with our decision. These people really care about the quality of the music and are still selective with whom they sign.
MettleAngel: I'm very pleased with the motivation and management. Leo has been very instrumental in assisting me and getting me some quality music. Now given your frustrations with Metal Blade - if they give you the rights to all of your CDs would you eventually re-release them with a bunch of extras?
MettleAngel: I'd so like to hear those other Metal Blade titles. I've heard excellent things about "Apostles of Defiance", and I have "Nightmare World". Are these still readily available, or are they becoming more obscure in their original format; especially the two separate versions of "Apostles of Defiance"?
Glen: I think you can still find them at Dream Disc, Sentinel Steel, and the End Records, if you really look around.
MettleAngel: I've seen "Apostles of Defiance" 2 CD at The End Records and SentineI Steel; I'll check other places for the rest. Thank you so much for doing this interview, brother! Anything you want to add?
Glen: No man, it's all good. I think we covered it all concerning the new album and the band. Thank you too.

See also: Review of the album The Parallel Otherworld »»
Related links:
www.eidolon-nightmareworld.com