I was most enthralled by the latest work of Edenbridge - The Grand Design. I have been a fan of their music for quite awhile; but, this new CD is utterly brilliant. With their latest rectitude, they truly are on top of the world and shine evermore. I wrote a very favorable review this summer, and was planning on conducting an interview with main songwriter Lanvall then. So much happened so quickly, that I never followed through with the interview, that is until now. This is perfect timing for two reasons: primarily, because Edenbridge are about to release their latest magniloquent effort into North America; and secondly, what better soul to heighten the Yuletide scenario and carry us into the light, than the man so filled with pasion and fervor, that he is taken away and ever captured by the very innocence in his heartfelt appreciation for Nature. For just a moment of time enjoy as the maestro will take me back to the jubilation I initially and still experience every time I partake in this grand design.

MettleAngel: Greetings Lanvall, after reviewing your CD for anothr site in July, I was hoping to get an interview with you. Now that The Grand Design is coming out in North America early next year, I figured that now was the proper time to pursue this interview. My first question concerns your musical background, as it seems you play such a variety of classical instruments. What is your musical affiliation, what made you decide to channel this talent into playing metal?
Lanvall: I have been surrounded by music ever since I´ve been a little child. I grew up with classical music. I started with the flute at the age of six, then I played piano at the age of seven. I then took lessons for over 12 years on the piano. I played in a child´s orchestra and choir in grammar school. Then at the age of 15, I discovered hard rock and metal, I even learned my bass by myself; then later how to play my guitar. I went to the American institute of Music in Vienna (which is comparable to the GIT in L.A.) . I graduated with my diploma in rock guitar. From that point on I started to write songs. I wanted to bring in the classical background into metal and, of course, also the other influences. I do play a lot of foreign string instruments and, therefore, it is nice to bring them into our music.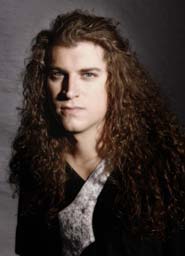 MettleAngel: Well that explains it. I assumed you were a prodigy, but I did not know that in some respects, you were self taught. What inspires you to write the lyrics you so eloquently pen? They always seem to be very metaphysical in nature, and quite provocative. They also carry a very positive vibe and uplifting potential.
Lanvall: You´re right, this is what I want to achieve with my lyrics. You find so many stupid lyrics in metal. I think the music should always represent the lyrics and vice versa. In the early days I was heavily influenced by Star Trek, mainly Next Generation and Deep Space 9, also Voyager. The album Shine had some good movies as a basis like "The Bicentennial Man", "The Legend of 1900", "October Sky" and "The Canterville Ghost". The most 'philosophical' of our albums is definetely The Grand Design; it is dealing with the beginning and the end of the earth, and also the different state of feelings a human being is running through life. All in all I am investing a lot of time in the lyrics.

MettleAngel: Lyrics have always been an important aspect of metal for me as well. I also do not value banal lyrics. I prefer some degree of intelligence and meaning; unless of course the band is meant to be asinine. There is enough negativity in this world already. Too many metal bands just perpetuate this ongoing apathy and animosity, but I guess that is their prerogative. Did you know that I actually thought the song The Most Beautiful Place from the Grand Design was about drugs and euphoria. This shocked me, given the lyrical approach which you normally maintain. After carefully scrutinizing the lyrics, I realized I was mistaken, and that the song glorifies nature; but what is cockaigne exactly? I'd swear that it sounds like Sabine says "cocaine"; hence, my misinterpretation.
Lanvall: Haha, that´s crazy, but I can understand why. There is this line "You are what I call Cockaigne and you take away all my pain" which is kind of a double-meaning when you only listen to it once. Cockaigne, from what I know is exactly spelled like the drug. The song itself deals with my feelings when I am away from home for a longer time. I love being on the road or travelling, but there is no place like home; of course, it has nothing to do with drugs.. haha.

MettleAngel: That is what I eventually discerned, given your love and appreciation for nature. What then made you call the new CD The Grand Design, is this essentially a concept album? Briefly explain to me the meaning of The Grand Design, this reminds me of the song by Rush off their amazing Power Windows release, now 20 years aged to perfection, and still my favourite.
Lanvall: The Grand Design is a mighty title, because composing music is also designing something, so great music itself is a 'Grand Design'. Of course, I know the song by Rush, but that wasn´t in my mind when I chose the title for the album. When you look at the beauty of nature, you can easily bring this together with the title, so this was the main inspiration. I am trying to be in nature as often as possible, like going hiking in the mountains in summer, skiing in winter, or just walking through.

MettleAngel: Funny, I thought you said that you were trying to be immature, when you meant in nature, as in you like to be outdoors and involved in the aspects of participating in our blessed environment. I think that being outside is quite healthy; unfortunately, I do not pursue recreation as much as I would rather like to. Returning to the recording process of the new CD, I'm curious as to how were you able to find so many qualified guest musicians to contribute to this magnum opus, including your own sister who plays violin?
Lanvall: It´s great to be able to work with my favorite musicians. Robby Valentine is one of the best composers in rock music and he´s simply a genius. I´ve been in contact with him for a couple of years and when I composed the chorus of The Grand Design, I had his huge choirs in my mind, so it was near to ask him. We did up to 64 voices of him which brought in this huge effect. Dennis also contributed again with his great choirs and Karl Groom did a wonderful solo on Terra Nova. My sister played from time to time on my songs. It´s easy to call her into the studio when it´s necessary.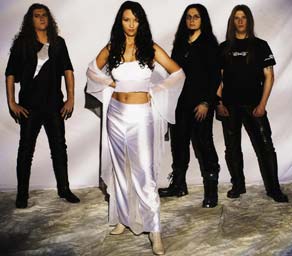 MettleAngel: Yes, I imagine that having those kinds of connections in the musical field proves to be quite beneficial. Will you be bringing a bombastic orchestra with you to enhance the live setting? Will there be other surprises in store?
Lanvall: This will not be possible for live concerts, but for the next album we will work with a real orchestra and I cannot await for this. I already wrote five new songs, and all of them are heavier than everything we´ve done before and have a lot of orchestral arrangements. This will be like a dream coming true, because the best samples can never compete with a real orchestra. It´s very time consuming writing the score for the orchestra, but in the end it will be totally worthwhile.
MettleAngel: Wow, you already have five songs written for your new CD, that sounds so promising; especially, since you will actually be recording with a complete orchestra. Man, I sure will be excited to hear that one. Do you ever plan to tour the US? Many female fronted bands have been quite successful coming to the states including Leaves' Eyes & Epica. Do you feel that there is an audience for you here in America?
Lanvall: I am pretty sure there will be an audience, and I really hope we can come with our next album in 2008. Our first 2 albums were offically released in the States and sold quite well. Unfortunately "Aphelion" and "Shine" were not released, so I am happy that our actual album sees the light of day again in the US.
MettleAngel: So am I, as Shine and Aphelion have been difficult to track down. I am still actually trying to obtain a copy of Aphelion, as this is the only album I still have not heard. With all the frustration from Nightwish, and several female fronted bands either becoming too pop or too heavy, how do you see Edenbridge fitting into the overall scheme. Sabine's vocals are utterly amazing, and she is very comely and alluring; this is an effective attribute when metal usually has a predominantly male fanbase.
Lanvall: I think Edenbridge always had its very own style. You find a lot of gothic metal bands or bands with opera singers. Sabine´s voice is totally different from them, much warmer and totally based on feeling. The music is very wide-spread with influences from classical music, world music, new age stuff, and so on. Just look at our choirs. All those gothic metal bands have opera choirs, we work with Queen-style choirs, tell me one other band which does this!
MettleAngel: I agree with you on this, which is why it is difficult to pinpoint your sound. I would not categorize you as being Gothic though; especially, given your positive outlook on life .How would you classify the Edenbridge sound and style? I think you are writing better music today, than when you first began. I purchased your first two releases, then I lost track of you amidst so many female fronted bands; but, once I heard The Grand Design, I was blown away. I have since worked my way back through most of your catalog.
Lanvall: Thanks for your complements. I don´t like all those drawers, but it is still bombastic and it is metal, this is the basis of our sound and will always be. For me it is important to grow, to try things out, bring new things into the music, keeping it fresh. I couldn´t write the same kind of song over and over again like bands as AC/DC. I just bought a 7-string and this can be heard on the next album. Many people will be surprised haha, but don´t worry it´s not changing our style, just what I said before, bringing new things into our music.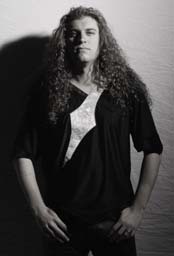 MettleAngel: Yeah, Edenbridge does not seem to repeat themselves with each new release. Sadly, so many bands do, and they grow stagnant. Like for instance, I know that there is a new WASP due out soon. Every thing they do sounds like their early work, and seldom impresses me. They wrote one of the best concept albums of all time with The Crimson Idol, now who knows? Napalm is licensing The Grand Design, how do you feel about doing business with them in the future?
Lanvall: Napalm has licensed The Grand Design, and we just signed a world wide deal with them for the next few years. We have known them for years, and they were making great efforts in the last year to sign us. After our deal with Massacre Records expired, we spoke with a lot of companies. Finally, Napalm made us the best offer and here we are. I´ve been watching their work for a long time, and what I can say is that they are doing a tremendous job for their bands. They are also Austrians, just a mere 150 kilometres apart from us which makes ways very short.
MettleAngel: Yes, indeed, I have been so pleased with all the bands which Napalm has been releasing. The new Trail Of Tears is killer, it's a shame they lost such a talented line-up, and that Ronnie Thorsen is compelled to seek all new like minded artists. The new Elis is also great; what a shame about the tragic death of Sabine Dunser who passed away in July due to a cerebral haemorrhage; she was so young!. Getting back to Edenbridge, what exactly made you choose the Sheena Easton cover as a bonus track and single? Can we expect to hear more 80's style covers like perhaps the Eurythmics or even just Annie Lennox?
Lanvall: I am a big James Bond fan, especially the movies with Roger Moore. I have a sampler with all the title tracks at home and when I listened to it lately I thought it was a good idea to cover one song. For Your Eyes Only was the one that fit best. I transposed it one half-tone up into AB which gives it a different feeling to the original. First it was planned to be an extra track of the single, but the record label liked it that much; so they wanted it to be the single. I don´t know if we will do another cover version in the near future, but I could imagine another Bond song; but surely nothing of the Eurythmics haha, I don´t like them very much.
MettleAngel: I too am a James Bond fan; although, I have not seen the new movie Casino Royale. Roger Moore is my favourite Bond as well. I wish they would just make a box set of his movies, instead of mixing all the Bond actors into a series of sets with five movies each. I would buy one if it just had the Roger Moore movies like Moonraker and Man With The Golden Gun. Maybe, next time you might record Live And Let Die, so we could hear another rendition, rather than the tired and staid Guns N' Roses version. I do like the Eurythmics; but, I'm still waiting for a metal band to do them justice, maybe Atrocity? Finally, What does the name Edenbridge symbolize to you personally, is there some inherent spiritual significance to the name?
Lanvall: Edenbridge is the perfect name for the music I´m writing. For me it has a lot of meaning. The bridge to Paradise, positive energy, positive vibes, bringing in my little part to make the world a better one.
MettleAngel: That is well put. You are essentially building a bridge to eden through your musical craft and creation. Keep up the good work and positive vibes; always think good things! I'm so grateful for finally getting to do this interview with you. Thank You so much for finally indulging me. You can view the review at www.metal-archives.com as it is the only one published there for The Grand Design.
Related links: